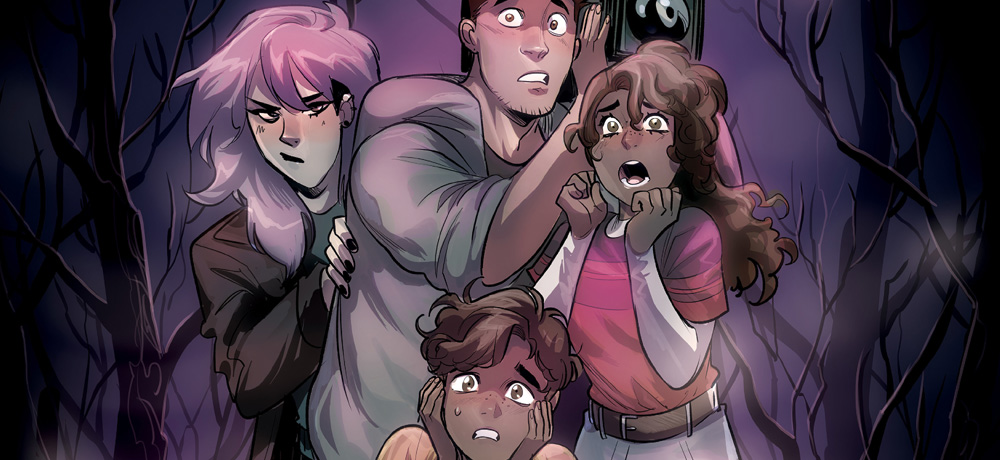 In today's Horror Highlights: A look at BOOM!'s Specter Inspectors, details on Etheria Season 3, and the trailer for Knuckledust!
SPECTER INSPECTORS: "BOOM! Studios is proud to announce SPECTER INSPECTORS, a new original five-issue series in February 2021, from comics creators Bowen McCurdy (The Long Way Home) and rising star Kaitlyn Musto, about a group of social media savvy ghost hunters who seek out supernatural hot spots in order to answer the ultimate question. . . are ghosts even real?!
True believer Noa, her cynical little sibling Gus, credulous camera man Ko, and Noa's skeptical best friend (and secret crush) Astrid head to one of the most haunted towns in America to prove that ghosts exist, for all the social media likes! The investigations of hauntings uncover something more devilish than just a couple of ghosts, something that will put Noa and Astrid's relationship to the test… and reveal the centuries-old sinister secrets of the town itself.
Bowen McCurdy is a cartoonist and writer from New York City. She graduated with a degree in cartooning from School of Visual Arts in 2018, and has self-published many short comics, as well as illustrated a short story for IDW and Marvel. This is her first graphic novel.
"This book is everything I wanted to read when I was young; queer characters on adventures, ghosts, romance, and only a handful of demons. The story is based on one of the first comics I ever did, so it has a big place in my heart. I fell in love with the SPECTER INSPECTORS while writing them, and even more so while bringing them to life through art. I'm so excited to share them with you!" said McCurdy.
Kaitlyn Musto is a cartoonist & writer from New York City. She attended School of Visual Arts and graduated in 2018. Since then, she has been working on various projects including co-writing a graphic novel with fellow cartoonist, Bowen McCurdy, creating character sprites for a fan project, and working on the pitch for her own historical fiction adventure graphic novel. You can find her work at her website katkomix.com, as well as on Instagram and Twitter @katkomix.
"SPECTER INSPECTORS is an exciting mix of paranormal shenanigans, cryptic mysteries, and a queer love story to give you the warm fuzzies—after all the horror," said Musto. "I'm ecstatic to be able to finally share this ghostly adventure with the world. Working on this story has been an amazing ride, and I hope readers fall in love with the Specter Inspectors cast as I did writing them."
SPECTER INSPECTORS  is the latest release from BOOM! Studios' award-winning BOOM! Box imprint, home to groundbreaking original series such as Lumberjanes by Shannon Watters, Grace Ellis, Brooklyn Allen, and Noelle Stevenson; Giant Days by John Allison, Lissa Treiman, and Max Sarin; Ghosted in LA by Sina Grace and Siobhan Keenan; The Avant-Guards by Carly Usdin and Noah Hayes; Fence by C.S. Pacat and Johanna the Mad; Goldie Vance by Hope Larson and Brittney Williams; and Seen: True Stories of Marginalized Trailblazers.
"Who doesn't love a misfit group of supernatural skeptics and true believers running into danger, solving mysteries, and falling in love while hot on the trail of this year's trendiest ghosts?" said Shannon Watters, Senior Editor, BOOM! Studios. "Bowen and Kaitlyn have brought the incredibly loveable cast of SPECTER INSPECTORS and their ghost hunting adventures to life, and we can't wait for readers to join in on the fun next year!"
Print copies of the oversized SPECTER INSPECTORS #1, featuring more than 30 story pages, will be available for sale in February 2021 exclusively at local comic book shops (use comicshoplocator.com to find the nearest one) or at the BOOM! Studios webstore. Digital copies can be purchased from content providers, including comiXology, iBooks, Google Play, and the BOOM! Studios app.
For continuing news on SPECTER INSPECTORS and more from BOOM! Studios, stay tuned to boom-studios.com and follow @boomstudios on Twitter."
---------
ETHERIA Season 3: "[Los Angeles, CA] As announced by The A.V. Club, ETHERIA SEASON 3, the latest installment of the revolutionary new fantasy anthology series from The Horror Collective of thrilling, scary, and riveting stand-alone episodes directed only by women, is available to stream on Amazon on November 25, 2020 International Day for the Elimination of Violence against Women.
Etheria on Amazon: https://www.amazon.com/gp/video/detail/B08FRTHGNN
Etheria Season 3 takes viewers to strange new worlds with shorts directed by women giving center stage to medieval warlords and magicians, musical androids, apocalyptic western gunslingers, inescapable time loops, a buddy comedy with a dead body, middle-aged female mercenary assassins, homicidal hairstylists, demented surreal slashers, and spare body parts. Universally praised for their innovative approach to genre, these nine short episodes defy expectations and challenge beliefs about women directors. Featured actors include Cary-Hiroyuki Tagawa (The Man in the High Castle), James Hong (Big Trouble in Little China), Lyndsy Fonseca (Agent Carter), Marta Larralde (Gran Hotel), Gregory Marcel (General Hospital), and Najarra Townsend (Contracted).
The Horror Collective founder Shaked Berenson describes the Etheria series as a way to draw attention to women's issues: "The horror genre has always been used to shine light on social issues, we chose to release the third season of Etheria on the International Day for the Elimination of Violence against Women to remind all of us that violence at home is still a problem, especially during times of pandemic, when victims have less choices of where to go."
----------
Watch the Trailer for Knuckledust: "Los Angeles, CA – Samuel Goldwyn Films announced today that the company has acquired North American rights to James Kermack's feature film KNUCKLEDUST. The action thriller stars Moe Dunford (Vikings), Kate Dickie (The Witch), Camille Rowe (Now is Everything), Phil Davis (Face), Alex Ferns (Chernobyl), Olivier Richters (Black Widow), Jaime Winstone (Tomb Raider), Gethin Anthony (Game of Thrones) and Sebastien Foucan (Casino Royale). The film will be released on December 8, 2020.
Police discover an elite fight club where they find seven underground levels, filled with the dead bodies of fighters from around the world. Only one man is found left alive. The task force has to work out if he's a mass murderer or the lone survivor?
"KNUCKLEDUST is a truly unique and original action thriller. Samuel Goldwyn Films bringing KNUCKLEDUST to North American audiences is very exciting for us and a perfect fit for the film." Julien Loeffler - Producer
"KNUCKLEDUST is set in a hyper stylized version of the world we live in, fusing neon dreams with bone breaking claret soaked fights, a graphic novel come to life. We have a brilliant international cast and I'm so excited to finally share this wild universe with the world." James Kermack - Writer & Director
Both leads actors felt the script was for them immediately, with Moe Dunford (Vikings) describing the film as "completely bonkers and unlike anything I had ever read" whilst Kate Dickie (The Witch) felt it was "A headf**k in the best possible way".
KNUCKLEDUST was written and directed by James Kermack. The film is a co-production between Julien Loeffler at Featuristic Films and Laurent Fumeron, Daniel Goroshko and Rodolphe Sanze at The Project; executive produced by Phil Hunt, Compton Ross, Nils Rebehn, James Barton-Steel, Reinhard Besser, Walter Mair, Prakash Gurbaxani, Rohan Gurbaxani, Matthew Bradley, Ron Bradley, and Sharunya Varriale.
The film is being made in association with Head Gear Films, OneWorld Entertainment, Trigger Films, Onsight and IIW Studio.
The deal was negotiated by Miles Fineburg on behalf of Samuel Goldwyn Films and Gregory Chambet of WTFilms on behalf of the filmmakers."