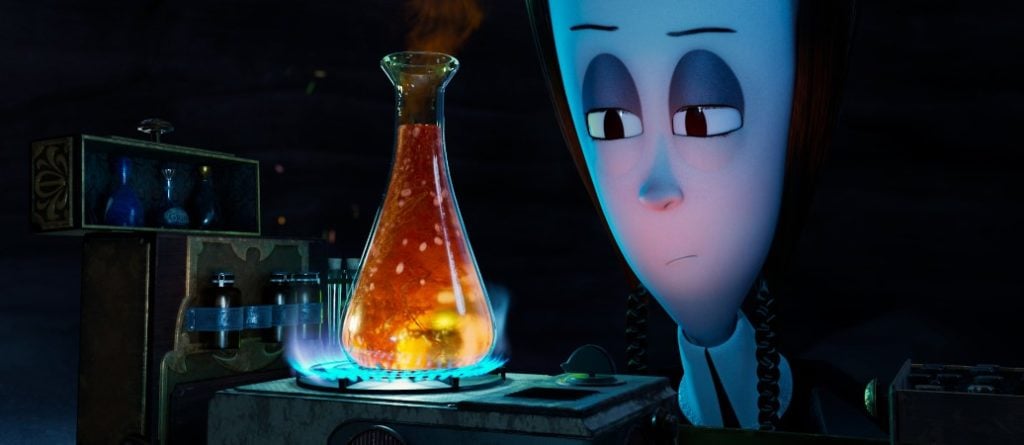 THE ADDAMS FAMILY 2 Trailer: "Everyone's favorite spooky family is back in the animated comedy sequel, The Addams Family 2. In this all new movie we find Morticia and Gomez distraught that their children are growing up, skipping family dinners, and totally consumed with "scream time." To reclaim their bond they decide to cram Wednesday, Pugsley, Uncle Fester and the crew into their haunted camper and hit the road for one last miserable family vacation. Their adventure across America takes them out of their element and into hilarious run-ins with their iconic cousin, IT, as well as many new kooky characters. What could possibly go wrong?"
DIRECTED BY: Greg Tiernan
DIRECTED BY: Conrad Vernon
STORY BY: Dan Hernandez & Benji Samit
SCREENPLAY BY: Dan Hernandez & Benji Samit and Ben Queen and Susanna Fogel
PRODUCERS: Gail Berman, p.g.a., Conrad Vernon, p.g.a., Danielle Sterling, p.g.a., Alison O'Brien, p.g.a.
EXECUTIVE PRODUCERS: Kevin Miserocchi, Jonathan Glickman, Cassidy Lange, Andrew Mittman, Aaron L. Gilbert, Jason Cloth
BASED ON CHARACTERS BY: Charles Addams
CAST: Oscar Isaac, Charlize Theron, Chloë Grace Moretz, Nick Kroll, Javon 'Wanna' Walton, Wallace Shawn, with Snoop Dogg as 'IT', with Bette Midler and Bill Hader
In Theaters and On Demand October 1st
---------
Branko Tomovic's VAMPIR to World Premiere at Sitges International Film Festival 2021: "Branko Tomovic's directing debut VAMPIR will have its world premiere at the upcoming Sitges International Film Festival - the world's foremost and one of the most prestigious and important international festivals of fantasy and horror movies.
Tomovic's European vampire folk horror film which also stars Gorica Regodic (Next to Me), Joakim Tasic (Santa Maria della Salute) and Balkan screen legend Eva Ras (Love Affair, or The Case of the Missing Switchboard Operator) will premiere in the Noves Visions section in competition.
In the film, "After witnessing a crime in London and looking for a place to hide for a while, Arnaut (played by Tomovic) is offered a job by charming yet ruthless local Vesna (Regodic) to look after a cemetery in a small remote village in Serbia. He soon starts to have nightmarish visions and is frequently visited by the mysterious older woman Baba Draga (Ras) who guides Arnaut into the darkness. Only the village priest (Tasic) seems to be trying to keep him safe from the sinister intentions of the villagers."
"Our film is inspired by those early myths, superstitions and folk elements that surrounded the first real vampire cases in Serbia in the early 1700s. Those were the origin of vampires which many people don't know. Our film is set in modern times and I wanted to show a more mysterious side of Serbia.
On another level, the film also serves as an allegory of an immigrant child who was raised abroad and comes back to his ancestry's country, where he is confronted with the local habits, traditions and way of life which are hard to accept at first." says Tomovic.
It was filmed in English language on locations in Serbia during the pandemic last year and is a UK-Serbian-German co-production, produced by Jean-Louis Alexandre (UK's Red Marked Films), Milos Z. Vuckovic (Serbia's Dinaric Alps Productions) and Dina Vickermann (Germany's Vickermann Films) with Matteo Lovadina's Reel Suspects handling the international sales."
Learn more at: https://sitgesfilmfestival.com/eng/film?id=10006770
---------
Q&A with IT CAME FROM BELOW Director DAN ALLEN: "Inspired by the classic ALIEN (1979), Dan Allen set out to make a creepy creature feature (set in underground caves) and succeeded. IT CAME FROM BELOW, releasing Sep 7 on digital, tells of a unit that go deep underground to find out what happened to a man that's disappeared and who claimed a monster lurks in the caves and has killed his friends. 
How did you break into the business, Dan?
I still consider myself an outsider to be honest. I've had some great opportunities over the last few years to make things and am finally getting to have meetings about some bigger projects, but it's all cumulative. Persistence in making things and putting them out there is key. You don't want to sit on any one film for too long when you could be making the next thing. Some projects open doors, others don't.
Did you have encouraging folks?
Yeah, I was super lucky in that regard. My parents were estate agents though so I've never had any particular pathway to making films lined up. But they were incredibly encouraging and supportive and helped me get my first DV camera and editing software. I think they saw my passion trying to remake old films with a Lego camera and really encouraged me to pursue what I loved.
You're based in the UK? How does the area lend itself to the production in your opinion?
I think it adds to the claustrophobia. The UK is very small, so getting isolated is more about falling through the cracks than it is about having nobody nearby for thousands of miles. And that works for the story because it's a very insular and personal journey for Jessie. On the one hand she is trying to mourn, and her friends are on the outside of that, and on the other hand she is trying to validate her dad, which no-one else quite understands. And those personal character objectives are purposely paralleled.
Practical vs. CGI?
Always practical where possible. The best CGI is invisible. There's lots of little moments in the film where I animated the monster's face to give it some character but they are small touches. You really want to reduce the amount of time the audience spends spotting things so the illusion holds together, and that's hard to do with CG on smaller budgets. 
How much did those other, similar-themed films like Underwater influence the screenplay?
Good question. Underwater, didn't factor in very much. I went back and watched the Descent 1 and 2 but only after we had a solid second draft so we could learn tricks and make sure we weren't missing any gags, but I wanted the story to be its own beast. The German Netflix show 'Dark' was more of the stylistic bible for the film because it dealt with these supernatural, science fiction components with sincerity and subtlety without losing the character focus. So that had more influence. 
Any moments you wanted to shoot but couldn't pull off?
I definitely wanted some water sequences - in any way shape or form. Whether that meant rafting across an underground lake or swimming to safety. It would have meant getting professional divers in and swallowing up at least a whole day of filming which wasn't practical for the shoot though. We ended up with our flash flood sequence which plays well, just on the cusp of what is achievable. 
Some ideas for a sequel?
We joked a lot about backstory prequels on set; exploring the characters' relationships more. Because you have a license with the cave and the monster where it scrambles your brain, so there's a whole manner of things our characters might have "forgotten" from a previous venture to the cave or something along those lines. Something that feels tragic."