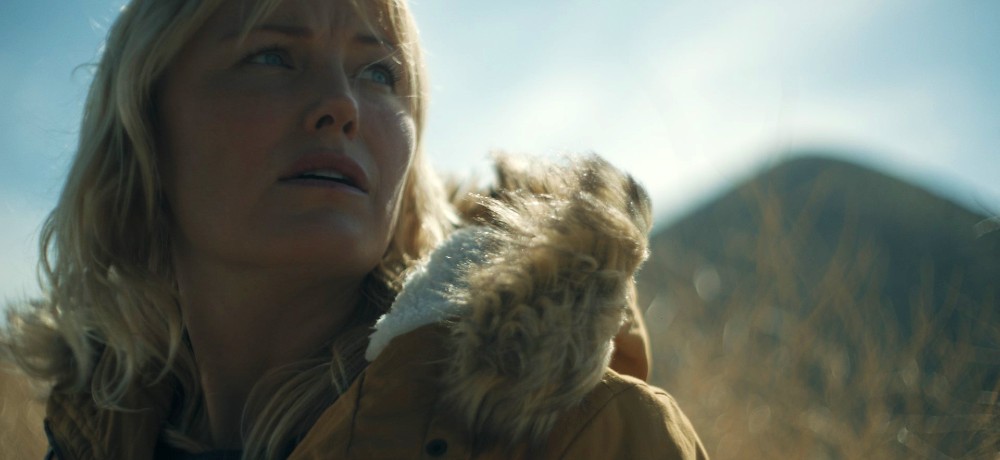 THE AVIARY Trailer: "Malin Akerman, Lorenza Izzo, and Chris Messina star in this twisted thriller about two women's desperate attempt to flee the clutches of Skylight, an insidious cult.
Trapped at Skylight's isolated desert campus, The Aviary, Jillian (Akerman), and Blair (Izzo) join forces to make a treacherous escape. Alone in the harsh wilderness, they are consumed by paranoia and unable to shake the feeling that they are being followed by the cult's leader, Seth (Messina), a man as seductive as he is controlling. With supplies dwindling and their senses failing, Jillian and Blair are faced with a horrifying question: how do you run from an enemy who lives inside your head?
The feature directorial debut from Chris Cullari and Jennifer Raite who, as writers and creators, have frequently collaborated with Blumhouse TV on projects and first-look deals, and made a splash with their 2012 Vimeo Staff Pick horror-comedy short THE SLEEPOVER. The duo created and served as executive producers on the 2016 Blumhouse and YouTube Red series 12 Deadly Days and have present and upcoming projects and pilots in development with Universal Television, The CW, CBS TV Studios, and Blumhouse.
THE AVIARY stars Malin Akerman (Dollface, WATCHMEN), who also executive produced, alongside Lorenza Izzo (Penny Dreadful: City of Angels, KNOCK KNOCK), and Chris Messina (I CARE A LOT, The Mindy Project). It's produced by Marcei A. Brown (GET OUT, BLACKKKLANSMAN), Andrew Miller (NOTHING), celebrated prestige television producer Jessica Rhoades (Utopia, Dirty John, Sharp Objects), and former Blumhouse Head of Production Jeanette Volturno, who most recently served as executive producer on David Gordon Green's HALLOWEEN ENDS and Iris K. Shim's UMMA."
----
ARROW Announces April 2022 SVOD Lineup: "Arrow Video has announced the April 2022 lineup for their subscription-based ARROW platform, available to subscribers in the US, Canada, the UK and Ireland.
The April 2022 lineup leads with the ARROW release of dystopian surrealist Chema Garcia Ibarra's feature The Sacred Spirit, available to subscribers in the US, UK, Canada and Ireland. The film will debut on ARROW April 15.
April 2022 Curated Seasons: Poliziotteschi, 110% Adrenaline: The Di Leo Collection, Vinegar Syndrome Collection Vol. III, Third Window Films Collection, Trust No One, Portraits of Serial Killers, Rogue Cops and Racketeers, AGFA Collection Vol. III, Twisting The Knife
Subscriptions are available for $4.99 monthly or $49.99 yearly. New subscribers can start a 30 day free trial.
ARROW is available in the US, Canada, the UK and Ireland on the following Apps/devices: Roku (all Roku sticks, boxes, devices, etc), Apple TV & iOS devices, Android TV and mobile devices, Fire TV (all Amazon Fire TV Sticks, boxes, etc), and on all web browsers at https://www.arrow-player.com.
ARROW Essentials curates collections based on genre, decades and themes; and ARROW Stories takes a fresh look at the world of film and TV with exclusive documentaries, interviews and video essays diving deeper into the many curated seasons and titles on the platform for a richer and deeper viewing experience.
With a slickly designed and user-friendly interface, and an unparalleled roster of quality content from westerns to giallo to Asian cinema, trailers, Midnight Movies, filmmaker picks and much, much more, ARROW is the place to go for the very best in on-demand entertainment."
To learn more, visit: https://www.arrow-player.com/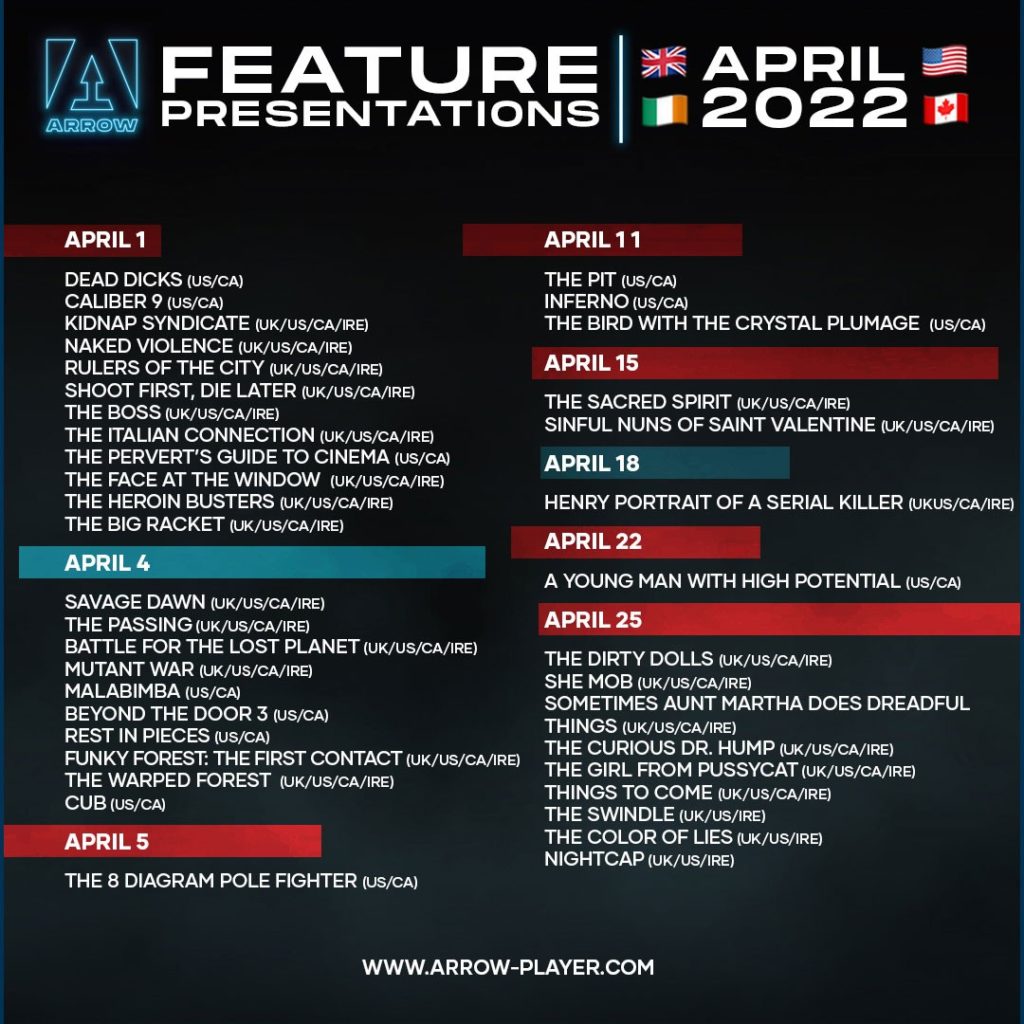 ----
TERROR IN TINSELTOWN Trailer: "Three Exotic Dancers are on their way to exploit rich celebrities at a Secret Hollywood Sex Party hosted by a depraved party promoter. They have no idea it is a house of Horrors infested with zombies."
"Terror In Tinseltown (2022) is an erotic surreal horror short film/POC designed to get full production on the feature film version entitled Titz & Zhombies. This film is terrifying, sexy, and shocking and offsets the monotony of predictable binge-watching. We're glad to say the full-script is completed, first-dollar in, and now we're looking for an amazing producer and others to join us to take the project to it's next level."
To learn more about the project and how to support it, visit: https://www.theoutlawoffilmmakers.com/terror-in-tinseltown