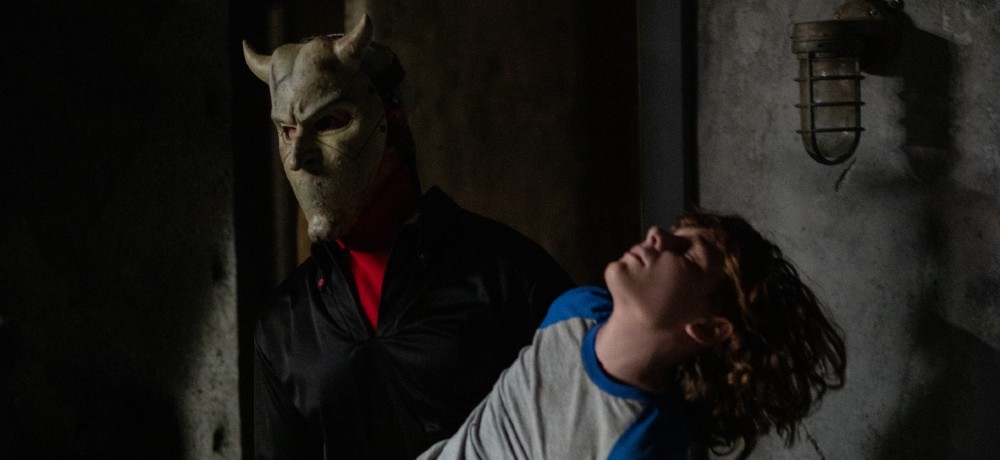 New Featurette: Take a look inside THE BLACK PHONE with Ethan Hawke: "The phone is dead. And it's ringing.
Director Scott Derrickson returns to his terror roots and partners again with the foremost brand in the genre, Blumhouse, with a new horror thriller. Finney Shaw, a shy but clever 13-year-old boy, is abducted by a sadistic killer and trapped in a soundproof basement where screaming is of little use. When a disconnected phone on the wall begins to ring, Finney discovers that he can hear the voices of the killer's previous victims. And they are dead set on making sure that what happened to them doesn't happen to Finney.
Starring four-time Oscar® nominee Ethan Hawke in the most terrifying role of his career and introducing Mason Thames in his first ever film role, The Black Phone is produced, directed, and co-written by Scott Derrickson, the writer-director of Sinister, The Exorcism of Emily Rose and Marvel's Doctor Strange.
The film's screenplay is by Derrickson & C. Robert Cargill (Doctor Strange, Sinister franchise), based on the award-winning short story by Joe Hill from his New York Times bestseller 20th Century Ghosts. The film is produced by Derrickson & Cargill's Crooked Highway and presented by Universal and Blumhouse. Jason Blum, Scott Derrickson and C. Robert Cargill are producers on the film, which is executive produced by Ryan Turek and Christopher H. Warner."
The Black Phone – In Theaters June 24
----
The Brain From Planet Arous (1957) on Special-Edition Blu-ray + DVD, June 21st: "Cinedigm announced today that The Film Detective, the classic film restoration and streaming company, will release the 1950s, sci-fi classic, The Brain From Planet Arous (1957), on special-edition Blu-ray and DVD, June 21.
A great example of cut-rate, sci-fi from the 1950s, this independently produced feature stars B-movie favorite John Agar (The Mole People, Revenge of the Creature) and Joyce Meadows (The Christine Jorgensen Story, The Girl in Lovers Lane) and was directed by Nathan Juran, a master of the genre who helmed such classics as The Deadly Mantis (1957), Attack of the 50-Foot Woman (1958) and The 7th Voyage of Sinbad (1958).
Get ready for planet Earth to be overtaken by a criminal brain from outer space! When Gor, an evil brain from planet Arous, inhabits the body of scientist Steve March (Agar), his intention is nothing less than world domination. Lucky for Earth, another intergalactic brain, Val, offers to assist March's wife, Sally (Meadows), in stopping the madness. How does Val intend to help? By inhabiting Sally's dog!
The special edition Blu-ray and DVD release will feature a stunning 4K transfer, including two versions of the film, presented in its original 1.85 theatrically released format and in 1.33:1 full frame format. Included in the bonus features will be exclusive commentary with original The Brain from Planet Arous star, Joyce Meadows!
"The Film Detective's magnificent restoration of The Brain from Planet Arous reminds me of when I saw the movie on the big screen back in 1957," said the film's star, Joyce Meadows. "An amazing achievement, and I'm so pleased this picture is getting the respect it deserves."
BONUS FEATURES: Full-color booklet with original essay by author/historian Tom Weaver; full commentary track by historians Tom Weaver, David Schecter, Larry Blamire and The Brain From Planet Arous star Joyce Meadows; The Man Before the Brain: Director Nathan Juran and The Man Behind the Brain: The World of Nathan Juran, both original Ballyhoo Motion Pictures productions; restored film presented in its original 1.85 theatrically released format and in 1.33:1 full-frame format; and a special, all new, introduction by star Joyce Meadows.
The Brain From Planet Arous will be available on Blu-ray ($29.95) and DVD ($19.95) June 21 or fans can secure a copy by pre-ordering now at: https://www.thefilmdetective.com/arous"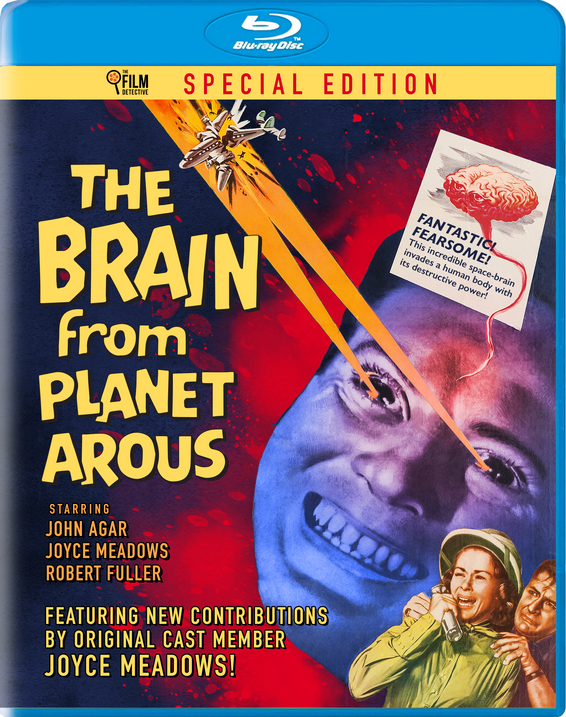 --
SHUDDER & IFC MIDNIGHT ANNOUNCE U.S. THEATRICAL RUN OF PHIL TIPPETT'S HOTLY-ANTICIPATED STOP-MOTION MASTERPIECE MAD GOD — OPENING IN NY & LA ON JUNE 10: "Shudder, AMC Networks' premium streaming service for horror, thrillers and the supernatural, and IFC Midnight announced today a theatrical run for the hotly-anticipated Shudder Original sci-animated horror Mad God beginning Friday, June 10 ahead of the film's streaming debut on Thursday, June 16.  A national rollout will follow beginning Friday, June 17. Up-to-date screening locations can be found on www.madgodmovie.com. The film is directed by visionary and Oscar and Emmy Award-winning stop-motion animator and special effects supervisor Phil Tippett, founder of Tippett Studio and the creative powerhouse involved in such classics as RoboCop, Starship Troopers, Jurassic Park, and Star Wars: A New Hope and The Empire Strikes Back.
Mad God is an experimental animated film set in a world of monsters, mad scientists and war pigs. A corroded diving bell descends amidst a ruined city, settling down upon an ominous fortress guarded by zombie-like sentries. The Assassin emerges to explore a labyrinth of bizarre, desolate landscapes inhabited by freakish denizens. Through unexpected twists and turns, he experiences an evolution beyond his wildest comprehension. A labour of love that has taken 30 years to complete, Mad God combines live-action and stop-motion, miniature sets and other innovative techniques to bring Tippett's wholly unique and grotesquely beautiful vision to life.
An inspiration and trailblazer in his field, Tippett's work has been praised by Steven Spielberg, Paul Verhooven, Lucasfilm President Kathy Kennedy, and many more, and continues to this day to push the boundaries of the animation genre.
Mad God is written and directed by Tippett who also produced."