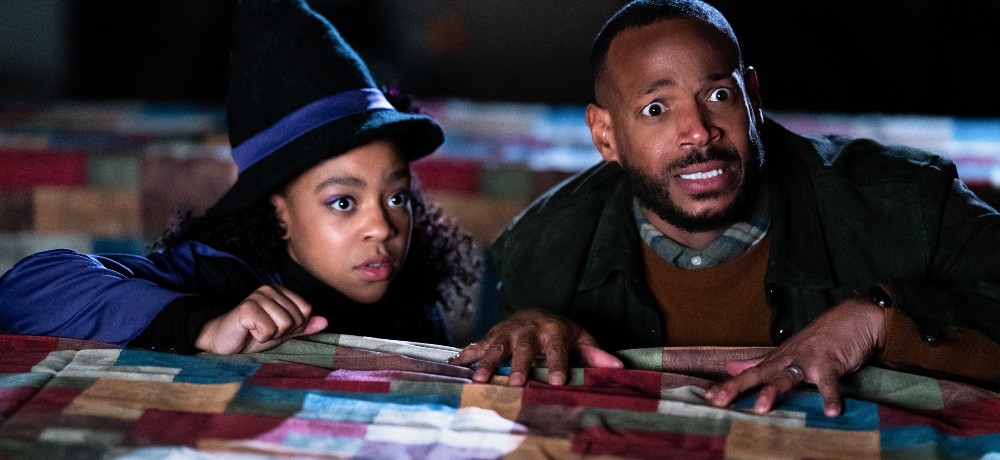 THE CURSE OF BRIDGE HOLLOW: " A father (Marlon Wayans) and his teenage daughter (Priah Ferguson) are forced to team up and save their town after an ancient and mischievous spirit causes Halloween decorations to come to life and wreak havoc."
Film Release Date: October 14
DIRECTOR: Jeff Wadlow
SCREENPLAY BY: Todd Berger and Robert Rugan
STORY BY: John R. Morey and Todd Berger
PRODUCERS: Marlon Wayans, p.g.a., Rick Alvarez, p.g.a., Nathan Reimann, p.g.a.
CAST: Marlon Wayans, Priah Ferguson, Kelly Rowland, Rob Riggle, John Michael Higgins, Nia Vardalos, Lauren Lapkus, Holly J. Barrett, Myles Vincent Perez, Abi Monterey, Helen Slayton-Hughes
Learn more at: netflix.com/thecurseofbridgehollow
---
NEWEST SHUDDER ORIGINAL FILM BIRTH/REBIRTH COMMENCES PRODUCTION: "Shudder, AMC Networks' streaming service for horror, thriller and the supernatural announced today the start of production on the latest Shudder Original Film, Birth/Rebirth. The first feature from writer-director Laura Moss, Birth/Rebirth stars Marin Ireland (The Umbrella Academy, Y: The Last Man) and Judy Reyes (Claws, The Horror of Dolores Roach), with AJ Lister (Challengers), Breeda Wool (National Treasure: Edge of History, Mr. Mercedes) and Monique Gabriela Curnen (Power Book II: Ghost, Away).  Birth/Rebirth is produced by Mali Elfman and David Grove Churchill Viste from original script written by Moss and Brendan J. O'Brien. Shudder will release the film in North America, the United Kingdom, Ireland, Australia and New Zealand in 2023.
Said Shudder general manager, Craig Engler, "We're thrilled to be working with Laura and their amazing cast on this unique, wrenching take on a classic tale. Birth/Rebirth is a fantastic blend of psychological and body horror, sure to electrify our members."
Writer-director Laura Moss added, "I am over the moon to be working with Shudder to finally bring this project to life. It's been gestating for a long time and I'm so proud of the cast and crew we have assembled to make it happen."
Birth/Rebirth is a psychological horror film about motherhood and creation, inspired by Mary Shelley's 'Frankenstein'. The film is centered around a single mother (Reyes) and a childless morgue technician (Ireland) who are bound together by their relationship to a re-animated little girl (Lister).
The deal was negotiated by Emily Gotto, VP, Global Acquisitions & Co-Productions on behalf of Shudder and UTA Independent and Bruce Eisen on behalf of the filmmakers."
---
Final X: Final Experiment: "Actor and Director Thomas Haley's newest film, Final X: The Final Experiment is set to premiere at the iconic Chinese Theater for the 7th annual Silicon Beach Film Festival.  
Everyone needs closure from something, Erik Crowe (Thomas Haley) has  signed up for what he thinks is a social experiment for other peoples pain,  but it just might be The Final Experiment for him, at the hands of three  scientists (Jessica Cameron, Konstantin Lavysh and James Duval) with seemingly unclear motives. 
Final X stars James Duval (Donnie Darko, Independence Day, May),  Konstantin Lavysh (Ice, The Americans), Jessica Cameron (Truth or Dare,  Song of Solomon, Red Eye), Robert Donovan ( The Black Room, Art of the  Dead, Sunset Society), Dani Inks ( Hornet, My Uncle John is a Zombie,  Maskhead), and Hadiyyah Noelle (Intrusion, Boo Bitch)."
Final X: Final Experiment had its world premiere at the Silicon Beach Film Festival on Sat. Sept. 10,2022. 
"Final X: Final Experiment is produced by H2 Crew Productions. H2 Crew  Productions is an Independent film production company that produces  Narrative films in feature and featurette lengths on a wide range of media  platforms, including Video on Demand streaming services, Blurays, Dvd's,  and social media sites."
Director Thomas Haley had this to say about the premiere: "When I read the script that Alek Gearhart had sent me for the first time, In  my head I saw a film that I had hoped would touch someones heart, 4 months  later being able to screen Final X: The Final Experiment on the 60 foot tall  screen at the CHINESE THEATER in HOLLYWOOD, California, I am still  hopeful that the film we were able to complete is as thought provoking,  thrilling and touching as that first time I read it on the page. This Is a proud  moment for me, my gratitude to each and every person that gave it their 110% to make this project come together." 
Actress Dani Inks had this to say about filming Final X: Final Experiment: "To say working with Tom was a pleasure would be a gross understatement.  Not only is he both a brilliant director and actor, he's also a kind and  wonderful person who made it a joy to be on set. I was in awe of him  throughout the entire process and I'm looking forward to working with him  many more times in the future!"