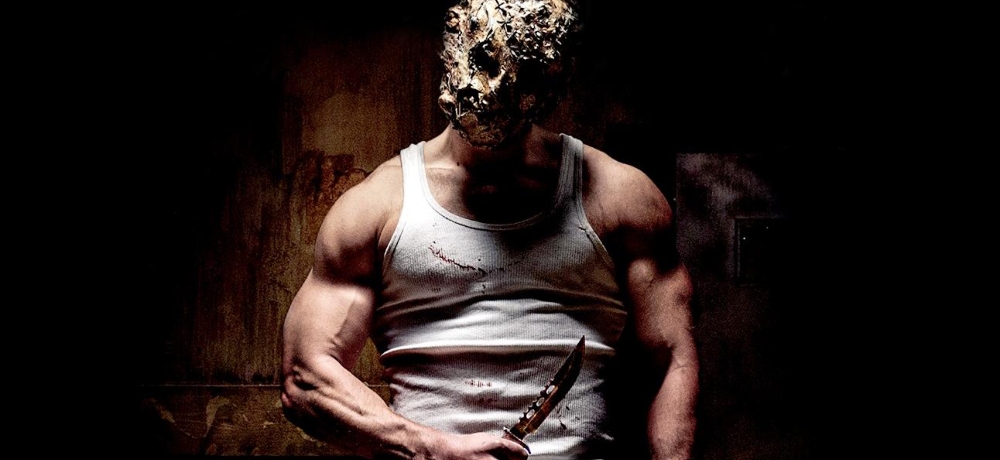 From the Horror Collective and Millennium Media comes the anticipated trailer for The Dare! Check it out before the movie is released on March 3rd on VOD, digital, and in theaters for one night only. Also in today's Horror Highlights: release details for Mondo's Godzilla: A Poster Show, The Long Dig, From the Stars... A Vampiress: An Unauthorized Vampirella's Classic Horror Adventures, and The Deep Ones.
The Dare Trailer Revealed: "The official trailer for the upcoming award-winning horror film The Dare has been unleashed for all to experience! The film, which was produced by Millennium Media and is being distributed by The Horror Collective, will be released on March 3rd, 2020 on VOD and digital platforms. It will also have a limited, one-night release in theaters that week.
The film features lead actor Bart Edwards, who plays Urcheon in Netflix's hit series The Witcher. Additionally, horror icon Richard Brake (Rob Zombie's 31, Doom, Batman Begins) appears alongside Robert Maaser (Mission: Impossible – Rogue Nation).
Synopsis: When a childhood prank goes wrong, four strangers are forced to relive a cruel game at the hands of a masked psychopath.
Starring Bart Edwards (The Witcher), Richard Brake (Rob Zombie's 31, 3 From Hell), Richard Short (American Horror Story, Arthur & Merlin: Knights of Camelot), Alexandra Evans (London Fields, Redistributors), Robert Maaser (Mission: Impossible - Rogue Nation, 1917), Harry Jarvis (The Knight Before Christmas, Proven Innocent), Devora Wilde (The Tombs, False Witness), and Emily Haigh (Horizon).
The film is directed by Giles Alderson (Hollywood Hostel, The Girl Whisperer), who co-wrote the film with Jonny Grant (Arthur & Merlin: Knights of Camelot) and produced by Julian Kostov (Treadstone, A Discovery of Witches). It was executive produced by Yariv Lerner (Rambo: Last Blood, Hellboy, Angel Has Fallen).
Social Media Links:
Twitter: https://twitter.com/thedaremovie
Instagram: https://www.instagram.com/thedaremovie/
Hashtag: #TheDareMovie "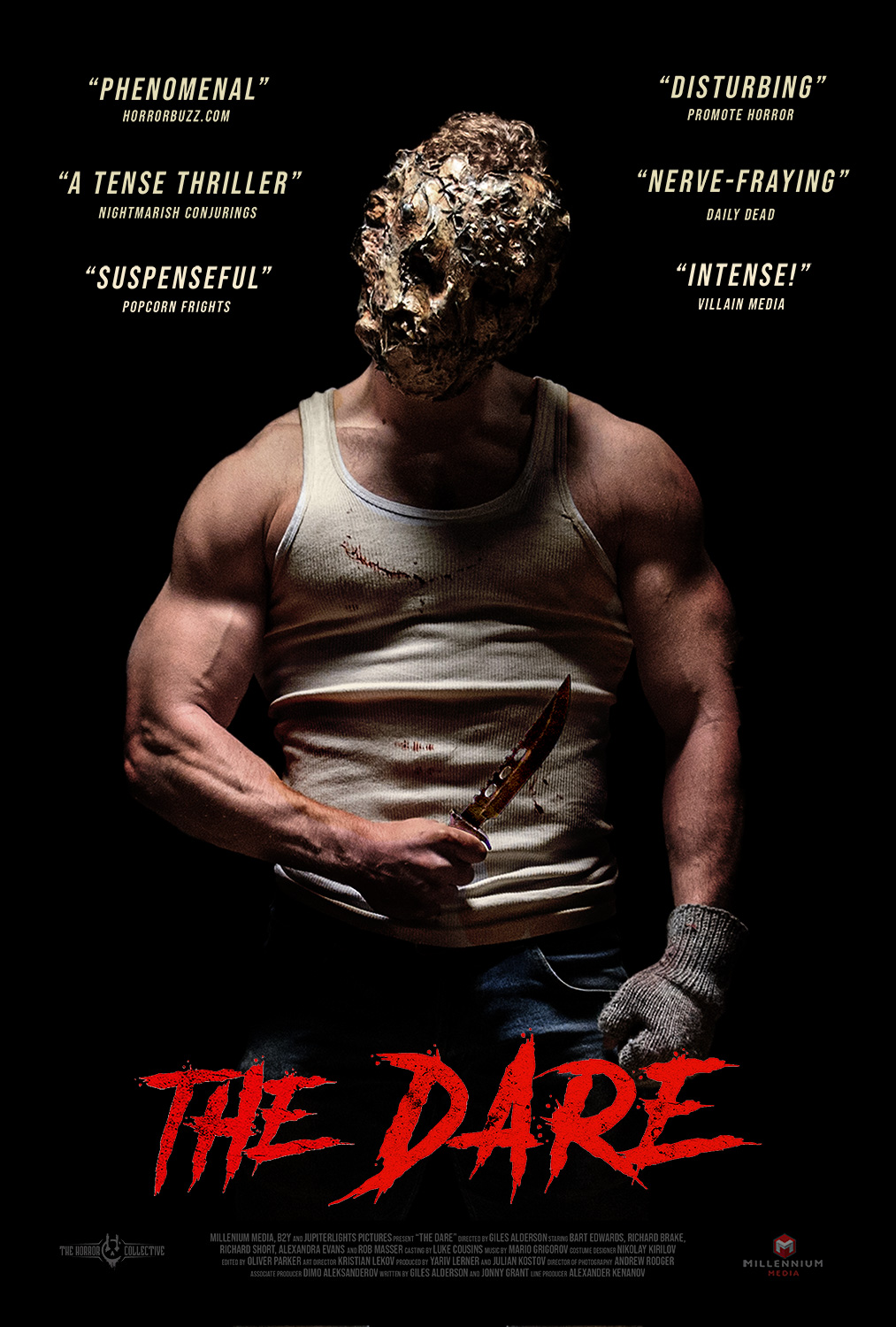 ---------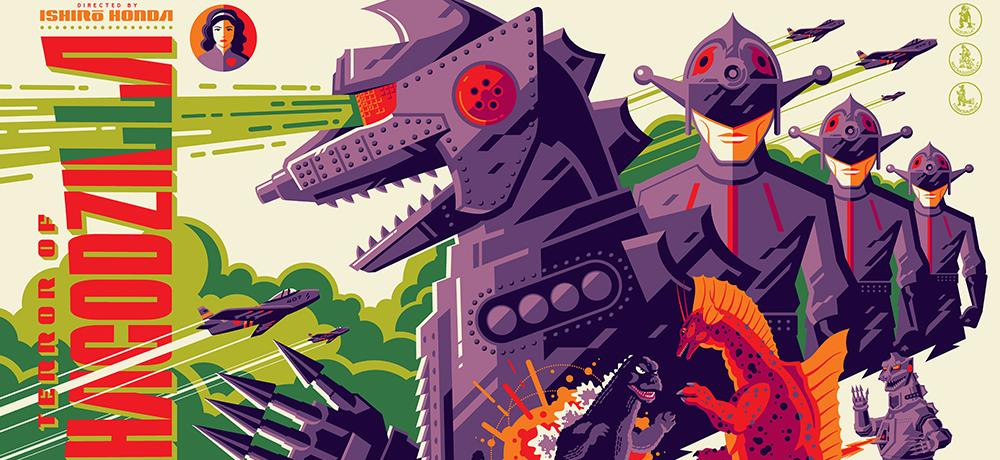 Details on Mondo's Godzilla: A Poster Show: "As first revealed by our friends at SYFY WIRE, we are proud to continue our unprecedented relationship with Toho International to present ゴジラ|GODZILLA: A POSTER SHOW opening Friday, March 13, 2020.
This extraordinary poster show will tackle the Shōwa, Heisei and Reiwa eras of the Godzilla film catalog with 24 posters by 11 artists, including Godzilla fanatic, Tom Whalen - whose TERROR OF MECHAGODZILLA poster can be seen below, and Attack Peter, an artist we've been eager to work with who specializes in beautifully handcrafted linocut artwork printed on Lokta paper.
Mondo's Creative Director of Toys and Collectibles, Brock Otterbacher: "He's been many things over his many years- a symbol of the horrors of war, nature's wrath, a hero, a villain, and even the collection of angry souls taking revenge on the living. One thing he's always been, however, is beloved across many generations of fans, children and adults alike.
"The King of the Monsters comes to Mondo's Gallery for a kaiju-sized show featuring the city stomping giant, along with many of his friends and foes. Dozens of fantastic artists bring their appreciation to the various eras of Toho's monster movies, and I, as a huge fan myself, feel there's something for every kind of Godzilla fan. Whether you have a love for Jet Jaguar, Mothra, Gigan, Destoroyah, or Godzilla himself, I think you'll be stoked for what we have in store for you!"
Along with the incredible array of posters, we will also have the latest additions to our ever-growing apparel collection on hand. Visitors to the gallery will have the first shot at brand new items from Becky Cloonan and Attack Peter - alongside a preview of upcoming officially licensed collectibles.
ゴジラ|GODZILLA: A POSTER SHOW will have VIP and press preview from 4-7 pm (CT), with a public opening 7-10 pm (CT) on Friday, March 13, 2020, and continue through the weekend 12-6p Saturday and Sunday.
Mondo's current Toho apparel collection is now available at www.mondoshop.com . Stay tuned to our social channels for updates, previews and reveals from this MONSTROUS event."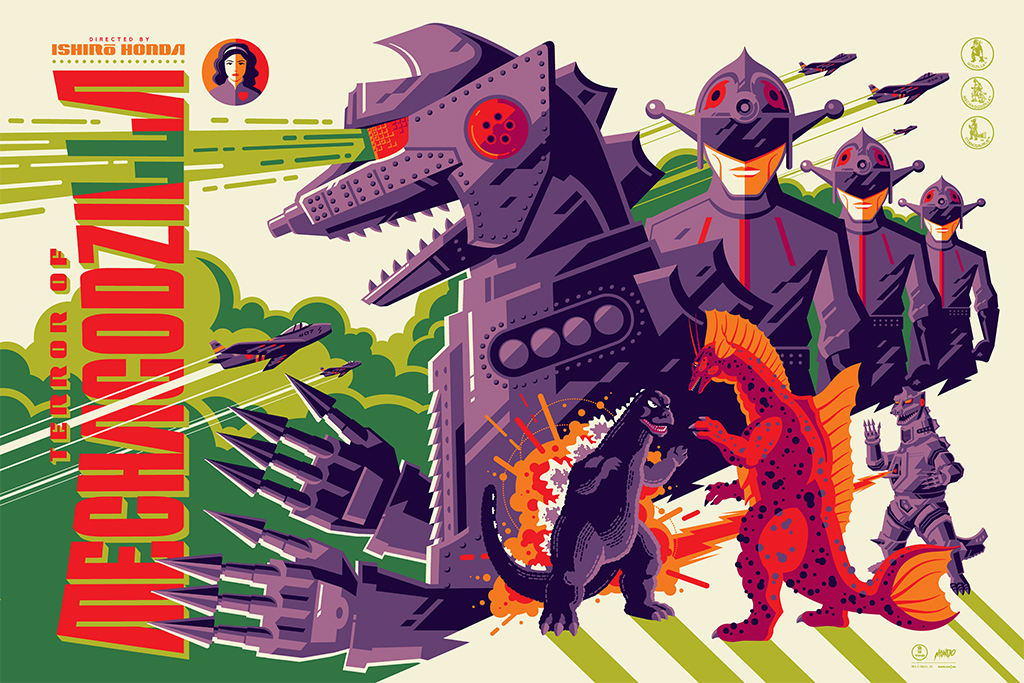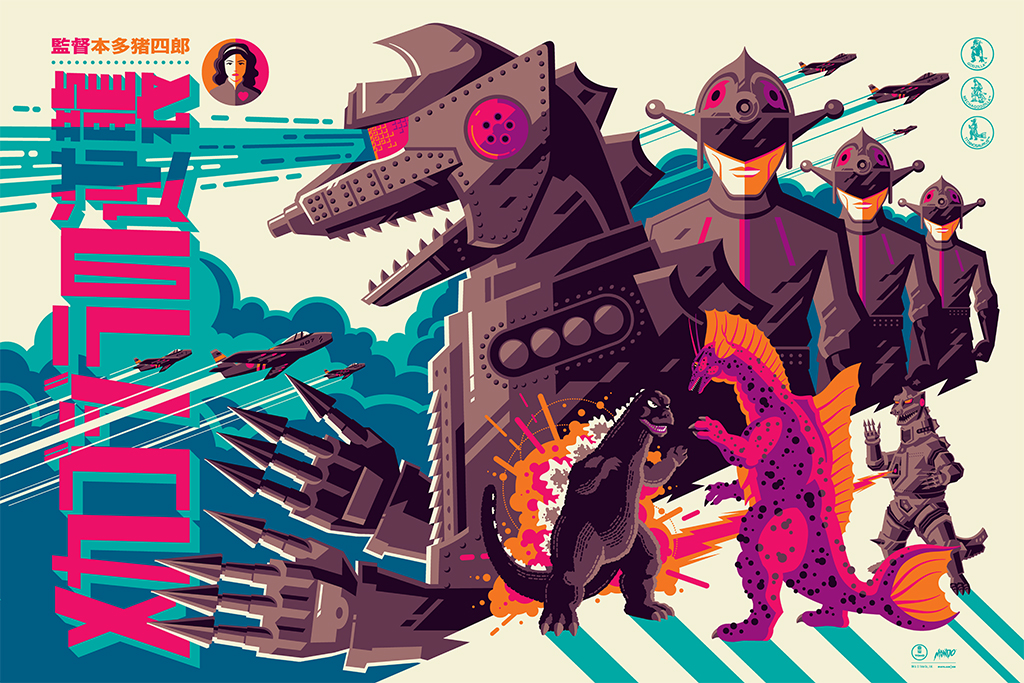 ---------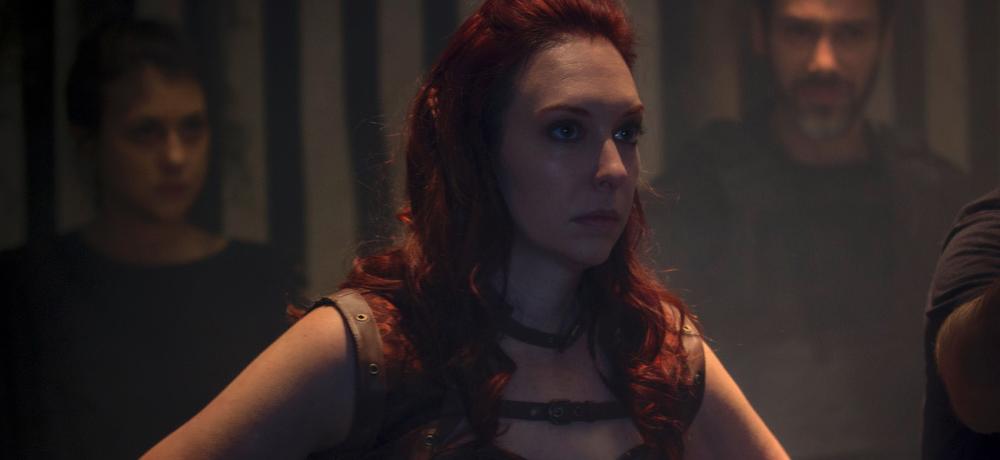 The Long Dig Release Details: "The Long Dig is part of the larger Aeronauts universe, a tabletop game from Electric Purple Studios that will be released at a later date and was recently previewed at PAX. The Long Dig was also recently accepted to the Chicago Independent Film and TV Festival.
Eve (Hackett) scours decaying old ruins for Antenoch technology that was buried or otherwise preserved. Having - she hopes - perfected a mixture of oils that will prevent the decay of Antenoch artifacts, Eve is equipped to safely remove them from these ruins. Today, she's found an old transportation hub, perhaps a subway, haunted by monsters and hiding treasure. It is an adventure in darkness, with flashes of fear and bursts of action, about one woman's desperate desire to return home.
The Long Dig premiered on Fangirl Nation and can be watched in full below:
---------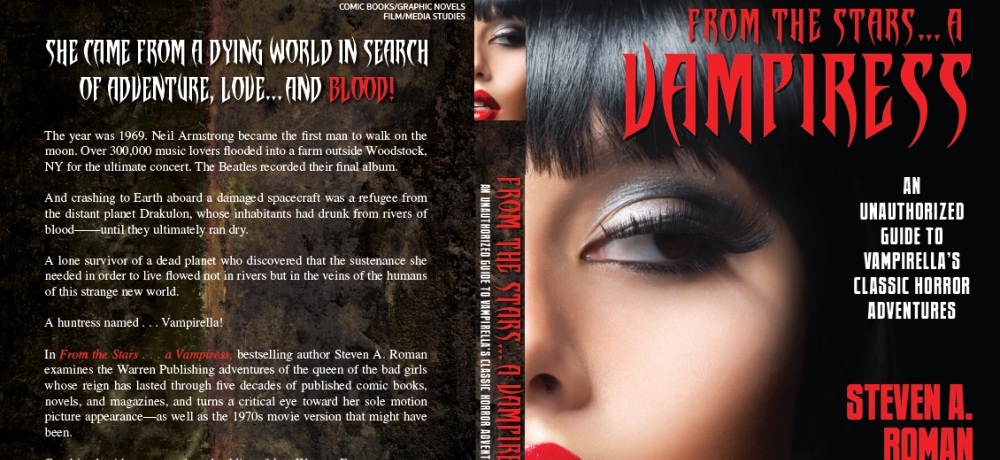 From the Stars... A Vampiress: An Unauthorized Vampirella's Classic Horror Adventures Release Details: "In 1969, Neil Armstrong became the first man to walk on the moon; over 300,000 music lovers flooded into a farm outside Woodstock, NY for the ultimate concert; the Beatles recorded their final album. And crashing to Earth aboard a damaged spacecraft was a refugee from the distant planet Drakulon, whose inhabitants had drunk from rivers of blood―until they ultimately ran dry. A lone survivor of a dead planet who discovered that the sustenance she needed in order to live flowed not in rivers but in the veins of the humans of this strange new world. A huntress named Vampirella!
Created in 1969 by comics publisher James Warren and writer/editor Forrest J Ackerman, Vampirella is the femme fatale from outer space known for fighting monsters while wearing a one-piece swimsuit and a pair of go-go boots, and who celebrated her 50th-anniversary last year with the launch of a new series by her current rights owner, Dynamite Entertainment. And it's the fascinating history of this character that's explored in the nonfiction book FROM THE STARS…A VAMPIRESS: AN UNAUTHORIZED GUIDE TO VAMPIRELLA'S CLASSIC HORROR ADVENTURES (ISBN: 978-0-9982361-4-8), now on sale from independent publishing house StarWarp Concepts.
Written by Steven A. Roman, bestselling author of the novels X-Men: The Chaos Engine Trilogy and Final Destination: Dead Man's Hand, From the Stars…a Vampiress: An Unauthorized Guide to Vampirella's Classic Horror Adventures is an extensive look at Vampi's early days, from the debut of her series in 1969 to the death of Warren Publishing in 1983:
The Vampire Who Fell to Earth: It's the story of the life of Vampirella at Warren Publishing: her 1969 development by cocreators James Warren and Forrest J Ackerman, with the assistance of artists Frank Frazetta and Trina Robbins; the adventures she went on via the writing and artistic talents of such visionaries as Archie Goodwin, Bill DuBay, Jose Gonzalez, Enrich, Gonzalo Mayo, and many others; and the cancellation of her series in 1982 when the company collapsed. It also looks at the work of four Vampi writers who were just as talented but not as well known: Mike Butterworth, who wrote under the pseudonym Flaxman Loew; T. Casey Brennan; Rich Margopoulos; and Gerry Boudreau.
The Vampirella Episode Guide: The largest section of the book, it examines every story starring Vampirella during the Warren Era: over 100 entries, some with little known behind-the-scenes details. Plus stories behind some of Vampi's unpublished adventures!
Vampi Goes to Hollywood: In 1975, Hammer Films announced the development of a Vampirella movie starring model/actress Barbara Leigh and the legendary Peter Cushing. The project crashed in spectacular fashion, but the details have always been murky. Roman attempts to clear up the confusion surrounding it, detailing the production from its launch to its unfortunate ending. And then he takes a critical look at the Vampirella movie that was made in 1996, starring Talisa Soto and rock god Roger Daltrey of the Who—and probably shouldn't have been!
The Literary Vampiress: From 1975 to 1976, Warner Books published a series of Vampirella novelizations by science fiction and pulp author Ron Goulart. Roman takes a look at each novel, and explains why they're worth tracking down…if you can find copies!
The Vampirella Warren Era Checklist: A list of every Warren Vampi story, plus every reprint volume from Harris Comics and Dynamite Entertainment, along with little-known trivia!
From the Stars also features a foreword by Sean Fernald, the Official Vampirella Historian; a peek at Peter Cushing's personal copy of the 1976 Vampirella screenplay; a frontispiece by legendary artist Bob Larkin, who painted covers for Warren's Vampirella, The Rook, Eerie, and Famous Monsters of Filmland; and rare photos from the collection of Forrest J Ackerman.
From the Stars…a Vampiress: An Unauthorized Guide to Vampirella's Classic Horror Adventures is available for order from Amazon.com, Barnes & Noble, brick-and-mortar bookstores, and from the StarWarp Concepts website. The PDF e-book edition is available for download from DriveThru Fiction and from the StarWarp Concepts webstore.
This book is unofficial and unauthorized. It is not authorized, approved, licensed, or endorsed by Dynamite Entertainment or any of its licensees. Vampirella is a trademark of Dynamite Entertainment.
About the Book:
From the Stars…a Vampiress: An Unauthorized Guide to Vampirella's Classic Horror Adventures by Steven A. Roman
Published by StarWarp Concepts
308 pages, trade paperback (6" x 9")
U.S. $19.99 (print edition) • $9.99 (digital; PDF)
ISBN: 978-0-9982361-4-8 (trade paperback)
ISBN: 978-0-9982361-5-5 (e-book)."
For more information, visit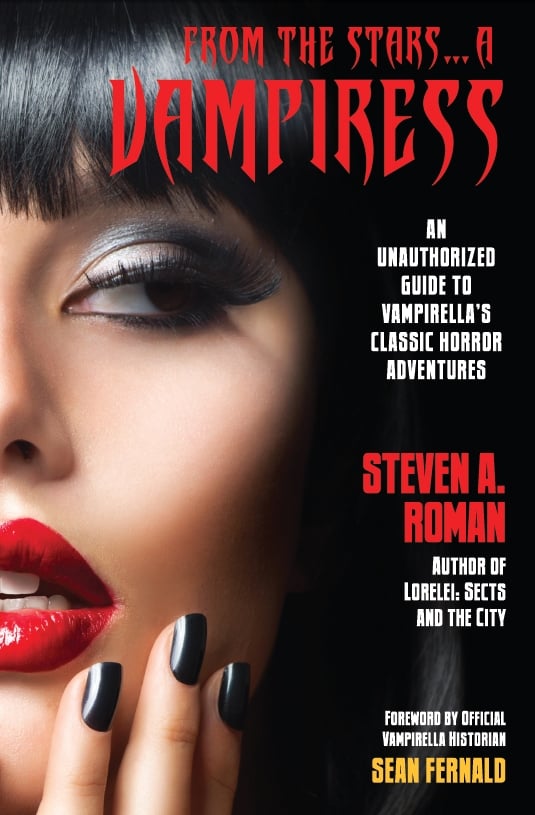 --------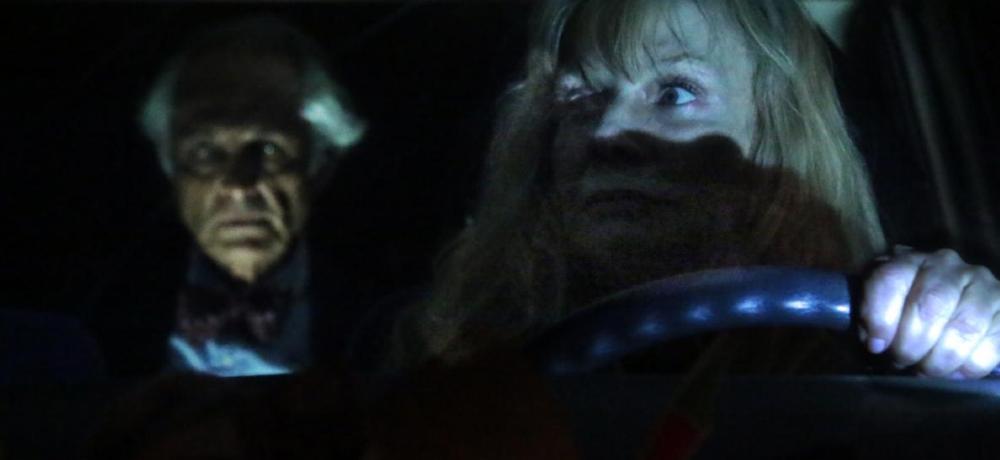 The Deep Ones Release Details: "Independent horror filmmaker Chad Ferrin (Parasites, The Ghouls, Someone's Knocking at the Door) has debuted the first photos from his eighth film The Deep Ones, a Lovecraftian take on Rosemary's Baby. A married couple rents a beachside dream home, only to be surrounded by peculiar neighbors and bizarre occurrences. They soon discover they are in the crosshairs of a mysterious cult and their ancient sea god.
The cast of The Deep Ones includes Johann Urb ("Arrow"), Gina La Piana, Robert Miano, Silvia Spross, Jackie Debatin, Nicolas Coster, Rachel Pringle, Jerry Irons, Robert Rhine, Jon Mack, Bulet Rush, Timothy Muskatell, Kelli Maroney (Chopping Mall, Night of the Comet) and Kurt Carley (the Underworld franchise, Roland Emmerich's Godzilla).
Behind the scenes, Ferrin is joined by producers Gina La Piana, Robert Miano and Jeff Olan, composer Richard Band (Re-Animator, From Beyond), director of photography Jeff Billings, makeup effects artist Jim Ojala (Deadgirl, Strange Nature) with key art by Nenad Gucunja. The Deep Ones is executive produced by Michael Schefano, Richard Pate, Gerry Karr, and Zebadiah DeVane.
"H.P. Lovecraft must be smiling down on us," Ferrin shared, "as this has been the most blessed film experience of my 25 years of doing what I love. And I thank the cast and crew from the bottom of my heart for going above and beyond all expectations."
After suffering an untimely loss, Alex (La Piana) and her husband Petri (Urb) visit California for a much-needed break from reality. At an unassuming rental, they meet the mysterious Russell Marsh (Miano). Marsh introduces them to the oddly enthusiastic locals, fixes them a lavish meal and invites them out on his luxury boat. Little do they know that beneath Mr. Marsh's thin veneer of avuncular charm lurks a dark devotion to an archaic evil. A wickedly warped twist on the classic Cthulhu mythos, The Deep Ones is what it looks like when Rosemary's Baby undergoes the Innsmouth Transformation.
The Deep Ones will premiere in 2020."