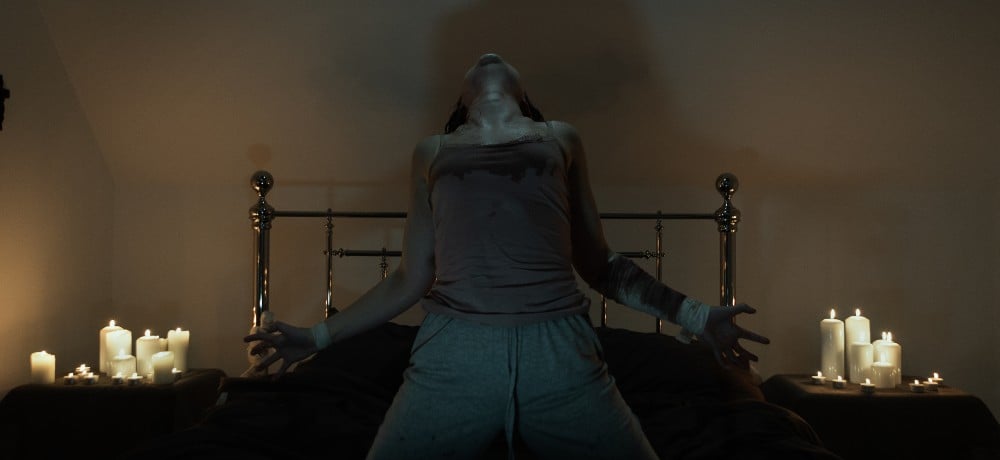 THE LAST RITE: "Samuel Goldwyn Films announced today that the company has acquired U.S. rights to Leroy Kincaide's THE LAST RITE. The film stars Bethan Waller (Red Bird), Johnny Fleming (Soho), Kit Smith (Echoes), Tara Hoyos – Martinez (Trust), Ian Macnaughton (Monty Python's Flying Circus), David Kerr (The Crown), Deborah Blake (Billionaire Boy).
Lucy, a study from home medical student and sleep paralysis victim, moves in with her boyfriend and finds out all is not as it seems, when she falls prey to a demonic force hell bent on ripping her apart from within. Torn between sanity and the unknown, Lucy is left with no alternative but to contact a local priest, Father Roberts for help.
With time running out and the dark force consuming her from inside, Father Roberts is forced to make a choice, do the right thing and get the church involved, or help Lucy by conducting his own exorcism against the will of the church.
"I feel incredibly excited and thrilled to have my debut feature film find its home with the prestigious Samuel Goldwin Films. After all the blood & sweat equity that has gone into making The Last Rite possible, it feels great that the American audience will soon be able to watch my tale of a supernatural horror," says Leroy Kincaide.
THE LAST RITE was written and directed by Leroy Kincaide. The film was produced by Chloe Chudasama, and Leroy Kincaide.
The deal was negotiated by Taylor Devorsky on behalf of Samuel Goldwyn Films and Daisy Hamilton of Tricoast on behalf of the filmmakers.
The Last Rite will be released On-Demand and Digital November 26th."
--------
LAST NIGHT IN SOHO - "Downtown" Official Music Video: "In acclaimed director Edgar Wright's psychological thriller, Eloise, an aspiring fashion designer, is mysteriously able to enter the 1960s where she encounters a dazzling wannabe singer, Sandie. But the glamour is not all it appears to be and the dreams of the past start to crack and splinter into something far darker.
Director: Edgar Wright
Writers: Edgar Wright and Krysty Wilson-Cairns
Producers: Nira Park, Tim Bevan, Eric Fellner, Laura Richardson, Edgar Wright
Cast: Anya Taylor-Joy, Thomasin Harcourt McKenzie, Matt Smith, Terence Stamp, Diana Rigg, Rita
Tushingham, Michael Ajao, Synnøve Karlsen"
Focus Features will release LAST NIGHT IN SOHO in theaters on October 29, 2021
-------
MOTHERLY: "The Horror Collective's new home invasion thriller, MOTHERLY, is set to premiere On Demand and Digital on Tuesday, November 16, 2021.
Directed by Craig David Wallace (Todd And The Book Of Pure Evil) and starring Lora Burke (For The Sake Of Vicious), Tessa Kozma (A Christmas Carousel), Kristen MacCulloch (Psycho Goreman), and Nick Smyth (For The Sake Of Vicious), MOTHERLY is a twisted tale of revenge that puts one woman's motherly instincts to the test."
----------
NIGHT RAIDERS Trailer: "A mother joins an underground band of vigilantes to try and rescue her daughter from a state-run institution."

Starring: Elle-Máijá Tailfeathers, Brooklyn Letexier-Hart, Gail Maurice, Amanda Plummer, Alex Tarrant, Violet Nelson, Shaun Sipos, Suzanne Cyr
Written and Directed By: Danis Goulet
IN THEATERS, ON DEMAND AND DIGITAL: November 12, 2021
-------
NIGHT NIGHT Trailer: "After waking up from a horrific car accident, April must find a way to work through her trauma and a will to survive a recovery from hell. Directed by Niki Koss. Produced by Amber McNutt, Robert Johnson, Ryan DeLaney, Niki Koss, and Theresa Picciallo. Starring Brenna D'Amico, Deric Augustine, Matty Cardarople, Eric Roberts and Tony Todd."
NIGHT NIGHT will be released in theaters and VOD November 16th, 2021