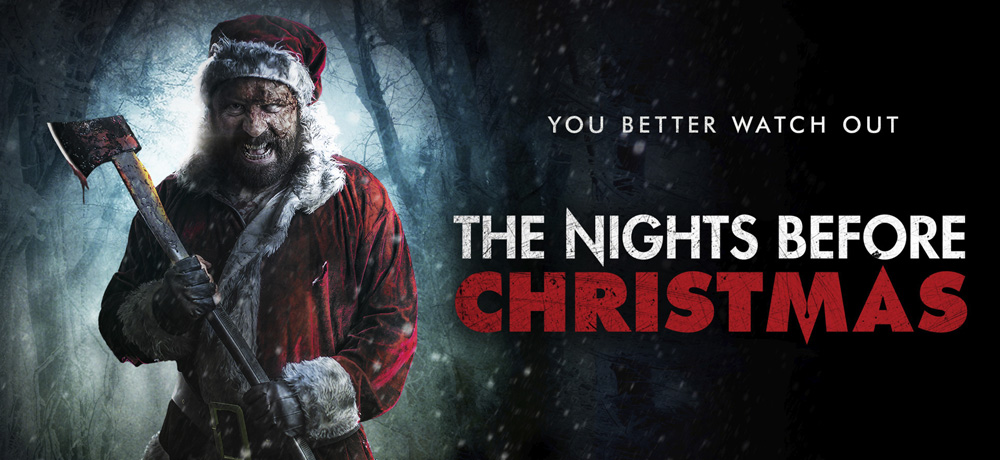 In today's Horror Highlights: Watch the trailer for The Nights Before Christmas, check out the short film The Crossing, and learn more about the re-release of Abandoned Dead!
THE NIGHTS BEFORE CHRISTMAS: "In the run up to Christmas, a murderous Santa and Mrs Claus rampage their way through a series of gruesome killings. FBI Special Agent Natalie Parker is tasked with tracking the pair of psychotic serial killers and discovering what links their victims. With the body count rising, she discovers the couple met in and escaped from an asylum for the criminally insane. As Christmas day nears, the psychotic couple slaughter their way through their special naughty list, playing a cat and mouse game with the FBI and leaving a trail of gruesome bloody bodies in their wake."
THE NIGHTS BEFORE CHRISTMAS is directed by Paul Tanter and stars Simon Phillips, Sayla De Goede, Kate Schroder, Keegan Chambers and Anne-Carolyn Binnette.
--------
Watch the Short Film THE CROSSING: "If you were granted a gift of any kind, what would you wish for?"
Written and Directed by Kheireddine El-Helou
Executive Producers Nestor Arce, Sean Hernandez, Anthony Torres
Victoria - Anna Kaskeeva
Varla - Sarah Navratil
The Monster - Christof Ryjin Pearson
Old Carla - Juliette James
Young Victoria - Gianna Mira
The Nun - Jolene Andersen
Director of Photography - Kheireddine El-Helou, Allen Chodakowski
Producers - Kheireddine El-Helou, Emmaneul El-Helou
Music by - Emmaneul El-Helou
Makeup By - Marlene Sierra
Edited By - Kheireddine El-Helou
Camera Assistants - Tia Naayem, Daniel Button
Colorist - Edo Brizio
Special Thanks - Mom & Dad
---------
ABANDONED DEAD: "The new color-corrected and digitally enhanced Director's Cut of the 2015 indie horror film Abandoned Dead is now out on Amazon Prime and IMDB TV. It is being distributed by Los Angeles-based distributor Indie-Rights. 
Abandoned Dead tells the tale of a security guard, trapped in a run-down inner-city medical clinic and terrorized by supernatural forces which threaten to overtake her. It stars scream queen Sarah Nicklin [Sins of Dracula] and Judith O'Dea [Night of the Living Dead]. 
It is available on the following Streaming Platforms: 
Amazon: https://amzn.to/35pewJi
IMDB tv: https://imdb.to/37zk1Il
Apple - i-Tunes: https://apple.co/35GsYwD"