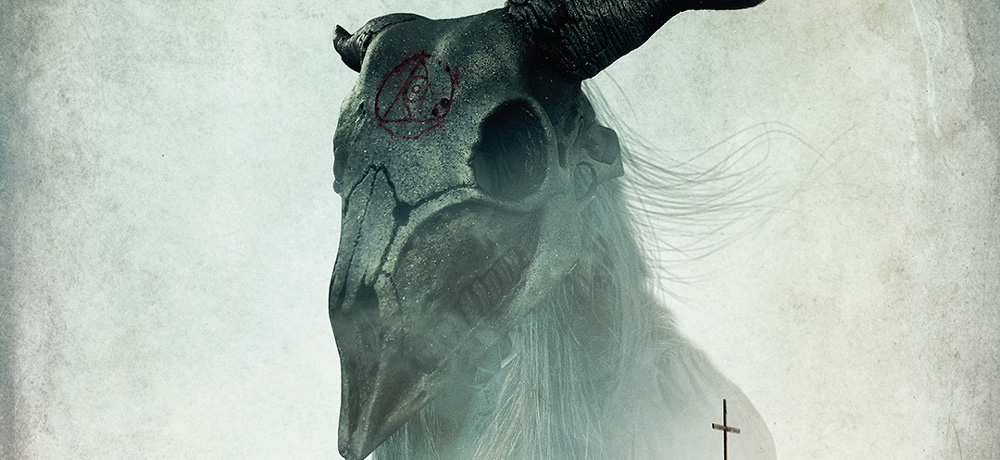 We're back with another installment of Horror Highlights! In today's feature, we have the trailer and release details for The Pale Door, first word on the In-House Con virtual convention, and details on a Drive-Thru Halloween experience coming to Orlando this October:
THE PALE DOOR Trailer & Release Details: "The Dalton gang finds shelter in a seemingly uninhabited ghost town after a train robbery goes south. Seeking help for their wounded leader, they are surprised to stumble upon a welcoming brothel in the town's square. But the beautiful women who greet them are actually a coven of witches with very sinister plans for the unsuspecting outlaws - and the battle between good and evil is just beginning."
Starring:
Devin Druid, Zachary Knighton, Noah Segan, Stan Shaw, Pat Healy, Bill Sage, Melora Walters, Natasha Bassett
Written By:
Aaron B. Koontz, Cameron Burns, Keith Lansdale
Directed By:
Aaron B. Koontz
Run Time: 96 minutes | Rating: Not Rated
AVAILABLE IN THEATERS, ON DEMAND AND DIGITAL: August 21, 2020
---------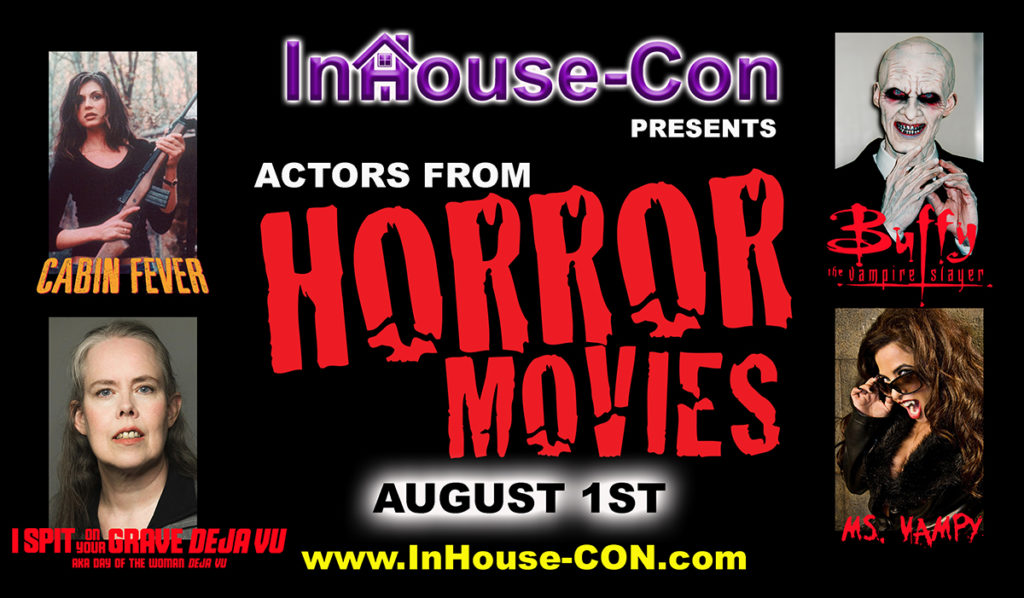 INHOUSE-CON Virtual Horror Convention Announced: "Coolwaters Productions announces horror celebrities virtual InHouse-Con during COVID-19 #StaySafe to be held on Saturday, August 1, 2020 from 3-4PM EST/12-1PM PST. Celebrity guests will include Cerina Vincent (Cabin Fever), Brooke Lewis Bellas (Ms. Vampy), Maria Olsen (I Spit on Your Grave Déjà Vu), and Camden Toy (Buffy the Vampire Slayer).
InHouse-Con is an on-line convention for fans to experience the stars of their favorite franchises virtually!
Details About the Event:
InHouse-Con is a virtual convention hosted by Coolwaters Productions LLC for fans to experience the stars of their favorite franchises virtually! In the age of social distancing, Coolwaters' President Derek Maki has assembled an all-star cast of legendary actors and creatives for interactive fun! From the comfort of your home and computer or smart device join us as we interview some incredible people. YOU can join in the fun to ask questions from home! Packages include: autographs, private live video chats & packages that include both. All limited and will sell out fast!
What is available? Autographs & Video Chats & Packages:
Before or after the live panel (time will vary depending on availability), the panelists will make themselves available for private "one-on-one" chats. See our store for available chats for each Saturday offered with paying fans chatting live with the celebrity guests.
We are the ONLY virtual convention out there to feature live video chats with our guests LONGER than 1-2 minutes!!!! Our One-on-one chats will be 5 minutes long!!! You choose which celebrity you want to chat with! You will be sent a link via ZOOM to join the video chat. A limited number of these individual chats will be offered per guest.
Zoom links are typically sent out Friday nights late or early Saturday before the panel and private chats start. Please do NOT contact us looking for your zoom link. ONLY contact us for a missing zoom link Saturdays at 10:30 AM.
Our virtual door charge is only $3.99 – $4.99 to join in on the 1-hour panel, or you can buy a monthly pass and save money! The virtual door charge is required to join the panel and is also required in order to purchase your autographs and or group and private chats.
Events: Each Saturday's themed event will be held online via Zoom (you must download the FREE ZOOM app to participate). Event attendees log into a group panel featuring our guests in a hosted, 1-hour long panel. Private 5-minute long video chats are also available with most guests. Other packages can have a personalized autograph mailed out to the fan after the event.
The 1-hour panel will be on camera and include sound. Coolwaters' own President Derek Maki will moderate and ask the panelists questions. Fans can also send in questions during the panel to be answered LIVE by the celebrity guests! Each event includes exclusive content, fun polls, some events have cool give-a-ways also!
Official Website:
----------
THE HAUNTED ROAD Halloween Drive-Thru Experience: "A new, completely contactless Halloween experience is coming to Central Florida this upcoming season. With a terrifying mix of theatrical storytelling, horrifying creatures, unexpected scares and a twisted take on immortal tales, The Haunted Road will satiate the need for scares this fall, with safe social distancing measures.
A group of Orlando-based creative and themed entertainment experts got together to reimagine the traditional haunted house event, developing a Halloween experience that will be unlike anything else. The entire event was designed with physical distancing measures in mind, from contact-free check-in by license plate, to immersive drive-in scenes.
The original storyline presents familiar characters like you have never seen them before. As guests drive through each nightmarish scene, they'll be immersed into a ghastly rendition of an untold story of Rapunzel as she journeys into a world of disarray, faces bloodcurdling creatures – and hundreds of shocking scares.
A family-friendly version of the event will also be available during the daytime on select weekends. The daytime event will feature an adaptation of the immersive scenes and storyline, but trading screams for Halloween fun the entire family can enjoy.
Dates and additional details will be revealed soon.
"With the arts and entertainment industry at a standstill, and an increasing need to find new, safe outdoor entertainment, we knew it was the perfect time to develop a unique Halloween experience so everyone can enjoy a dose of horror this upcoming Halloween season, from the comfort of their car," said Jessica Mariko, executive producer and creative principal for The Haunted Road.
Mariko is leading a team of award-winning creative minds that have worked on globally-renowned shows and attractions in creative development, entertainment, Broadway marketing and theme park operations to develop an original storyline and immersive theming for The Haunted Road.
Mariko is known for bringing to life first-of-its-kind entertainment experiences in Orlando, including DRIP, a theatrical dance/rock show and tourist attraction known for its full sensory environment and raw emotional audience connection, with a successful five-year run on I-Drive.
The event will also cast local actors and performers as it prepares to open in the fall. Virtual auditions will take place from August 13 to 16. For additional details, visit TheHauntedRoad.com/Casting.
To help bring the event to life, The Haunted Road will launch a Kickstarter campaign soon. Campaign supporters can choose from a variety of rewards, from securing an admission ticket in advance, access to a virtual version for out of town donors, and more.
Admission tickets will start at $15 per person. Sign up to receive the latest event updates and support the Kickstarter campaign at TheHauntedRoad.com, or follow @TheHauntedRd on Facebook, Instagram and Twitter."