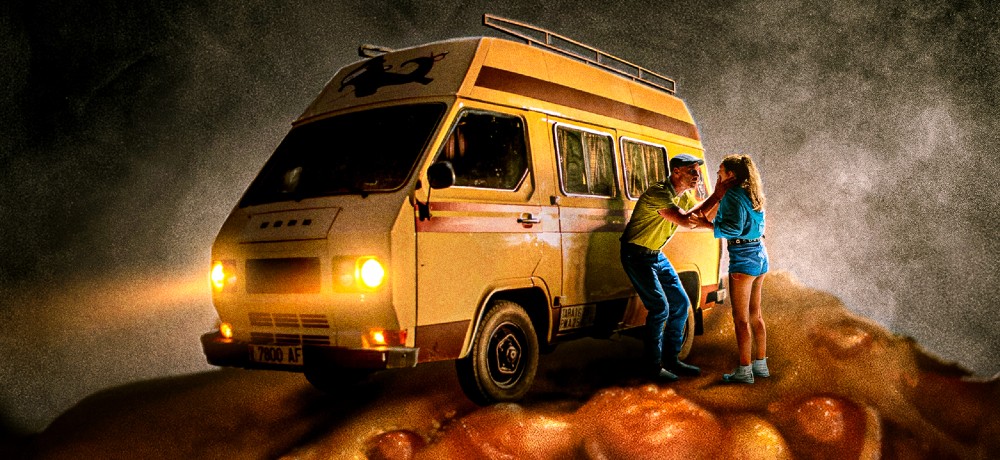 Watch the Trailer for THE PASSENGER: "A group of strangers sharing a ride have their trip interrupted when the driver hits a woman hiking in the dark of night. They decide to help her, but quickly learn that something is wrong and that they shouldn't have let her in at all."
Starring: Ramiro Blas, Cecilia Suárez, Paula Gallego and Cristina Alcázar
Directed By: Raúl Cerez and Fernando González Gómez
Written By: Luis Sánchez-Polack
In Theaters June 3, 2022 / On Demand and Digital June 28, 2022
----
NIGHT CALLER: "Following a successful run on the genre festival circuit, 123 Go Films has announced the North American VOD premiere of Chad Ferrin's Night Caller. The latest feature from the director of The Deep Ones, Exorcism at 60,000 Feet and Someone's Knocking at the Door, the psychic serial killer mystery will be available on a number of digital and cable platforms, including iTunes, Amazon, Google Play, iNDemand and DISH, beginning May 13th.
Night Caller stars Susan Priver, Steve Railsback (Lifeforce), Bai Ling (The Crow), Lew Temple (The Devil's Rejects), Christine Nguyen, Silvia Spross, Kelli Maroney (Night of the Comet) and Robert Miano, and Robert "Corpsy" Rhine. Night Caller was written and directed by Chad Ferrin, with Robert "Corpsy" Rhine producing through his Girls and Corpses Films shingle and Ferrin producing for Crappy World Films.
Night Caller made its world premiere at San Francisco's Another Hole in the Head Festival, and went on to make audiences gag and squirm at festivals around the world, picking up Best Film at the Swedish International Film Festival and Peep Hole, and sweeping the awards at Anatomy Crime - Horror International Film Festival, taking home Best Director, Best Film, Best Actress, and Best Cinematography."
Synopsis: "Telephone psychic Clementine Carter is pulled into a complex web of mystery when she receives a call from a serial killer. Predicting his murders before he commits them puts her into a terrifying game of cat and mouse. Enlisting the aid of her invalid father and clairvoyant co-worker, they must use their unique abilities to stay one step ahead of a maniac whose unspeakable acts in the present are nothing compared to his past and future."
Available on Digital HD and Cable VOD May 13 Across North America from 123 Go Films
---
DIABOLIK Double Feature: "It's never too late to get back to the grind…house, that is. The drive-in is back and Diabolik is coming in swinging with an all-new adult horror/sci-fi flip for fans of B-horror and beyond. Announcing the double feature dripping with bloody delight, Professor Dario Bava: Orgy Of The Blood Freaks #1 and the supernatural spaghetti western, Gringo Loco: Dead Late And A Dollar Short! Written, colored, and lettered by Phil Mucci (Dario Bava: Occult Activity Book, Gringo Loco: Dead Late And A Dollar Short) featuring art by celebrated comics artists Mike Dubisch (Alien vs Predator, Dungeons & Dragons) and Vicente Alcázar (Eerie, Creepy, Vampirella, Jonah Hex), with covers by Emanuele Taglietti (Sukia, Zora the Vampire, Vampirissimo), Suspiria Vilchez (Swamp Dogs, Elvira Meets Vincent Price), and Dave Kendall (Magic The Gathering, World of Warcraft).
"When I was a kid, we used to sneak through the graveyard, down the train tracks, and through a broken chain link fence into the old drive-in that played horror movies from dusk till dawn," said writer Phil Mucci. "This Diabolik double feature represents exactly the kind of flicks we'd risk zombie mutilation and locomotive obliteration to see, from Satanic cults, to black-gloved killers, to hideous monsters, outrageous time travel, and yes, even nunsploitation! But it's not just an exercise in pure nostalgia; it's about telling stories where all of these genre tropes coexist in the same weird world simultaneously and feel like they belong there. Storytelling is a cultural relay race over time, and Diabolik is carrying the torch for all the monster loving weirdos like us! Mike Dubisch and Vicente Alcázar evoke the classic era of Eerie and Creepy, the comic book equivalents of the grindhouse, seamlessly blending together the wild extremes and maniacal characters into a cohesive universe."
"I grew up with Will Eisner's concept of the 'Page as a Meta-Panel' while being obsessed with 'pre-comics code' horror comics from the 1950s, and 'code-free' horror magazines of the 1970s,  it was ironic to find myself having become a slave to standard comic book page grids," said Mike Dubisch. "Then along came my savior, Phil Mucci. Not content to simply hand off a script to his chosen artist, Phil's scripts were accompanied with his own wild thumbnail layouts, making clear how he saw the pages, and it turns out this master filmmaker and devotee of the cinematic arts was MY kinda comic book fan—where page layouts broke all those self-imposed rules about doing things that might scare off editors and potential comic book clients.  So drawing Professor Dario Bava not only brought Phil's vision to life, but also brought back the comic book artist I was meant to be back to life—reborn finally as the 1970s style horror comic artist that destiny groomed me for!"
"Working in Phil Mucci´s Gringo Loco has been one of the top fun commissions along my career," said artist Vicente Alcázar. "Designing and bringing to life such a controversial character has been both a pleasure and a humorous dare. Indeed Gringo Loco is a non-exemplar character. He does women, booze and smokes, all three capital sins of a more and more prudish today. His disrespect for the common law, plus his lack of remorse in sending his dislikes to meet their creator, are a dream form for those of us who came to life awareness through language. Language that we inherited from our own (dead) predecessors. A real gift to make a great parable exercise."
"The collaboration with Diabolik was flattering and very creative," said cover artist Emanuele Taglietti. "While leaving me completely free in the moment of realization, showing great respect for my artistic interpretation; in the preparatory phase, they enriched me with both narrative and figurative suggestions, without which the final result would certainly have been diminished. In addition to this, our relationship of esteem and friendship has consolidated despite an ocean separating us. I am waiting here in Italy for my friends Ian, Phil and Dan to celebrate this beautiful comic and the artists who collaborated in its realization."