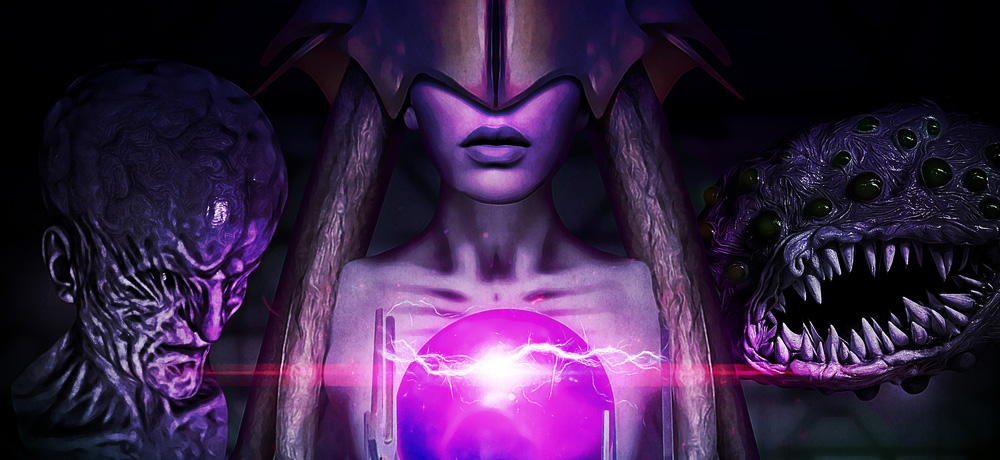 THE RESONATOR: MISKATONIC U: "Full Moon Features is furthering the Miskatonic U series (previous films include From Beyond, Re-Animator, Lurking Fear) with a new, two-part feature film, The Resonator: Miskatonic U, inspired by both the works of legendary fiction writer H.P. Lovecraft and beloved genre director Stuart Gordon.
Set in the fictional college campus "Miskatonic University" in Arkham, Massachusetts where all sorts of fantastic and unworldly events have been known to unfold in Lovecraft lore, MISKATONIC U: THE RESONATOR follows six gifted students as they navigate life after one of them, Crawford Tillinghast, builds a machine known as the "Resonator". The machine allows one to experience multiple dimensions while navigating the unsavory beasts that dwell within them. But things get complicated when Tillinghast realizes that the prototype of his creation has not only released murderous and deadly creatures into his world, but also has affected his own reality."
Premiering February 26th, 2021 exclusively on Full Moon Features channel and App.

----------
HAWK & REV: VAMPIRE SLAYERS: "Los Angeles, CA – February 22, 2021 – Freestyle Digital Media, the digital film distribution division of Byron Allen's Entertainment Studios, has acquired North American VOD rights to the horror-comedy HAWK & REV: VAMPIRE SLAYERS.  HAWK & REV: VAMPIRE SLAYERS will be available to rent and own on North American digital HD internet, cable, and satellite platforms and DVD on March 16, 2021 through Freestyle Digital Media.
HAWK & REV: VAMPIRE SLAYERS tells the story of Philip "HAWK" Hawkins. Hawk doesn't just dream about killing vampires, he eats, sleeps, drinks and freakin' breaths it! After getting kicked out the army for staking a fellow soldier with a blunt two by four, Hawk almost dies of boredom working as a night security guard in his hometown of Santa Muerte, California. Just when it looks like all Hawk's options in life have expired, filthy blood-sucking vampires appear and of course -- nobody believes him! With his back up against the wall, his sweaty Karate Kid headband on and hordes of murderous vampires closing in, Hawk enlists the help of the one person who kind of believes him: Revson "REV" McCabe, a dimwitted, vegan-pacifist groundskeeper. Together they join forces to save the whole entire freakin' world! Well, at least their hometown anyway.
Written and directed by Ryan Barton-Grimley, HAWK & REV: VAMPIRE SLAYERS features an ensemble cast including Ryan Barton-Grimley ('Hawk'), Ari Schneider ('Rev'), Jana Savage ('Theo'), Richard Gayler ('Jasper'), Casey Graf ('Arnold'), Kevin Ocampo ('Terry'), and Jeff Lorch ('Deputy Jack Scroggins').
HAWK & REV: VAMPIRE SLAYERS was produced by Ryan Barton-Grimley, AJ Gordon, and Ari Schneider. Joel M. Schneider is Executive Producer.
"I made HAWK AND REV: VAMPIRE SLAYERS because I was looking for a laugh and something truly heartfelt, some much-needed levity and humor. It is quite simply a love letter to my childhood in the mid-1980's, a more innocent and clueless time when everything seemed possible," said Ryan Barton-Grimley. "I really just hope viewers enjoy the ride and have a nice heartfelt feeling and the knowledge that maybe, just maybe, we'll all be OK."
Freestyle Digital Media negotiated the deal to acquire HAWK AND REV: VAMPIRE SLAYERS directly with filmmaker Ryan Barton-Grimley.
HAWK & REV: VAMPIRE SLAYERS website: www.hawkandrev.com"