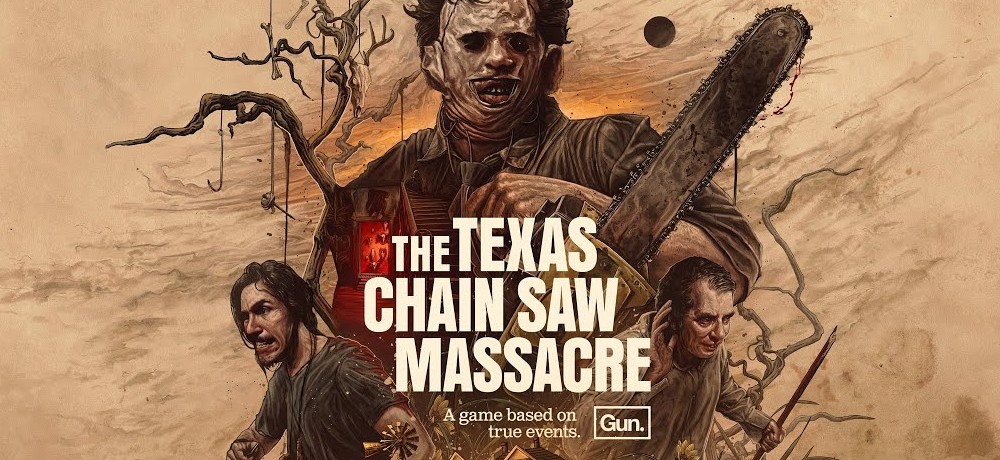 The Texas Chain Saw Massacre - Unrated Cut Gameplay Trailer: "Gun Interactive and Sumo Nottingham are thrilled to share new gameplay footage from The Texas Chain Saw Massacre in an uncut, red-band trailer. Featuring the Slaughter Family and their Victims, the trailer showcases the familiar frights and sights of the original film along with a host of grisly surprises, while also sharing details on expanded platform availability and the release window.
"Since the reveal, one of the main questions we've received has been 'when will we see gameplay footage?' We're fortunate to be able to celebrate this news alongside the gameplay our community has been anxious to see and bring them further details on when they can expect to get their hands on the game to experience it for themselves. We hope that fans are as excited for the Uncut Trailer of The Texas Chain Saw Massacre as we are to show it to them."
Daniel Nixon, Director of Communications
Gun Interactive
The Texas Chain Saw Massacre will be launching in 2023 on PlayStation®4, PlayStation®5, Xbox One, Xbox Series X|S, PC via Steam and the Microsoft Store, and will be launching into Game Pass on Xbox and PC.
"The community asked, and we're thrilled to answer that our partners at Sumo were able to create a plan to bring The Texas Chain Saw Massacre to the Xbox One and PlayStation®4 platforms in a way that preserves the gameplay and visual tone of the title while giving players what they have been asking for. It was important to us to enable every fan of the franchise to experience our vision for the game."
Ismael Vicens, Executive Producer
Gun Interactive"
Cinedigm and Screambox Announce Two Killer Horror Films Releasing This Summer: 
"Story Game, a Screambox Exclusive, is a frightening anthology that blurs the lines between reality and fantasy. On a camping trip in Hawaii, three fine art students make a bet: who can tell the best supernatural story? According to the rules, each tale must have three items: a metaphysical piece, a character with green eyes, and a Japan location. The three young campers try to outwit each other, as they bring three famous Japanese ghost stories to the world, and things take an eerie turn as each tale takes them deeper into the Story Game. The film stars Greer Grammar (Ted Bundy: American Boogeyman, Deadly Illusions), Alberto Rosende (Chicago Fire, Shadowhunters), Ayumi Ito (Tokyo Vice) and Lyrica Okano (Marvel's Runaways).
Written and directed by Jason K. Lau (The Tempest, Terrace House: Aloha State), Story Game was shot on location in Hawaii and Japan. The film was produced by John C. Ching, Deborah Y. Lau and Nicole M. Lau, with Jason K. Lau also acting as Executive Producer. The film premiered at the Hawaii International Film Festival and will release on Demand & Digital and stream exclusively on Screambox June 21."
"Welcome to Hell (Bienvenidos al Infierno), a Screambox Original, follows a terrified mother-to-be who is desperate to escape her murderous ex. The Argentinian horror film, directed by Jimena Monteoliva (Clementina), premiered at Sitges Film Festival in Spain before screening at the Buenos Aires International Film Festival.
Desperate to escape the dangerous and deadly leader of a satanic death metal band, mother-to-be Lucia moves to a remote cabin in the forest with her grandmother. Though safe in her surroundings, she is haunted by his memory and knows he will stop at nothing to track her down.
Written also by Camilo De Cabo, the writer and director previously collaborated on the award-winning film Kryptonite. Executive Producer Florencia Franco has also worked with Monteoliva, producing her 2019 thriller To Kill the Dragon (Matar al dragon). Welcome to Hell (Bienvenidos al Infierno) is available on Digital and streaming exclusively on Screambox on July 12."
---
INTERVIEW: Composer Pessi Levanto Discusses the Chilling Sounds of The Innocents:
"Since becoming an Official Selection at the 2021 Cannes Film Festival and IFC Midnight announcing they would be releasing the title, critics and movie goers have been buzzing about The Innocents. Now available on VOD, it looks like the film did not disappoint anyone, as it holds a strong 97% on Rotten Tomatoes and is getting praised by people such as Stephen King. The Innocents follows four children who become friends during the summer holidays. Out of sight of the adults, they discover they have hidden powers. While exploring their newfound abilities in the nearby forests and playgrounds, their innocent play takes a dark turn and strange things begin to happen. 
We wanted to learn more about the making of the film, so we spoke exclusively with composer Pessi Levanto. In the below Q&A, he discusses everything from why he didn't use specific character themes to his musical influences."
Watch: Pessi discusses the making of The Innocents score: https://www.youtube.com/watch?v=sHAE_EKQ4-k&feature=emb_title
-Before we dive into The Innocents, can you tell us how you got into composing for film?

I started out as a pianist and graduated from Sibelius Academy (music university in Helsinki) as a jazz piano major. In my early twenties I played gigs with various jazz and rock bands all over. I had also studied classical composing and orchestration pretty extensively and then started getting arranging gigs. First for big bands and then for orchestras. Then my friend, who was studying production in film school, asked me to score a couple of student films. This felt like a rewarding thing to do where I felt I had something to offer and a lot to learn. Gradually my network expanded and I scored more and more films. Coincidentally, this same friend is our Finnish producer of The Innocents, so we've come a long way together.

-What was one of the first things you did when you began to work on The Innocents score?

It took quite a bit of experimenting to get the right tone for the film. I got a playlist from Eskil (the director) of the music he had listened to while writing the film and that was a very useful starting point. Then I made a demo from pre-existing classical concert music. It had segments from pieces by Grisey, Saariaho and Ligeti mashed together to illustrate the kind of music which could be fitting to convey Eskil the idea that I had.

-Did you use any unconventional instruments on The Innocents score?

Most of it is based around string orchestra recordings, which I guess is pretty conventional. However, I processed and mangled the recordings, making them weirder. The rack of gongs we recorded separately falls heavily into the unconventional category. A Finnish experimental drummer, Mika Kallio had assembled them as an instrument he uses in his own shows. We recorded and sampled his playing and they ended up being all over the score when we were done.

-What are the challenges of scoring horror versus something like your previous work on The Renovation?

The biggest challenge (and liberty) here is that we had very few references. At least from other film music. "The Renovation" was a very light-hearted slapsticky comedy which has funky music within the conventions of that genre. But Nordic art-house horror is a pretty new thing so I had nothing to base it on. We didn't want to make a typical horror score either and approached the film more like a drama film which utilizes genre film elements rather than straight-forward horror. Thus, it was a huge challenge to find something unique and particular for the mood.

-From a musical standpoint, what were you looking to achieve in The Innocents?

I wanted to evoke a sense of lost childhood in the viewer. The music consists of pure and clean sounds, which illustrate the children themselves, but then these sounds are made dirtier and corrupted over time. Just like our minds becoming corrupted over the years as grown-ups. So I was aiming for a whimsical, slightly sad and nostalgic feel, with a sense of eeriness and impending doom. Sounds very complex now when I write it out!

-The Innocents is more of a psychological film. Do you personally find that scarier than a slasher type of film?

Personally yes. In a slasher-style film there are typically quick bursts of tension and release and a boss fight at the end. Our type of psychological horror is more like slowly twisting the knife in a slow burn way, with a constant anxious feel at the same time. Also, music can make violence much easier to watch. Sometimes if you put music over a violent act, it becomes entertainment and distances the viewer. However, if you show something gruesome up close with no effects, it can be much more disturbing as it feels more real. We wanted to play with this in the film too.

-Some movies have themes for each character, while some focus on the overall mood. Which approach did you take?

We definitely did not have character themes. We tried introducing little melodies, but in the style of this film that felt really out of place and downright corny. So there's actually just one main theme, which is played in the opening and ending credits and all the rest of the score is just mood and texture -based which, to us, served the style of this film much better.

-The Innocents is set on a high-rise housing estate in Oslo over the course of a long, hot summer. How much did the setting impact your work? If the film took place in the snowy winter, would you have scored it differently?

I most likely would have. How the estate influenced me was that since the world of the film is very limited - only the estate and the forest next to it - I wanted the score to be constrained in size as well. This meant sticking to a certain set of sounds throughout. I felt that if I had introduced more different instruments along the way or had brought in new elements, the elegantly narrowed frame would have been lost. So we committed to a certain set of sounds just like the environment is committed to the estate and the woods.

-Were there any musical influences that helped you while creating The Innocents score?

Most importantly the playlist that Eskil sent me. Notably, "Disintegration Tapes" by William Basinski and also special music by Gerard Grisey and Tristan Murail.

-What are some of your favorite horror film scores out there?

More recently, I enjoyed "Midsommar," "Killing of a Sacred Deer" and "It Follows". Naturally the classics like "The Shining" and "Alien". And for nostalgic reasons, 80's stuff from my youth such as the Nightmare on Elm Street and Friday the 13th franchises.