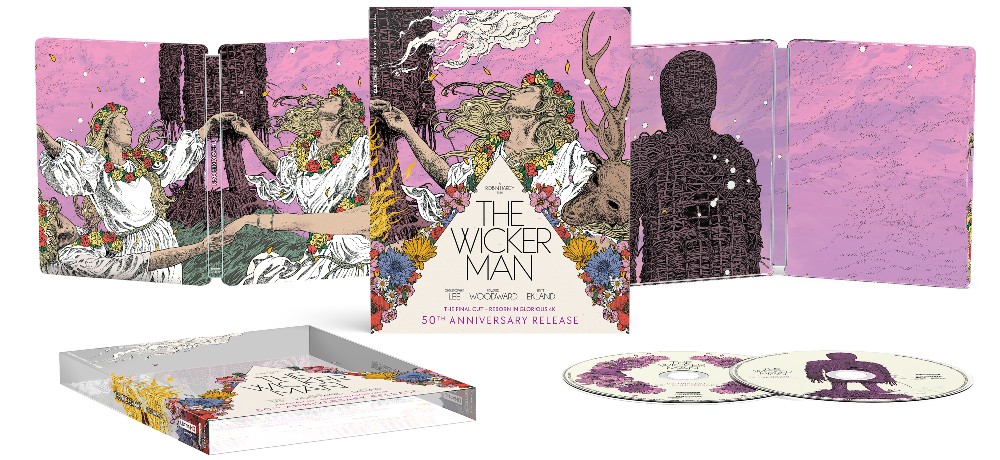 Cult Horror Masterpiece, THE WICKER MAN, Arrives on a SteelBook in 4K Ultra HD October 17: "The cult horror masterpiece, The Wicker Man, arrives on a SteelBook® in 4K Ultra HD™ (+ Blu-ray™ + Digital) on October 17th from Lionsgate. Directed by Robin Hardy (The Fantasist), the film follows Police Sergeant Howie (Edward Woodward, TV's "The Equalizer"), as he investigates Lord Summerisle (Cristopher Lee, Star Wars; Episode II) and his secretive pagan society. The Wicker Man will be available for the suggested retail price of $27.99."
OFFICIAL SYNOPSIS
When a young girl mysteriously vanishes, Police Sergeant Howie (Edward Woodward) travels to a remote Scottish island to investigate. But the seemingly quiet community is not as it appears, as the detective uncovers a secretive pagan society led by the strange Lord Summerisle (Christopher Lee). While the townsfolk tempt and threaten him with bizarre rituals and wanton lust, Howie must race to discover the truth behind the girl's disappearance before his clash with Lord Summerisle builds to a terrifying conclusion - one that has cemented this cult shocker as a modern horror masterpiece.
CAST
Edward Woodward             The Fuzz, TV's "The Equalizer",
Britt Ekland                         The Man with the Golden Gun, Get Carter
Diane Cilento                        Tom Jones, Hombre
Ingrid Pitt                              Where Eagles Dare, The Vampire Lovers, Countess Dracula
Lindsay Kemp                       Velvet Goldmine, Pierrot in Turquoise or The Looking Glass Murders
Russell Waters                       Yesterday's Enemy, TV's "The Avengers"
SPECIAL FEATURES
4K-ONLY SPECIAL FEATURES:
·     Revisiting the Locations of The Wicker Man
·     The Wicker Man at 50
·     Robin Hardy's Script: The Lost Ending
·     Britt Ekland Interview
·     Behind-the-Scenes Gallery
·     Wicker Man Enigma
·     Burnt Offering: The Cult of The Wicker Man
·     Interview with Robin Hardy and Christopher Lee (1979)
4K & BLU-RAY™ SPECIAL FEATURES:
·     Worshipping The Wicker Man
·     The Music of The Wicker Man
·     Interview with Robin Hardy (2013)
·     Trailers
BLU-RAY™ ONLY:
·     Restoration Comparison
---
BEATEN TO DEATH Trailer Released: "BEATEN TO DEATH unfolds after a desperate choice leads a man named Jack down a path that leaves him beaten and bruised as he struggles against man, nature, and his own sanity. Stranded in the middle of nowhere after barely surviving a horrific assault, Jack encounters one local after another and quickly learns that a sick game of cat and mouse is about to begin. Battling the deranged country psychos and the harsh landscape, Jack must go to extreme lengths to survive."
Title: BEATEN TO DEATH
Director: Sam Curtain
Screenwriters: Sam Curtain, Benjamin Jung-Clarke
Producers: Libby Jessup, Sam Curtain, Benjamin Jung-Clarke, Thomas Roach
SFX Makeup: Danica Hadolt
Cast: Thomas Roach, David Tracy, Justan Wagner, Nicole Tudor
Genre: Horror
Run Time: 92 Minutes
Rating: Not Rated
Distributor: Welcome Villain Films
In Theaters September 1, 2023
---
MARTIN MAKARIEV'S NEWEST THRILLER, 'THE ADMIRER,' DEBUTS ON STREAMING AND VOD PLATFORMS ON AUGUST 25, FROM FILMRISE: "When your scary secret admirer hacks into your home and computer, it's time to fight back. On August 25, FilmRise, the New York-based film and television studio and streaming network, will bring "The Admirer," a gripping new tech thriller from award-winning filmmaker Martin Makariev ("In The Heart of the Machine") to all major streaming and VOD platforms. , "The Admirer." The thriller, which will leave viewers at the edge of their seats, stars Roxanne McKee ("Strike Back," "Game of Thrones," "Dominion"), Richard Fleeshman ("The Ark," "Call the Midwife," "Four Weddings and a Funeral") and Tina Casciani ("Jane the Virgin," "Pandora," "How I Met Your Mother"), and follows a woman desperately searching for answers when her life is hacked by a mysterious person from her past harboring a dangerous obsession.
Makariev, whose feature film "In the Heart of the Machine" served as Bulgaria's official submission for the 2023 Academy Awards Best International Feature Film, directed the "The Admirer," which is a Starlings Television Production. The film is co-written by Chris Philip ("Departure," "Pandora," "Siberia") and Rolfe Kanefsky. It is executive produced by Philip, Jeffery Beach, Phillip J. Roth and Richard Maroko, with Tina Casciani and Hannah Nailor as co-EPs.
Synopsis
A year after her fiancé's death, Nancy (McKee) is trying to move forward with her life. But when her smart house and social media are hacked, Nancy's mind goes into overdrive. She witnessed her fiancé's murder, and now she believes the culprit has returned. When more lives are taken and the killer closes in on her, it's up to Nancy to stop her deadly secret admirer."
---
Roger Corman's 1959 Cult Favorite, Beast From Haunted Cave, to be Released in Special Blu-ray/DVD Collector's Edition, Oct. 24th: "Roger Corman's suspenseful, cult classic, Beast From Haunted Cave—newly restored from a 4K scan of 35mm archival materials—will be released as a special collector's edition on Blu-ray and DVD, Oct. 24 from Film Masters.
Acclaimed as the king of low-budget cult movies, Corman produced dozens of films that were both hilarious and thrilling.  Among the best of his early output was 1959's Beast From Haunted Cave, which was directed by legendary director Monte Hellman (Two-Lane Blacktop, Cockfighter), launching a 15-year collaboration between the duo. The film stars Michael Forest, Sheila Noonan and Frank Wolff.
In Beast From Haunted Cave … Cut-throat gangsters hatch a plan to rob a bank in Deadwood, South Dakota, but when one of the henchmen sets off an explosion in a nearby gold mine to act as a diversion for the heist, he awakens a blood-sucking, spider-like creature that isn't happy about the intrusion. When a violent snowstorm delays the gang's escape, things rapidly progress from bad to blood-curdling worse.
BONUS FEATURE: Ski Troop Attack (1960) — Upon wrapping Beast From Haunted Cave, Corman directed this World War II drama using the same location and much of the same cast and crew. For Corman, economy was key!
Beast From Haunted Cave is presented in its original theatrical 1.85:1, 65-minute format and extended, 72-minute 4x3 TV version. Ski Troop Attack is presented as a newly restored HD print in 4x3 aspect ratio.
SPECIAL FEATURES:  Hollywood Intruders: The Filmgroup Story: Part One, a Ballyhoo Motion Pictures documentary; full-color booklet with essays by authors C. Courtney Joyner and Tom Weaver with the man behind the beast, Chris Robinson; commentary for Beast From Haunted Cave by author and film historian Tom Weaver and filmmaker Larry Blamire; ; commentary for Ski Troop Attack by author C. Courtney Joyner and filmmaker Howard S. Berger; gallery of rare stills from camera negatives taken during the filming of Beast From Haunted Cave, courtesy of Tom Weaver; original, 35mm-restored theatrical trailer for Beast From Haunted Cave and new, recut trailers from restored both films using restored film elements. Easter egg alert! Hidden on the disc is a special interview with the original beast.
PRE-ORDER NOW!
Blu-ray:
https://www.amazon.com/Haunted-Attack-2-Disc-Double-Feature/dp/B0C81VTQV3/ref=sr_1_2?crid=2JYDA6XZXD7DO&keywords=beast+from+haunted+cave&qid=1687796275&s=movies-tv&sprefix=beast+from+haunted+cav%2Cmovies-tv%2C207&sr=1-2
DVD:
https://www.amazon.com/Haunted-Attack-2-Disc-Double-Feature/dp/B0C81X5R5W/ref=tmm_dvd_swatch_0?_encoding=UTF8&qid=1687796275&sr=1-2