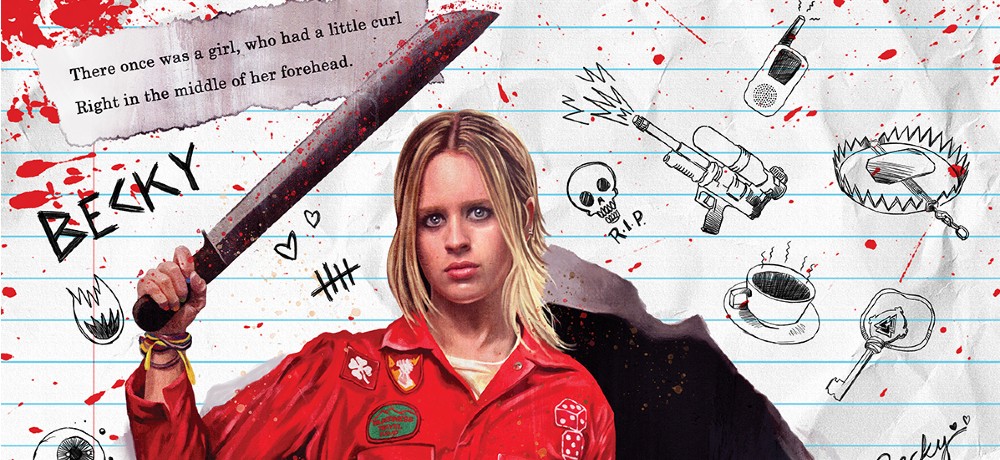 THE WRATH OF BECKY Q&A with Aaron Dalla Villa: 
Can you tell us a bit about your character DJ in "The Wrath of Becky" and how you prepared for the role?
Oh man, another bottom-of-the-barrel piece of patriotic filth who uses crude comedy and a "devil may care" attitude to hide behind his insecurities and small dick…MY FAVORITE! When the movie premiered at SXSW, I joked about how I got a VPN and TOR browser and went onto Reddit-type echo chambers that spewed white supremacy hate, but that was a joke. I'm from Virginia and have family from North Carolina. I'm not saying that the South is entirely racist, but I've been around these types of people. And without calling out specifically who, I will say that I modeled DJ after a family member. I studied the script over and over and made some bold choices. Then, what really set me into the character, was when I put on his wardrobe — the Walmart khakis and shoes, Big Lebowski jacket, greasy hair, and pro-gun t-shirt locked me right in. I knew who I was and how I saw the world. I guess you could say the entry point for DJ, outside of my family, was what he wore. Every character I play has a different entry point, and I have to remain open to discovering what that is. 
 "The Wrath of Becky" is a horror-comedy film. How did you approach balancing the comedic and horror elements in your performance?
 DJ is the wild card of the group, and I felt like I could really toe the line between being goofy and vicious. I like playing characters that are unpredictable. That makes them all the more terrifying. The fantastic script did the work for me on when to play what. I did my best to bring what I thought the character was based on the text. 
What attracted you to this particular script and made you want to be a part of the film?
I had worked with BoulderLight Pictures in the past on PLEDGE, so I knew this one would be good, too. And having stars Lulu Wilson and Sean William Scott with directors Suzanne Coote and Matt Angel (who also plays Sean and wrote the script) attached was a no-brainer. It's all about the team. And it was a great one. From what I said earlier, I'm sure you can tell that I love playing these nasty, bottom-of-the-barrel people of society. There is so much pain and hurt in them that leads to misguided anger. It intrigues me and allows me to hold a mirror to society…and possibly my upbringing. It's cathartic in a way, I guess. Also, being able to do and say things that I would never do in life is just pure fun!
Were there any challenges or memorable experiences you encountered while filming "The Wrath of Becky"?
I had a pretty good grasp on who the guy was going into shooting. I spend a lot of time in my room alone when I'm prepping for a character. When I'm put me up in a hotel room, you won't find me at the local bar. I'm in my room working incessantly on the script. I want to give it my all and do my absolute best. Most of my questions get answered when I'm alone. For the remaining questions, I'll reach out to the director(s). Then when I show up, I do the thing, and if the director(s) like it, then great, let's move on. If they don't, I make sure to try my best to get what they want. I'm a servant to the story. It's not about me. I'm a small piece in something much larger than myself. Memorable experiences? All of them. I had a blast shooting this one. One in particular, though, touches my heart the most. One of the producers, who is a dear friend of mine, but I won't mention her name because I'm not sure if she'd want to be mentioned, kept me in mind for DJ from the start of the project's development; I'm told. She remembered me from PLEDGE, and that meant so much to me. Knowing that someone is paying attention to your work means everything in a career where you give way more than it gives back. This moment really made me feel like all the work I had done up until now was really worth it. So for anyone who has those doubts, your work IS being remembered, and I encourage you to stay the course.
Can you share any behind-the-scenes anecdotes or funny moments from the set of the movie?
One of my costars, Michael Sirow, is not only an incredible talent but an absolute nut of a human. We are pretty close now. I had heard legendary stories about him ordering salmon at a restaurant, so I begged him to let me see. I now regret ever asking. Don't take my word for it; just ask him out to dinner.
How did you collaborate with the director and other actors to bring your character to life in "The Wrath of Becky"?
The directors, who I just love so much, cultivated this great "let's keep it fun and loose" energy on set. They really let us take artistic liberties and play with our parts. When they wanted it a certain way, they communicated what they wanted very clearly. Everyone, cast, and crew, knew how they fit in, and it just molded into an awesome experience. It didn't feel like work. Those are my favorite sets — when everyone is really giving it their best and allowing the most space to play within the framework of the story, and it just works without feeling worked. 
What's up next for you in the entertainment industry?
Me and my team are launching a Christian rockstar musician on June 16th. His first single, "Godstar (a Christian Parody of "All Star" by Smash Mouth)," already has a music video accompanying the song on the same day. We have several more releases planned after that. I'm in final callbacks for another feature film and have another film hitting theaters in September — "The Blind," the redemption story of Duck Dynasty's Phil Robertson. I play his younger brother Si Robertson in the film. 
----
GREMLINS: SECRETS OF THE MOGWAI Episode 6 Clip:
Tune in:
Episodes 5 & 6 are now streaming on Max

S1:E5 "Always Stab or Run" - Everyone's nerves are tested as Sam, Elle, and Gizmo follow Grandpa's map through a dark, dangerous forest, while Hon and Fong attempt to escape Greene's ship at the worst possible time.
S1:E6 "Always Buy a God a Drink First" - Upon arriving in a vibrant and bizarre spirit market, our heroes seek help from Gizmo's creator, but first they must convince her that humans aren't all bad.
Series description: GREMLINS: SECRETS OF THE MOGWAI takes viewers back to 1920s Shanghai where the Wing family first meets the young Mogwai called Gizmo. Sam Wing (future shop owner Mr. Wing in the 1984 "Gremlins" film) accepts the dangerous task to take Gizmo home and embarks on a journey through the Chinese countryside. Sam and Gizmo are joined by a teenage street thief named Elle, and together, they encounter—and sometimes battle—colorful monsters and spirits from Chinese folklore. Along their quest, they are pursued by a power-hungry industrialist and his growing army of evil Gremlins.
Voice cast: The all-star voice cast includes Ming-Na Wen, James Hong, BD Wong, Matthew Rhys, Izaac Wang, and Gabrielle Neveah. The series will also feature notable guest stars including Zach Galligan who starred as the hero "Billy Peltzer" in Amblin's original "Gremlins" films. Additional guest voices include Sandra Oh, Randall Park, George Takei, and Bowen Yang.
Credits: GREMLINS: SECRETS OF THE MOGWAI is produced by Amblin Television in association with Warner Bros. Animation. Steven Spielberg serves as executive producer, along with Darryl Frank and Justin Falvey, Presidents of Amblin Television, and Sam Register, President, Warner Bros. Animation and Cartoon Network Studios. Tze Chun serves as showrunner and executive producer. Brendan Hay serves as executive producer with Dan Krall serving as Supervising Producer. Joe Dante serves as consulting producer.
---
Universal Monsters™ Tarot Deck and Guidebook:
"Written by Casey Gilly, Illustrated by Joe Wilson
Let Count Dracula, Frankenstein, the Mummy, and other creepy creatures guide your tarot practice with this hair-raising tarot deck and guidebook inspired by the iconic Universal Pictures Monsters!
Bring the spooky spirit of classic movie monsters to your tarot readings with this cinematic spin on the traditional tarot deck!
Featuring stunning original artwork inspired by classic tarot iconography, this 78-card deck depicts spine-chilling characters, imagery, and themes from the legendary Universal Pictures monster films, from Boris Karloff's Frankenstein and Bela Lugosi's Count Dracula to the Wolf Man, the Creature from the Black Lagoon, and more!
Comprising both major and minor arcana, the deck also comes with a helpful guidebook explaining the meaning of each card as well as a few simple spreads for easy readings. Packaged in a deluxe collectible box, it's a gift that will wow horror film fans and tarot enthusiasts alike!"
78 BEAUTIFULLY ILLUSTRATED CARDS: Each of the 78 tarot cards is a work of art featuring original, detailed images of iconic characters and scenes from films such as Frankenstein, Dracula, The Mummy, The Invisible Man, and more!
OFFICIAL UNIVERSAL MONSTERS DECK: This is the only official Universal Monsters deck and guide.
HELPFUL GUIDEBOOK: The included guidebook explains the meanings of each card as well as a few simple spreads for easy readings.
CELEBRATE THE CLASSICS: Celebrate the classic legacy of films like Creature from the Black Lagoon, The Wolf Man, and more!
SPOOKY GIFT: This delightfully ghoulish tarot deck and guidebook are packaged in a deluxe gift box, perfect for the horror fanatic in your life.
Universal Monsters™ Tarot Deck and Guidebook
Written by Casey Gilly | illustrated by Joe Wilson
Insight Editions | 3.88 x 1.8 x 5.81 in | 78 cards + 128
page booklet | $27.99
ISBN:978-1647229061 | 07/11/2023
To pre-order now, visit: https://www.amazon.com/Universal-Monsters-Tarot-Deck-Guidebook/dp/1647229065/