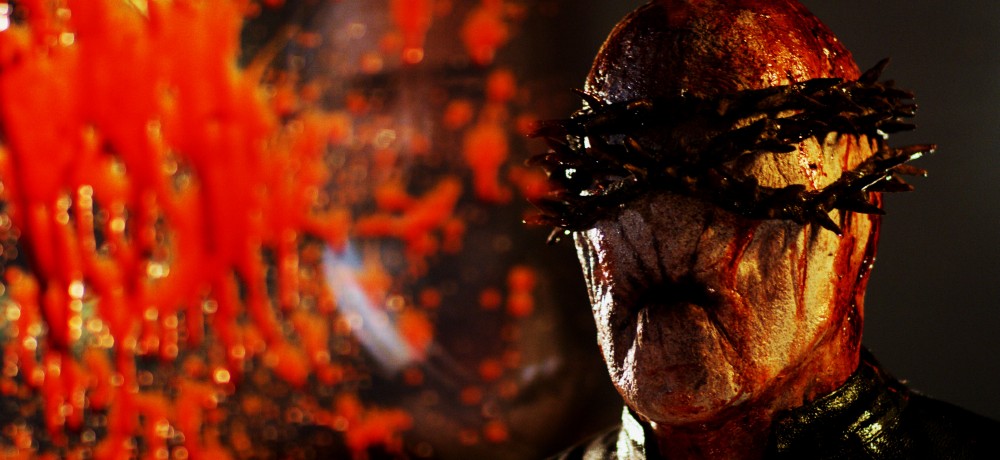 THORNS: "Something terribly wrong is happening inside NASA's Iron Mountain observatory. It received an image from a deep space probe from what appears to be the edge of the solar  system. On screen an eclipsed planet of unknown origin. Could this be the fabled 9th  planet mankind has been searching for? An eerie signal transmits over the speakers, a rhythmic drone possibly a signal from the planet? But wait, something more. Deep within  the signal, a faint sinister chatter. It sounds demonic. Have we discovered life across the  galaxy? Down the hall, a distraught scientist, Dr. Malik. sits on the cold restroom floor  looking unkept and unshaven. He hasn't slept in days and appears deeply unnerved.  Voices in his head motivate him to the mirror where he looks deep into his eyes. Wait,  what is that? Something crawling in his eye? A black shape slithers across his sclera.  Desperate to rid himself of the parasite he smashes the mirror and takes a broken shard  to his infected eye. What prompted such horrific actions from a man of science?  
The next day compliance officer Gabe Goodman, is dispatched to the fated  observatory as it's gone eerily silent since the probe began transmitting the signal.  Gabriel's faith will soon be tested as he discovers the signal is a literal gateway to  HELL. Gabe is stalked by a creature that emerges from within Dr. Malik. The  creature shed's Malik like a skin and Gabe contains it within an observation room. He  comes to suspect the evil has somehow traveled through the audio signal using Dr. Malik  as a host. Are others soon to follow?  
Gabe finds an unlikely ally in a Nun trapped deep inside the observatory. Together they  fight to stop the Necronaut from spreading the infectious signal.  
A dark secret awaits Gabe and the Nun as the collective evil voices of humanity have  woken the signal and the end of times is at hand. Can they stop the signal before it's  transmitted over all the airwaves? Will good conquer evil? Or will the Necronauts succeed?"
Directed by Douglas Schulze, Thorns stars Doug Bradley, Cassandra Schomer, Bo Shumaker, Jon Bennett, and Elly Schulze. The plan is for the film to make its festival premiere this year, with a worldwide release targeted for late 2023.
----
THE FEARWAY: "A young couple embark on what should be a fun road trip for lovers, but their plans are derailed when a mysterious being begins to follow them. After relentless harassment and abuse, they desperately seek help from anyone they can."
Release Date: February 7, 2023 (US and Canada on Digital & VOD)
Directed by: ​​Robert Gajic
Written by: Noah Bessey
Produced by: Mem Ferda
Starring: Eileen Dietz (Abnormal Attraction), Shannon Dalondo (The Haunted Museum), Simon Phillips (Survive The Game, DeInfluencer), Justin Gordon (Age Of The Living Dead)
Production Company: Cupsogue Pictures
Distribution Company: Reel 2 Reel Films
RunTime: 81 Minutes
----
ALIVE: "Beware of infection this January!
From writer/director David Marantz, and featuring an electric cast headed up by Ellen Hillman, Kian Pritchard, and Neil Scheffield, ALIVE.
Helen navigates a ravaged world with her boyfriend Kevin and her little brother Barney. Desperate to find help after Barney's infection slowly turns him into a zombie, they come upon a house where lives Dan, a man harboring a heavy secret.
In the tradition of 28 days Later and Cabin Fever, ALIVE premieres on digital platforms Jan 31 from Gravitas Ventures."
----
PARALYSIS: "After family trauma, Haley Stone has isolated herself from everyone except her brother Nicky. Consumed by her complicated grief, Haley's well being is deteriorating as she experiences hallucinations, vivid nightmares, and debilitating episodes of sleep paralysis."
WRITTEN AND DIRECTED BY
Levi Austin Morris
PRODUCED BY
Jamie Tobias
STARRING
Allison Lobel
Levi Austin Morris
Lisagaye Tomlinson
Bethany Koulias
Emerson Gregori
Trailer created by Emerson Gregori
INSTAGRAM: www.instagram.com/paralysisthefilm
FACEBOOK: www.facebook.com/paralysisthefilm