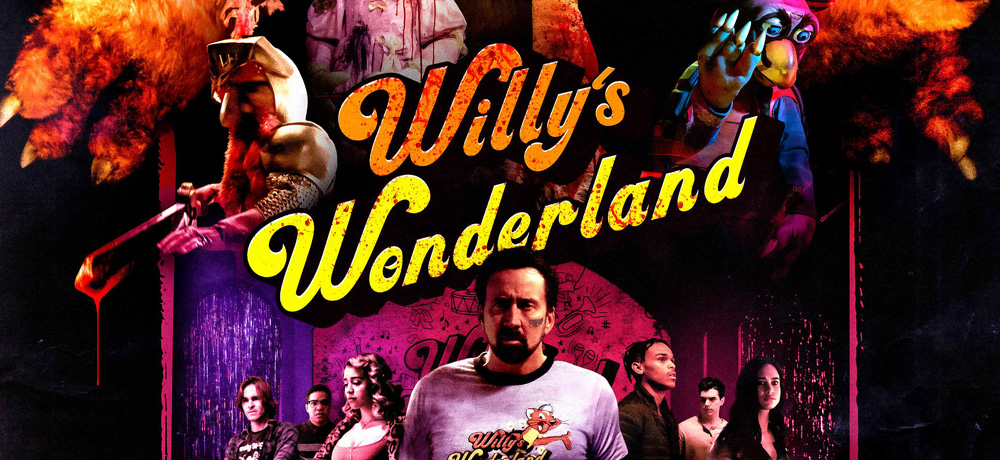 Willy's Wonderland Exclusive Interview with Composer & Voice of Willy Émoi: Nicolas Cage finds himself battling possessed animatronic mascots in Screen Media Films' new horror feature, Willy's Wonderland. It's an outrageous film, in a good way, with all the makings of a cult classic. One of those elements being the musical contributions by Émoi. Émoi not only composed the film's score, but he also performed the lyrical songs you hear and was the voice of Willy Weasel. To learn more about the musical component of the film, we spoke exclusively with Émoi below. Willy's Wonderland is now available on VOD and in select theaters. Émoi's Original Motion Picture Soundtrack is also digitally available.
-Now that Willy's Wonderland has been released and you have probably watched it a few times, what stands out most to you about the film?
I went and saw Willy's at the drive-in on opening night, and it was so interesting because it was a totally different experience for me than watching it 10 times a day as I was working on the score these past several months. In the context of the drive-in, what stuck out to me most was just how off-the-wall the film actually was. It's just a raging good time! And Nic's performance is over-the-top.
-Your soundtrack for the film was just released, congrats. What would you say is the most outrageous song on the album?
Thank you so much! I would imagine the most outrageous to be "Head, Shoulders, Knees, Toes". In The Janitor vs. Siren and Cammy scene, they had originally planned to have a licensed music track from a well-known artist. The track was hip, and much less comedic. As I was watching the edit, I saw all these close ups: Cammy's eyes, Sara's mouth, Nic's legs on Sara's neck, etc. And I thought to myself that in a family event center, the jukebox would likely be filled with kid's songs rather than adult songs. And so, I didn't tell anyone what I was doing, but I tried to find a happy medium and arrange a hip juke box version of "Head, Shoulders, Knees, Toes" - which of course entailed me singing in a southern accent at the very bottom of my range. I presented it, and the team loved it, because they just could not stop laughing. It's so ridiculous (laughs).
-Can you talk about "The Birthday Song And Willy's Jingle" because that is what a lot of people have been talking about online and even redoing on Youtube. The song is for a kid's funhouse, so it is very whimsical, yet creepy. Did you use any children's toy instruments when making this?
I didn't use any toy instruments, but I did use a vintage drum machine with marching band - style orchestral elements and a Roland D50 to try and capture the authentic sound of Sing- along style music from the 80's + 90's.
-You are also the voice of Willy in the film. I read that you thought your voice would just be the temp voice, but they liked it so much they kept it in the film. Can you talk more about this?
In the script Willy did not talk. But one thing I felt was missing from the Sing-along songs was the banter. If you've ever been to Chuck E. Cheese, Showbiz, or Bullwinkle's, you know that the character's talking before, during, and after songs, is a big part of the show and how they bring the characters to life and make them feel authentic. So when I was writing the songs, I wanted to add a voice for Willy. I put it on the demo, and the team loved it. I thought they would replace me eventually, but turns out they really loved my Willy - which was extremely flattering and amazing.
- Focusing on the film's score, did you score the film like a straight horror film? There are some comedic elements to the movie, while still scary, so how did you find that balance?
I certainly scored the film with comedy in mind. The music is very satirical - and not just the character songs, but also many of the cues. The balance was really in addressing the score as 5 different concepts: the ambient horror aspect, the whimsy of the animatronics, the goofy/ eerie character songs, the Janitor's emotions (because he doesn't talk, the music often acts as his "feelings"), and the youthful angst of the teenagers. To differentiate, I used a completely different palette of instruments and musical approaches.
-What comment about the film that you have seen online has surprised you the most?
A lot of the critic reviews have been pretty harsh on Nic not talking in the film - as if it somehow diminished his performance or was an "easy paycheck". And that just shocks me, because I truly think it's very obvious that he took this role incredibly serious, and put so much subtlety into his performance. I think Nic's Janitor, is right up there with some of his best performances. I do believe in time, people will see it that way.
-What are you most proud of when it comes to your contribution to Willy's Wonderland?
From the response, it seems to be the consensus that the music fits the film very well. As a composer, my job is not to stand out, but to compliment what is there. So I feel like I may have done my job, and was able to create a soundscape that is in line with the creative team's vision of the film.
-We read that you are a big horror fan. How do you think your vast knowledge of horror helped you approach Willy's Wonderland?
I am very huge horror fan - especially this brand of horror - which is equal parts dark comedy and action as well. And having that background was tremendously helpful because A) I was extremely passionate and excited about this project, which gave me superhuman strength to overcome the obstacles presented by the pandemic. And B) because writing this kind of music is second nature to me, so it already lives quite comfortably in my subconscious.
-If there were to be a Willy's Wonderland sequel, what would you like to see happen in the film?
I'd like to see The Janitor and Liv become an ass-kicking duo like Batman and Robin. And I'd like to see Siren Sara revive Willy and the team - but this time they've all got an upgrade and the stakes are even higher!
----------
Eva Green and Mark Strong topline new thriller "Nocebo" from Lorcan Finnegan: "Production is underway in Ireland on director Lorcan Finnegan's psychological-thriller NOCEBO, starring Eva Green, Mark Strong, and Chai Fonacier. Written by Finnegan's frequent collaborator, Garret Shanley, Nocebo is being produced by Emily Leo of Wild Swim Films and Brunella Cocchiglia of Lovely Productions alongside Filipino co-producers Bianca Balbuena and Bradley Liew of Epic Media. XYZ Films, who previously collaborated with Finnegan on Vivarium and Without Name, is handling international sales at the European Film Market and executive producing the film.
Nocebo has been developed with the assistance of Screen Ireland who are financing the film alongside XYZ Films, Media Finance Capital and The Film Development Council of the Philippines.
Nocebo follows fashion designer (Green) who is suffering from a mysterious illness that confounds her doctors and frustrates her husband (Strong) - until help arrives in the form of a Filipino nanny (Fonacier) who uses traditional folk healing to reveal a horrifying truth. Set between London and Manila the film explores consumerism, human exploitation and the fast fashion industry as well as placebos/nocebos and the power of the mind to harm or cure the physical body.
Eva Green, who is perhaps best known for her roles in Casino Royale and 'Penny Dreadful,' recently starred in Proxima, which premiered at the Toronto International Film Festival and garnered Green a César Best Actress Nomination.
Mark Strong is a SAG and BAFTA-nominated actor best known for his film roles in 1917, Tinker Tailor Soldier Spy, Shazam, Zero Dark Thirty and The Kingsman franchise. He appears in the forthcoming Disney's Cruella; and leads the cast in the new series of Temple for Sky One.
Chai Fonacier is a Luna-nominated Filipino theatre and film actress, as well as a singer/songwriter. Fonacier won Best Supporting Actress in 2017 for her work in Patay na si Hesus.
Finnegan's psychological-thriller Vivarium, starring Jesse Eisenberg and Imogen Poots, premiered at the 2019 Cannes Film Festival in competition at Critic's Week and won the Gan Foundation Award.
Lovely Productions was founded by creative collaborators Lorcan Finnegan & Brunella Cocchiglia with a focus on creating original films and TV that engage with socio-political and environmental issues through compelling stories. Nocebo is their third feature film collaboration since Without Name (TIFF 2016) and Vivarium (Cannes 2019).
Wild Swim combines the slates of Bafta award winning producer Emily Leo (Under the Shadow) and Ivana MacKinnon (Beast), telling creatively ambitious stories that seek truth through fable and genre. Upcoming films include 'Tuesday' by Daina O.Pusic; 'Cavendish', a female driven chase movie set in the witch hunting forests of 17th Century England; teen comedy 'Sumo' to be executive produced by Armando Iannucci; and an adaptation by Chris Andrews of the Booker Prize nominated novel 'Frankenstein in Baghdad.'
XYZ's recent productions include Stowaway, Joe Penna's sci-fi thriller starring Anna Kendrick and Toni Collette, Dual, Riley Stearns' sci-fi film starring Karen Gillan and Aaron Paul, and Prisoners of the Ghostland, Sion Sono's action film starring Nicolas Cage, which recently premiered at Sundance.
Green is represented by UTA, Tavistock Wood Management, and Premier PR. Strong is repped by Reps are Markham, Froggatt & Irwin and WME. Finnegan is represented by Independent Talent Group, and XYZ Films. Shanley is represented by Independent Talent Group. "
---------
Exclusive Interview with John McDermott of MY BLOODY VALENTINE on GHOULS IN THE HOUSE: "Natalie and Arnold revisit a horror from long time ago, and just in time to talk about it on Valentine's Day! Get ready to head down the mine for two takes on the slasher legend of Harry Warden in the original 1981 MY BLOODY VALENTINE and its 2009 remake. There's also a very special bonus this episode, as Scottish-Canadian tenor John McDermott – the voice behind the original film's memorable end credits song, "The Ballad of Harry Warden" – joins Arnold for a chat about his work on the movie! So enjoy your leftover Valentine's candy (make sure that is chocolate in the box), cuddle up with your sweetie, and listen to the latest heartwarming episode of GHOULS IN THE HOUSE!"
To listen to the episode, visit: https://www.atbpublishing.com/2021/02/16/episode-13-my-bloody-valentines/
---------
Watch the Trailer for DWELLERS: "Dwellers is an upcoming found footage horror film produced by Grammy Award winning Megadeth bass player David Ellefson and written, directed, and starring Drew Fortier. The film has been described as "C.H.U.D. if it were shot like The Blair Witch Project."
Aside from Fortier, the film also stars SOV horror vet James L. Edwards (Her Name Was Christa) along with Douglas Esper and Omar Baig."
Official Synopsis: "While shooting a documentary on the suspicious disappearances within the homeless community, a filmmaker and his crew go missing while uncovering a terrifying and vicious secret below the city's surface."
The film has been getting traction at film festivals and this past weekend and has already garnered the Best Feature award from the Screamwriting Film Festival as well as the Best Horror Feature award from the Mad Monster Film Festival, where the film had its world premiere with Ellefson and Fortier in attendance. Details on a physical and streaming release will be revealed in the coming months.
---------
Cecilia Corrigan, Roberta Colindrez star in The Bite, a new podcast from the creators of The Blondes: In this new scripted podcast from the creators of The Blondes, the wolves aren't just on Wall Street anymore. Releasing March 16, 2021, The Bite is a 4-episode horror comedy series that follows Tess, a young Brooklyn playwright, who awkwardly stumbles into joining a wealthy all-female werewolf pack in the Hamptons.
The Bite was written and produced by Brian J Davis & Emily Schultz, and performed by: Cecilia Corrigan, Jenny Grace Makholm, with Roberta Colindrez (Starz's Vida), Rob Belushi (HBO's Ballers), Ronald Peet (Netflix's I-Land), Bree Elrod (Sean Baker's Red Rocket), Grace C. Williams (Lena Waithe's Rising).
Available March 16 at: Itunes | Spotify | Stitcher | Audible
Homepage: https://thebitecast.com/
SYNOPSIS
Tess is like any other struggling playwright who's made it to Edinburgh Fringe: she mined her complicated life and decisions about monogamy and sexuality for material. And what would a one-woman show be without embarrassing revelations? But in the first episode of The Bite, Tess also reveals something altogether different: that she has lycanthropic powers. Being a werewolf has complicated her dating life but also greatly improved her career options, especially after she's taken in by a clique of monied heiresses headed by Diane, a seductive, sociopathic bon vivant. She attempts to mold Tess, but will Tess fight to remain her own person?
THE STORY
The complications of Tess's life may be right out of a fairy tale, but by using her one-woman show as a framing device, The Bite mines everyday comedy from Tess's struggle as a millennial werewolf finding herself in New York—she's witty, cringey, and prone to an occasionally gross-out. Creators Brian J Davis and Emily Schultz's approach to genre was inspired by the realism of What We Do in the Shadows, and Only Lovers Left Alive. But to tell the story of an outsider werewolf among the one percent, they've also drawn on the class warfare farces of Joe Orton and films like the The Favourite. For genre fans, The Bite also features plenty of tributes to horror films from the '80s and '90s (Cat People, The Howling, Lost Boys, Ginger Snaps).
The creators brought in their leads early to workshop the story arc to see where it could go. They worked out with Cecilia Corrigan that Tess's journey was a love story, which gave the show its emotional climax and also sets up future possibilities for Tess and her pack.
ORIGINS
Creators Brian J Davis and Emily Schultz previously adapted Schultz's novel, The Blondes (Picador), as a podcast series in 2019 starring Madeline Zima (Twin Peaks). With its high quality production and immersive audio, the pandemic-themed story became an international hit and was translated into French and Spanish by European podcast start-up Sybel, reaching audiences of 1 million around the world.
After TV series development of The Blondes at CBS Studios came to a halt in 2020 amid the COVID shutdown, Davis and Schultz dove into script work on a new podcast as a way to safely work together with actors and musicians from their Brooklyn community who had also faced months of downtime. Principal recording on The Bite began in December in a safe, ad hoc studio made by linking three separate apartments together with 100 foot microphone and headphone cables going through windows and down stairwells. Along with common sense and PPE, this approach kept everyone healthy while still being able to act together in real time.
CREATOR AND PERFORMER BIOS
EMILY SCHULTZ is the author of the novel, Little Threats, which was published in November 2020 by Putnam and was named an Apple Books Best of the Year. Her previous novel, The Blondes, was published by Picador and was a 2015 Book of the Year pick by NPR and Kirkus. BRIAN J DAVIS is a digital artist and director who created the viral hit site, The Composites, which The Atlantic called "Murakami meets CSI." His work has been collected in Always Apprentices: The Believer Presents 22 Conversations Between Writers and has also appeared in The Guardian, Utne, People Magazine, and The Believer. Together they've developed new media projects and music videos for their company, Heroic Collective, including the hit podcast adaptation of The Blondes.
CECILIA CORRIGAN (TESS) is a writer and performer in Brooklyn with an original pilot project in development with Killer Films and Andrew Lauren Productions. In 2019 she received Bedlam Theater Company's first ever commission, to write and act in a queer adaptation of Molière's The Misanthrope. She also co-wrote and starred in the film Crush, with Hari Nef and Alex Karpovsky.
JENNY GRACE MAKHOLM (DIANE) is an actor and playwright in New York. She starred in the New York Film Festival winning Summertime and co-produced Tony-award winner Michael Aronov's production of Manigma. In 2019 she was a Eugene O'Neill Conference finalist and in 2020 she co-founded Be An Arts Hero, an advocacy group for national arts recovery during COVID.
ROBERTA COLINDREZ (JULIA and narrator) will star in Abbi Jacobson's upcoming series A League of Their Own for Amazon Studios. Colindrez was a series regular on Starz's Vida, HBO's The Deuce, and guest starred in Hulu's Mrs. America and Monsterland.
ROB BELUSHI (JOSH) was a series regular on How I Met Your Mother, HBO's Ballers, and is currently the host of Get a Clue.
RONALD PEET (TYLER) co-starred on Netflix's I-Land and in John Hodgman's Dicktown on Hulu. He starred with Alan Cumming in Jeremy O. Harris's play Daddy.
BREE ELROD (ABBY) will star in the upcoming Sean Baker film, Red Rocket.
GRACE C. WILLIAMS (BECKY) co-starred in Lena Waithe's award-winning short, Rising.
MUSIC
In the spirit of the series, our episodes feature several moon and creature-themed songs from Sparks, Television, The Misfits, and The Magnetic Fields, all given reconstructions by vocalist Dawn Lewis and series composer Oldfather.
EPISODE GUIDE
EP 1: MARQUEE MOON
Tess performs her one-woman show at Edinburgh Fringe, where the audience is confused by her ill-chosen show title. But some of the audience stays to hear Tess's story of a bad date, a missing hand, and how a late application to an arts foundation ends up outing her as a werewolf.
EP 2: MONSTER OF LOVE
We meet heiress and pack leader Diane, whom Tess is enthralled with, even though Tess suspects Diane is turning her into an assistant. When Tess is invited to Diane's estate to meet the rest of the pack she learns she has to confront her past before joining.
EP 3: THE BESTIE OF THE BEAST
On the way to a ritual hunt in the Hamptons, Tess learns more about Diane's problems than she wished she did. A surprise guest at the hunt sends the night into further chaos.
EP 4: THE DREAMING MOON
The fallout from the failed hunt has more serious implications for Tess than she realized. When the pack confronts her during a werewolf intervention the results will change the dynamic of the group forever.
CREDITS
Written and Produced by Brian J Davis & Emily Schultz.
Directed by Jenny Grace Makholm.
Sound design and editing by Brian J Davis.
Music by Oldfather.
Songs performed by Dawn Lewis.
Art by Carolyn Tripp.