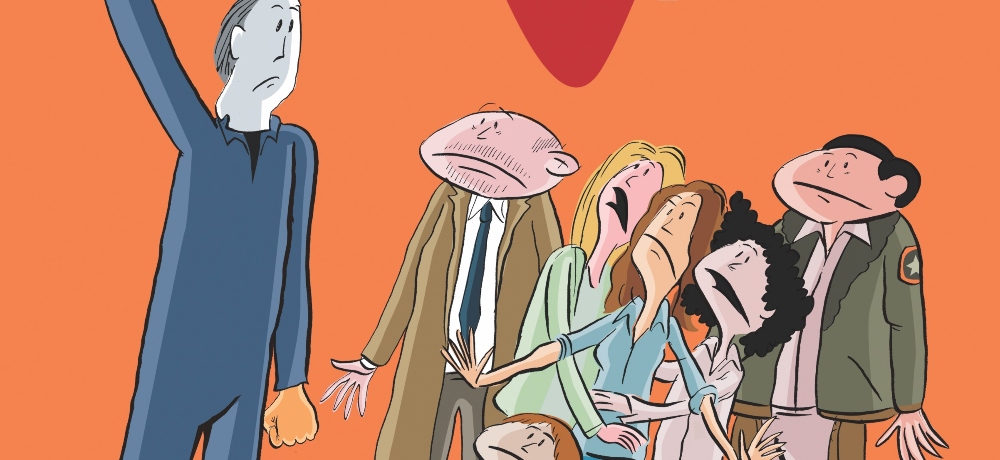 As someone who is a big fan of taking R-rated properties and turning them into adorable child-like storybooks (one of my recent favorites is the Die Hard book—thank you, Derek Anderson!), The Legend of Halloween is a whimsical and absolutely delightful "retelling" of John Carpenter's 1978 classic, courtesy of David Gordon Green and Onur Tukel. Chances are, if you're reading this, you probably know the plot of the original Halloween almost better than you can recall the events of some of your earliest birthdays (or maybe that's just me), and it might seem like The Legend of Halloween isn't going to bring anything new to the table. But that's where you would be wrong, my friends.
Beyond the fact that Green (who directed the 2018 film and Halloween Kills, which this writer is still patiently waiting for) and Tukel do an excellent job of boiling down the plot of the OG Halloween to its essential moments, they also utilize a rhyming scheme throughout that gives their prose this adorable sing-songy quality that often left me giggling in response. Beyond those essential plot points from Carpenter's film, The Legend of Halloween also includes a few fan favorite moments too, including Loomis yelling at Lonnie, "Get your ass away from there!" as he smiles on in a moment of personal victory. I even enjoyed how Green and Tukel embellished some of these smaller moments of Halloween that we never see in the movie, like how Michael "borrows" the clothes of a mechanic or when he stops at the hardware store to get some supplies. To me, that was the moment when I knew that even if the book might seem "simple" in its conception, the execution behind it was anything but simple. In fact, everything in this book is just downright ingenious.
Both Green and Tukel are credited with providing The Legend of Halloween with its illustrations as well, and I love how some of Halloween's more "adult" moments (like Lynda and Bob in bed together enjoying some post-coital bliss) are toned down playfully in a manner that never feels like they are being watered down at all to hook the attention of potential younger readers only. It's a fine line to walk when you're trying to take an adult story like this and make it accessible to kids, but Green and Tukel make it look easy with The Legend of Halloween.
That being said, the book never skirts the fact that Michael is still very much a killer, and while there's no blood depicted or visceral portrayals of Michael's actions included here (much like Carpenter's original vision), if you have kids who may still be a little sensitive to reading about a brother who stabs his older sister, or turns the aforementioned Bob into an art installation in the Wallace's kitchen, you may want to hold off for a few years in sharing The Legend of Halloween with those youngsters. But for those of you with kiddos who do have the palette for that sort of stuff, I cannot recommend adding The Legend of Halloween to your book collections at home enough. While the whole reading experience with The Legend of Halloween is a quick one, I had a blast going back through it a few times more just to enjoy the artwork and all those little touches of love that Green and Tukel utilize throughout their collaboration. The Legend of Halloween also made me wish that more horror properties would receive this sort of treatment, too, or if nothing else, maybe this duo will tackle the original Halloween II next (a girl can dream, can't she?).
----------
To learn more about The Legend of Halloween, visit: