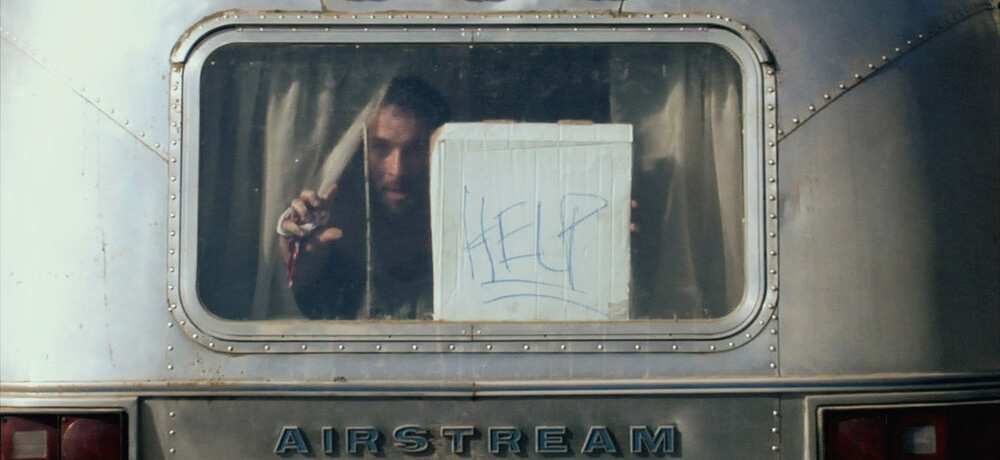 Watch the Short Film CENTIGRADE: "In anticipation of a FEATURE LENGTH VERSION, Colin Cunningham's CENTIGRADE is celebrating its RERELEASE exclusively at CENTIGRADEMOVIE.COM.
Starring Colin Cunningham (Falling Skies, Preacher, Stargate SG-1) the film depicts the dark events surrounding the day that
'karma' rolls into town. CENTIGRADE garnered more than a dozen 'Best of' Awards and Nominations and ended up making the short list for an Academy Award Nomination.
Now, the multi-award-winning short film (one of the most successful in iTunes history) is ready to take the leap forward as a major motion picture. Only this time, they're doing things a little differently.
"The project had actually been optioned by MGM as a TV show," says Cunningham. "But restructuring at the studio sent it into turn-around. So, now, we're going straight to the fans."
"I hate calling it 'crowd funding' as our fans are so unique and dear to us. But it's with their help that we are going to make this happen." says Cunningham, explaining the opportunity for fans to get involved by donating at the website.
The feature-length film will be written and directed by Colin Cunningham and produced by Madison Graie, John Pugh, and Melanie Browning.
While awaiting CENTIGRADE the feature, viewers can reacquaint themselves with this exceptional little film that is currently available at Centigrademovie.com."
---------
SPACE VAMPIRE: "Filmmaker, writer and magazine editor Chris (QUEEN OF BLOOD, the upcoming GIRL WITH A STRAIGHT RAZOR) Alexander's SPACE VAMPIRE has been picked up by noted indie genre label Darkside Releasing for North American Blu-ray and TVOD release. The meditative and surreal feature film will be released on August 17th, with more platforms and territories to be announced in the coming months.
SPACE VAMPIRE is a wholly experimental, multi-media meditation on memory, isolation, identity...and bloodletting. Filmed on a shoestring and completed during the pandemic, SPACE VAMPIRE tells the story of a beautiful leather-clad humanoid (Ali Chappell, NECROPOLIS: LEGION) who walks the earth in a dream. Holing up in a monstrous home by day and prowling the streets by night, the otherworldly woman flits in and out of reality, replaying the grisly murder of her doppelganger (Cheryl Singleton, FEMALE WEREWOLF) while doubting her sanity and the very nature of her existence.
Shedding traditional story structure and shot with camcorders, phones, toy cameras and 16mm film, SPACE VAMPIRE is a singular work of obsessive, existential ideas, images and sounds meant to express concepts of vampirism. Borrowing elements of films like UNDER THE SKIN and LIFEFORCE while still being wholly unique, it's a psychedelic fever dream that's propelled by Alexander's own brooding ambient electronic score.
The special edition Blu-ray release will feature a full commentary by Alexander as well as the SPACE VAMPIRE companion short film OF THE DEAD, starring Chappell as a reborn version of the same character, lost in the afterlife.
Get ready to lose yourself in one of the strangest films of the year. Get ready for SPACE VAMPIRE."
---------
SUPERHERO DIARIES: "Inspired by the phenomenal popularity of the superhero genre, Digital Sky and veteran creator Scott Zakarin announce SUPERHERO DIARIES, a hilarious new comedy web series parody, will officially debut July 21, on  https://www.youtube.com/superherodiaries.  Uniquely celebrating the superhero boom, this action-packed new bi-weekly series presents a fantastic mash-up of comedy, fights and campy satirical situations, turning the multiverses upside down as never before.  It features a fantastic cast, including Phil LaMarr (voice of the animated Green Lantern), veteran actor and improv favorite Patrick Bristow, Don Jeanes (Budweiser Super Bowl commercials), Disney Channel's Hannah Kat Jones (Austin & Ally) and many more from across the world of improv and comedy.  Putting the camp back into the multiverse, viewers will get a total of 30 episodes over 10 weeks.
SUPERHERO DIARIES soft launched in early 2021, with advance episodes produced during the height of the pandemic, necessitating that talent record alone and only work together via green screen and editing (sadly, not even Dr. Fauci was able to parody the pandemic). With this official debut, the fantastic satire series is now able to bring actors together on-set, to parody the multiverse galaxies, in ways that could never actually happen… but do."