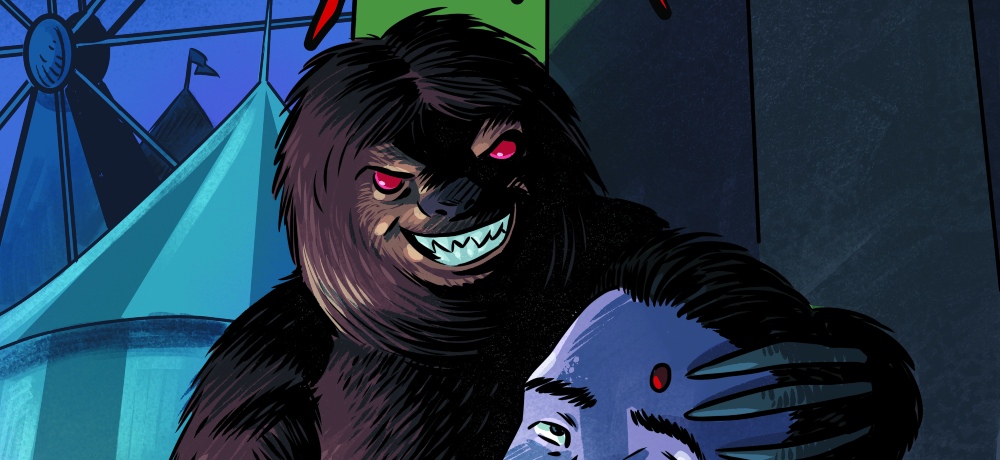 Comic creator Steve Urena recently celebrated the release of the first issue in his burgeoning horror comedy comic book series Slow Pokes, which you can currently purchase a digital version of HERE or contact Urena's Slow Pokes account on Twitter directly to receive a tangible copy.
Centered around a group of high schoolers who find themselves being hunted by hordes of bloodthirsty sloths, Slow Pokes is a total riot of a read, and there are quite a few pop culture references that left this writer chuckling while checking out the first issue. Here's what Urena had to say about the inspiration behind Slow Pokes, the process of turning his idea into a comic book, collaborating with Juan Romera and Sean Rinehart for the project, and more.
You can also follow Steve Urena on Twitter at: https://twitter.com/TheSteveUrena.
So, what was the genesis of Slow Pokes? When I think of killer animals, sloths aren't exactly what come to mind (but I love that).
Steve Urena: It all started with me joking around with some friends at work. At the time, people were buzzing about Sharknado and all the other ridiculous Syfy movies coming out at the time, so I said, "What are they going to do next? Make sloths become fast and kill?" That's how Slow Pokes was born. I had that idea in my head for several years before I took a class with Comics Experience and they helped me bring it to life.
Sloths to me are secretly scary. They have sharp claws and they always look like they're up to something. I imagine God making sloths slow to keep them from harming us.
Obviously, this is a story about a group of kids on the precipice of adulthood—was there something about that time period in life that felt like a fun thing to incorporate alongside all these horror elements?
Steve Urena: This event is based on a true story that happened to me growing up. Just not the sloth part (ha ha). Upon graduating high school, our class got to go to an all-night amusement park thing. I thought this was the perfect setting for Slow Pokes. These kids think they're heading toward the best part of their lives, but boy are they dead wrong. And who doesn't want to see fast, killer sloths fuck up some teenagers?
What was the process like for you working with Juan Romera and Sean Rinehart in regards to bringing Slow Pokes to life on the page?
Steve Urena: I went through my school (Comics Experience) and that's how I got paired up with Sean and Juan. Working with CE's Creative Services, I was able to get my script turned into a comic book in the most professional way possible. They helped me find everything I needed to make Slow Pokes a success.
I know that Slow Pokes is available online, but can you let readers know where they can find it in stores?
Steve Urena: Right now, if you're in the Buffalo, NY area, you can get Slow Pokes at Pulp 716. They are one of the best comic stores out there today and the only comic store where you can get Slow Pokes at this moment. However, if you are not able to get to Buffalo, you can contact me on Instagram or Twitter @Slowpokescomic, and send me a DM and I'll ship out a physical copy to you!
I also noticed you left things open, to a degree, at the end of your story—any plans for more Slow Pokes in the future then?
Steve Urena: There will definitely be more Slow Pokes in the future. As long as people want to keep reading them, I'll keep writing them. The horror genre is so much fun and I'm just getting started. I assure you, I will be trying to top myself with each issue of Slow Pokes that comes out.