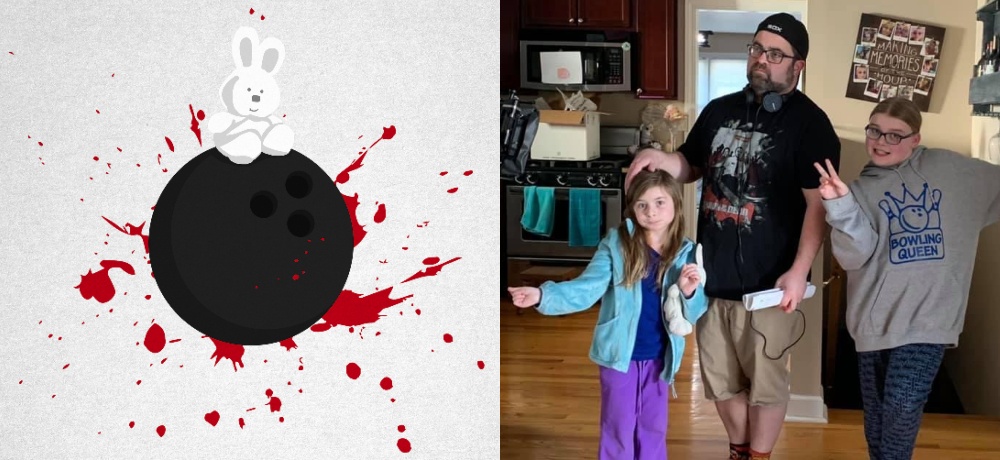 Today is a very exciting day, dear readers. In honor of our ongoing Indie Horror Month celebration, we are pleased to exclusively premiere the latest short film from Michael Pomaro, They Grow Up So Fast, featuring his daughters Evie and Mia Pomaro in the lead roles. A fun twist on pandemic life (which was not something Pomaro planned) with a bit of a Home Alone twist to it, TGUSF is a really great example of short-form storytelling that tells us so much about the world and its characters without needing to over-explain everything for viewers.
But before you check out his short film exclusively here on Daily Dead, first check out our Q&A with Michael about the project below, as he chats about the unintended timeliness of They Grow Up So Fast, the joy of being able to collaborate with his kids, and more. And once you're done with Michael's Q&A, be sure to check out They Grow Up So Fast at the end of the article as well.
Enjoy!
What inspired you to make this short and tell this story in particular?
Michael Pomaro: My initial inspiration to make this short was a desire to work with my daughters, Evie and Mia, again. I made one other short film the year before that they were in and we all had a great time. They asked if we could make another one, so I set out to write a horror short starring the two of them.
As for the story itself, I wanted to tap into what was scaring me at the time (all the time, really) and that's a constant fear about my kids being okay when they get older. The world seems more upside down than ever, and I wanted to make a movie about them being in control and ready to take on what the world throws at them.
If I'm not mistaken, this was completed pre-pandemic; was it eerie how much your concept here ended up mirroring our everyday lives for the last year?
Michael Pomaro: Ugh, you're right. I knew I wanted the girls to live alone in a post-apocalyptic world. I didn't want to go into too much detail as to the why, but I was worried that the production design wouldn't be enough to clue people in that they were living on their own while the world outside was fucked up, so I begrudgingly decided I would use a newspaper headline organically in the beginning explaining what happened to the world outside. At the time I wrote it, tensions were high between the U.S. and North Korea, but I didn't want to be too on-the-nose, so I refused to use something like World War III as the reason they're stuck in a post-apocalyptic world. Eventually I said to myself, "Oh, I know! I'll have the disaster be a pandemic! Because that won't actually happen!" Sigh.
And yes—it was eerie that the concept felt like it started to mirror our everyday lives. But what really freaked me out was that I was starting to get more and more concerned that this would be interpreted as my "Covid movie."  I had a friend talk me off the ledge early on reminding me that TGUSF is not about the pandemic, so that calmed my fears a bit. Like everyone else, I don't want to watch a pandemic movie right now, so I always feel the urge to yell from the rooftops that that's not what this is.
Your daughters star in this short. How was it working with them? And did they enjoy taking direction from "Dad"?
Michael Pomaro: Working with Evie and Mia to make a movie is genuinely one of the highlights of my life. But I was worried they wouldn't enjoy it at all. We shot the film in our home, so they didn't have much of an escape from the production. I assumed they'd check out pretty quickly when the cameras weren't rolling, but the truth is they never did, so after we wrapped the first short and they asked if we could make another one, I jumped at the chance.
One of the luxuries of living with the stars of your movie is you can rehearse with them for a long time before the camera actually starts rolling. For weeks prior, the girls and I began going over lines and blocking the scenes, so when it came time to actually shoot, they were more than ready. Of course, things can change up a bit here and there on set, but they flowed with any changes and made my job so much easier. I tried really hard to make sure they had fun, and I think they did.
What was the most difficult aspect of making They Grow Up So Fast?
Michael Pomaro: I feel like I should have some laundry list of problems we encountered making an independent short with only two and a half days to shoot, but the truth is things went very smoothly. I was fortunate to have an incredible crew that kept everything moving and on schedule, so the actual shooting of TGUSF couldn't have gone better. The most difficult part was the fundraising, honestly. If nothing else, the mental hurdle I had to leap to be able to ask people for financial help was a difficult one. I fully funded my first short and was prepared to do the same with this one, but the fact of the matter is it became more expensive than I had initially anticipated, so as the budget grew, so did my concern. I went to brunch one day with some local filmmakers and they all crowdfunded their films using Indiegogo or GoFundMe, etc., and they encouraged me to do the same. I explained my hesitancy, but they convinced me that it doesn't hurt to try. So I set up an Indiegogo for about half of the budget, and thanks to a lot of generous friends and family, and a handful of strangers, I was able to pull it off.
You've enjoyed a successful run on the festival circuit—how great did that feel, even if you weren't able to enjoy it in person in many cases, due to the pandemic?
Michael Pomaro: It's pretty surreal, honestly. I'm really proud of it and hoped people would dig it, but to have had the success it has had throughout its festival run has been humbling. It's awesome. I'm bummed I haven't been able to see it in a theater with a crowd, but I fully support and agree with the festivals going virtual this past year. I'm just happy people had an opportunity to see it.
Any plans for more short films in the future?
Michael Pomaro: I do! Evie and Mia both asked if we can make another film, so as long as they're interested in making more, then so am I. I have another short written and I'm trying to expand it into a feature script as well. In a perfect world, I would start shooting early next year. And I promise—this time I won't make any more predictions.
---------
Go HERE to catch up on all of our Indie Horror Month features!