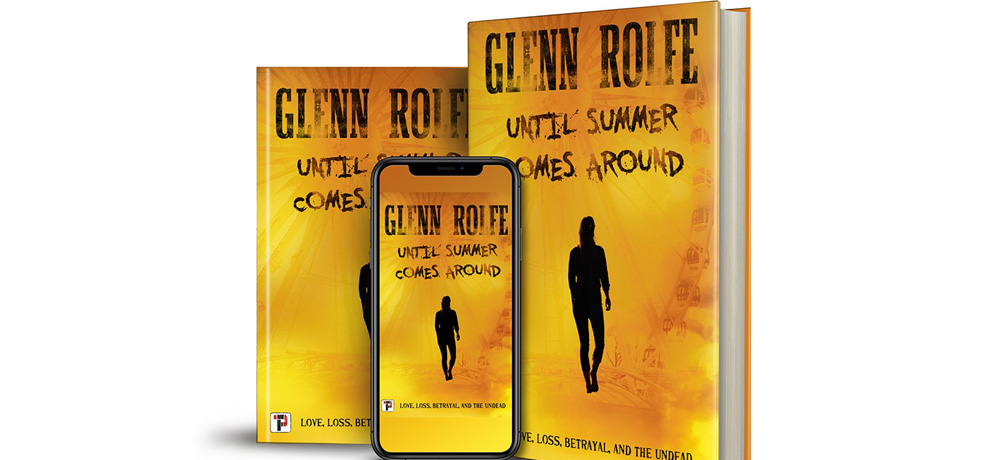 As someone who is a sucker for summer horror and vampires, Glenn Rolfe's Until Summer Comes Around sank its fangs right into me and didn't let go until the very end of the story. Rolfe has written a bunch of different genre books over the years (and has more coming later this year and beyond), so I thought it would be fun to chat with him about this most recent work of his, and we discussed everything from favorite vampire stories to our shared love of Van Halen's 5150 and more.
If you want to learn more about Rolfe and his work, you can check out his site HERE, and to grab a copy of Until Summer Comes Around for yourself, head over to Amazon HERE.
What was the inspiration behind the story you created in Until Summer Comes Around?
Glenn Rolfe: I'm a huge fan of coming-of-age stories. I'm also, like you, a major fan of The Lost Boys. My older brother introduced me to that movie in 1988, I think, and I've watched it so damn much over the years. It's just fucking perfect. Here in Maine, my favorite place to go in the summer is Old Orchard Beach. It has that Santa Clara vibe, for sure. We don't have a sexy dude in yoga pants blowing on a sax and singing from the depths of his soul, but we do have a boardwalk of sorts, a Ferris wheel, and an amazing collection of tourists in the summer. I felt like what would happen if a boy saw the girl of his dreams on the beach and found out she was, well, a monster. As for all the '80s stuff in the book, I was eight in 1986, so I had this vicarious way of living through my older brother and cousin. They went to all the shows I wished I could go to. They saw Ozzy, Mötley Crüe, Bullet Boys, White Lion, and so many other great bands from that era. I saw all this stuff and wished I could hang with them. This was my way of going back to that time and living a summer as one of them, except, you know, if I fell in love with a vampire.
How different was the writing process for this book versus the others you've written?
Glenn Rolfe: Until Summer Comes Around is my fifth novel, and it was the first one I sold on an outline. Hell, it was the first one I ever outlined! So that alone set it apart from the other books I've written. While that process was different, I think it certainly made it much easier to write. I completed the book in four months. It has so much of me and that life I envisioned myself living, either through my brother or movies like The Lost Boys or Monster Squad, I think it was certainly the most fun I've ever had creating a book.
Summers always seem ripe for vampire stories - maybe that's The Lost Boys effect on me - were there vampire stories that influenced you on Until Summer Comes Around?
Glenn Rolfe: Of course. 'Salem's Lot by Stephen King is my favorite book of all time. So Barlow is my quintessential vampire. He was fucking scary, plus you had him up against a kid and a writer. Not your traditional action heroes! Richard Laymon's The Traveling Vampire Show also influenced me. That's got a really cool coming-of-age thing with a love story going on. There's something about that first/early love. There's some kind of magic attached to it. You haven't been exposed to real heartache yet, so there's no preconception of getting hurt. You just give yourself over completely, and totally set yourself up to get destroyed. And when you fall for a vampire, you're getting destroyed one way or another.
You also give your vampires different "rules" for this story—was that to free them of the usual trappings these creatures have when we see them in movies or read classic stories about them?
Glenn Rolfe: Yeah, totally. I chose the setting before the monster. And what I've always done is bend monsters to my will. I love the classics. Werewolves, vamps, creatures of the lake, Frankenstein, evil aliens… but when I'm writing a story, I have to do it my way. They say you have to know the rules in order to break them, and that's what I do. With the beach playing such a huge part in my story, I had to have my vampires able to walk in the daylight. I gave them real weaknesses, gave them some human qualities. That part was fun for me, too. I hope the traditionalists will forgive me, but at the same time, I'm not apologetic about it. I think it's your job as a writer to write your story and write it your way.
I love that you use Van Halen's 5150 in here - was there a specific reason you chose that album (also, I'm pretty much Team Van Hagar here)?
Glenn Rolfe: "Love Walks In" was one of those songs that hit my soul the first time I heard it. I totally recorded it off the radio onto a Memorex cassette. I was a softy for love songs then and I still am now. So, I was Team Van Hagar from that album on. I grew to love Dave's original turn as I got older, but 5150 holds some of that '80s magic for me. It was one of the first cassettes I ever bought. It was the reason I chose 1986 as opposed to say, '88 or '89.  I wanted to build this love story around that song. I mean, how alien is "love" to a teenager? I mean true love. The kind that makes you willing to do anything stupid for someone? "And then you sense a change /nothing feels the same/all your dreams are strange/love comes walking in" "Summer Nights", "Dreams," "Why Can't This Be Love," "Best of Both Worlds"… I mean, I could have incorporated all these tracks into this story. What's it like to be a boy that falls in love with a vampire girl? All of these would work. I freaking love 5150. I still have the cassette I bought way back when, plus, I picked it up on CD and vinyl.
Any plans for new books in the near future?
Glenn Rolfe: First off, thanks for having me, and thanks for reading Until Summer Comes Around. As for new books… I have two coming out this year. The first is from Flame Tree Press, and it's called August's Eyes. It's got elements of true crime, supernatural, a little coming of age, and my obsession with pop culture. It's a bit different for me, as I created this surreal spirit/dream world called Graveyard Land borne from the depraved soul of my serial killer. I would definitely say Wes Craven's Shocker was a blueprint for how I chose to do that. The book comes out August 17th. After that is my next short story collection from Silver Shamrock Publishing, Nocturnal Pursuits. That will be out in late November.
---------
To learn more about Glenn Rolfe and his written works, visit:
Patreon: www.patreon.com/getrolfed
Website: https://glennrolfehorror.com/
Twitter: www.twitter.com/AuthorGrolfe
August's Eyes: https://www.simonandschuster.com/books/Augusts-Eyes/Glenn-Rolfe/Fiction-Without-Frontiers/9781787585768  
Go HERE to catch up on all of our Indie Horror Month features!