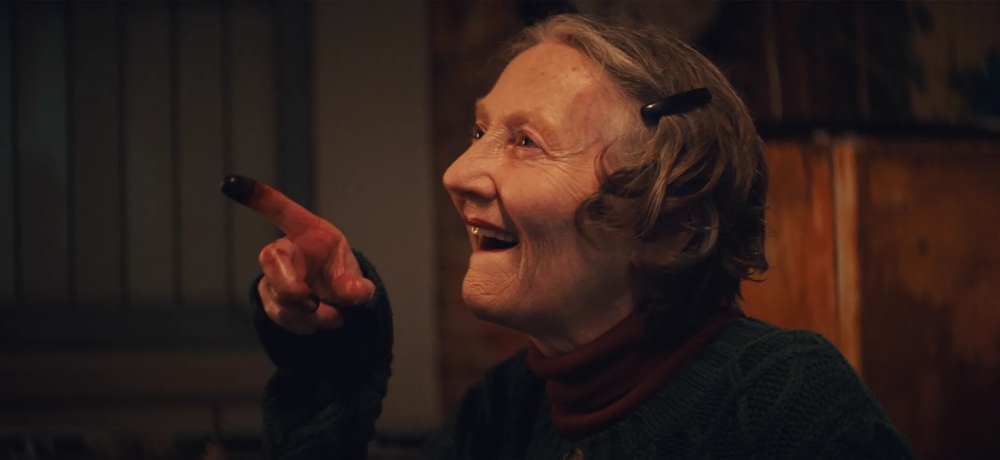 Tomorrow, Devereux Milburn's feature film debut, Honeydew, is set to infect VOD and Digital platforms with its twisted tale of rural horror, courtesy of Dark Star Pictures and Bloody Disgusting. Recently, Daily Dead had the opportunity to speak with Milburn, and he discussed how the project came about, how aspects of its story reflect his own real-life experiences, collaborating with his cast on Honeydew, and more.
Read on for the lowdown on Honeydew and be sure to check out the film tomorrow once it makes its digital debut.
Great to speak with you, Devereaux. I'd love to start off at the beginning and talk a little bit about what inspired the madness behind this movie, because it is very unsettling. I'm a big fan of rural horror, and I'd love to hear what inspired the story of Honeydew.
Devereux Milburn: So, in 2017, I'd been developing a feature adaptation of a George Saunders short story that was called The 400-Pound CEO. I'd been working on it at the time for almost two years, and I was becoming frustrated with how long it was taking to get it off the ground. I hadn't really directed anything, short format, long format in probably over a year and I was just feeling a bit down on myself. Dan Kennedy, who shot Honeydew and is one of the co-producers and we'd gone to film school together, he texted me and he knew I was feeling a bit stale, so he said, "Do you want to go shoot a horror movie next month?" And I said, "Yeah, absolutely, let's do it," thinking that it was completely impossible.
And it quickly went from a very basic tropey concept of where we would hire friends for free and pay crew and free meals and shoot in the woods in New Hampshire, to something a bit larger scale, a bit deeper and a bit more twisted. That happened over the course of a couple months. We got Alan Pearson signed on and he really set the ball rolling with casting and with getting everything set up. Dan is basically built into the landscape of New England, New Hampshire, and Massachusetts, especially, so he was able to really serve also as a location scout and get us these awesome locations.
Initially, the outline he sent me was just the beginnings of an outline where a couple is on a camping trip and are assaulted by this woman of the woods. It started out more as a creature film and obviously became not that. As I was developing the seed of what he gave me, I was also taking a lot of themes from what I had been writing with the previous script I was working on, which deals a lot with weight monitoring and body image and dieting and feeling like you don't have a place in the world you're living in or feeling like there's no room for you, essentially.
I injected little bits of that into the skeleton of Honeydew, and in the process of drafting, someone sent me an article about a mass poisoning that happened in the 1950s in a tiny village in France called Pont-Saint-Esprit, which was essentially a mass ergot infection. An ergot is the fungus that I fictionalized in Honeydew, so that I'd have a little bit more room to twist facts and not get a bunch of fact checks.
But what happened was that all these people started developing these symptoms without knowing the cause and they had gangrene and hallucinations. A lot of them were committed to asylums, and they wound up tracing it back to a local bakery that everyone in the town used for their rye bread. I was really struck by that story and did more research on ergot and got really excited about the idea of having that as a through line and connecting that to someone who lives on the land. So it all came together where we have this agricultural theme and a religious theme, with the themes of feeling good versus staying well, too.
So many times when you watch a movie, it feels like with the characters, you're watching them on the first day of their lives or something like that.  But I like the fact that with this movie, with Sam and Riley, you just bring us right into their lives and their relationship. It all feels so natural. Can you discuss working with your cast in terms of finding these character beats and building the dynamics between these characters, since you don't really throw a ton of exposition at viewers?
Devereux Milburn: Oh, thank you. I mean, when it started out, there was a bit more exposition in the first couple of drafts and through their conversation, there was a bit more established about how Sam interacts with her family and what her background is. But I just liked the idea of having a couple who has reached this fork in the road and their relationship and it was very much inspired, not by a relationship that was in trouble, but by a relationship that had to contend with a number of frustrations and disagreements, which one of the few things that my wife and I quarrel about is what I eat and how I eat as it pertains to my health.
In the past, I would often scoff at it and see it as a criticism, or something that was inhibiting my degree of pleasure in my life, but of course, it was anything but that. I also am someone who's always had trouble moderating just about everything that makes me feel good, and I liked how that could be used as a pressure button in a relationship. I liked how that functions in real life and the comedy that comes from that. When we cast Malin and Sawyer, we had cast Malin I think a week or two, maybe two weeks before Sawyer. But then Sawyer got in the room with her for his first audition and just like within minutes they had this really charming hostility that just was hard to ignore. I wanted there to be a comic edge to their interactions into the film in general, but they juiced that up with their own responses to one another.
I know we're already getting close on time, but I wanted to talk about your experiences working with Dark Star before we go. I've been really excited to see all of the films they've been releasing as of late and I think they're doing some really fun stuff. How great has it been to work with them and have their support with this film, getting it out there and everything?
Devereux Milburn: It's been amazing. This is my first feature, so I have no real reference point for how this works when it comes to how to promote a film or how to market a film, especially a genre film. We had a bumpy road at the start and we had a few false starts in getting the film to a distributor. But Yellow Veil, who did sales for Honeydew out of Tribeca, really pointed us in the right direction. They had a relationship with Josh and Mike at Dark Star. A lot of the time with distributors, you don't know how much you can trust them, but Yellow Veil told us that they were very much the exception, and they have a proven track record with getting these types of films visible. And I have found that they really know how to navigate this world so well. It's been fun to watch their various strategies as we've moved along over the last year, too.
---------
Go HERE to catch up on all of our Indie Horror Month features!