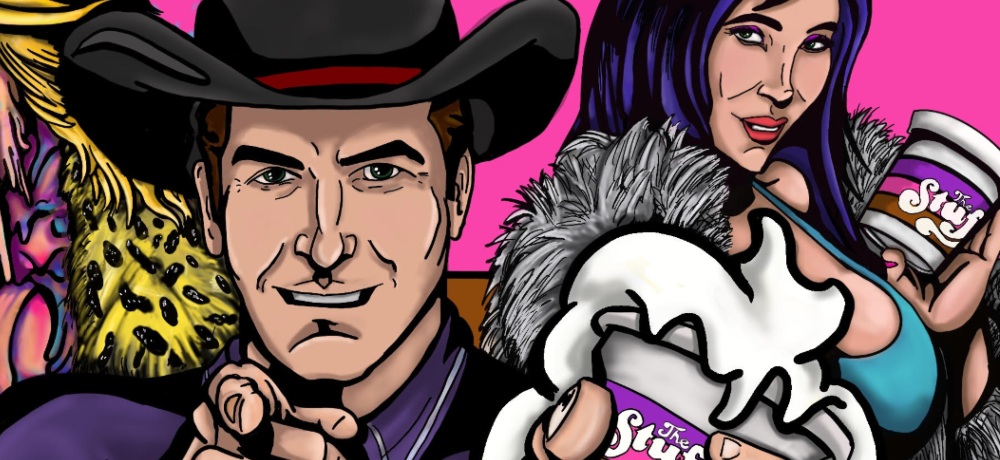 If you're part of the Mutant Family, or happen to follow along with The Last Drive-In specials on social media, then chances are, you probably are very familiar with the work of artist T.J. Denton, who creates amazingly fun comic book style artwork that celebrates Joe Bob Briggs' fan-favorite show in some rather creative ways. And with the newest season of The Last Drive-In set to kick off later this week on Shudder, we thought this was the perfect time to catch up with Denton to celebrate his work and his passion for the horror genre.
Also, if you want to check out Denton's work, be sure to follow him on Twitter (https://twitter.com/TDenton_1138) and check out his previous creations on his Etsy store at: https://www.etsy.com/shop/DorkFairProductions.
So, was there a point in your life when you realized you had these creative inclinations & did you always know it would lead to creating artwork online?
T.J. Denton: I started being creative very young, like drawing and coloring at my grandma's house. In school, art class was somewhere I felt like I had some talent and it came easier to me. My profession was theatre work, and then art had to take a back-burner, so any artwork was on my own as a hobby. This went on for 20 years. After I stepped away from the theatre, then I stepped back into art. My wife gave me an iPad a few years ago with an iPencil for my birthday. She said she wanted me to do something with it, so I started to do digital art. There was a contest for the Halloween movie in 2018. I made a piece and it showed me that I was able to do this for the first time. It wasn't pencils and paper and ink anymore. It was a whole different medium, which led to what I'm doing now.
Was there something specific about the horror genre that you found particularly inspiring to you as a creative?
T.J. Denton: I'm a movie guy, first and foremost. HBO was a big influence when I was really young. I remember watching Creepshow and Swamp Thing, which gave me a mix of horror and comic books. Also, the Universal Monsters and shows like The Addams Family, The Munsters, and Scooby-Doo started me on the love of horror early on. When I was about 12, I started to find Fangoria and the Freddy movies, which sparked my interest more. It was a form of art that clicked with me that grew through high school and to this very day. Horror taught me that bad guys can win, but you can survive through terror and trauma, and how we as people deal with grief. It taught me getting through things like grief without me even knowing it. With all of that said, that inspires the creative process that comes out in my art. But horror is also a lot of fun. Evil Dead 2 and Return of the Living Dead are my two of my most favorite horror films, so I think that plays all into my own creativity.
If you had to try and describe your artistic aesthetic, what would you say?
T.J. Denton: I like to do pop and comic art. I like the animation style. But with the Joe Bob artwork, I found a way that is a style of its own. That aesthetic and style that most people would know me from comes from old comics like horror comics from the '50s and '70s and even movie posters. With the Joe Bob art, you add in the drive-in theater aesthetic meets Normal Rockwell, which is what that style feels like to me. In every picture, I tell a story. I could tell a story all day of Joe Bob standing next to Jason Voorhees, but I want it to be a story that makes you want to pick it up off a newsstand, like a good comic book cover would do.
Many of your pieces involve films/ideas from The Last Drive-In; was there a reason that show inspired you to create that artwork and how has that community embraced your artwork online?
T.J. Denton: After the first Last Drive-In marathon, I got a germ of an idea that I wanted to do some kind of art, but I didn't know what I wanted to do. But when he did the Thanksgiving special, I had an idea at the time of making a poster for each episode of the relaunch for Mystery Science Theater when they brought that back. So I took that idea and put it with the Joe Bob art idea and thought this would be fun. The new season was then announced, and I decided if I was going to take this seriously, then I would make a challenge to make a new cover every week that was a 10-week challenge with a deadline just before the next episode. But this was just for me. I didn't intend to do anything with it but challenge myself. But once I started to get the artwork done, I was surprised by the reaction I was getting and the support, too. People were asking me in direct messages for prints and art and I didn't have any idea about that. With the encouragement of the community, including Darcy and Joe Bob himself, I just went with it. I wouldn't have done it without everyone, and it makes me want to do more. I'm still learning now and I'm looking forward to the time to see everyone and thank them in person.
But it has been amazing, surprising, and wonderful to work for Joe Bob, who was such an influence to me in my youth. He was a teacher to a whole generation of us and our kind of films, so it's fun to say I work for him in some kind of capacity. About a month after I started the covers, I was contacted by Joe Bob's people. They told me Joe Bob was a big fan of the artwork. At the same time, they were working on the website and Laura Beerman was writing articles for it. They wanted to know if we could work together to pair my art with her words. We started working together and right after season one, we started with the articles and art and then Ben Nagy came in, who is another writer for the website, too, and that is the team now. It's really fun to be a part of the Joe Bob team.
What's been the biggest challenge for you as an artist trying to carve out your place in the online marketplace?
T.J. Denton: One of the toughest challenges was just starting up. I basically have a shop on Etsy and promote that on Twitter and that's really all I have right now. It's hard to branch out when you are just learning as you go. I just now hit two years of doing these covers, so I feel like I've plateaued. Getting the word out has been tough to do, but the horror community alone has been wonderful and helpful. It's been said the community is smaller than you think, and we all kind of know each other. I've made great connections and I'm thankful for that. With carving a niche by yourself, and especially during COVID, it is different when you don't have the options of conventions. I just have a voice on Twitter for now and I'm still working on it. There are new followers still coming and people who just have learned about my stuff, so I want to reach out and show everyone what I've done. But it's all been positive and that's what makes it great.
Do you have any pieces that are favorites of yours?
T.J. Denton: The very first Joe Bob cover is a favorite of mine. It's the one that everyone seems to like the most and wants to buy, too, so I knew that one was good. The next one was the WolfCop and Henry cover. That was the one that clicked, and I said, "Hey I can do something really creative and there is a lot going on here with this." And from season one, I also really like the Street Trash cover, and from season two, the Troma cover and the Deep Red/Brain Damage covers are ones that I felt came out really well.
---------
Go HERE to catch up on all of our Indie Horror Month features!
Artwork by T.J. Denton: