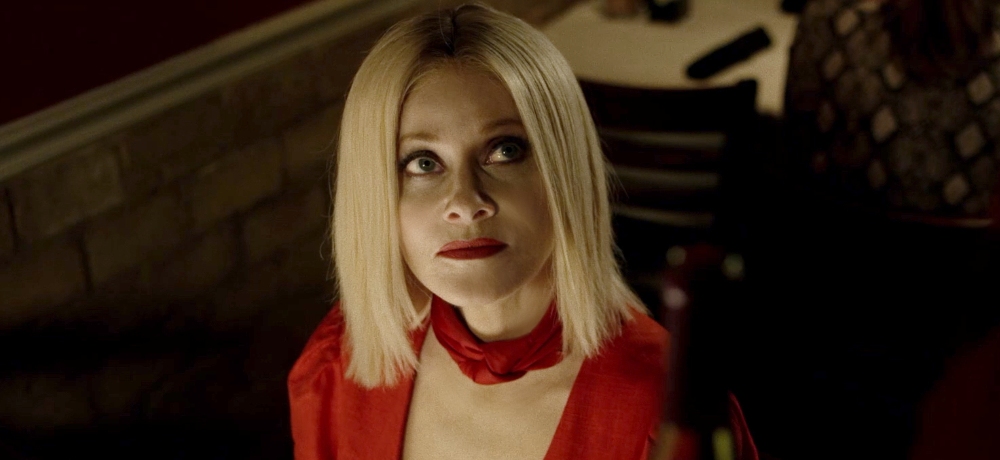 Barbara Crampton is the queen of indie horror. Gracious and humble as she is, it's a title she would most likely reject. These are precisely among the qualities that make her an icon: she's a leader in the industry who makes it a point to bring others up, a gigantic star too nice to ever act like one. She's the absolute best and deserves to be celebrated not just during #IndieHorrorMonth, but all year long.
From her earliest genre performances in movies like Re-Animator, Chopping Mall, and From Beyond, there was something special about Crampton. She could lend gravity and empathy to even the most outrageous scenario, from the notorious decapitated head scene in Re-Animator to the giant robot battles of Full Moon's Robot Wars, to which she brings energy and spunk worthy of Marion Ravenswood. She could be a BDSM-clad mad scientist in From Beyond and still have us rooting for her. She has always been a great actor -- a superstar within our beloved horror genre but also a formidable star outside of it, with credits ranging from independent film to TV movies to several years spent on hugely popular daytime soaps, both The Bold and the Beautiful and The Young and the Restless.
Since returning to acting with a memorable role in 2011's great You're Next, Crampton has amassed an impressively prolific body of work with a focus primarily on horror (and a few notable exceptions, like a very touching and funny turn in 2016's Little Sister). She's stolen scenes from killer dolls as a very frustrated and very funny cop in Puppet Master: The Littlest Reich. She's broken our hearts as a grief-stricken mother in the brilliant We Are Still Here. She's chilled us as a mysterious Norwegian islander with a secret in Sacrifice. She can play anything.
But it's more than just her on-camera roles that earn B. Cramps her much-deserved title as the Queen of Indie Horror. It's her work behind the camera, too, as both a producer and an ambassador for the genre, always doing her damndest to get the word out on new voices and movies that deserve to be seen. No one is a bigger champion for horror in the press, whether it's in interviews or as part of her Rondo-nominated columns in Fangoria. In recent years, she's turned to producing, helping give filmmakers a first shot at directing a feature, be it Jackson Stewart with Beyond the Gates or Abner Pastoll with Road Games (Crampton played supporting roles in both as well). There is no one who represents horror with more class, more grace, more enthusiasm and warmth than Barbara Crampton.
Most recently, Crampton produced and starred in Jakob's Wife, the sophomore feature from co-writer and director Travis Stevens (Girl on the Third Floor). It's Crampton's biggest and best role since her 2011 return and she characteristically crushes it. She gets to be so many things: funny, scary, sympathetic, monstrous, sexy, savage. She plays the humanity of the character without ever losing sight of the fact that it's all rather funny even while there are real lives and real emotions at stake (pun intended). It's my favorite horror movie of the year so far and that's due in huge part to Crampton's performance.
Truth be told, this is the hardest "Women of Indie Horror" profile I've had to write, not because there aren't enough things to say about Barbara Crampton but because there are too many. I've been too big a fan for too long, not just of her work but of her as a person, to stop myself from gushing or from going on and on about just how much she and her work mean to the genre. I'm a fan of the way she conducts herself with a smile on social media, of the way she treats others in the industry, of the way she interacts with fans -- always genuine, always taking the time to speak with them and really hear them. She truly is One of Us. She is indie horror's big, beating heart.
Hail to the queen, baby.
Jakob's Wife is available in limited release and on VOD beginning today, April 16.
---------
Go HERE to catch up on our previous coverage of Jakob's Wife, and go HERE to catch up on all of our Indie Horror Month features!