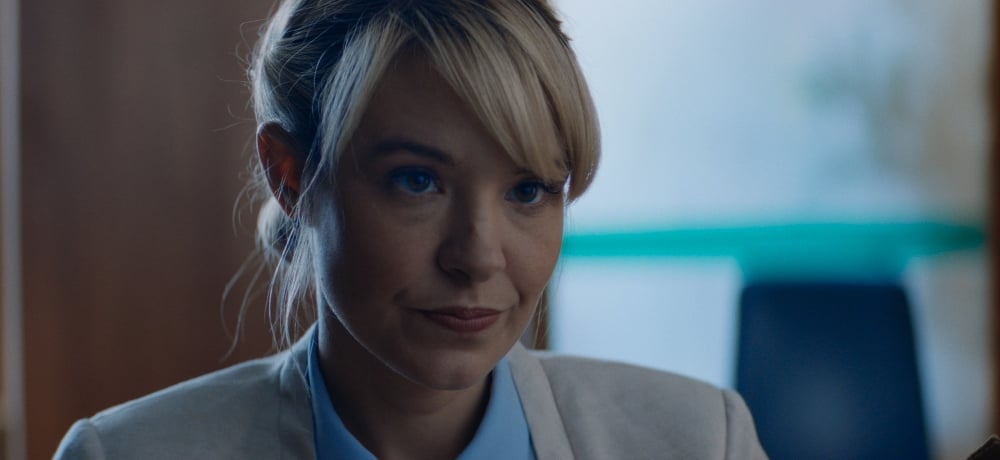 There may be no one in independent horror having more of a moment right now than Brea Grant. As an actor, she starred in one of the best horror movies of 2020, After Midnight, and now The Stylist, already one of the best horror movies of 2021. As a writer, she's responsible for Lucky (in which she also stars), an ambitious and inventive horror film about female fear that's now available to stream on Shudder. As writer and director, she's responsible for 12 Hour Shift, a bloody black comedy starring Angela Bettis as a drug-addicted nurse caught up in an organ harvesting scheme that goes bad; it was one of 2020's best movies, full stop. The lesson from all of this? Give Brea Grant the keys to everything.
One of the infinite number of things that's great about the Texas-born actor, writer, and director is her commitment to indie horror. Grant, who's been part of the genre since her earliest film roles (like You're So Dead in 2007 and Midnight Movie in 2008), could easily have chased mainstream studio success. She had a role on the smash hit NBC series Heroes early on as the superfast Daphne Millbrook and appeared in studio horror films like Rob Zombie's Halloween II in 2009. It's a path Grant easily could have pursued. I won't speculate as to why she chose to stay the indie route except to express gratitude for the kinds of stories that staying independent has allowed Grant to tell, from the apocalyptic buddy comedy Best Friends Forever (her feature directorial debut) to short films like "Feminist Campfire Stories" and "Megan, 26" to the one-two punch of Lucky and 12 Hour Shift. This is to say nothing of her extensive body of work as an actor, where she always gives terrific performances in memorable indie horror films like The Devil's Dolls, Dead Night, All the Creatures Were Stirring, the aforementioned After Midnight (in which she delivers the monologue of the year in a single take), and my personal favorite, Jackson Stewart's Beyond the Gates. For fans of indie horror, Grant's résumé is a thing of wonder and a thing of beauty.
As an actor, Grant brings intelligence and vulnerability to every role, an unwillingness to suffer fools, but lacking the hard protective shell that such defensiveness might suggest. Even when she is inherently on defense—as in this year's Lucky—Grant lets us know that it's something of a put-on, the necessary result of having to fight off predators and would-be predators alike. As a performer, she's sweet and big-hearted, making the cynicism and world-weary outlook of behind-the-camera efforts like Lucky and 12 Hour Shift not only surprising, but more interesting as well. Grant has the gift of keeping us off our guard, never knowing exactly what to expect from her next.
It would be easy for Grant to carve out a very successful career as an actor. What makes her so special, though, isn't just a body of excellent performances; it's her drive and her need to create outside of acting, too. She writes screenplays and directs both features and short films. She's created web series. She's written comic books (including We Will Bury You and Suicide Girls) and graphic novels. She hosts a book club podcast, Reading Glasses, alongside co-host Mallory O'Meara (The Lady from the Black Lagoon). Grant is never not creating, never not pushing herself, never not expanding that of which she's capable. She has no limits.
Brea Grant should be celebrated, not just during Indie Horror Month, but all year long, for her talent, her tireless creativity, her incredible body of work, her commitment both to the spirit and the genre of independent horror. As good as she's always been, she's managed to top herself in the last two years and do her best work yet. I can't wait to see what she's going to do next. And while I'd love to tell Hollywood to put her in charge of everything, Brea Grant has proven time and again that she doesn't need them. She's going to own the world on her terms, and we're all lucky enough to watch.
---------
Go HERE to catch up on all of our Indie Horror Month features!
[Image Credit: Above image courtesy of Shudder.]