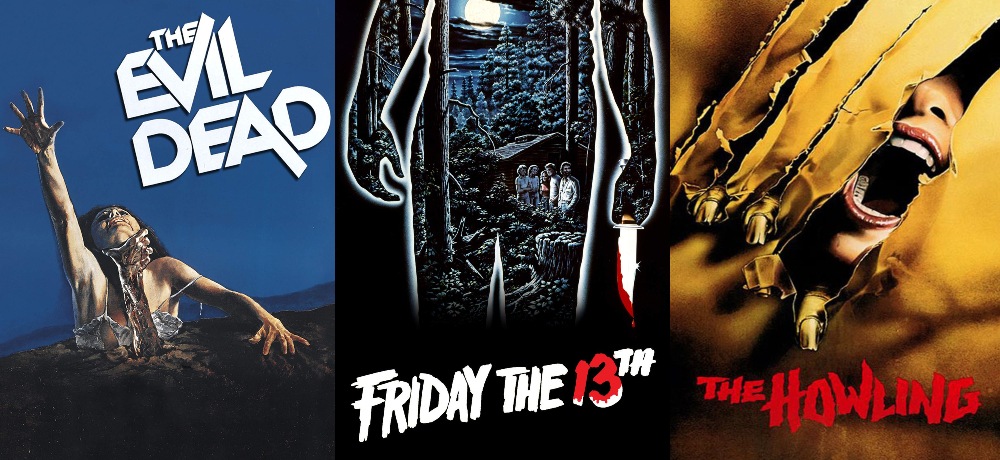 Happy Friday, everyone! This time last week, we celebrated the amazing independent horror films that were released throughout the 1970s, so it only makes sense that we shift our focus today to all the great indie genre movies and moviemakers that helped make the '80s one of the most unforgettable decades in horror.
Much like the 1970s, we saw a handful of eventual Masters of Horror establish themselves as genre storytellers on the indie side of things throughout the '80s. On the East Coast, we saw an explosion of creativity come out of New York City with filmmakers such as William Lustig, Frank Henenlotter, Larry Fessenden, and Troma's Lloyd Kaufman making their feature debuts in the world of horror during the '80s. And even though Troma Entertainment was founded in 1974, the company really came into its own during the 1980s as well. The indie studio founded by the aforementioned Kaufman and Michael Herz released Mother's Day in 1980 but found great success with The Toxic Avenger in 1984, which launched their Tromaville series of projects, including Class of Nuke 'Em High, Troma's War, and several Toxic Avenger sequels, to name just a few.
Notable producer Sean S. Cunningham also branched out at the start of the decade with Friday the 13th, his attempt to capitalize on the new wave of slasher films that were becoming increasingly popular with moviegoers at the time. But before audiences were introduced to a vengeance-fueled mom named Pamela Voorhees, Cunningham experienced a hot and heavy bidding war over the U.S. distribution rights for Friday the 13th, with Paramount Pictures eventually winning the battle against Warner Bros. and United Artists.
That's not to say that there weren't other exciting happenings in the indie horror world around the rest of the U.S. during the '80s. In fact, an up-and-coming director from Michigan by the name of Sam Raimi set out to make a movie with his longtime friend Bruce Campbell that was initially titled Book of the Dead. Eventually, Raimi took the advice of a friend and decided to change the movie's moniker to The Evil Dead, and after a successful out-of-competition screening of the project at Cannes coupled with a positive review by Stephen King and the ongoing support of Fangoria, Raimi was able to finally nail down distribution for his first feature with New Line Cinema.
And speaking of New Line Cinema, the indie production/distribution shingle that was founded in 1967 by Robert Shaye really came into its own during the 1980s with early projects such as Polyester, Xtro, and Alone in the Dark. But of course, it was Wes Craven's A Nightmare on Elm Street that helped establish New Line as a legitimate player in the world of Hollywood, and the rest was history for "The House that Freddy Built."
On a related note, one of the fun things about the 1980s is that there were so many different indie production and distribution companies creating a ton of horror projects during the decade, where their output often rivaled the studio system's in both quantity and quality. When it comes to influential horror that came out during the 1980s, one of the most recognizable studios giving fans an endless supply of thrills and chills was New World Pictures.
The studio had been established in 1970 by the legendary Roger Corman and his brother Gene Corman, and New World was highly successful throughout that decade in particular with their output of exploitation flicks and B-movies that featured so many rising talents, both in front of and behind the camera. But when the 1980s rolled around, it really feels like New World Pictures went into overdrive before they fizzled out unceremoniously at the beginning of the 1990s, as they made and/or released so many timeless genre projects, including Hellraiser and Hellbound: Hellraiser II, The Slumber Party Massacre, Elvira: Mistress of the Dark, Heathers, Vamp, Transylvania 6-500, Children of the Corn, Galaxy of Terror, The Stuff, Dead Heat, both House and House II: The Second Story, the American re-cut of Godzilla 1985, and a ton of movies outside of the genre realm (one non-horror movie in particular that I was addicted to growing up was Girls Just Wanna Have Fun).
Another independent production house that left an indelible mark on '80s genre cinema was Avco Embassy Pictures (formerly known as Embassy Pictures), as they produced and distributed so many killer horror offerings during that time: John Carpenter's The Fog and Escape From New York, Scanners, Vice Squad, Prom Night, Roadgames, Dead & Buried, Final Exam, Death Ship, and Joe Dante's The Howling. And while they may not be horror films per se, Avco was also behind the legendary mockumentary This is Spinal Tap and they co-produced the 1985 musical A Chorus Line, too.
And speaking of Avco Embassy, Dino De Laurentiis of the De Laurentiis Entertainment Group acquired the company in 1985 after setting up a production studio in North Carolina the year prior. But during this decade, DEG set out to produce lower-budget movies that Dino felt were on par with the quality often seen in bigger studio projects, and his company produced and distributed an array of projects, including Manhunter, Maximum Overdrive, Blue Velvet, Kathryn Bigelow's Near Dark, Pumpkinhead, Earth Girls Are Easy, King Kong Lives, and several genre-adjacent projects such as Bill & Ted's Excellent Adventure and Transformers: The Movie.
All of these examples alone demonstrate just how integral independent horror was in the industry here in the States throughout the 1980s, but there's so much more that was going on as well that I haven't even discussed yet. For example, Irwin Yablans' Compass International Pictures continued on after the success of Halloween in 1978 and produced several more genre movies (Fade to Black, Hell Night and Blood Beach) before Yablans moved on to work with Charles Band on Parasite, Prison and Arena. And most horror fans know Band as the madman behind both Full Moon Features and the now-defunct Empire Entertainment, with the latter producing and releasing an incredible assortment of projects that forever changed the landscape of the genre world: Ghoulies, Troll, Trancers, TerrorVision, Intruder and a trio of Stuart Gordon classics—Re-Animator, From Beyond, and Dolls—just to name a few.
Another indie company of that era included the United Film Distribution Company, which not only produced George A. Romero's Day of the Dead, Knightriders, and Creepshow but also distributed Sleepaway Camp, Class of 1984, Q: The Winged Serpent and Death Screams. Many fans may not necessarily recognize the name New Century Vista Film Company (which released movies under this banner but produced them as New Century Entertainment), but they will assuredly know many of the projects that they helped create during the '80s, including The Gate, The Wraith, and The Stepfather, as well as two movies they distributed at that time, too: Fright Night Part 2 and Lady in White.
Carolco Pictures was another essential independent production company that gave us a few horror classics during this time, including The Changeling, Angel Heart, and both Prince of Darkness and They Live from John Carpenter. And while Vestron Pictures may be best remembered for the breakout success of Dirty Dancing, we wouldn't have been able to enjoy movies such as Slaughter High, Waxwork, The Unholy, The Lair of the White Worm, or Little Monsters without their efforts to support indie filmmaking. Even a smaller company like Trans World Entertainment made a moderate splash during the '80s, too, as it was behind producing a few genre projects such as Creature, Teen Witch, and I, Madman, but then they also helped distribute an array of titles in both theaters and on VHS, including Killer Klowns From Outer Space, Maniac Cop, Robot Jox, and Hobgoblins.
Of course, you can't really talk about independent cinema in the 1980s without taking the time to discuss all the projects that came out from Cannon Films during the decade. Menahem Golan and Yoram Globus bought the company in 1979 and set out to make low-budget, high-concept films, and boy oh boy, did they ever. Throughout the '80s, Golan-Globus released a wildly eclectic slate of movies that included Schizoid, New Year's Evil, Hospital Massacre, The Apple, both Lifeforce and The Texas Chainsaw Massacre 2 from Tobe Hooper, a ton of action films including the Death Wish sequels, both Breakin' and Breakin' 2: Electric Boogaloo, and Gary Goddard's Masters of the Universe. While there were many amazing independent production houses working during the decade, no one was making movies quite like Cannon was during the 1980s.
As I mentioned in my piece on '70s indie horror, I know that these retrospectives only offer a narrow view of the state of independent cinema during these time periods (as indie horror definitely continued to thrive across the globe throughout the 1980s), but I hope that just this recap alone helps prove how essential supporting indie storytelling is to the overall success of the horror genre, which it has been and always will be. Without the efforts of so many people believing in the importance of fostering the spirit of independent creativity during the '80s, imagine how many classics that us genre fans would have never been able to enjoy and continue to enjoy to this very day, or how many legendary filmmakers may have gotten lost along the way.
And while I do believe that the '70s set the tone for independent horror cinema, it was everything that happened throughout the 1980s that helped prove just how monstrously important it was to keep creating movies outside the traditional studio system.
---------
Go HERE to catch up on all of our Indie Horror Month 2022 features!