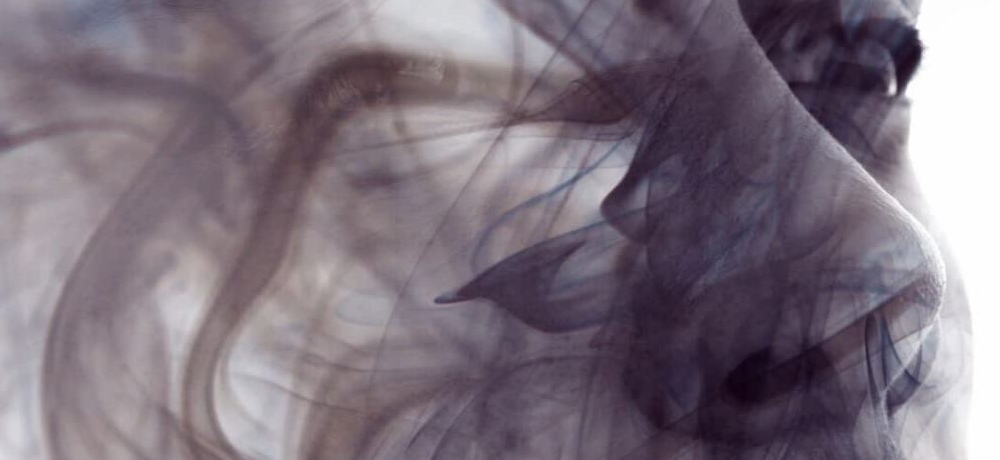 From psychological scares and supernatural fears to dystopian doom and devilish dealings, author Caitlin Marceau captures an eclectic range of contemporary horrors in her new short story and poetry collection, Palimpsest. With Palimpsest now available from Ghost Orchid Press, we had the pleasure of catching up with Caitlin in a new Indie Horror Month Q&A feature to discuss writing the diverse stories in her new collection, working with Editor-in-Chief Antonia Ward at Ghost Orchid Press, and her other upcoming releases that readers can look forward to!
You can read our full Q&A with Caitlin Marceau below, and to learn more about Palimpsest, visit Ghost Orchid Press and Amazon!
Thanks for taking the time to answer questions for us, Caitlin, and congratulations on the recent publication of your short story and poetry collection, Palimpsest: A Collection of Contemporary Horror, now available from Ghost Orchid Press! What types of stories and poetry can readers expect to find in this new collection?
Caitlin Marceau: Not a problem at all! Thank you so much for having me, I really appreciate it! With Palimpsest, I tried to have a pretty diverse collection so that everyone can find something they like. So there are some body horror pieces, like "Infected" and "Helena," and there's psychological horror, with stories like "Whiteout" and "Hunger," and then—of course—some more paranormal pieces, like "The Water" and "Run." So I really tried to keep a decent range in the collection, without it feeling all over the place.
Palimpsest features an eclectic range of genres, from supernatural scares to dystopian futuristic settings. How important was it for you to explore so many different types of settings and genres in this collection?
Caitlin Marceau: It was actually super important for me! I think horror really lends itself well to playing with location. If you can take a place that everyone knows and loves and make it suddenly feel unsafe, you've done something magical. So when I write stories, I try to think of spaces that most people feel at ease in—like on your sofa at home or at a community skating rink with your friends—and make them quietly hostile.
Collectively, how long did it take you to write the stories and poetry for Palimpsest? Did you have some of these stories in mind for a long time, or did you write them all relatively recently?
Caitlin Marceau: Every story is different, so it really depends. For instance, "Stuck" only took me a few days to hammer out and review because I had such a strong vision for it when I started writing it. But then "Helena" took me a few years to write. I'd had an idea for it a while ago, but could never get the protagonist's voice right. So it took me ages to get that story to a point where I was happy with it. But because Palimpsest is a collection of (mostly) previously published stories, a lot of these pieces were written a while ago, with the exceptions being "Helena" and "The Midas," which were only finished a few months ahead of the book's publication.
Looking at Palimpsest as a whole, is there an underlying theme running throughout the stories and poetry in this collection?
Caitlin Marceau: I think there are a couple, although it wasn't an entirely intentional decision. A fair amount of the stories deal with family or legacy, as well as the masks predators wear. Because I'm Canadian and try to work the landscape into most of my stories, I think the book also has a fair number of pieces that look at the more horrific and sinister side of nature.
Palimpsest is now available in paperback and eBook via Ghost Orchid Press. What has it been like working with Ghost Orchid Press to bring your new collection into the world?
Caitlin Marceau: Ghost Orchid Press is amazing! They're honestly one of my favourite publishers in the indie horror space, so working with them has been a dream. Antonia Ward, their Editor-in-Chief, is a brilliant editor and any story she touches is better for it. I'm extremely lucky that they took this collection on and I can't wait to see what they do with my second one, A Blackness Absolute, which is slated for publication with them in early 2023.
The beautiful cover art for Palimpsest was provided by Ghost Orchid Press. What was your reaction the first time you saw this awesome artwork for Palimpsest?
Caitlin Marceau: Oh, I absolutely freaked the f*ck out. When I was asked what ideas I had for the cover, I was a hot mess. I was like, "I want ink! Or maybe fog! Or trees! Or people! Or maybe none of that!" And I kept changing my mind and I really had no direction. So the fact that they were able to take my ideas and not just make sense of them, but turn them into something so absolutely stunning blew me away.
While writing the stories in Palimpsest, were you influenced or inspired by any other books, movies, TV shows, comic books, or video games?
Caitlin Marceau: Not really. I mean, "C0nquer0r" came to me after I got yelled at by some gamer bros while playing Call of Duty, but other than that one, most of the stories are inspired by locations that I couldn't stop thinking about—like the bridge in "Run" or the Lachine Canal in "The Water"—and everyday situations that I'd look at and think, "Wow, wouldn't it be messed up if X happened right now?" It might sound weird, but I try not to watch too much TV or read any horror books when I'm working on a story because I don't want to be influenced by them. Which is probably counterintuitive for most people!
What is your writing routine like? Do you set out to write a certain number of words or hours per day, or do you just write whenever you can?
Caitlin Marceau: I do a combination where I have a rock-solid routine in the morning, and then I play it by ear in the afternoon. So, normally, I wake up and I make a coffee and do some yoga before sitting down and writing for two hours with a 2k word count. Then, after I'm done my day job, I'll try writing for another hour or two in the evening if I have the time (and capacity) for it. And I try to keep this same routine for the weekends too.
What advice would you give to writers who are just getting started?
Caitlin Marceau: Stay true to what you think is a story worth telling. I think a lot of writers, especially when they're just establishing themselves, feel this pressure to write stories that they think the market wants. But what about the stories you want? Who's going to write them? The best piece of writing advice I ever got was from fantasy author Tamora Pierce, and she told me to write the stories I wanted to read. It really changed my approach to writing and it's advice I still swear by.
Are there any other projects you're currently working on that you can tease for our readers? Also, where can our readers go online to keep up to date on your work?
Caitlin Marceau: There are! I'm really excited to announce that my debut novella, This Is Where We Talk Things Out, is slated for publication this summer from DarkLit Press. I also have a second collection coming out with Ghost Orchid Press in 2023 titled A Blackness Absolute. There are a few other projects scheduled for later this year that I can't quite talk about yet, but be sure to follow me on social media (@CaitlinMarceau is my name on all of them) for the latest updates!
---------
Go HERE to catch up on all of our Indie Horror Month 2022 features, and to learn more about Palimpsest, visit Ghost Orchid Press and Amazon!
Palimpsest synopsis: "From one of Canada's hottest new talents comes this stellar collection of contemporary horror stories and poetry. Caitlin Marceau's work ranges from the quietly unnerving to the deeply disturbing, taking in post-apocalyptic futures, supernatural forces, psychological terrors and deals with the devil. One thing's for certain: these stories will linger in your mind for long after you've read them."