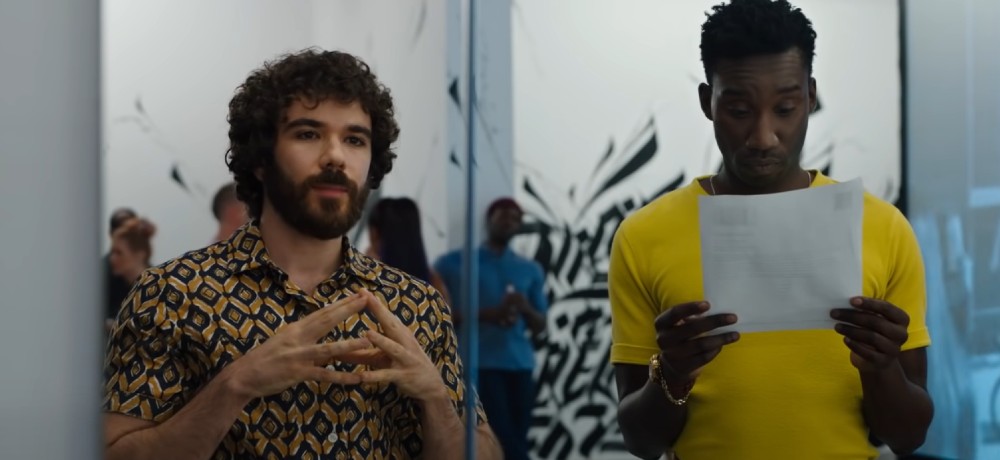 After being delayed due to the 2020 pandemic, we're finally only a few days away from the release of Nia DaCosta's Candyman (2021), which was produced by Jordan Peele and stars Yahya Abdul-Mateen II, Teyonah Parris, Nathan Stewart-Jarrett, Colman Domingo, Kyle Kaminsky, and Vanessa Estelle Williams. The film is a "spiritual sequel" to Bernard Rose's 1992 film of the same name and delivers up a chilling new take on the timeless character first brought to life by Tony Todd nearly 30 years ago now.
During a recent press day for Candyman, Daily Dead spoke with Kyle Kaminsky, who stars in the film as Grady, the concerned brother-in-law of Brianna (Parris), whose partner Anthony (Abdul-Mateen II) finds himself on a terrifying journey after discovering an urban legend about a man with a hook hand who terrorized the residents of Cabrini Green decades prior. In our interview, Kaminsky, a Chicago-area native, discussed his thoughts on getting to return home to be a part of a new Candyman film, how this role helped revitalize his career, and how the character of Candyman has always been terrifying to him as well.
Look for Candyman in theaters this Friday, courtesy of Universal Pictures.
Being from Illinois, there are two horror franchises that have always meant a lot to me. One of them is Halloween, and the other one is, of course, Candyman. Coming into this, were you super familiar with Candyman, including the character and the different movies, or was this all brand new for you?
Kyle Kaminsky: I definitely was familiar with Candyman. It was one of those things when you're a kid that, when you're with your friends and you look in the mirror at one of your sleepovers to say his name and you're terrified and you think you're going to die [laughs]. So, it becomes this whole thing. I never was able to muster up the courage to actually say his name in the mirror five times. But also, I always loved the music, too. Philip Glass is an epic composer and that score is absolutely incredible. I hadn't revisited the original film for a long time, so this was really an amazing opportunity to be reconnected with that story and reconnected with my roots of Chicago after having been living in Los Angeles for ten years. I was really grateful that this project came into my life.
What was it exactly that hooked you then? Was it the appeal of coming into something that was such a huge thing for fans?  Was it the opportunity to work with Nia? I'm just curious what the initial appeal was for you coming in and being a part of this Candyman?
Kyle Kaminsky: First and foremost, Nia is a brilliant, visionary director and I'm so excited for the world to get to see this project that she created. But, to give you an abridged version of the story, I had quit acting. I had been up for several television roles and I had decided after this one screen test, if I didn't get it, I was out. Fast forward a year, and I'm at a dinner and Nia just happened to be there. We had a mutual friend and I didn't tell her I was an actor. Nobody knew anything. My buddy, a month later, had gone on a trip with her and had told her, "Hey, Kyle's actually an actor," because he always wanted me to get back into it. And she was like, "Oh my God, I remember him. I didn't know that".
She called me up and said, "There's this role for this movie that we are trying to cast right now. I think you'd be good for it. Do you want to audition and I'll send stuff to my casting director and we'll see what happens?" I figured that acting was always finding a way back in my life, so why not? And Candyman is an epic project. I had no idea where this was going, but you know what? You only live once. So screw it. I ended up submitting a tape to the casting director. She liked some previous tapes that I had done, gave me the green light to audition, and they flew me in for a callback. The next thing I know, I'm screen testing in Chicago. Later that night, I got the part and it just tumbled down the hill from that and acting came back into my life.
I was just so grateful that I got to act again because I had missed it so much, let alone getting to be part of such an epic and storied franchise like Candyman. And because this character was also very similar to who I am in real life, the synergy of the character and me, and being back in Chicago and Candyman and this random dinner, it all was connected. So that's what brought me into the project.
What I really appreciated about your character and the relationship that you share with Nathan's character in this movie, is that within 30 seconds of being around your characters, you feel like you know everything about how that relationship works between you two. And I really appreciated that because it felt real and it felt lived in. Did that chemistry and back-and-forth between you two come about during production, or was everything really spelled out well in the script and you could draw from that?
Kyle Kaminsky: I think both are true. Nathan and I at our screen test just had really great chemistry and we became close friends on set. There was so much laughter and we were really able to play around during filming. We'd met a couple of times to just talk about our characters and what our background was so that we could really solidify that deep relationship, so that when we were on screen, it seemed very lived in like you said. And then on set, getting directions from Nia to do different things, and she gave us free rein to explore different ideas, was really exciting and fun as well. Some directors don't do that and that's what I love about her directing style. She has a very clear vision, but she also encourages you to show your own vision as well and marry the two. So I think it was a combination of the writing and also Nathan and I meeting a couple of times and really getting into what our relationship was and who our  characters were—that helped bring these characters to life in an authentic way for the film.
How great did it feel to get to go back to Chicago to be a part of something so huge, and in some ways, reclaim your career on this film? Did it feel like things were coming full circle for you on Candyman?
Kyle Kaminsky: Yeah, it was great. It definitely felt like I was reclaiming my career and also, seeing Chicago through a lens that I never had the chance to because I moved away after I went to college, was great, too. I moved straight to Los Angeles after I finished school, so I never really got to experience the city as an adult. My parents also moved out to California, so it was strange because none of my family was really there anymore except for my aunt. But it was beautiful to get to explore the city with this fresh, young, ingénue, exploratory lens of rediscovery. I loved it.