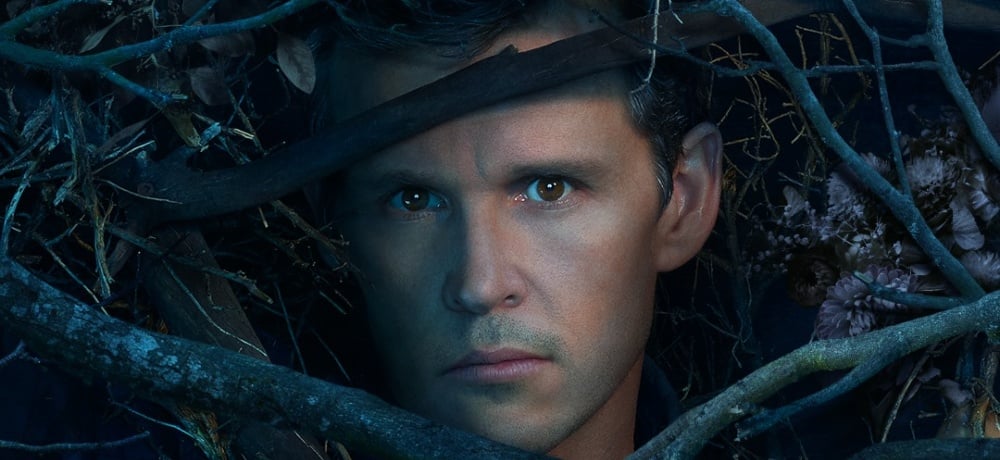 Over the years, Ryan Kwanten has endeared himself to genre fans with his work on True Blood, or on films like Dead Silence, Knights of Badassdom, and Red Hill (which is a highly underappreciated revenge-fueled thriller that this writer dug). And for his latest project, the anthological Facebook Watch series Sacred Lies: The Singing Bones, Kwanten portrays Peter Wolfe, a man who abandoned his young daughter some 13 years prior, and struggles to come to terms with who he is and the things that he's done.
Daily Dead recently had the opportunity to speak with Kwanten, and he discussed the True Blood connection to Sacred Lies by way of Raelle Tucker, the showrunner for the Blumhouse Television series, and how her involvement was one of the biggest reasons he wanted to get involved with the 10-episode second season of Sacred Lies. Kwanten also chatted about his approach to his character, and how Peter's own mysteries connect with the overarching narrative puzzle that drives the series.
And because this writer could not resist, I made sure to ask Kwanten about his True Blood legacy as well as his experiences working on James Wan's Dead Silence.
Sacred Lies: The Singing Bones premiered this week, exclusively on Facebook Watch.
Great to speak with you, Ryan. Obviously, there is a True Blood connection here, with Raelle's involvement with Sacred Lies. Was it Raelle's involvement that was the initial appeal for you coming into this series? Was it your character? Or was it a combination of everything?
Ryan Kwanten: You hit the nail on the head. The first thing was obviously Raelle, and what she had done previously with the first season of Sacred Lies. And then, what was she was pitching to me in regards to this beautiful anthology series which she created, I couldn't wait to jump on board and to see her really take that leap to being a showrunner. Of all the shows I've done, and for all the years I've been in the business, she is without a doubt the most incredible showrunner I've ever worked with. I was going through some tough times during this shoot and she was the one that was having to answer a lot of the questions and she was just phenomenal. The people that she chooses to surround herself with, I knew I was in safe hands, too. Aside from being an incredibly talented storyteller, she's just a kind-hearted woman, too.
That's so great to hear. I will admit, they only sent me the first six episodes to watch, and now I'm being completely tortured because I can't wait to see how everything wraps up.
Ryan Kwanten: I appreciate your diligence in watching it. You'd be surprised, because sometimes journalists come into these kinds of things that haven't done their research. I really appreciate it. Even more so that you enjoyed it. So, thank you.
Oh, absolutely, thank you. I do think that while there are mysteries enveloping everything that's going on here, Peter is particularly interesting to me because he seems to be such a dichotomy of these different things, where we don't quite know exactly where your character is coming from. There are times where you're questioning his motives, which seem suspect, but then we get these moments of humanity, like the scene with the boar. And I thought that was particularly a really powerful moment for Peter. I was wondering if you could discuss diving into this guy who has all these different layers, because it feels like there's a lot more going on than what we see on the surface.
Ryan Kwanten: Ah, that's lovely to hear. Yeah, I was very much intrigued and captivated by his deepness and the fact that I couldn't really pinpoint exactly what kind of attributes he had. Like you said, there was, at times, this really intense, emotional vulnerability to him, and then you would match that with this capacity for evil, that seemed to just permeate from him at the most inopportune times. But I think he's very much a lost soul, too. As we see in the flashback, the younger Peter is lost in a moral wilderness that he was led into by his experiences at home. And, for me, there are a lot of points where I hope many other young men and women can see the universality in some of the things that Peter struggles with.
I'm being a little vague cause I don't want to go too specific into it, but there are some familial things that he's dealing with, in terms of who his family is, and who he's expected to be. I love how the story breaks down those expectations of him. I was curious if you saw any parallels in Peter's journey to how we deal with masculinity these days? I feel we've seen some things over the last few years that have affected society where it was always that adage of "men being men." But I think Peter makes a really interesting case study for men who have to break free from these toxic environments in order to become a whole person.
Ryan Kwanten: Absolutely. And that was a huge thing that was important for me to get right. I remember reading a wonderful book by a doctor called James Garbarino, and his book was called Lost Boys. He's an American legend in my eyes now. He would put himself on trial with kids who are committed to these really heinous crimes, and rather than demonize them or judge them, he would try and understand them. Ultimately, to try find the reasons why they ended up in this horrible state, whether it was through some kind of violent act or not.
I was really intrigued by that, what early lessons in a boy's life, that residue of trauma, that results from living in a world where violence is so intense and pervasive and how that trauma undermines his own sense of security in his future. He just wants to desperately be somebody. I think that's something that we all struggle with, that sense of identity, and it ruined him. It really did, and to try and to create a whole other life was a dangerous move, but one that he did and ultimately the shadows of his past came to haunt him.
I'm curious, because you've done a lot of television in your day, and you've also done a number of films as well, do you prefer one medium to the other, in terms of being able to peel back layers on the characters you play?
Ryan Kwanten: That's another great question. I do love particularly this anthology type of format, where you can craft the character over the course of a season. Don't get me wrong, I really enjoyed playing [Jason Stackhouse] going into the seven seasons that we were fortunate enough to have on True Blood, but there is an element of exploration of a character, and of a story, that you can do over the course of one season, and that is where I'm at in my life right now. It sits into perfectly that wheelhouse. It seems to be the way that a lot of TV viewing is gearing towards, that type of binge-worthy one season type of stuff.
I was a huge fan of True Blood. It's always great when something is successful, because you know you've done something that's connected with audiences, but I imagine that there is a weight that comes with that a bit, where you might want to break free of it. Is that anything you've experienced at all?
Ryan Kwanten: Oh no, I'm nothing but eternally grateful for that show. It without a doubt changed my life and I can break out of my own boxes, leave that to me. I'm not worried about what people say or whatnot. But no, that show will forever have a place in my heart. Let people say what they want to say, I can't stop them from that. All I can do is continue to be inspired by stories like Raelle's and continue to try and give to my craft.
I do think Jason had some of the best character arcs in that series, because he really does come full circle by the end, and becomes a really well-rounded character that you are emotionally invested in. I thought he was a really great part of the overall True Blood story.
Ryan Kwanten: Thank you. I really do enjoy finding those kind of characters, the ones where you make a snap judgment on them pretty early on in a series or in a season. But then, you realize by the end that that snap judgment was very clearly wrong. Or if it was right, it wasn't the way you thought it was.
Speaking of that, from some of the things that we learn about Peter early on in this series, are we going to come full circle on him and realize that there is more going on than what we see on the surface?
Ryan Kwanten: I think for Peter, it's that old adage of, "Innocence once lost can never be regained, darkness once gazed upon can never be lost." I think no matter how hard he tries to suppress his past, sometimes there are powers at work that are beyond his reckoning.
I know we're getting really close on time, but I wanted to talk about Dead Silence. For years, I had been bugging James Wan and Leigh Whannell to come around on Dead Silence, and I think they have. I know it wasn't a huge box office blockbuster, but it's continued to connect with genre fans over the years, and I'm curious if you had realized at all that Dead Silence really has come into its own over the years.
Ryan Kwanten: That's amazing to hear! This is the first I've heard of fans really being into it, and it's touching, to be honest. Those boys—James and Leigh—everything they touch turns to gold, but I do feel they got a bit of a hard rap on Dead Silence. I don't know who it was from the studio that made it so hard for them; I really don't know. But we definitely connected on that movie, and we tried to make the best movie possible. So, to know it's still alive and out there is just really nice to hear. Mary Shaw lives on.
---------
In case you missed it, check here to read our interview with Sacred Lies: The Singing Bones co-star Juliette Lewis!