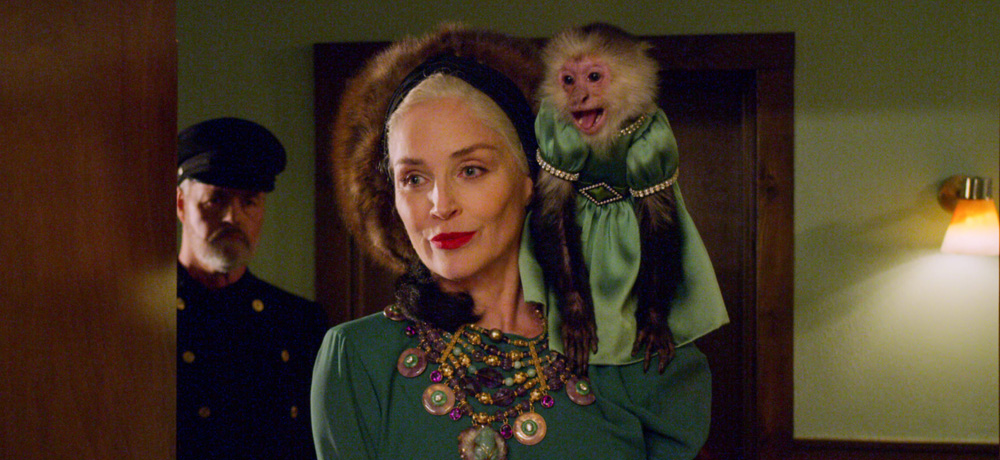 For more than four decades now, Sharon Stone has been turning in iconic performances regularly. And now, with the release of Ratched later this week on Netflix, the venerable actress is about to give fans yet another memorable character to discuss by way of Lenore Osgood, the wonderfully over-the-top socialite who likes to parade around her mansion with a fashionable monkey on her shoulder.
Ratched also marks Stone's first foray into the world of episodic storytelling, and she discussed how her initial meeting with producer/showrunner Ryan Murphy went and how her experiences working on the series ended up being unlike anything Sharon had ever encountered before in her career.
"Ryan took me out to lunch and offered me this part," Stone recalled. "He told me that he had written the part for me, and then I didn't say anything. He was like, 'Aren't you excited?' And I said, 'I don't know yet [laughs].' Of course, I was excited that Ryan Murphy wanted me to work with him, but you never know how big the cliff is you're going to have to jump off of when he says he's writing you a part because I've seen all of the other Ryan Murphy shows [laughs]."
"And, of course, I'm not really used to working in television. Usually, when I go to work, I normally have a script and a director and a plan and I'm good at that. But then, I go to work on Ratched and I don't have scripts, because one day you are on Episode 6 and the next day you are on Episode 1 and then the next day you are on Episode 3 and you have three different directors, and you haven't gotten to read all of these episodes. So, by about day five, I was in the hair chair going [flail noise]. And Sarah goes, 'Hey. What's going on?' That's when I really understood what a spectacular producer that Sarah is and I have such a sense of pride for her on what she was able to do on Ratched."
"In my generation, I wasn't afforded this kind of possibility. If I had any thoughts or ideas, I could get called to the studio and get into a real discussion about what is my problem and I might want to shut it down. For me, it's this experience of coming to work on a Ryan show, it's full circle in a way. Because, first of all, when I started working, it was me and 300 men. Even my dresser was a man. So, to come to work on Ratched and have women working in every department and have this opportunity to work with these women, doing this fine, subtle, intimate, layered work of women was great."
"At first, it was almost awkward because I didn't even know what that would be like to go to work where women are being empowered and offered opportunities. I am just so grateful for it and to just be able to be encouraged in a feminine group and see women around me being lifted up, it's just so touching to me. It's just so meaningful to me. And that this man, Ryan Murphy, is doing this for women, too," Stone added.
For as much as she enjoyed the feminine energy that flowed throughout Ratched's production, Stone also relished the opportunity to bring to life her wildly eccentric character, Lenore, who enjoys a overly lavish lifestyle, complete with the aforementioned adorable monkey that her character dresses up in outfits that probably cost more than this writer's entire wardrobe. It was a process that challenged the veteran actress in new ways she had never experienced before.
"As I started to look at my character, Lenore, I liked that there were so many vagaries about her," Stone explained. "We had to figure out, first of all, why is she this kind of person? How the hell did she get there to begin with? And what kind of backstory leads a person to be the way she is? And so, building this character that ultimately is a character that's just covered with this false façade, was really interesting, because you have to find out what it is she's covering up to begin with. Then, you have to look at what she's covered it with, and then what were those failures that made the character so insecure? Then, there's this enormous failure that caused this internal schism, and that caused Lenore to ultimately have a monkey on her back, both literally and metaphorically. What is that metaphorical monkey on her back and what is the intimate relationship that she shares with the metaphorical monkey on her back?"
"I thought all of this was really interesting. Ryan at one point said to me that we could erase the monkey at the end, and Lenore would still be the same. The character would be the same character, even if we took the monkey out, because it all ultimately meant the same thing for the character. So, it was just a really different process and a different type of character than I'd ever approached before. I thought that was going to be, and it was, very challenging and really interesting."
---------
Visit our online hub to catch up on our previous coverage of Ratched!