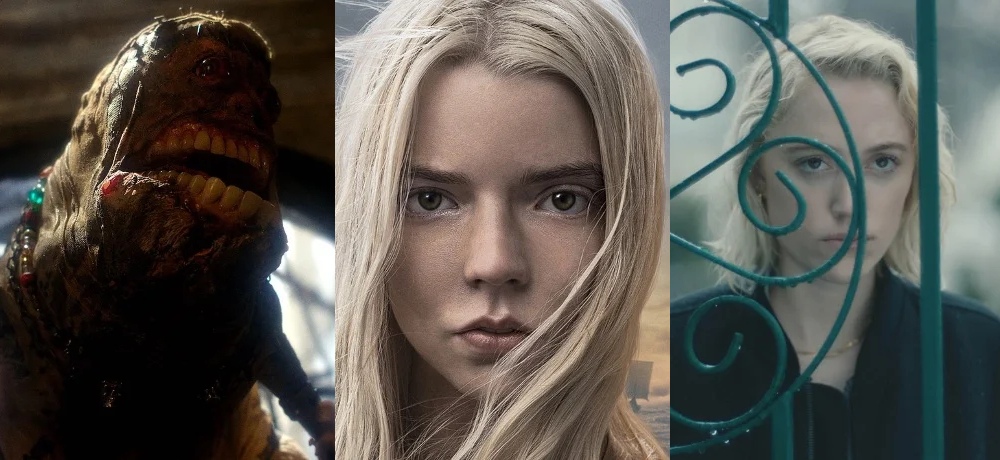 Hello everyone! The summer season is pretty much upon us now, but don't expect the horror or sci-fi genre offerings to slow down at all during this time of the year because June's slate of VOD and Digital releases is jam-packed throughout the entire month. So, if you're looking for a good excuse (or many excuses) to stay inside and beat the heat, this rundown has got you covered.
Hulu is debuting the latest seasons of both The Orville and Only Murders in the Building this month, and Shudder is keeping busy with several exclusive films heading to their platforms, too, including Phil Tippett's Mad God, which I highly recommend because it blew me away when I saw it last year, and Mickey Keating's Offseason is pretty darned good, too. Marcus Dunstan's Unhuman is being released on June 3rd (same day as Rob Savage's Dashcam), which is another movie I highly recommend, and if you missed it in theaters, Robert Eggers' The Northman is being released on digital beginning June 6th, and The Unbearable Weight of Massive Talent is making its digital debut on June 7th as well, in addition to Everything Everywhere All at Once.
Watcher, from Chloe Okuno, earned its place amongst my favorite horror movies of this year when I saw it at Sundance back in January, and now you'll have the opportunity to catch up with it when IFC Midnight releases it in late June. The third season of Evil is also headed to Paramount+ this month, and we even have a new Peter Strickland project—Flux Gourmet—to look forward to when it makes its digital debut on June 24th.
As I said, there is a lot of great horror and sci-fi headed to the small screen throughout the month of June, and I hope that this breakdown of all the releases can help you plan accordingly.
Happy Streaming!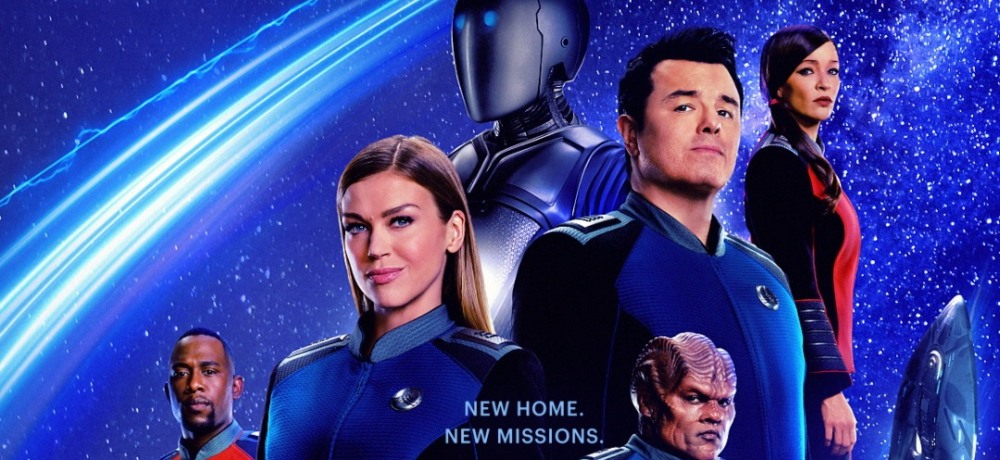 The Orville: New Horizons (Hulu) - Premieres Exclusively on Hulu June 2nd; New Episodes Debut Every Thursday for 10 Weeks
Seth MacFarlane's epic space adventure series, "The Orville," returns exclusively as a Hulu original series. Set 400 years in the future, "The Orville: New Horizons" finds the crew of the U.S.S. Orville continuing their mission of exploration as they navigate both the mysteries of the universe and the complexities of their own interpersonal relationships.
Dashcam (Blumhouse/Momentum Pictures) - June 3rd
In the midst of lockdown, musician Annie has been livestreaming with her fans, taking their comments, and turning them into rap lyrics as she drives around downtown Los Angeles. Exasperated by her pandemic lifestyle, Annie escapes to the UK to visit her old band mate Stretch, livestreaming the whole way. Her arrival and behavior incite contempt from Stretch's girlfriend, and she causes chaos when tagging along on his food delivery job.
After an argument, Annie runs off with Stretch's car and phone, using them to take over his food pickups where she encounters a stranger who asks her for a delivery of a different kind: a frail elderly woman called Angela who is being followed by someone looking to do her harm. Annie identifies with Angela's plight and with the added incentive of an envelope of cash, she agrees to deliver Angela to a safe address out of town.
Annie and Stretch soon find themselves caught up in a twisted plan with sinister forces at work, and as the night progresses and the chaos builds, they must fight for their lives against a supernatural creature intent on making Annie its new host.
The Overnight (Vertical Entertainment) - June 3rd
After a romantic weekend gets sidetracked, a young couple find themselves at an outdated hotel, caught up in murderous death-loops, and as bait for a demon.
Scare Zone (Terror Films) - June 3rd
Welcome to Scare Zone, just another strip-mall Halloween Horror House …or is it? From the strobe room to the masked maniacs wielding chainsaws, knives and pitchforks as they chase paying customers through the halls of this haunted maze, it's one good jump scare after another. However, as terrible things begin to happen and people end up dead, the visitors of Scare Zone think it's all just part of the "show"!
Sewer Gators (By the Horns) - June 3rd
When killer alligators unleash chaos from the sewers of a small Louisiana town, it's up to a local sheriff, an alligator expert, and an old gator hunter to kill the beasts.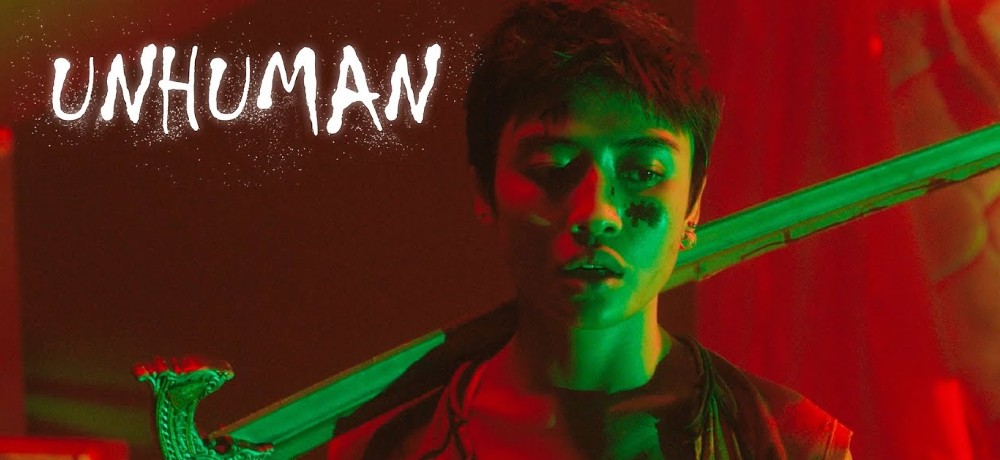 Unhuman (Blumhouse/EPIX Films) - June 3rd
The dead will have this club for breakfast. Blumhouse Television and EPIX bring you the story of a high school field trip gone bloody awry. Seven misfit students must band together against a growing gang of unhuman savages. The group's trust in each other is tested to the limit in a brutal, horrifying fight to survive and they must take down the murderous zombie creatures… before they kill each other first.
Tales from the Other Side (Uncork'd Entertainment) - June 6th
Three kids sought out to have the most legendary Halloween night ever. Their Trick-or-treat adventure brings them to the home of the local town legend "Scary Mary". Legends say that she is a woman of pure evil, but one thing is for certain - She knows just the right spooky tales to tell.
The Northman (Universal Pictures Home Entertainment) - June 6th
From visionary director Robert Eggers comes THE NORTHMAN, an action-filled epic that follows a young Viking prince on his quest to avenge his father's murder. With an all-star cast that includes Alexander Skarsgård, Nicole Kidman, Claes Bang, Anya Taylor-Joy, Ethan Hawke, Björk, and Willem Dafoe.
Everything Everywhere All at Once (A24) - June 7th
Directed by Daniel Kwan and Daniel Scheinert, collectively known as Daniels, the film is a hilarious and big-hearted sci-fi action adventure about an exhausted Chinese American woman (Michelle Yeoh) who can't seem to finish her taxes.
Keeping Company (1091 Pictures) - June 7th
A fateful chain of events begins to unravel after two brash insurance salesmen go knocking on the wrong door and find themselves trapped inside of a serial killer's basement, putting their lives and their jobs on the line.
The Prey: Legend of Karnoctus (Lennexe Films) - June 7th
In the Afghanistan desert, a group of mercenaries out for treasure complete their greatest heist. Seeking refuge from the hunting Taliban in a nearby cave, they are soon joined by retreating US soldiers, and both groups are trapped within by a rocket explosion at the cave's entrance. The newly joined parties need to work together to find an escape through the labyrinth but soon realize they're being tracked by a deadly beast that local legend calls Karnoctus; and they have become… the prey.
Rondo and Bob (Electric Entertainment) - June 7th
Robert A. "Bob" Burns is a significant name in horror film art direction for his work in the original Texas Chain Saw Massacre, The Hills Have Eyes, Re-Animator, The Howling. His props also appear in Poltergeist. From a young age he showed signs of being a genius and could create complex designs all in his head, draw detailed cartoons and create outrageous puns. In high school and college he studied drama, which he later utilized in films including Confessions of a Serial Killer.
While attending the University of Texas he edited the Texas Ranger humor magazine and discovered Rondo Hatton, a former Tampa, Florida, sports reporter, who contracted acromegaly, a condition that caused his face, hands and feet to grow out of proportion to the rest of his body. It caused the former athlete and All-American kid to close himself off from the outside world until he met his second wife Mae. Together they went to Hollywood where Hatton became the Creeper in a series of films starting with the Sherlock Holmes story The Pearl of Death. He died of a heart attack brought on by his medical condition.
The documentary weaves together the stories of Burns and Hatton and delves into their horror filmographies and personal life stories. The Creeper becomes a metaphor for Burns' lifelong belief in his inner ugliness, a lack that left him unable to feel true love.
The film mixes interviews with archival film footage and rare video of Burns and the people he tried desperately to love. Along the way, it examines vital touchstone films of the horror genre and tells the true stories of two of its important players.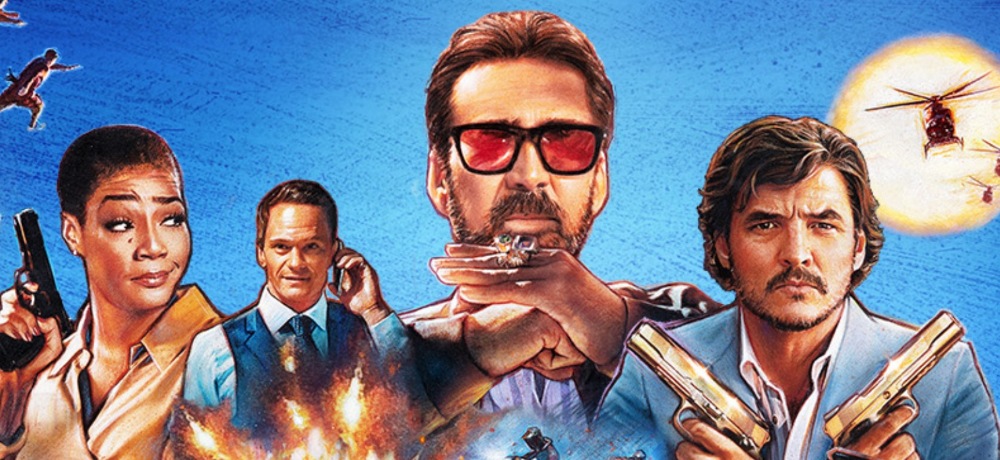 The Unbearable Weight of Massive Talent (Lionsgate) - June 7th
In this action-packed comedy, Nicolas Cage plays Nick Cage, channeling his iconic characters as he's caught between a superfan (Pedro Pascal) and a CIA agent (Tiffany Haddish).
First Kill (Netflix) - Exclusively on Netflix June 10th
When it's time for teenage vampire Juliette to make her first kill so she can take her place among a powerful vampire family, she sets her sights on a new girl in town named Calliope. But much to Juliette's surprise, Calliope is a vampire hunter, from a family of celebrated slayers. Both find that the other won't be so easy to kill and, unfortunately, way too easy to fall for…
Offseason (Shudder) - Exclusively on Shudder June 10th
Upon receiving a mysterious letter that her mother's gravesite has been vandalized, in OFFSEASON, Marie (Donahue) quickly returns to the isolated offshore island where her late mother is buried. When she arrives, she discovers that the island is closing for the offseason with the bridges raised until Spring, leaving her stranded. One strange interaction with the local townspeople after another, Marie soon realizes that something is not quite right in this small town. She must unveil the mystery behind her mother's troubled past in order to make it out alive.
The Righteous (ARROW) - Exclusively on ARROW June 10th
A unique and darkly engaging spiritual thriller, strikingly shot in black and white, The Righteous tells the story of Frederic (Henry Czerny) a grieving man struggling with his faith, who helps an injured young man, Aaron Smith (Mark O'Brien) who stumbles onto his property one night, claiming to be lost in the woods. Frederic and his wife (Mimi Kuzyk) invite the man to stay for the night, but Frederic soon begins to have doubts about this enigmatic stranger's story - and his motives for being there. When Aaron asks Frederic to commit an unspeakable deed, it becomes clear that the man is not who he seems, and has been sent to test the very limits of Frederic's existence.
Evil: Season 3 (Paramount+) - Exclusively on Paramount+ June 12th
Season three of EVIL begins moments after the end of season two: when a newly ordained David and Kristen kiss. In season three, the two not only have to navigate this fraught new reality, but contend with David's involvement with "the entity," an espionage unit within the Catholic church.  Meanwhile, Ben finds his brain breaking from their unsolved cases and turns to his sister for help.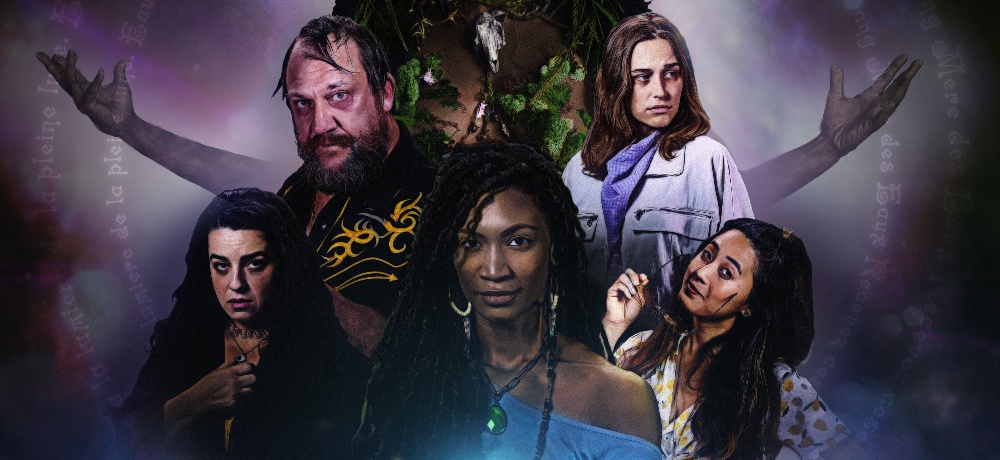 Erzulie (Gravitas Ventures/Kamikaze Dogfight) - June 14th
A reunion between four friends quickly goes awry when they find themselves face to face with ERZULIE: the swamp mermaid goddess.
Gatlopp (XYZ Films) - June 16th
In GATLOPP, a group of old friends reunites for a nostalgic evening of fun and games after a decade apart. After one too many, they decide to play a drinking game, but it's quickly revealed that this game comes with supernatural stakes. Mischief leads to mayhem, and the group realizes that if they can't come together to win the game by sunrise, they will be forced to play for eternity - in hell.
Mad God (Shudder) - Exclusively on Shudder June 16th
Mad God marks the feature directorial debut for visionary and Oscar and Emmy Award-winning stop-motion animator and special effects supervisor Phil Tippett, the creative powerhouse involved in such classics as RoboCop, Starship Troopers, Jurassic Park, and Star Wars: A New Hope and The Empire Strikes Back. Mad God is an experimental animated film set in a world of monsters, mad scientists and war pigs. A corroded diving bell descends amidst a ruined city, settling down upon an ominous fortress guarded by zombie-like sentries. The Assassin emerges to explore a labyrinth of bizarre, desolate landscapes inhabited by freakish denizens. Through unexpected twists and turns, he experiences an evolution beyond his wildest comprehension. 
A labour of love that has taken 30 years to complete, Mad God combines live-action and stop-motion, miniature sets and other innovative techniques to bring Tippett's wholly unique and grotesquely beautiful vision to life.
The Good Neighbor (Screen Media) - June 17th
In THE GOOD NEIGHBOR, a nightmarish evening in Latvia unfolds when neighbors David (Luke Kleintank) who has just been reassigned for work as a journalist and Robert (Jonathan Rhys Meyers) accidentally hit a woman on her bike and flee the scene of the crime. When the woman's sister arrives searching for the truth, Robert does unspeakable things to protect their secret. The film is a remake of the German thriller, Unter Nachbarn, which marked Rick's feature film debut. Coming full circle, Rick now revisits his Hitchcockian thriller ten years after the making to terrify American audiences with the same question: "How well do you know your neighbor?
Guidance (Good Deed Entertainment) - June 17th
In the not-too-distant future, humanity slowly rebuilds itself a decade after The Great War. Believing that the ability to lie is the root cause of the devastating conflict, a tech entrepreneur creates a pill containing a nanotechnology app known as "Guidance" that allegedly will make everyone more enlightened. Once swallowed, an A.I. "installs" in the person's nervous system and aids their ability to detect deception in other people among other enhancements.
A young couple goes on a weekend retreat to the countryside, and they begin to use Guidance. However, recent events have potentially compromised their trust in one another. With the tech in their bodies, the couple tries to subvert Guidance in the hopes of saving their relationship before it's too late.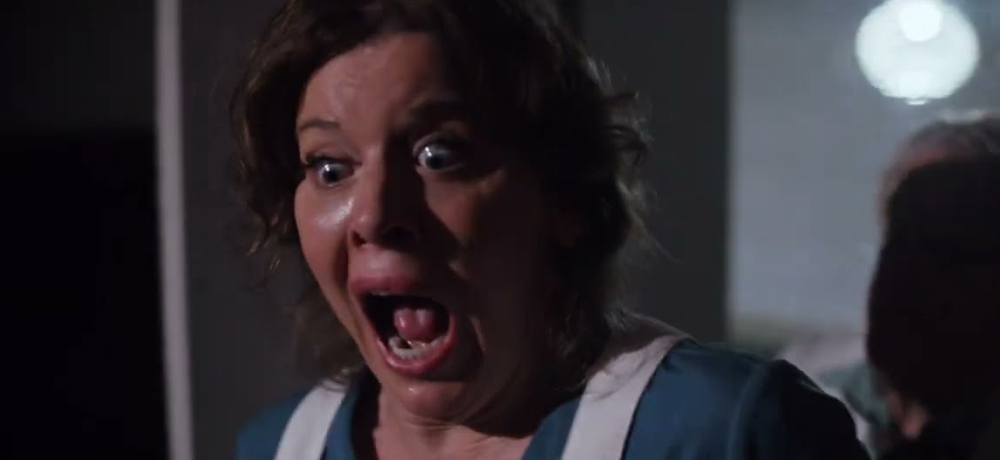 Cyst (RLJE Films) - June 21st
In CYST, nurse Patricia works under an enthusiastic plastic surgeon who believes he's invented a breakthrough cyst-removal machine and, against Patricia's sound advice, will stop at nothing to patent it so it can be used for his patients. But when their differences turn into a physical altercation, damaging the machine, what started as Patricia's last day on duty becomes a battle for survival after the doctor's "Get Gone" cyst-removing invention inadvertently turns a patient's tumor into a cyst-monster that terrorizes the office.
Watcher (IFC Midnight) - June 21st
In WATCHER, Julia (Maika Monroe) joins her husband (Karl Glusman) when he relocates to his family's native Romania for a new job. Having recently abandoned her acting career, she finds herself frequently alone and unoccupied. One night, people-watching from her picture window, she spots a vague figure in an adjacent building, who seems to be looking back at her. Soon after, while alone at a local movie theater, Julia's sense of being watched intensifies, and she becomes certain she's being followed — could it be the same unknown neighbor? Meanwhile, a serial killer known as The Spider stalks the city.
Revealer (Shudder) - Exclusively on Shudder June 23rd
Tensions rise when a stripper and religious protester are trapped together in a peep show booth and must come together to survive the apocalypse in 1980s Chicago. 
Flux Gourmet (IFC Midnight) - June 24th
A sonic collective who can't decide on a name takes up a residency at an institute devoted to culinary and alimentary performance. The members Elle di Elle, Billy Rubin and Lamina Propria are caught up in their own power struggles, only their dysfunctional dynamic is furthermore exacerbated when they have to answer to the institute's head, Jan Stevens. With the various rivalries unfolding, Stones, the Institute's 'dossierge' has to privately endure increasingly fraught stomach problems whilst documenting the collective's activities.
Upon hearing of Stones's visits to the gastroenterologist, Dr. Glock, Elle coerces him into her performances in a desperate bid for authenticity. The reluctant Stones puts up with the collective's plans to use his condition for their art whilst Jan Stevens goes to war with Elle over creative differences.
Only Murders in the Building: Season 2 (Hulu) - Premieres Exclusively on Hulu June 28th; New Episodes Debut Every Thursday for 10 Weeks
Following the shocking death of Arconia Board President Bunny Folger, Charles, Oliver & Mabel race to unmask her killer. However, three (unfortunate) complications ensue - the trio is publicly implicated in Bunny's homicide, they are now the subjects of a competing podcast, and they have to deal with a bunch of New York neighbors who all think they committed murder.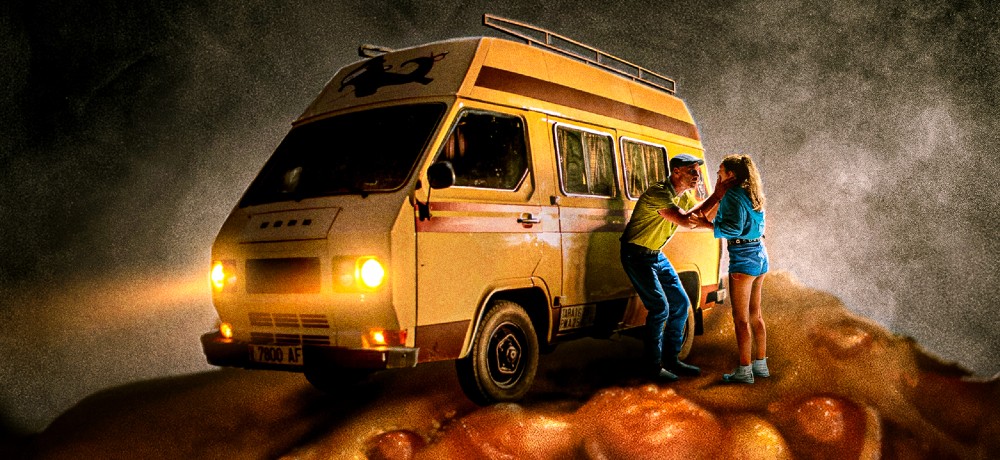 The Passenger (Dark Star Pictures) - June 28th
A group of strangers sharing a ride have their trip interrupted when the driver hits a woman hiking in the dark of night. They decide to help her, but quickly learn that something is wrong and that they shouldn't have let her in at all.
Where the Scary Things Are (Lionsgate) - June 28th
Ready for Stand by Me or The Goonies with a deliciously dark twist? The horror begins as Ayla and her high school friends discover a hideous, semi-human mutant. They keep it prisoner while shooting repulsive viral videos, with the gang's hunger for "likes" driving them to film the beast performing murderous acts. When one boy sees that Ayla is using the monster's gruesome violence to settle her own vendettas, he threatens to tell the authorities—but is he too late to save his friends?
The Long Night (Shudder) - Exclusively on Shudder June 30th
While searching for the parents she's never known, New York transplant Grace (Scout Taylor-Compton) returns to her childhood southern stomping grounds with her boyfriend (Nolan Gerard Funk) to investigate a promising lead on her family's whereabouts. Upon arrival, the couple's weekend takes a bizarre, terrifying turn as a nightmarish cult and their maniacal leader terrorize the pair to fulfill a twisted ancient apocalyptic prophecy.