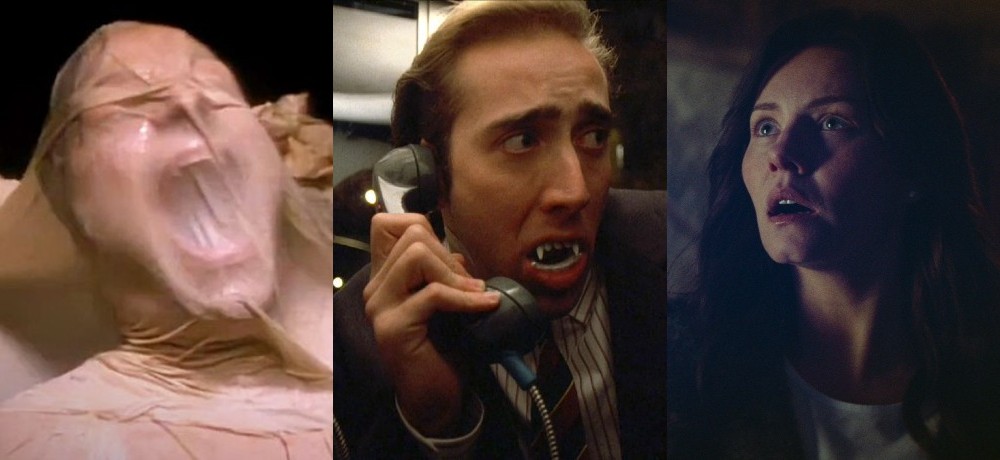 Hello, dear readers! We're back with a brand new edition of our rundown of this week's home media releases, and it's definitely a good time to be a Nicolas Cage fan as we have two different films featuring the iconic actor headed to various formats - The Unbearable Weight of Massive Talent and Vampire's Kiss which is receiving the Special Edition treatment from MVD Visual. We also have some killer new horror movies headed home today too, including The Cellar and You Are Not My Mother, and one of my favorite '90s sci-fi/horror movies is also headed to Blu-ray today courtesy of Scream Factory as well: Fire in the Sky.
Other Blu-ray and DVD releases for June 21st include Uncle Sam 4K, The Initiation of Sarah, The Brain From Planet Arous, Forced Entry and Monday Morning.
The Brain From Planet Arous: Special Edition (Film Detective, Special Edition)
When Gor, an evil brain from planet Arous, inhabits the body of scientist Steve March, his intention is nothing less than world domination!
Get ready for planet Earth to be overtaken by a criminal brain from outer space! When Gor, an evil brain from planet Arous, inhabits the body of scientist Steve March, his intention is nothing less than world domination. Lucky for Earth, another intergalactic brain, Val, offers to assist March's wife, Sally, in stopping the madness. How does Val intend to help? By inhabiting Sally's dog! A great example of cut-rate sci-fi from the 1950s, this independently produced feature stars B movie favorite John Agar (The Mole People, Revenge of the Creature), and was directed by Nathan Juran, a master of the genre who helmed such classics as The Deadly Mantis, Attack of the 50 Foot Woman, and The 7th Voyage of Sinbad.
SPECIAL FEATURES:
Full Color Booklet with original essay by Author/ Historian Tom Weaver
Full commentary track by historians Tom Weaver, David Schecter, Larry Blamire, and PLANET AROUS star, Joyce Meadows
The Man Before the Brain: Director Nathan Juran: an original Ballyhoo Motion Pictures production
The Man Behind the Brain: The World of Nathan Juran: an original Ballyhoo Motion Pictures production
The film will also be included in a full frame format, 1.33:1
Now including a special, all new, introduction by Actor Joyce Meadows!
The Cellar (RLJE Films, Blu-ray & DVD)
After moving to an old house in the country, Keira's daughter goes missing during a power cut. She decides she will go to hell and back to find her.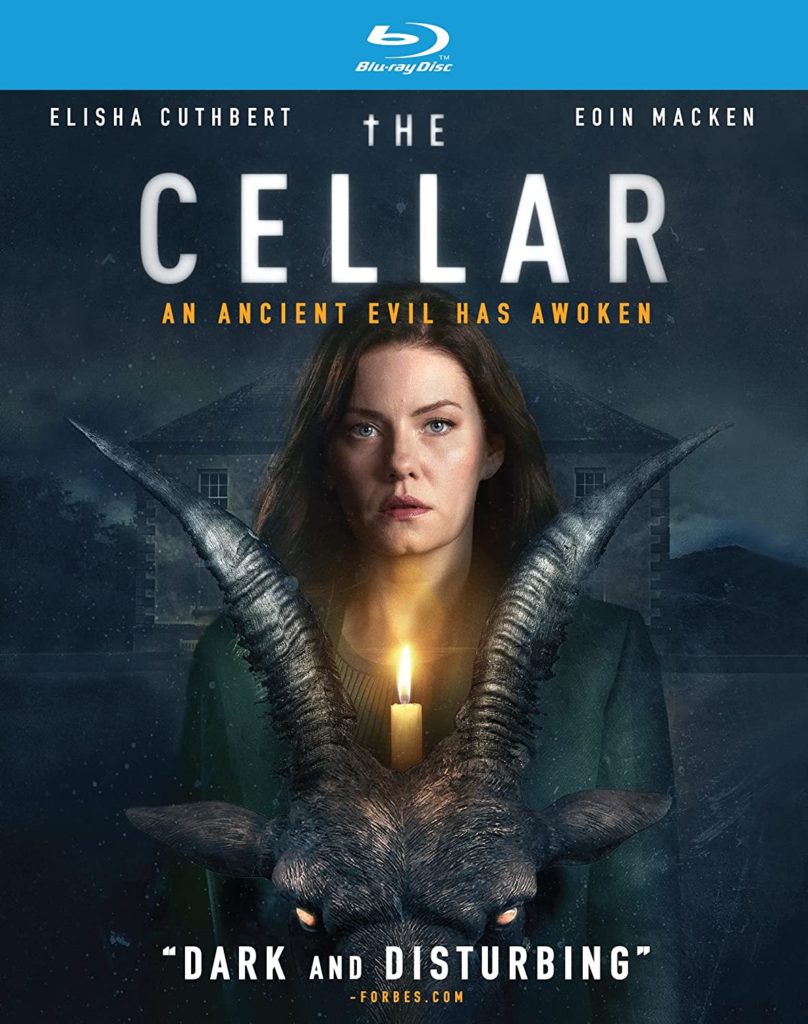 Fire in the Sky (Scream Factory, Blu-ray)
Six men saw it. One man became a prisoner inside it. But who would believe them?
In 1975, logger Travis Walton (D.B. Sweeney, Hear No Evil, Eight Men Out) and his co-workers encountered a UFO. His pals were able to flee—but Walton was not so lucky. Whisked aboard the strange craft, he was subjected to a painful, unearthly medical study. Fire in the Sky is the amazing tale of that ordeal…and of the contempt and ridicule endured by Walton and his friends as they tried to convince others of this otherworldly experience.
James Garner, Robert Patrick, Craig Sheffer, Peter Berg, and Henry Thomas also star in this gripping and terrifying depiction of alien abduction that's based on a true story.
Bonus Content:
Interview with Director Robert Lieberman
Interview with Actor D.B. Sweeney
Interview with Actor Robert Patrick
Interview with Composer Mark Isham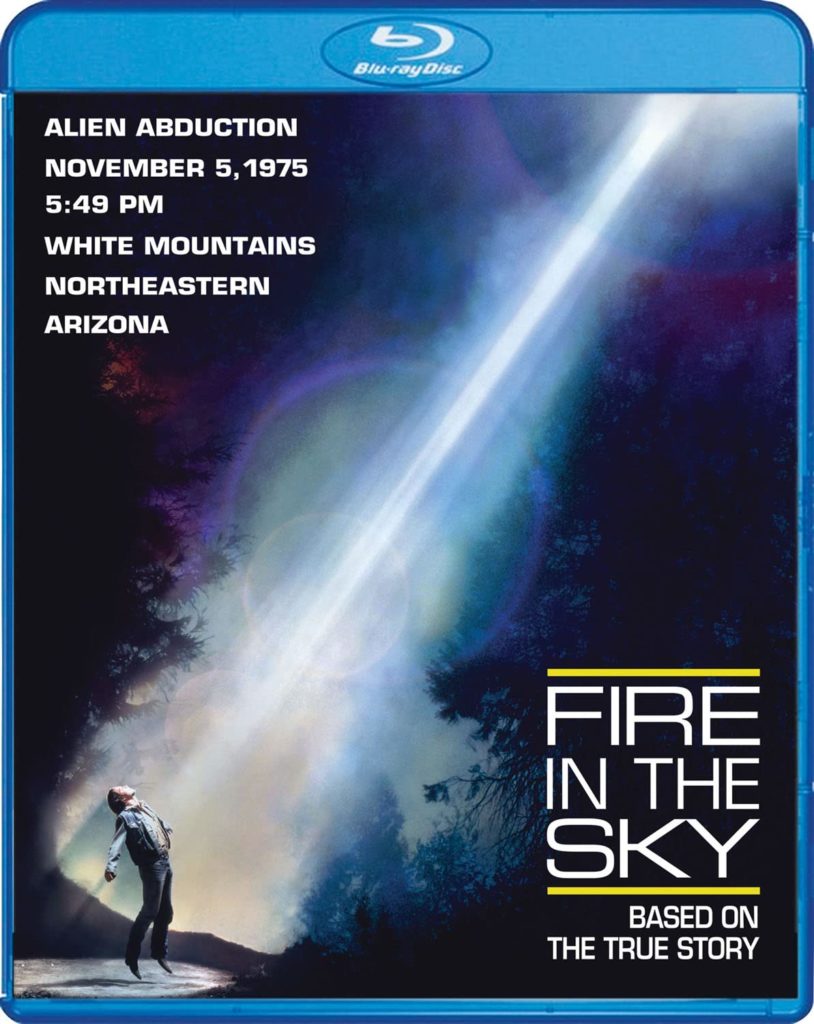 Forced Entry: Collector's Edition (Dark Force Entertainment, Blu-ray)
A hair-raising suspense drama starring Tanya Roberts ('Charlie's Angels", A View To a Kill), in a chilling nightmare faced by a beautiful woman forced into a life and death struggle against the demented obsessions of a psychopathic killer. The constant tension is unremitting from the first deadly encounter to the final diabolical conclusion. Definitely not for the faint-hearted.
SPECIAL FEATURES:
88 Minute VHS Version (SD)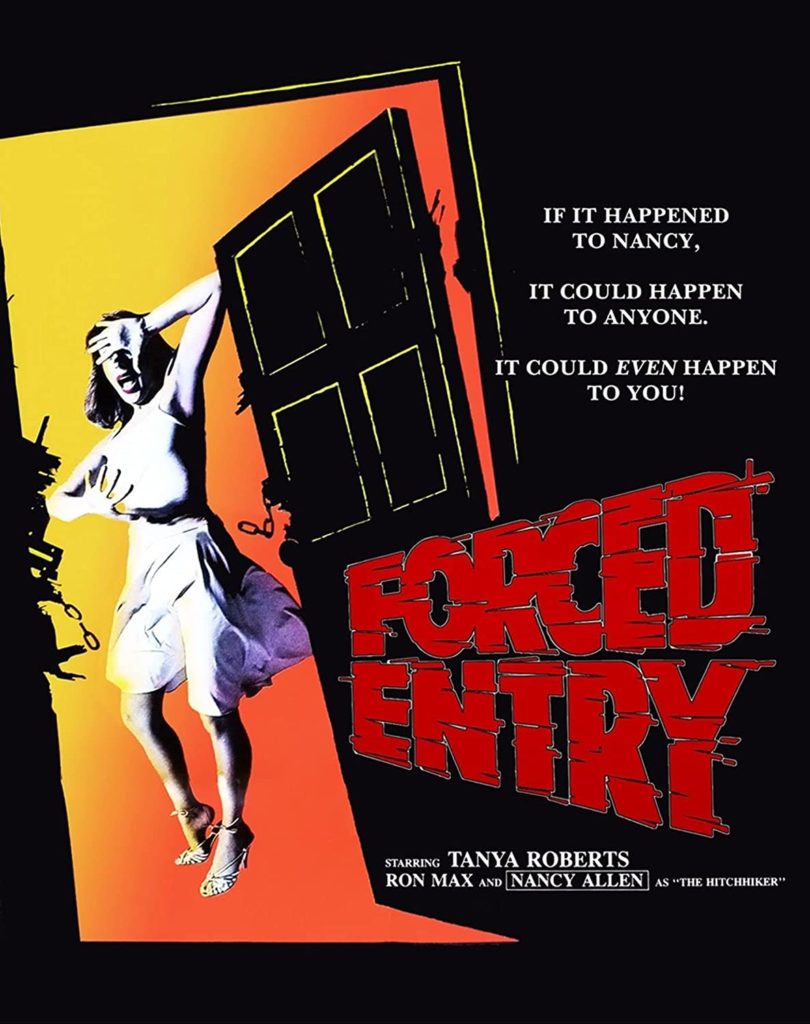 The Initiation of Sarah: Special Edition (Arrow Video, Blu-ray)
Satanic secrets and telekinetic terror combine in this classic made-for-TV horror movie directed by Hammer Films alumnus Robert Day (She), from a story co-written by Tom Holland (Fright Night), featuring cinematography by Ric Waite (48 Hrs).
Shy misfit Sarah Goodwin (Kay Lenz, House), has a secret gift: the ability to control ― and destroy ― with her mind. When Sarah goes off to college with her more outgoing and popular sister, Patty (Morgan Brittany, Sundown: The Vampire In Retreat), their plans to join the most prestigious sorority on campus are scuttled by snobby president, Jennifer Lawrence (Morgan Fairchild, Phantom of the Mall). Separated from her sister, Sarah is taken in by a rival, less popular sorority, whose mysterious house mother, Mrs. Hunter (Shelley Winters, The Night of the Hunter), is harboring a secret of her own: a scheme to harness Sarah's terrifying power for revenge. Betrayed by Patty, humiliated by Jennifer, it can only be a matter of time before Sorority Hell Week erupts in flame!
Making its Blu-Ray debut with an all-new restoration by Arrow Films from the original camera negative, The Initiation of Sarah has never looked better and comes packed with all new bonus materials.
SPECIAL EDITION CONTENTS:
Brand new 2K restoration from the original camera negative by Arrow Films
High Definition (1080p) Blu-ray presentation
Original lossless mono audio
Optional English subtitles for the deaf and hard of hearing
Brand new audio commentary by TV Movie expert Amanda Reyes
Welcome to Hell Week: A Pledge's Guide to the Initiation of Sarah, a brand new appreciation by film critic Stacie Ponder and Queer Horror programmer Anthony Hudson, co-hosts of the Gaylords of Darkness podcast, celebrating the film through a queer feminist lens
Cracks in the Sisterhood: Second Wave Feminism and The Initiation of Sarah, a brand new visual essay by film critic and historian Alexandra Heller-Nicholas
The Intimations of Sarah, a brand new interview with film critic Samantha McLaren looking at witchcraft, empowerment, TV movies, and telekinetic shy girls post Carrie
The Initiation of Tom, a brand new interview with Tom Holland on this his first film writing credit
Reversible sleeve featuring newly commissioned artwork by Luke Insect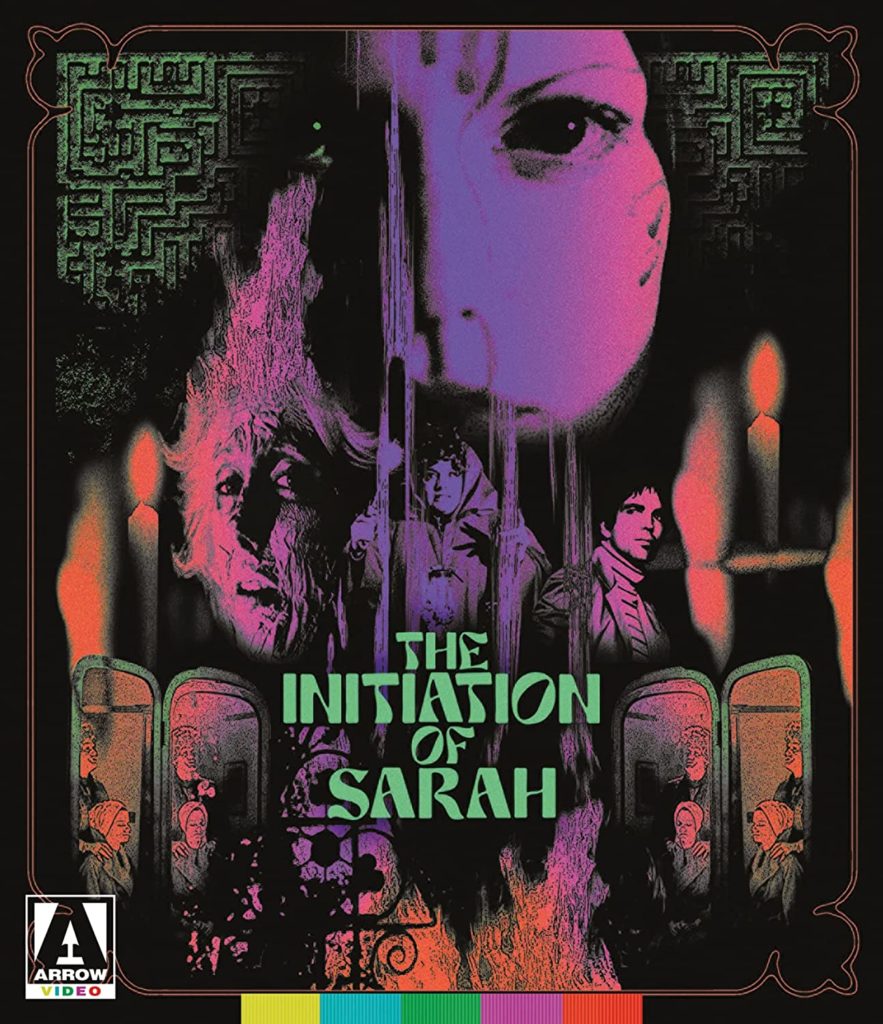 Monday Morning: Special Edition (MVD Visual, Blu-ray & DVD) 
Bobby Parker (Noah Blake, Mystery Men), is a poor kid from the wrong side of the tracks whose family constantly moves to wherever his father can find work. He and his best friend Bill (Karl Wiedergott, The Wrong Guys), are new to Oceana High and their presence is definitely not welcome. James Hedges (Brandon Hooper, Chasing Mavericks), the student leader and son of the town mayor, cannot stand any outsider. And he especially doesn't like someone who "doesn't know his place" - like Bobby Parker.
To make matters worse, James discovers that Bobby is dating his sister Noreen (Julianne McNamara, Saturday the 14th Strikes Back). Along with a few of his friends, he decides to teach Bobby a lesson. On Monday morning, James and his friends pull a gun to scare Bobby into straightening out, but the plan fails. The two struggle and when a teacher is shot, everyone is ready to blame Bobby.
With no place to turn, Bobby grabs the gun and instructs everyone to sit tight. When the police show up ready for action, Bobby must convince the class of his innocence - before it's too late.
MONDAY MORNING marks the debut film (and the only film directed by) mega-producer Don Murphy (Transformers, Natural Born Killers, Gemini Man) and features a supporting cast that includes Jason Lively (National Lampoon's European Vacation) and Lisa Rinna ("Melrose Place").
SPECIAL FEATURES:
High Definition (1080p) presentation of the main feature in 1.85:1 aspect ratio
Original VHS version with its alternate title "Class of Fear" (SD, 1.33:1, 105 mins)
Interview with writer and director Don Murphy (HD, 52:50)
Don Murphy: Portrait of a Producer (1080p; 24:01)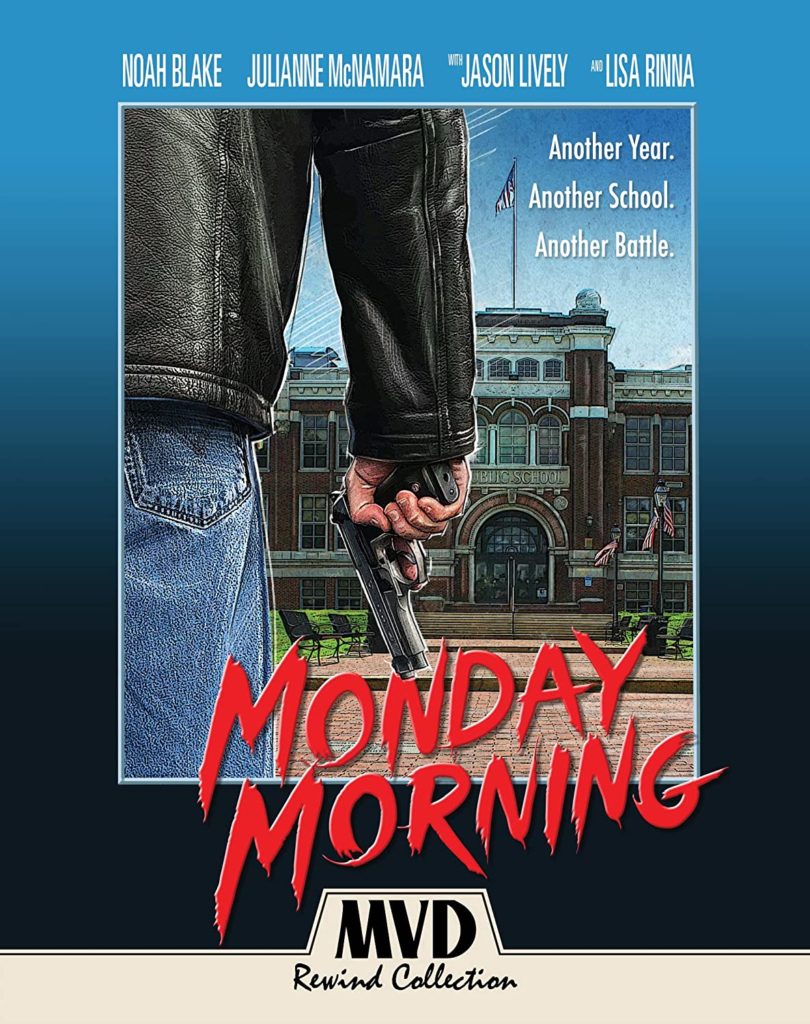 The Unbearable Weight of Massive Talent (Lionsgate, 4K Ultra HD/Blu-ray/Digital, Blu-ray/Digital & DVD/Digital)
In this action-packed comedy, Nicolas Cage plays Nick Cage, channeling his iconic characters as he's caught between a superfan (Pedro Pascal) and a CIA agent (Tiffany Haddish).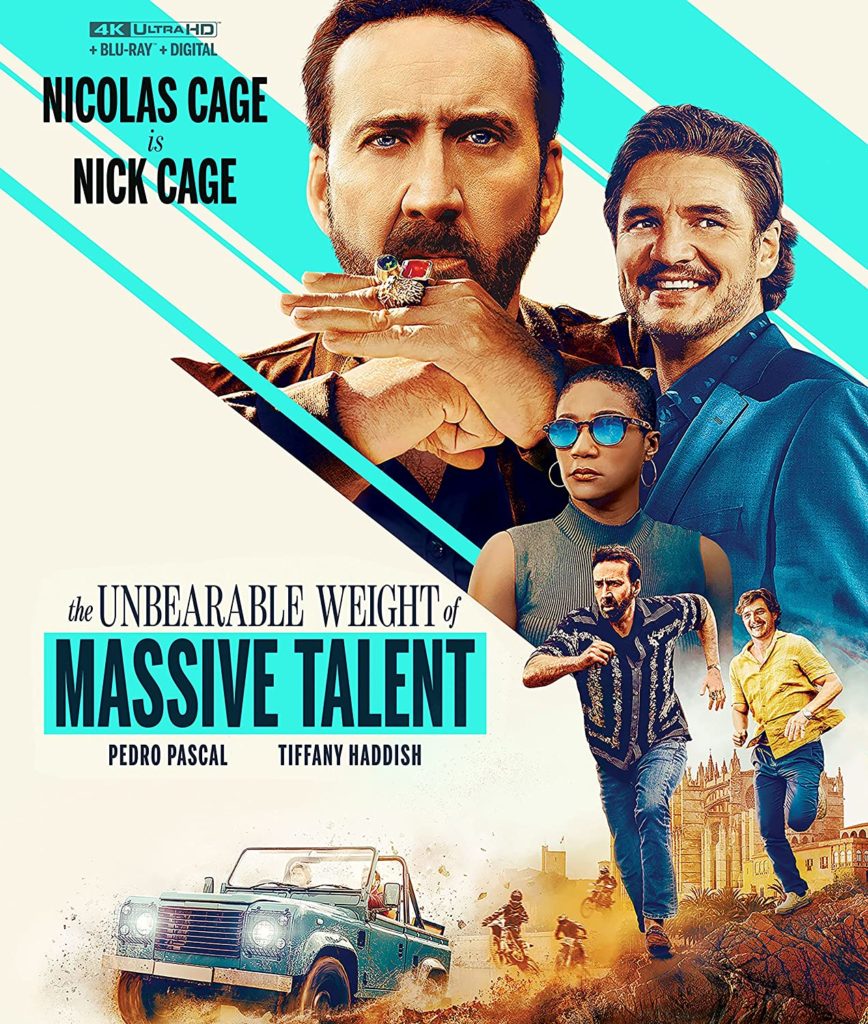 Uncle Sam 4K (Blue Underground, 4K Ultra HD)
It's Fourth Of July Weekend, and the recently discovered corpse of Sgt. Sam Harper - killed by 'friendly fire' during the first Gulf War - is returned to his all-American hometown. But when Sam rises from the dead to punish the unpatriotic, only his young nephew and a bitter Korean War veteran (Academy Award winner + Grammy Award winner Isaac Hayes of SHAFT and SOUTH PARK fame) can stop his red-blooded rampage. Draft dodgers, tax cheats, crooked politicians and flag-burners beware: Uncle Sam wants you... DEAD!
Timothy Bottoms (THE LAST PICTURE SHOW), Bo Hopkins (THE WILD BUNCH), William Smith (FAST COMPANY), P.J. Soles (HALLOWEEN, CARRIE) and Academy Award ® nominee Robert Forster (JACKIE BROWN) co-star in this zombie horror hit directed by William Lustig (MANIAC, RELENTLESS) and written by Larry Cohen (GOD TOLD ME TO, THE STUFF). Now Blue Underground is thrilled to present UNCLE SAM in a sparkling new 25th Anniversary restoration, scanned in 4K 16-bit from the original 35mm negative, with Dolby Vision HDR and Dolby Atmos audio, loaded with illuminating Extras!
SPECIAL FEATURES:
4K Ultra HD Disc (2160p) Widescreen 2.40:1 feature presentation
Audio: Dolby Atmos (English); 5.1 DTS-HD (English)
Subtitles: English SDH, Francais, Espanol
Audio Commentary #1 with Director William Lustig, Writer Larry Cohen and Producer George G. Braunstein
Audio Commentary #2 with Director William Lustig and Star Isaac Hayes
Fire Stunts with Audio Commentary by Stunt Coordinator Spiro Razatos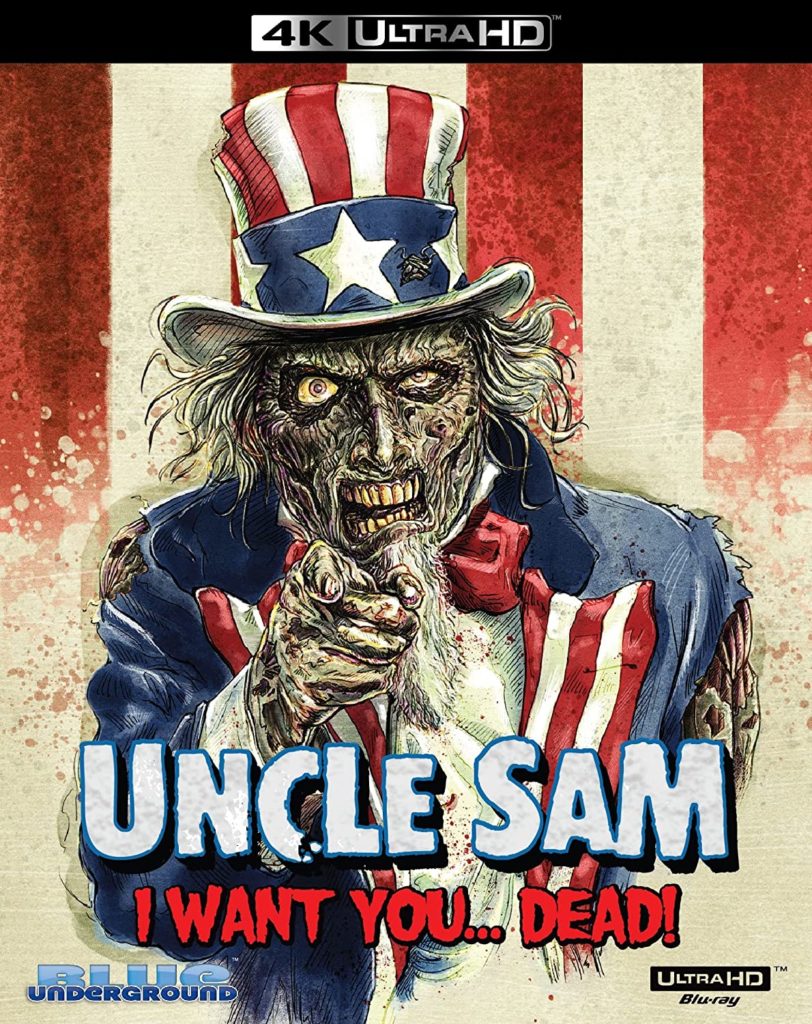 Vampire's Kiss: Special Edition (MVD Visual, Blu-ray & DVD)
Living in the big city is enough to drive anyone bats, and the pressure of it proves too much for Peter Loew (Nicolas Cage, The Unbearable Weight of Massive Talent, Con Air), At the peak of his career, yet in the depths of despair, his life is in turmoil until he meets Rachel (Jennifer Beals, Flashdance), the woman of his dreams. During their first night together, Rachel takes more than his heart – she takes his blood too – and from that moment on, Peter Loew believes he is a vampire. What is it about Rachel that makes him feel this way? Is she really a blood-lusting creature of the night? Or just a product of his fevered imagination? Because if it turns out he is really a vampire – then there's more than just his life at stake!
SPECIAL FEATURES:
High Definition (1080p) presentation of the main feature in 1:85.1 aspect ratio
Optional English, French and Spanish Subtitles
Commentary with actor Nicolas Cage and director Robert Bierman
Original Theatrical Trailer (HD)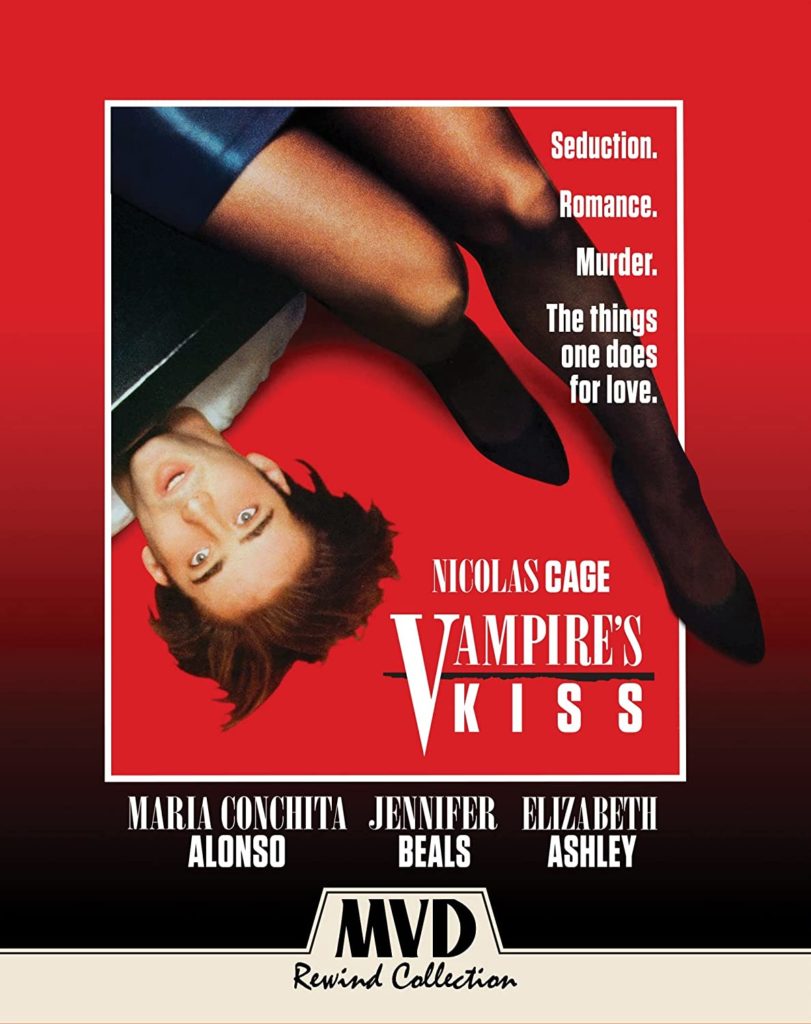 You Are Not My Mother (Magnet, Blu-ray & DVD)
It's the week before Halloween and Char's mother, Angela, has suddenly disappeared, leaving only her car behind. When she returns home without explanation the following evening, it becomes clear to Char and her grandmother, Rita, that Angela's behavior has become increasingly frightening, as if she has been replaced by a malevolent force. When Halloween arrives, Char realizes that she is the only one who can save her mother, even if it means potentially losing her forever.