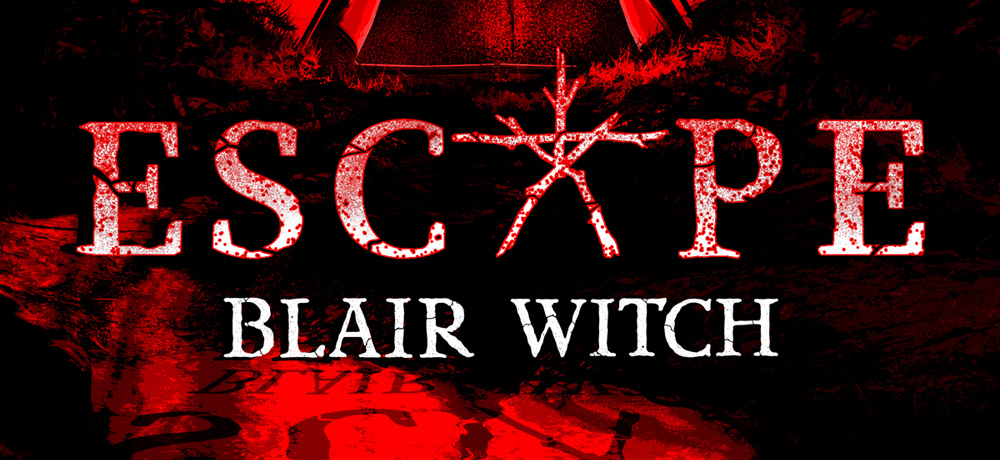 I've escaped dozens of escape rooms over the years and, hands down, one of the most immersive experiences I've had was at the official Saw escape experience in Las Vegas, where Jigsaw's traps were brought to life with such care and detail that you felt like you transported into the Saw movies. That's why I'm very happy to hear that the producer of the Saw experience is now teaming up with Lionsgate for Escape Blair Witch in Las Vegas, which will have participants trying to escape the curse of the Blair Witch!
We have all of the details in the official press release below, along with the official poster and photos, and we've also been provided with an exclusive clip from Jason Egan telling Daily Dead readers about what they can expect from this new experience:
Global content leader Lionsgate (NYSE: LGF.A, LGF.B) is teaming up again with leading Las Vegas attraction producer Egan Escape Productions to unveil an immersive escape experience in the heart of Las Vegas, this time based on Lionsgate's iconic Blair Witch feature film franchise.

Opening in early summer 2021, ESCAPE BLAIR WITCH will bring the classic horror film franchise to life in its first ever official escape experience. The new attraction will be located in the same expansive facility that houses the fan favorite, The Official SAW Escape: Las Vegas, the world's first immersive escape experience themed after the blockbuster SAW films, launched in 2018. The escape experience is another step in building out the world of The Blair Witch, following the popularity of the video game from Lionsgate and Bloober Team.

"Over the years we have partnered with Lionsgate many times to create world-class attractions," said Jason Egan, owner of Egan Escape Productions. "Way back in 2009 when we first worked with the Lionsgate team to bring the SAW films to life at our iconic Halloween attraction, Fright Dome, I could only have dreamed to be embarking on so many exciting projects with a world-class team. To be able to offer Escape Blair Witch and The Official SAW Escape: Las Vegas all under one roof is truly amazing."  

As guests enter, they will immediately be transported to the lifelike small village of Burkittsville, Maryland to investigate mysterious happenings and disappearances within the community.  Investigators will then need to work together to escape multiple rooms that bring the classic film and the curse of the Blair Witch to life. Trekking through the iconic Black Hills Forest will be just one of the memorable dramatic and terrifying elements that provides exciting twists, putting guests to the test. 

"Fans will be able to immerse themselves like never before in the Black Hills forest from The Blair Witch," said EVP & Head of Lionsgate Global Live, Interactive, & Location Based Entertainment, Jenefer Brown. "We are thrilled to partner with Egan Escape Productions again, and by launching Escape Blair Witch alongside The Official Saw Escape, Las Vegas will become the can't-miss destination for great Lionsgate horror experiences all year round."

Due to high demand, limited space and COVID-19 protocols, reservations are required in advance. Private VIP games are available, as well as packages for Birthdays, Bachelor/Bachelorette Parties, Team Building, and more. For more information or to book reservations please call 702-333-0770 or visit www.escapeblairwitch.com.  

Updates on Escape Blair Witch are available online at www.escapeblairwitch.com and by following along on Facebook & Instagram @EscapeBlairWitch. 

For detailed information on the safety precautions we are taking for COVID-19, please visit our website.