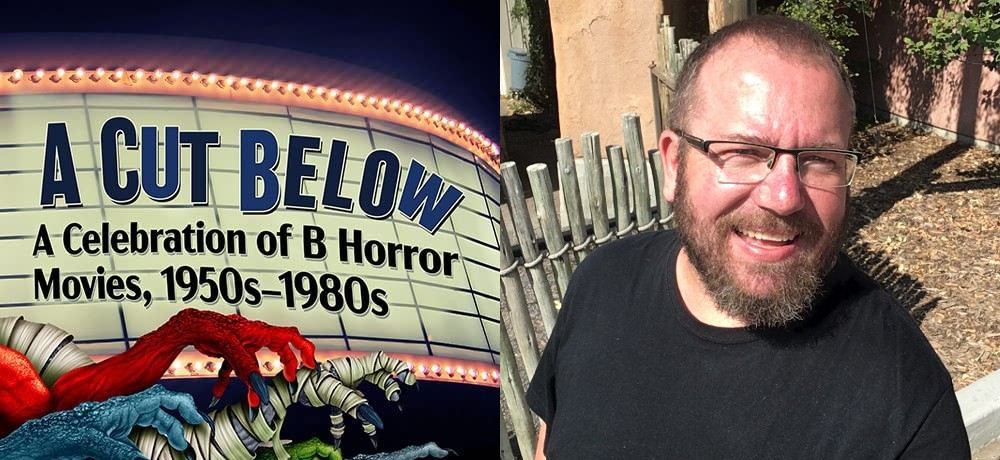 If you've read the hundreds of entries in his Drive-In Dust Offs column on Daily Dead or listened to him over the past several years as one of the co-hosts of Corpse Club, then you know that Scott Drebit has an infectious passion for horror movies that graced the silver screen during the golden (and sometimes gory) days of the drive-in, and he's continuing to shine a spotlight on some of his favorite films from that beloved era of cinema in his new book A Cut Below: A Celebration of B Horror Movies, 1950s–1980s!
On this episode of Daily Dead's official podcast, Scott joins fellow co-hosts Bryan Christopher and Derek Anderson to discuss what readers can look forward to in A Cut Below (which will be published by McFarland Books), including insightful discussions on five of the 60 films celebrated within its pages: Burial Ground, My Bloody Valentine, Creepshow, Popcorn, and John Carpenter's Prince of Darkness. So, grab your favorite movie snack, find a good parking spot in front of the silver screen (whether it's at your local drive-in or in your own living room), and settle in for an enthralling, informative, and always entertaining ride into horror cinema from the 1950s–1980s (and slightly beyond)!
To order A Cut Below for yourself or the horror lover in your life, visit:
A Cut Below: Horror films have been around for more than 100 years, and they continue to make a large impact on popular culture as they reflect their contemporary zeitgeist. Between the mid–1950s and mid–1980s, drive-in theaters were at their peak of popularity, and each decade brought forward new challenges and themes.

This book explores 60 B horror films, divided into 12 fun and uniquely-themed categories. Chapters discuss how the Atomic Age, the Vietnam War, the women's liberation movement and other current events and social issues affected these films. Films covered include Willard, The Fly, Santa Sangre and many more.
Looking for more scary good Corpse Club content? Be sure to check out our Corpse Club website and memberships. Not only can you view past episodes, but you can also sign up to be an official Corpse Club member to enjoy a wide range of rewards, including a shirt and pin that are to die for, access to bonus content, and the ability to suggest an episode topic!
Missed out on our previous episodes? Don't despair, our entire backlog is waiting for you on our website!