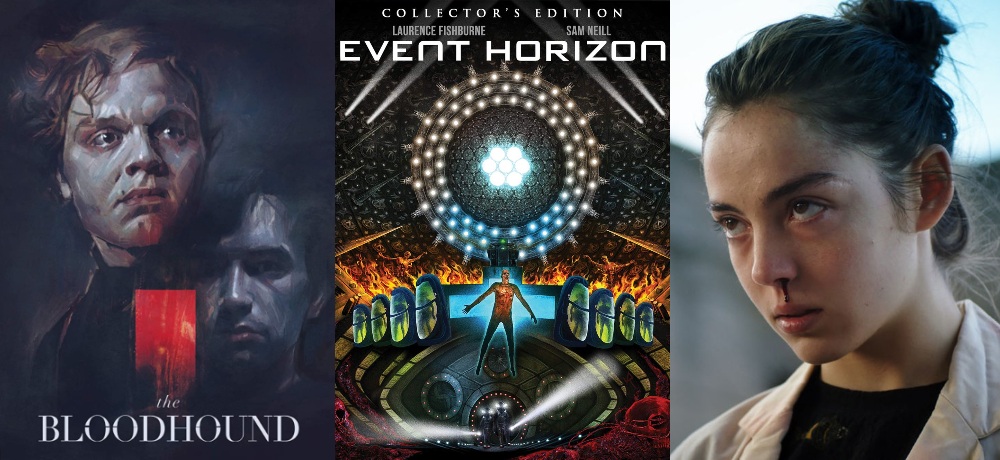 This is a good week to be a horror fan who collects home media, because we have some killer releases headed our way on Tuesday. Personally, I've been waiting ever so patiently for Scream Factory's Collector's Edition release of Paul W.S. Anderson's Event Horizon, and my patience is finally going to pay off tomorrow, as not only are we getting a 4K scan of the film, but the Blu is also chock-full of special features I cannot wait to dig into. Scream Factory is also giving Julia Ducournau's Raw a stateside Blu-ray release finally, and Arrow Video is showing some love to Patrick Picard's The Bloodhound this week as well.
We also have two Steelbooks that will be available this Tuesday: Gattaca in 4K as well as the 40th anniversary release of Friday the 13th Part II, and if you need to play catch-up, season three of Castlevania comes home on Tuesday to both Blu-ray and DVD, too.
Other releases for March 23rd include Godzilla (2014) 4K, Schoolgirls in Chains, and Reunion. 
The Bloodhound: Special Edition (Arrow Video, Blu-ray)
First-time feature director Patrick Picard brings a fresh take to one of the best-known stories from the master of mystery and the macabre, Edgar Allan Poe's The Fall of the House of Usher, in his new slow-burner horror-thriller The Bloodhound, a hauntingly atmospheric tale described by The Hollywood News as an impressively stylish and intellectual debut.
Francis (Liam Aiken, A Series of Unfortunate Events), a dispossessed young man, is summoned to the secluded home of his wealthy childhood friend, JP Luret (Joe Adler, The Maze Runner), who is suffering from a mysterious affliction. Upon his arrival, Francis realizes that JP and his ethereal twin sister Vivian (Annalise Basso, Ouija: Origin of Evil) are the sole surviving members of the privileged Luret family, whose legacy has been one of depression and self-destruction, and the only occupants of their family estate. As the old friends attempt to reconnect, a number of inexplicable incidents begin to occur within the house, and Francis finds himself drawn into a world of malaise and despair, where an act of betrayal might provide his only way out.
From Leal Naim and Thomas R. Burke, producers of The Endless and Synchronic, and featuring some remarkable performances from its trio of lead actors, The Bloodhound leads you on a journey exploring themes that are as relevant to today as ever before, such as the yearning for emotional connection, the perils of social isolation and the fragility of mental health.
SPECIAL EDITION CONTENTS:
High Definition (1080p) Blu-ray presentation

Optional English subtitles for the deaf and hard of hearing

Brand new audio commentary by director Patrick Picard and editor David Scorca

Four experimental short films by director Patrick Picard: bad dream, the muffled hammerfall in action, the mosaic code and wiggleworm

On the Trail of The Bloodhound: Behind the Scenes of a Modern Chiller, exclusive 45-minute making-of featurette

FIRST PRESSING ONLY: Illustrated booklet featuring new writing on the film by Anton Bitel
Event Horizon: Collector's Edition (Scream Factory, Blu-ray)
Its name: Event Horizon. The high-tech, pioneering research spacecraft mysteriously vanished without a trace on its maiden voyage seven years earlier. But a weak, persistent signal from the long-missing craft prompts a rescue team, headed by the intrepid Captain Miller (Laurence Fishburne), to wing its way through the galaxy on a bold rescue mission. Accompanying Miller is his elite crew and the lost ship's designer (Sam Neill). What they uncover is unimaginable interstellar horror.
Bonus Content:
NEW 4K scan of the original camera negative
NEW Reflecting on Hell - an interview with director Paul W.S. Anderson
NEW Ghost Galleon - an interview with writer Philip Eisner
NEW Organized Chaos – an interview with actress Kathleen Quinlan
NEW Compassion in Space – an interview with actor Jack Noseworthy
NEW The Doomed Captain – an interview with actor Peter Marinker
NEW Space Cathedral – an interview with production designer Joseph Bennett
NEW Something New – an interview with set decorator Crispian Sallis
NEW Taking Care of It – an interview with production manager Dusty Symonds
NEW Reinforcements – an interview with second unit director Robin Vidgeon
NEW Almost Real – an interview with location manager Derek Harrington
NEW Screams from the Cosmos – an interview with sound designer Campbell Askew
Audio Commentary with director Paul W.S. Anderson and producer Jeremy Bolt
The Making of EVENT HORIZON – a 5-part documentary
The Point of No Return – a 4-part look at the filming of EVENT HORIZON with narration by Paul W.S. Anderson
Secrets – deleted and extended scenes with director's commentary
The Unseen EVENT HORIZON – The un-filmed rescue scene and conceptual art with director's commentary
Theatrical Trailer
Video Trailer
Friday the 13th Part II: 40th Anniversary Steelbook (Paramount Home Entertainment, Blu-ray)
Celebrate the 40th Anniversary of one of horror's greatest sequels with this limited edition Steelbook. Five years after the massacre at Camp Crystal Lake, the nerve-wracking legend of Jason Voorhees and his diabolical mother lives on. Despite ominous warnings from the locals to stay away from 'Camp Blood,' a group of counselors at a nearby summer camp decide to explore the area where seven people were brutally slaughtered. All too soon, they encounter horrors of their own and the murders begin again.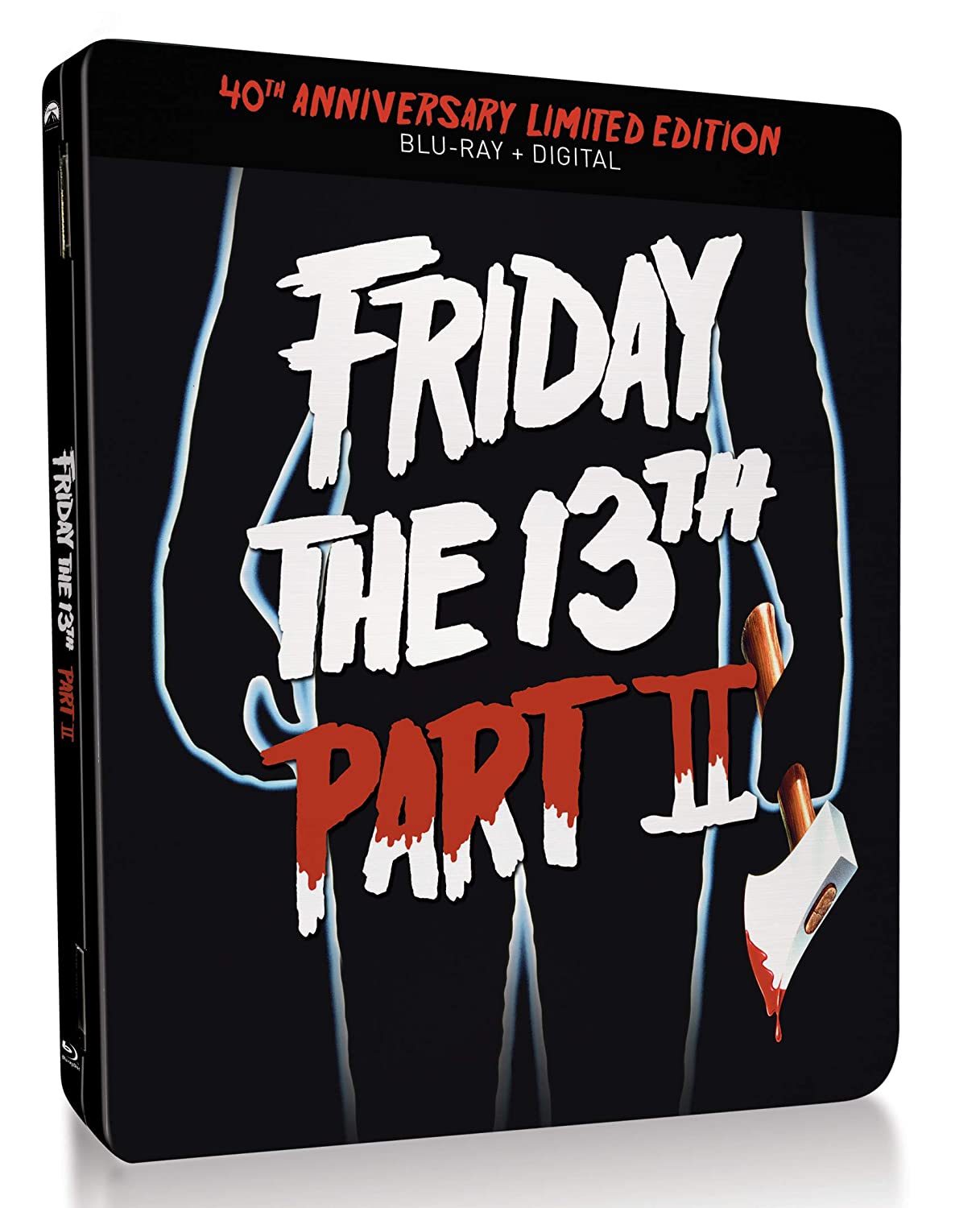 Gattaca 4K Steelbook (Sony Pictures Home Entertainment, 4K Ultra HD/Blu/Digital)
In this futuristic thriller, "designer people"-forged in test tubes-rule society, and carefully engineered genetics determine a person's life. Ethan Hawke stars as Vincent Freeman, a young man labeled an "In-Valid" because he was conceived not in the lab, but in love. Determined to achieve his goals, he buys an identity from a DNA broker, changing places with genetically perfect but paralyzed Jerome (Jude Law). Altering his appearance and hiding his imperfections, Vincent rises through the ranks of the Gattaca Corporation while he begins a love affair with beautiful co-worker Irene (Uma Thurman). He is on the verge of fulfilling his dream of interplanetary space exploration when the director of the space agency is murdered and the attendant investigation threatens to expose his counterfeit life.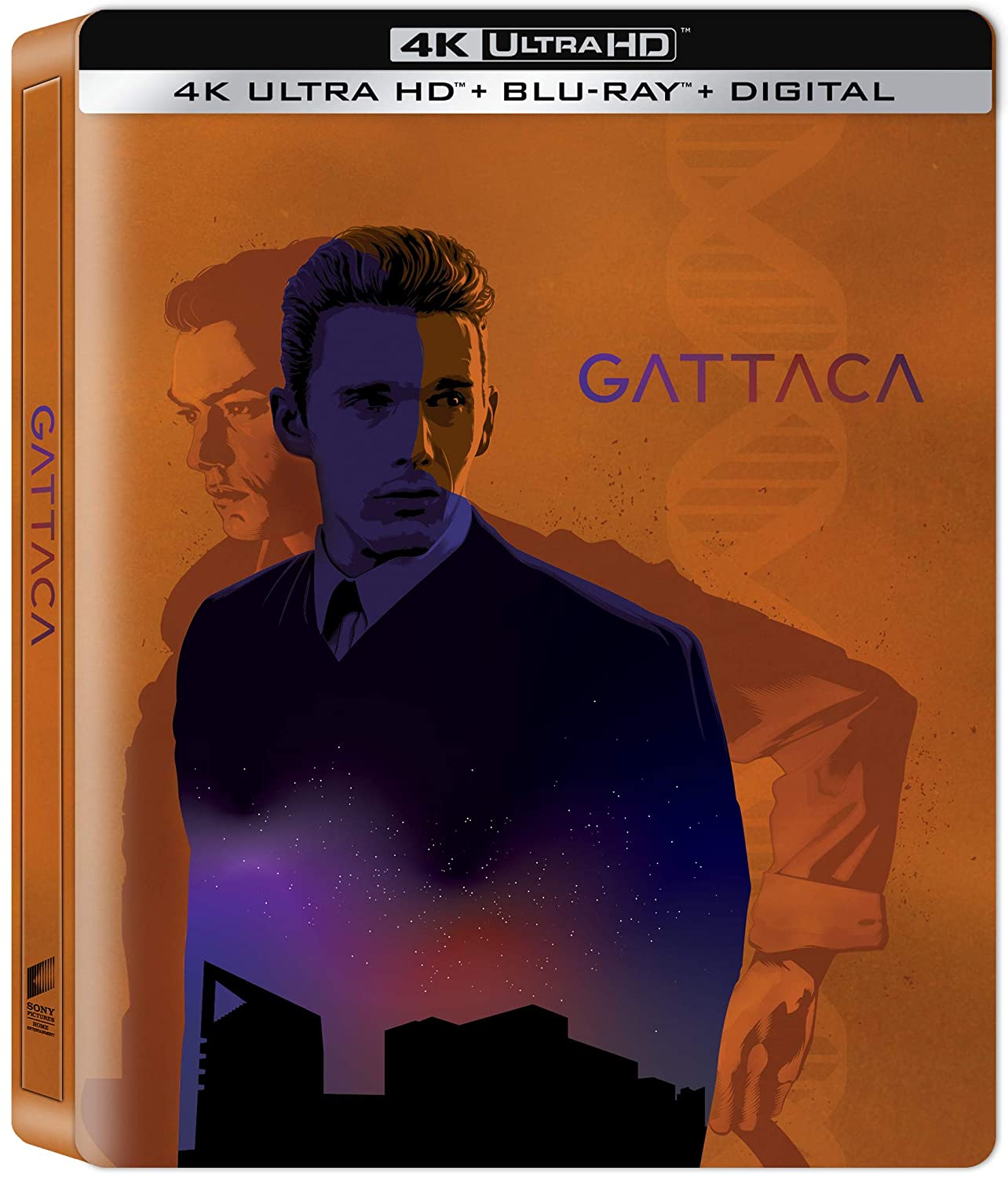 Raw (Scream Factory, Blu-ray)
At 16, Justine is a brilliant and promising student and a strict vegetarian. But when she starts at veterinary school, she quickly encounters a decadent, merciless and dangerously seductive world. Desperate to fit in during the first week of hazing rituals, desperate to fit in at whatever the cost, she strays from her family's principles when she eats raw meat for the first time. Justine will soon face the terrible and unexpected consequences of her actions as her true self begins to emerge.
Bonus Content:
Audio Commentary with Writer/Director Julia Ducournau and Film Critic Emma Eastwood

Raw—Á Votre Goût—A Discussion with Julia Ducournau and Emma Eastwood

Australian Premiere Introduction and Q&A with Julia Ducournau and Monster Fest Director Kier-La Janisse

Genre Matters: Women Genre Filmmakers Panel from Monster Fest 2016

Quick Bites with Julia Ducournau and Film Critic Alexandra Heller-Nicholas

Deleted Scenes

Theatrical Trailers

TV Spots

Australian Promotional Video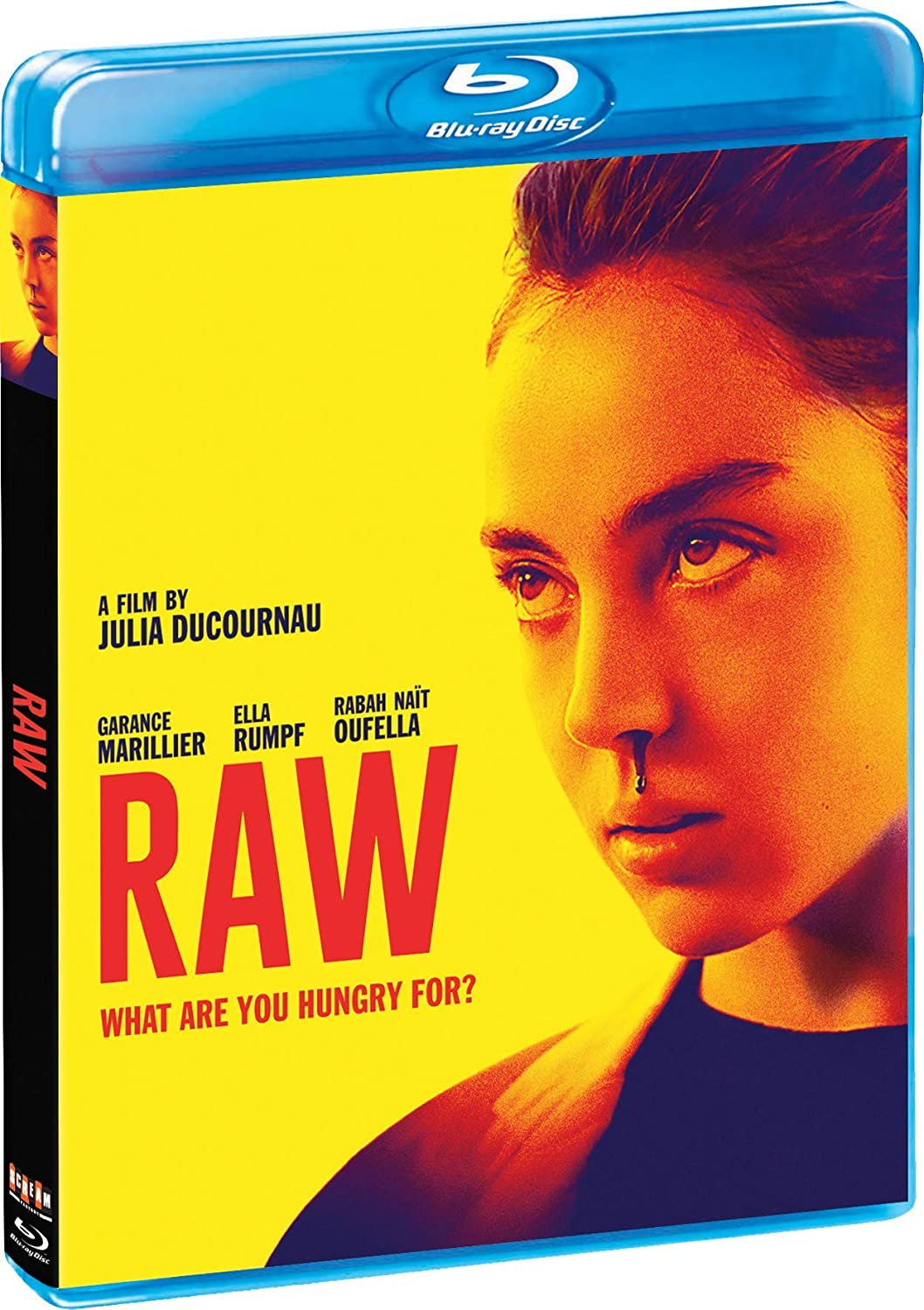 Schoolgirls in Chains (Code Red, Blu-ray)
In a remote country house, a malevolent form of sleaze and terror is being bred. A crazy mother encourages her two sons - raving lunatic Frank (Gary Kent, The Forest) and his not-all-there brother Johnny (John Parker, The Love Butcher) - to kidnap young women and chain them up in the basement. The girls are treated like animals and then subjected to games that grow increasingly sinister and depraved. When the brothers tire of their playthings, the girls must be replaced. This undiscovered exploitation classic is every bit as morally corrupt as you've heard. Directed by Don Jones (The Forest, Sweater Girls) and shot by cinematographer Ronald Victor Garcia (Twin Peaks: Fire Walk with Me), Schoolgirls in Chains is an entertaining slice of early '70s sleaze guaranteed to delight and disturb.
Special Features:
2K Scan From the Original Negative

Audio Commentary by Actor Gary Kent and Writer/Producer/Director Don Jones

Audio Commentary by Writer/Producer/Director Don Jones and R.A. The Rugged Man

Audio Commentary by Writer/Producer/Director Don Jones and Cinematographer Ronald Victor Garcia

Making-of Featurette

Theatrical Trailer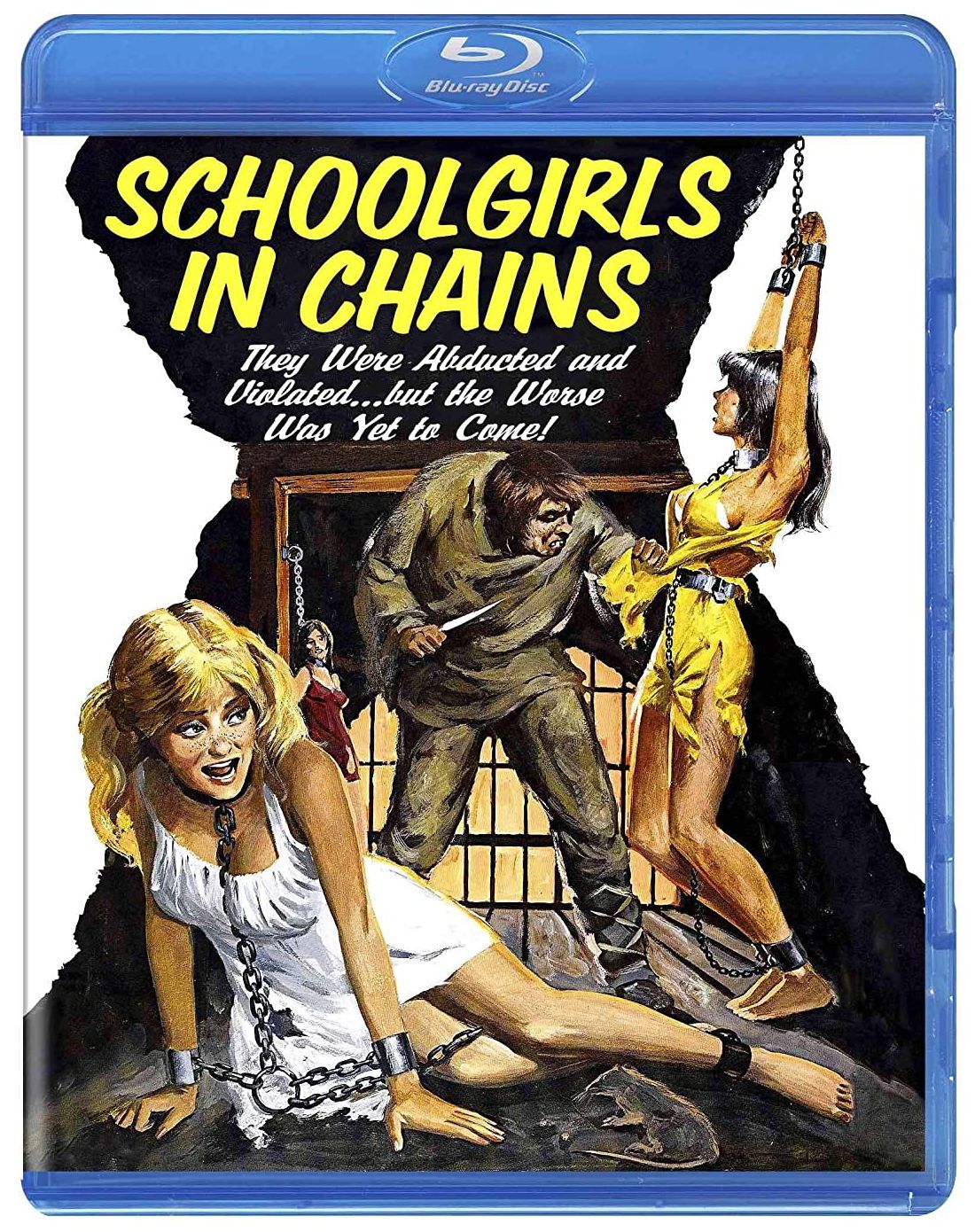 ALSO AVAILABLE THIS WEEK:
Castlevania: Season Three (Warner Bros. Home Entertainment, Blu-ray & DVD)
Godzilla (2014) 4K (4K Ultra HD/Blu/Digital)
Reunion (Dark Sky Films, Blu-ray & DVD)