This month's home media releases are off to a fun start as a few of my favorite movies from 2020 are headed to Blu-ray and DVD this week—Paul W.S. Anderson's Monster Hunter and Josh Ruben's Scare Me. Beyond that, we have a pair of titles from Vinegar Syndrome that genre fans are going to want to pick up on Tuesday—Cthulhu Mansion and Dark Tower—and there are a few other titles being released on March 2nd, too, including Where is She?, Vampire Virus, and the Nicolas Cage Collection.
Cthulhu Mansion (Vinegar Syndrome, Blu-ray)
After a drug deal gone wrong, a group of punks attempt to flee a local amusement park by taking a mysterious old magician named Chandu (Frank Finlay; Lifeforce) and his beautiful daughter hostage. While trying to evade the police, the punks force Chandu to take them to his secluded mansion where they plan to seek refuge for the night and wait for the heat to die down. Unbeknownst to them, Chandu's obsession with the black arts and the occult has summoned an evil that not even he can control. As the house itself begins to terrorize and kill the trespassers, the survivors desperately attempt to uncover the horrifying secret to the mansion's magical spells, along with Chandu's own dark past...
One of the last films directed by Spain's notorious Juan Piquer Simón (Slugs), CTHULHU MANSION is a lavish and expectedly grotesque H.P. Lovecraft inspired chiller that, despite its early 90s production date, is firmly rooted in the aesthetics, gore, and creature effect work of prime 80s Euro horror. Never before on disc in the U.S., Vinegar Syndrome proudly presents this gothic gem in a new 2K restoration of archival 35mm film elements.
Bonus Features:
Region Free Blu-ray

Newly scanned & restored in 2k from 35mm archival elements

"The Simon's Jigsaw: A Trip To The Universe of Juan Piquer Simón" - A Spanish feature length documentary tribute on the life and work of director Juan Piquer Simón, featuring many of the collaborators he's worked with over the years, including director Carlos Puerto, actor Jack Taylor, actress Hilda Fuchs, cinematographer Juan Mariné, FX artist Colin Arthur and many more...

"The Special Effects Make-up Magician" - an interview with sfx artist Colin Arthur

Reversible cover artwork

English SDH subtitles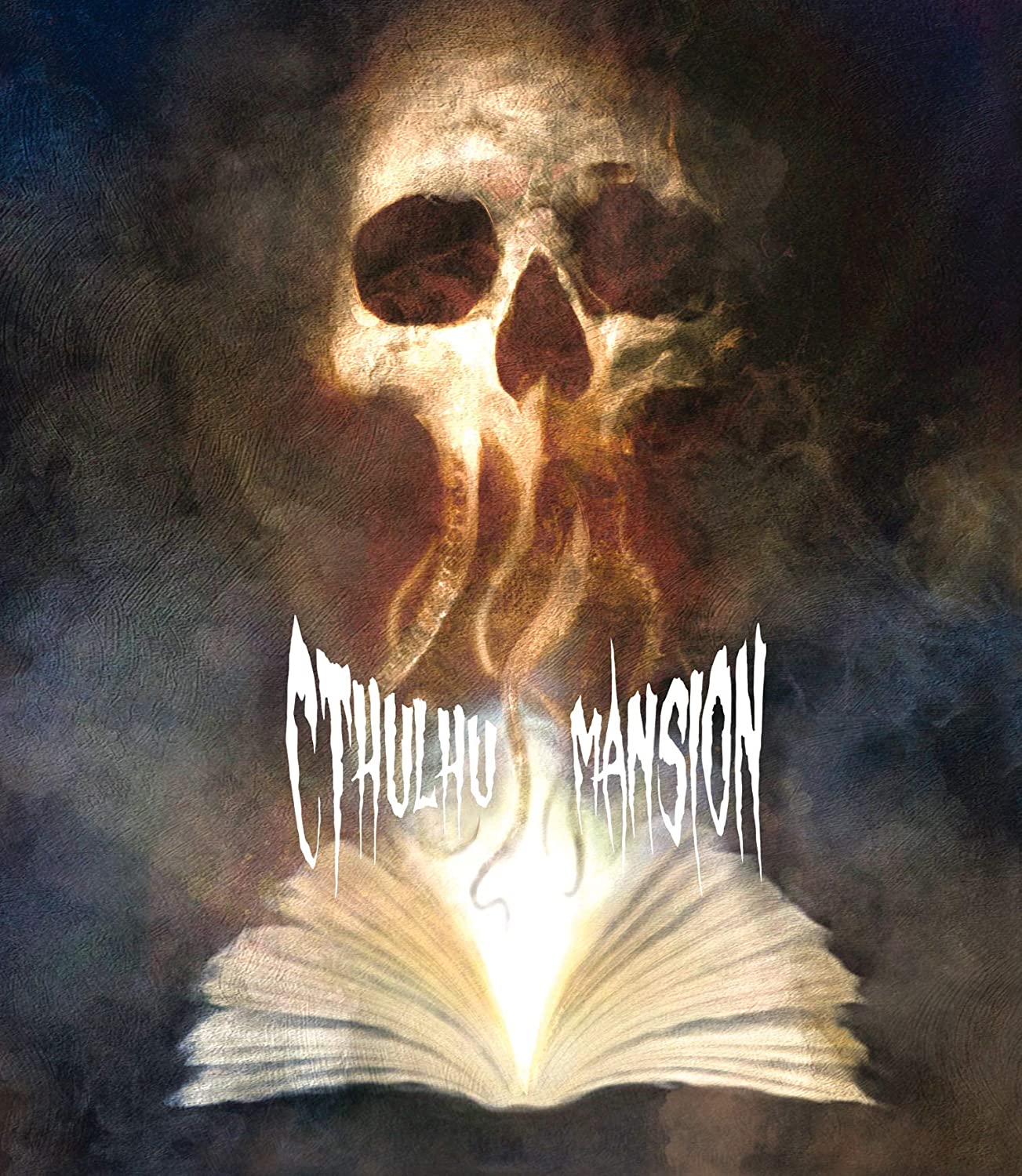 Dark Tower (Vinegar Syndrome, Blu-ray)
A recently completed luxury high-rise in the center of Barcelona becomes the scene of an apparent 'accident,' which causes the death of a construction worker. However, witness Carolyn Page is adamant that someone - or something - else is responsible. Finding an unlikely ally in Dennis Randall, a grizzled cop now working as a private security consultant, the two decide to launch their own investigation into the mysterious goings on in the building, but it's not long before another grisly 'accidental' death occurs...
Directed pseudonymously by acclaimed British cinematographer Freddie Francis (Tales From the Crypt) and co-scripted by cult filmmaker Ken Widerhorn (Shock Waves), DARK TOWER is a suspenseful supernatural shocker that stars Jenny Agutter (I Start Counting), Michael Moriarty (TV's LAW & ORDER), Carol Linley (The Poseidon Adventure), and Theodore Bikel (The Defiant Ones). Vinegar Syndrome presents the worldwide Blu-ray debut of this late 80s rarity newly restored from its 35mm interpositive.
Bonus Features:
Region A Blu-ray

Newly scanned & restored in 2k from its 35mm interpositive

"Dark Inspirations" - an interview with special effects artist Steve Neill

Promotional still gallery

Reversible cover artwork

SDH English subtitles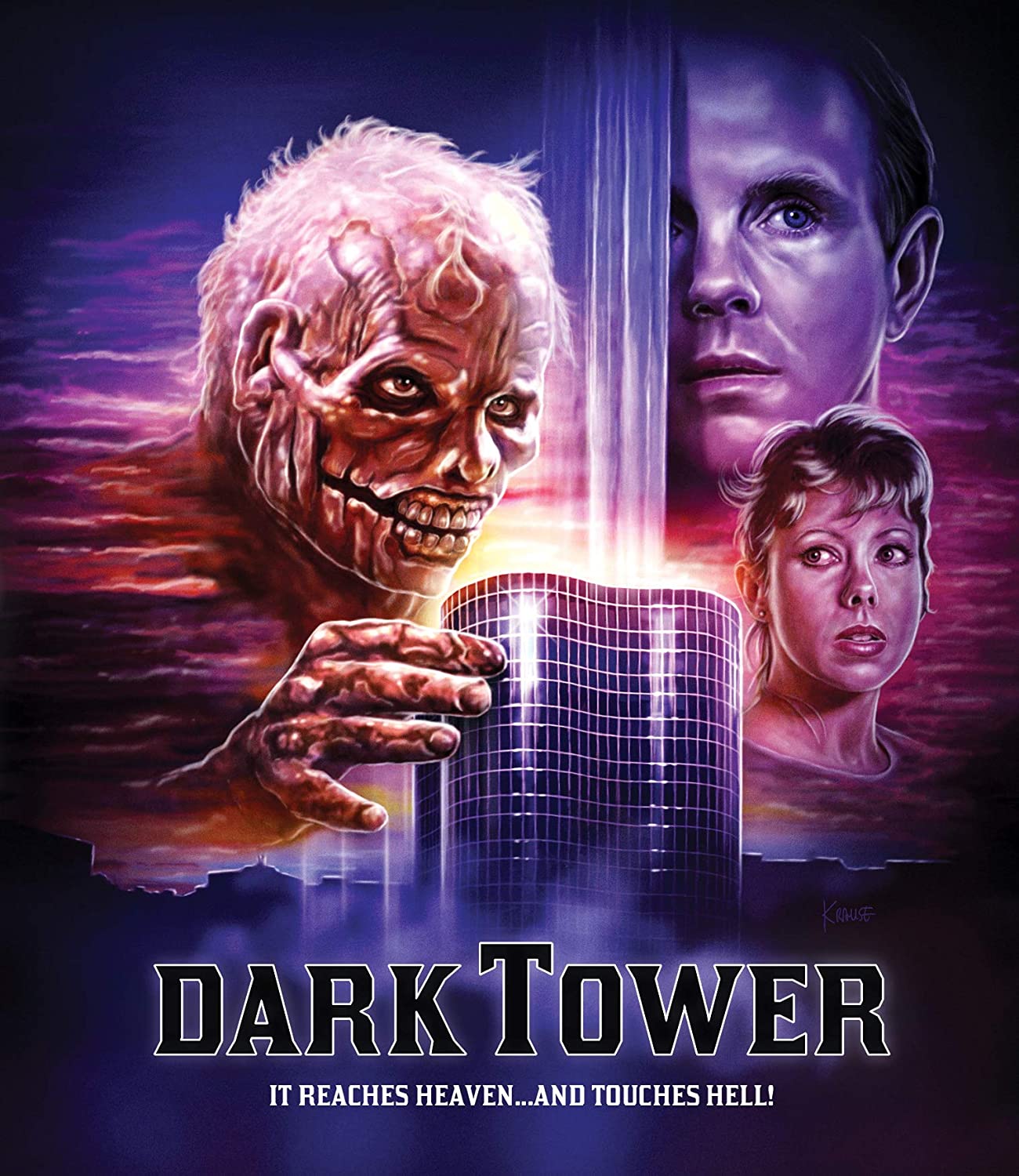 Monster Hunter (Sony Pictures Home Entertainment, 4K Ultra HD/Blu/Digital, Blu/Digital & DVD)
Behind our world, there is another: a world of dangerous and powerful monsters that rule their domain with deadly ferocity. When an unexpected sandstorm transports Captain Artemis (Milla Jovovich) and her unit (TI Harris, Meagan Good, Diego Boneta) to a new world, the soldiers are shocked to discover that this hostile and unknown environment is home to enormous and terrifying monsters immune to their firepower. In their desperate battle for survival, the unit encounters the mysterious Hunter (Tony Jaa), whose unique skills allow him to stay one step ahead of the powerful creatures. As Artemis and Hunter slowly build trust, she discovers that he is part of a team led by the Admiral (Ron Perlman). Facing a danger so great it could threaten to destroy their world, the brave warriors combine their unique abilities to band together for the ultimate showdown.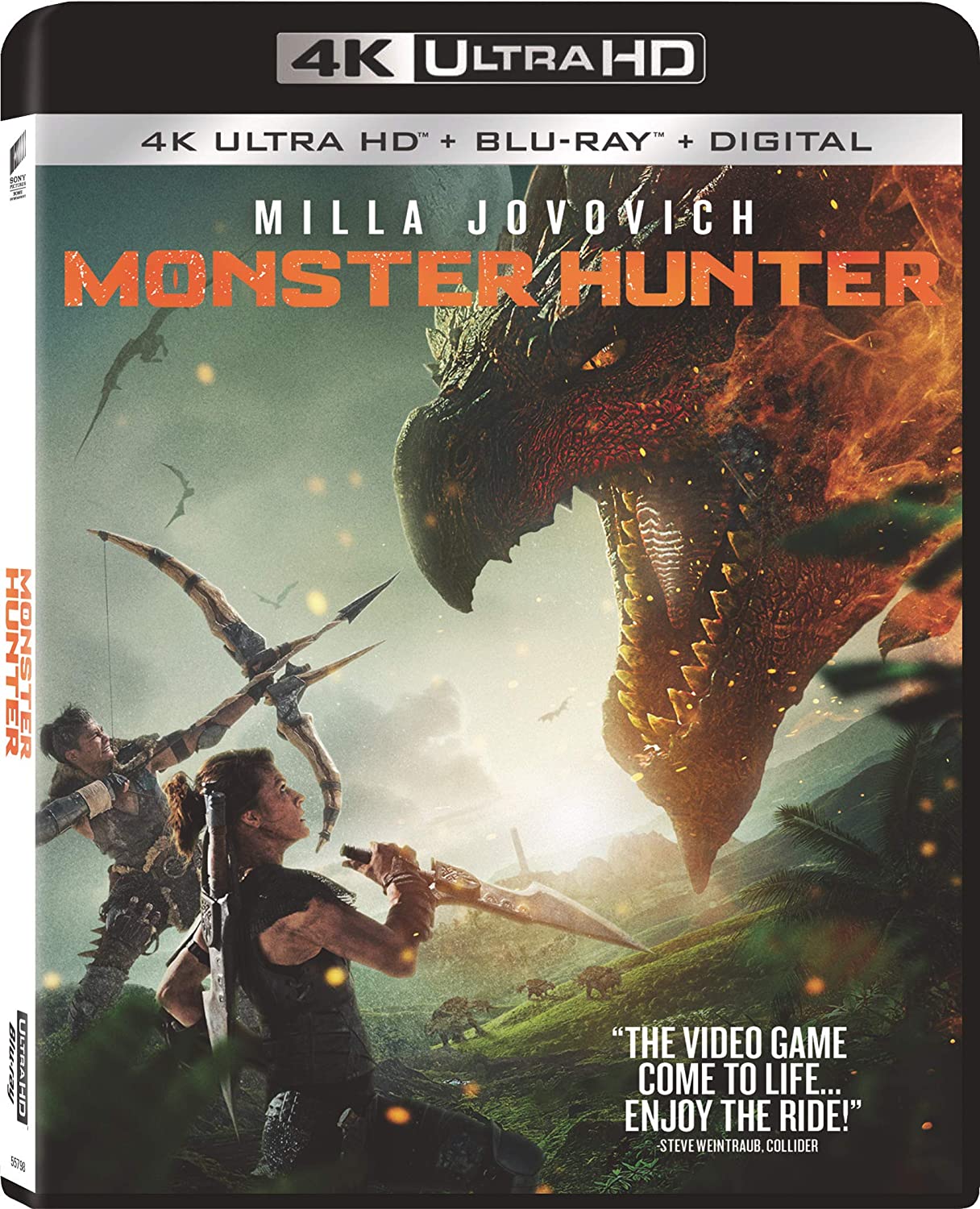 Scare Me (RLJE Films, Blu-ray & DVD)
Two strangers, Fred and Fanny, are stuck in their Catskills cabin during a power outage. Looking to pass the time, they decide to tell each other scary stories. But the more Fred and Fanny commit to their tales, the more the stories come to life. As the horrors of reality manifest, Fred confronts his ultimate fear that Fanny may be the better storyteller, forcing him to craft the most horrific tale imaginable and put an end to the competition for good.
Bonus Features:
Make Cool Sh!t Podcast: Episode 1

Feel the Music, Feel the Light Music Video

Director & Cinematographer Commentary

Q&A with Aya Cash

Q&A with Josh Ruben

Outtakes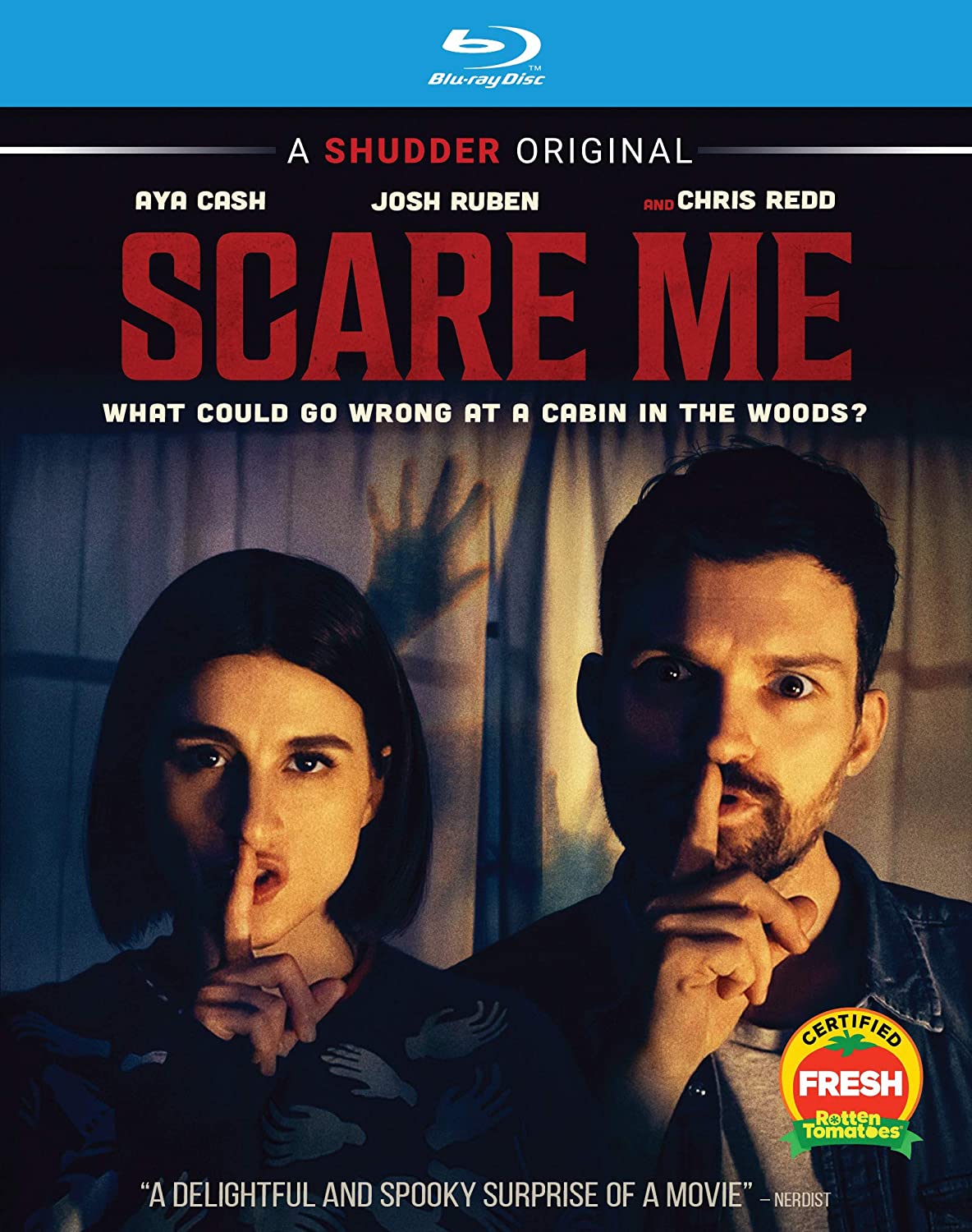 ALSO AVAILABLE THIS WEEK:
Nicolas Cage Collection (Universal Pictures Home Entertainment, DVD)
Vampire Virus (ITN Distribution, DVD)
Where is She? (Indie Film Distribution, Blu-ray & DVD)