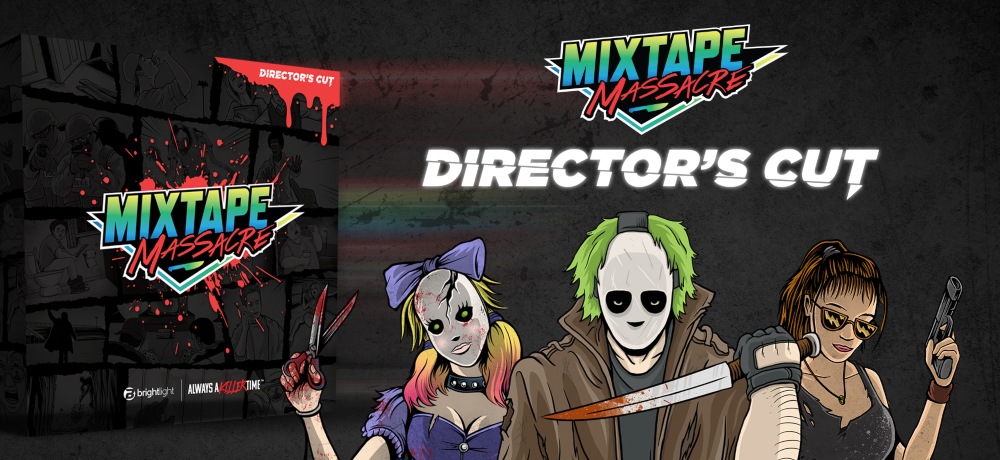 Although it may be difficult to believe, it's already been nearly five years since the release of the slasher board game Mixtape Massacre, and the Bright Light team is celebrating with a Kickstarter launch for Mixtape Massacre: Director's Cut!
A second edition of Mixtape Massacre, the Director's Cut features updates galore (and gore!) and plenty of additional content for gamers to enjoy.
Mixtape Massacre: Director's Cut became fully funded in less than three hours, but there are still stretch goals to be unlocked with additional support, so be sure to visit the official Kickstarter page for more details, and check out the press release, blood-soaked video, and images below!
Press Release: Bright Light is excited to announce Mixtape Massacre: Director's Cut, a 2nd Edition printing and reworking of the cult-favorite horror board game, Mixtape Massacre, originally released in 2016.

The game was fully funded in under 3 hours on Kickstarter and is now unlocking stretch goals.

Mixtape Massacre: Director's Cut is a 2-6 player game where players terrorize the town of Tall Oaks and compete in an over the top fictional killing spree to be remembered. Dripping with nostalgic 1980's pop-culture and classic horror tropes - Mixtape Massacre will have you laughing while you're slashing! Dispatch victims, collect kills and brawl with fellow slashers and the town hero to prove once and for all who is the baddest of the brood!

With the core of the original edition staying present, the Director's Cut edition will focus on upgrades, improvements and new additions that will still have you laughing while you're slashing!

What's New?

Streamlined Rules and Mechanics

Updated Profile Cards and Special Abilities

Plastic Knives

A New Hero

New Scene Tokens

R-Rated Deleted Scenes

Updated Bonus Tracks

Updated Dice Combinations

And More...

—

Mixtape Massacre: Director's Cut is now live on Kickstarter and will run for 23 days, ending April 8th, 2021. With reaching funding within 3 hours on its first day, it is now unlocking stretch goals exclusive to Kickstarter Backers. By supporting the campaign, backers can contribute to various pledge levels to preorder copies of Mixtape Massacre: Director's Cut, as well as additional rewards and add-ons exclusive to the Kickstarter Campaign.

—

Come visit Tall Oaks! You're never going to leave…

—

Follow Mixtape Massacre for more previews and details:

Website: http://www.mixtapemassacre.com

Facebook: https://www.facebook.com/mixtapemassacre

Twitter: https://twitter.com/mixtapemassacre

Instagram: https://instagram.com/mixtapemassacre