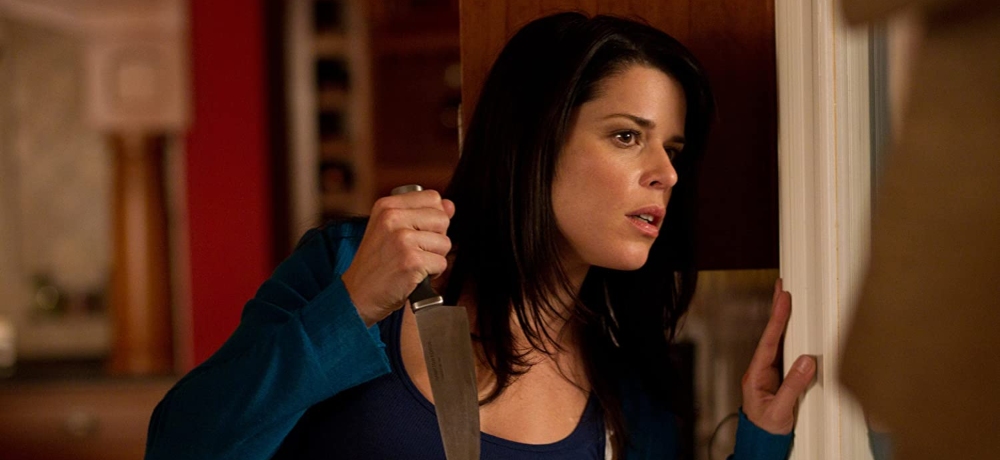 After David Arquette and Courteney Cox officially signed on to play Dewey Riley and Gale Weathers, respectively, in the new Scream movie, longtime fans of the franchise only had to wait and see if Neve Campbell would come back to complete the trio that has survived four rounds with Ghostface. Well, now that wait is over, as Bloody Disgusting has confirmed that Campbell will officially return as Sidney Prescott in the new Scream film from Spyglass and Paramount.
Campbell joins a cast that includes the aforementioned Scream survivors Arquette and Cox, as well as newcomers to the franchise Jack Quaid, Melissa Barrera, and Jenna Ortega.
Directed by Matt Bettinelli-Olpin and Tyler Gillett (two-thirds of the filmmaking group known as Radio Silence) from a screenplay by James Vanderbilt (Zodiac) and Guy Busick (co-writer of Ready or Not and episodes of Stan Against Evil and Castle Rock), the new Scream is slated for a January 14th, 2022 release and is expected to begin filming this year in Wilmington, North Carolina.
This will mark the first time a Scream movie hasn't been directed by the late, great Wes Craven, who changed the modern horror genre as we know it when he unleashed the smart, scary, and subversive Scream on the world in 1996.
However, Kevin Williamson, the writer of Scream, Scream 2, and Scream 4, is on board to executive produce the new film, with Vanderbilt, Paul Neinstein, and William Sherak also producing.
Here's what Campbell had to say about her anticipated return to the Scream franchise (via Bloody Disgusting):
"After spending time speaking with Radio Silence, they have shown such love, respect and admiration for Wes Craven and all that he's created in the Scream franchise. I am beyond excited to step back into the role of Sidney Prescott and return to Woodsboro."
Radio Silence also shared their excitement for Campbell reprising her iconic role (via Bloody Disgusting):
"We're pinching ourselves! It's hard to express how much the character Sidney Prescott shaped our love of movies and to have the chance to work with Neve is truly a dream come true. It just wouldn't be a Scream movie without Neve and we're so excited and honored to join her in Woodsboro."
We'll be sure to keep Daily Dead readers updated on the new Scream as more details are announced!