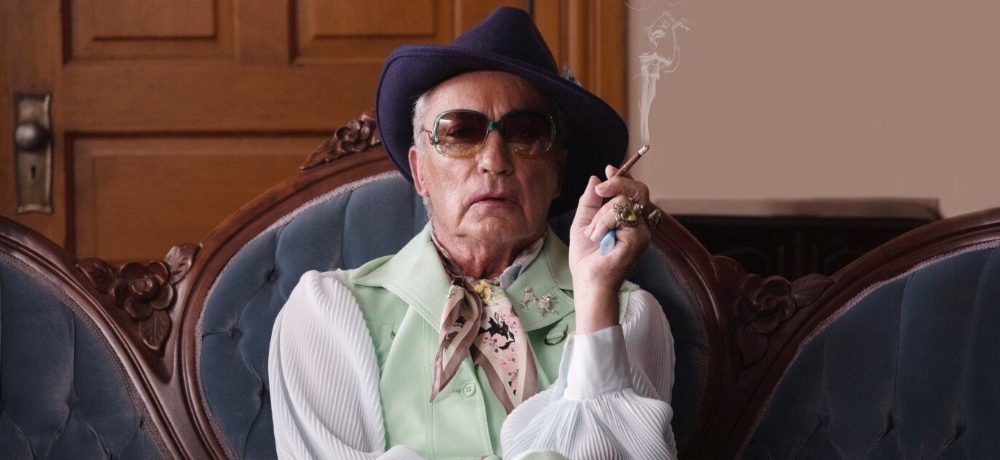 There's something really exciting when a familiar actor wades into new territory and takes on a role that is entirely different from the things they are known for. Bruce Campbell in Bubba Ho-Tep, Arnold Schwarzenegger in Maggie, and Nicolas Cage reminds us every few years of his profound range (see the newly opened Pig. It's incredible).
In Swan Song, we get a new turn from Udo Kier in a role that leaves the audience breathless. No question, he has had an incredible career. From dramatic turns to horror to shlock entertainment, he really has done it all, but here, he still manages to go in a new direction. We see him challenge himself in a new and exciting way, delivering a powerful performance that will not soon be forgotten. And while Swan Song isn't really a genre film, it features an amazing performance by a genre legend, and that in itself is something worth celebrating and examining.
Patrick (Kier) whiles away the endless days in his crappy nursing home in Sandusky, Ohio. In his glory days, he had been the town's premier hair stylist. His art was on display on the heads of all of Sandusky society and he rubbed elbows with the crème de la crème. When life sent him a series of curveballs, Patrick found himself losing his husband, their home, his business, and his friends, all within a very short time. Since then, he has been languishing away in an assisted care facility, doing very little living and spending most of his days just waiting to eventually turn to dust.
This all changes the day he has a visit from the lawyer of the late Rita Parker Sloan (Linda Evans), the richest woman in town and one of Patrick's former top clients. Though they haven't spoken in years, and their relationship had ended on a sour note, Rita stipulated in her will that she wanted Patrick to do her hair for her memorial service, and he was to be paid handsomely for the work.
After a great deal of debate, Patrick finally decides to take the job. He leaves the care facility and goes on a Wandering Old Man adventure throughout the city. Things are different since he was last out and about—buildings are gone, businesses have been replaced, and the city as a whole has changed greatly, particularly the gay community. So many of his friends are gone, the bar they had built together is closing down, and all of his old haunts have been erased. He has his memories, though, and they follow him wherever he goes, the ghosts of the past pursuing him in an unfamiliar present.
His journey is part a tour of the best days of his life and a way of laying the past to rest. Patrick is lacking resolution in many areas of his life, and this journey is a chance to finally confront some of those old ghosts.
The way Kier inhabits this role is incredible. Pat is at once sad and charming. Though he is near the end of his long road and doesn't really recognize the world around him, he still maintains an infectious sense of humor and a brilliant kindness. Kier captures the many aspects of this character brilliantly, making him fully realized and present.
This performance is bolstered by the patience Stephens has in letting his story unfold. Early on in the film, we learn enough about who Patrick used to be and who he has become. As he takes his long walk through the city, Stephens begins to fill in the gaps. The location of Patrick's old house floods him with memories of his relationship with David. The gift of a hat to keep the sun off his face gives him a little of his former sparkle. Little by little, the memories fill in the story of his life, and he begins to become the person that he was.
One of the more fascinating aspects of the film is the way the story meditates on the changing LGBTQ culture. In Patrick's day, gay bars were a necessary safe space where a community could gather to be themselves in safety. Today, "they can hold hands at Applebee's," as Pat and his friend note while sitting on a park bench. For the generation that saw so much change, the places they called home and the things that were vitally important now hold different meanings. Time marches on and things change. It's an inevitable fact of life, and it is something that Pat is contending with heavily throughout this story.
I can't gush enough about the magic of Swan Song. It's a profound story of healing and embracing that beautiful part of yourself that will never ever die. Sometimes it gets lost and sometimes the world tries to squish it, but it's there, and it's always ready to sparkle.
Movie Score: 5/5
----------
Go here to catch up on all of our coverage of the 2021 North Bend Film Fest!