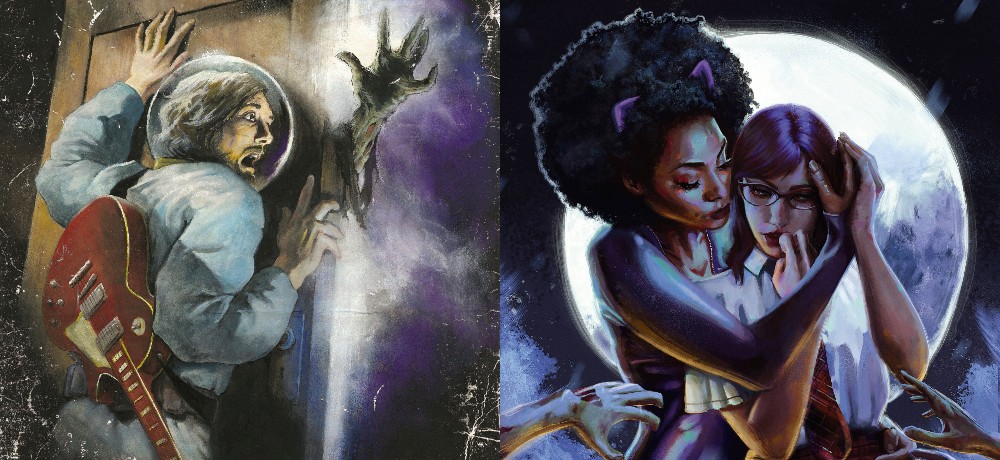 New York Comic Con kicks off this week and there will be plenty of horror comics featured at the Javits Center, including Swamp Dogs: House of Crows, and we've been provided with a look at several variant covers for the first issue of the five-issue miniseries from a team that lives and breathes horror!
If you'll be heading to New York Comic Con, co-writer J.M. Brandt will be signing at the Royal Collectibles booth and the Scout Comics booth, and he'll also be joined by Casey Parsons to sign at the Wicked Monkey/Kirby's Comic Art booth. Brandt will have advance copies of the Robert Sammelin direct cover and limited copies of the Hive-Comics ashcan cover at the convention.
The first issue of Swamp Dogs: House of Crows #1 will be released on October 13th. You can check out the variant covers below, and for more information on Swamp Dogs: House of Crows, check out our previous exclusive quote from Brandt, who talked about the miniseries' horror movie influences:
"Swamp Dogs: House of Crows will be a 5-issue miniseries that kicks off the Swamp Dogs world of stories. It plays out just like a classic horror movie in terms of its beats and some of its tropes. Of course, we play with expectations a fair bit... but Theo and I find beauty, comfort, and a surprising amount of creative freedom in the horror movie formula. Theo has an actual university degree in cult films, and I also have an academic background in film and horror-- and we're both total moviehounds. The idea for the comic germinated from a movie pitch I was trying to make to the Akkads (the producers of the Halloween franchise) that re-imagined Armando De Ossorio's 1972 classic, Tombs of the Blind Dead. But, and not offense to the Templars, the story grew too large and too wild and too weird to simply be an adaptation. Things mutated.

In fact, where it was a bit unclear in the Blind Dead movies what the Templars were, Theo and I worked from the notion that the Swamp Dogs would be liches. They're not zombies; contrary to what some of the early buzz and speculation has been. If you're not a roleplaying nerd you might have to look up the term. But what it means for our book is that the Swamp Dogs are smart, the Swamp Dogs are mean, and the Swamp Dogs are powerful. Zombies are cool, too. But it's so much fun to play around with creatures that are malevolent and willful.

So on top of Tombs of the Blind Dead being a big influence on the work, we have pulled in several other movies to affect our work. We ran through the gamut of Voodoo-related flicks, from Sugar Hill (perhaps one of the most influential) to Serpent & The Rainbow to Angelheart to I Walked With A Zombie, and beyond. I'd also say that the work of Fulci has been a big influence on my writing and some of the characters and incidents. One fun Easter Egg influence for the Daily Dead-ites to look out for in Issue 1 is from Killer Klowns From Outer Space. In fact, if you watch the original MGM commentary with the Chiodos, it comes out that the scene I paid tribute to was itself a tribute to the old horror/sci-fi movies of the 50s and 60s. Most of the rest of the book is a chopped-and-screwed version of grindhouse horror, 70s flicks, and 80s horror movies. But we did it all with inclusion and empowerment in mind. Issue 1 provides a good backbone to the series, but then things start taking off in Issue 2; where there's a splash page that I'm confident will be considered one of the greatest horror comic splash pages in history (illustrator Kewber Baal and colourist Ruth Redmond really outdid themselves).

I can't wait for fans to fall in love with Ayana and Violet and the members of the metal band The Grunch. And I'm even more excited for readers to learn to love to loathe the Swamp Dogs."
Variant covers will be available from both Third Eye Comics and ECGCE:
To keep up on all things Swamp Dogs, visit:
About Swamp Dogs: "They came from the swamp... the scummiest squad of Confederate soldiers, brought back to life by powerful Voodoo magic. They crave power, carnage, and female flesh! They are the Swamp Dogs! Now, young lovers Ayana and Violet, and their friends from the goofy stoner metal band The Grunch, will unknowingly fall into their ghoulish nest. Bear witness to a rollicking gorefest straight out of the shocking grindhouse and revengeful blaxploitation of the 1970s, and the cult horror classics of the 1980s... with a modern twist."
Cover art by artist Ingrid Gala as an exclusive with Izzy's Comics: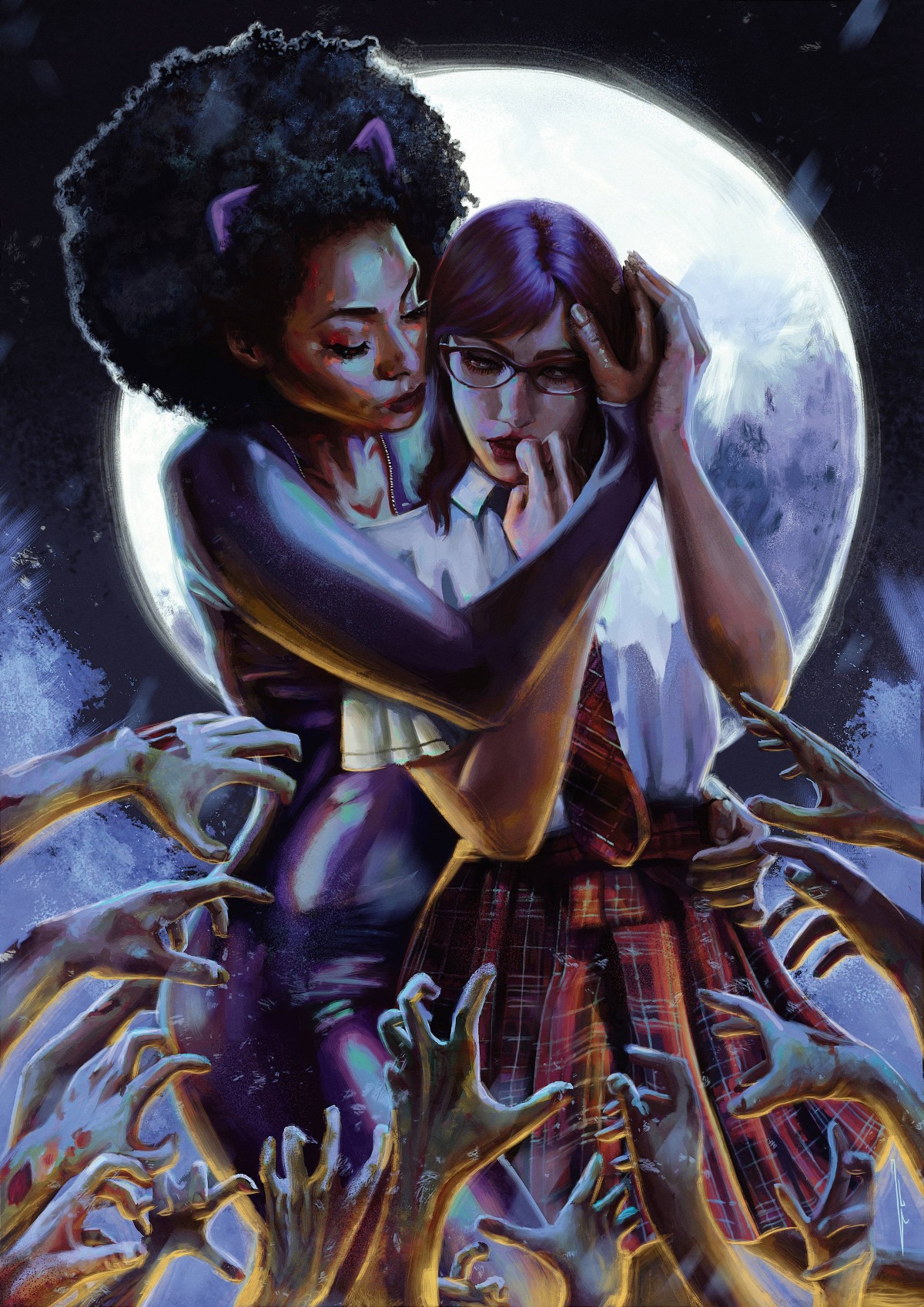 Distressed cover version (front and back) by Casey Parson as an exclusive with Kirby's Comic Art and Wicked Monkey Comics (available in its original format from Things From Another World: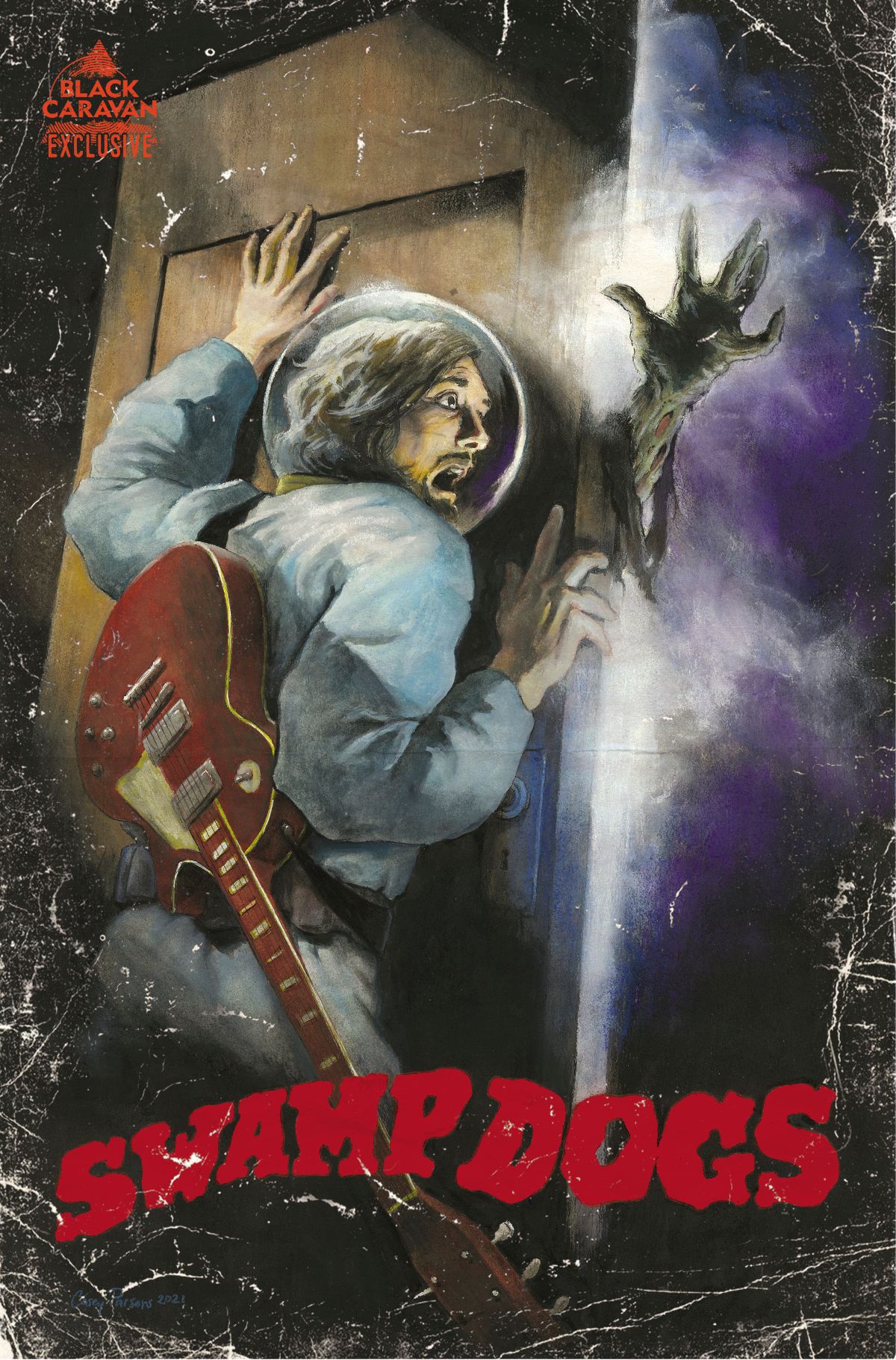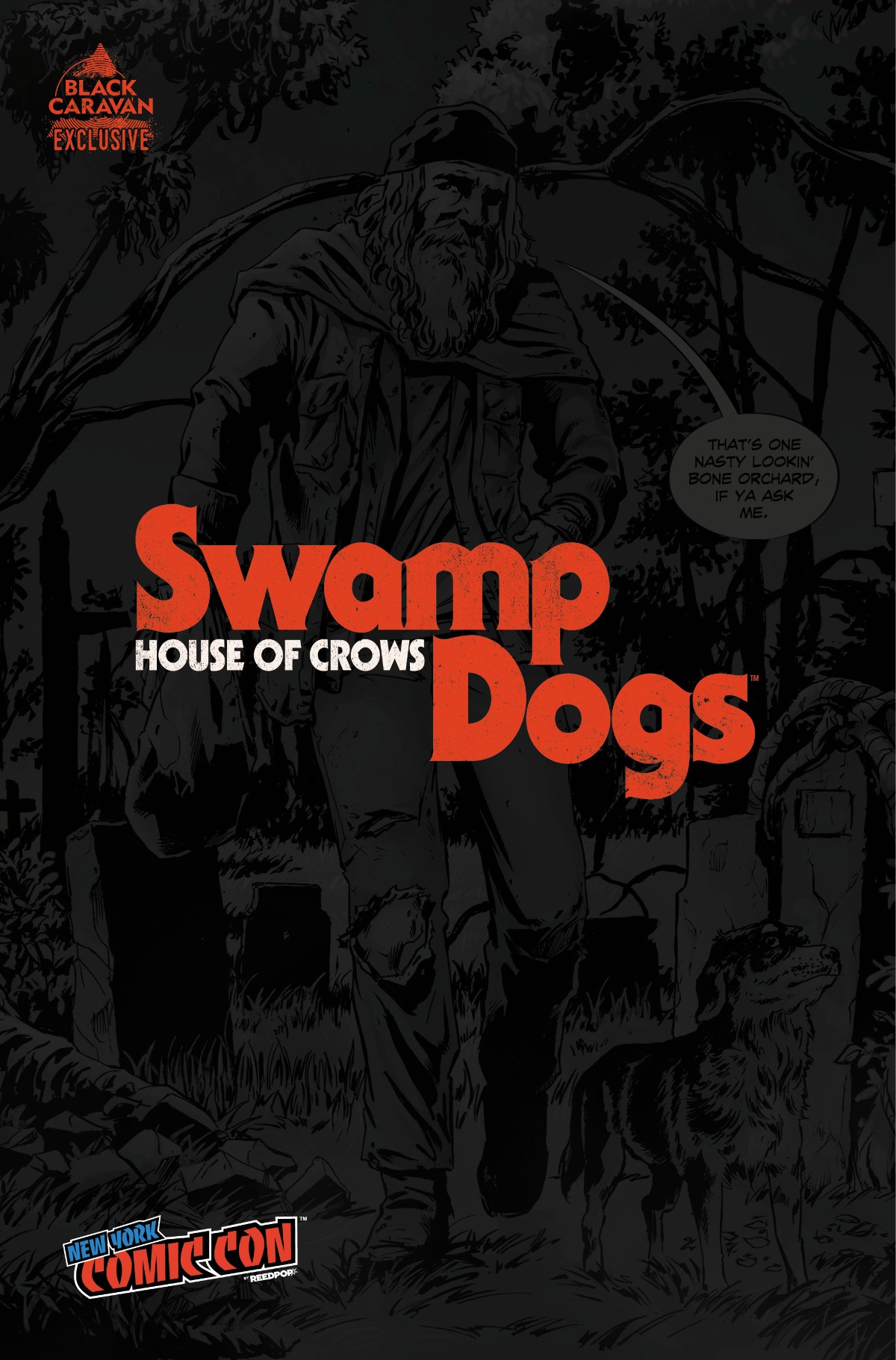 Cover art by Suspiria as an exclusive with Royal Collectibles andCadence Comic Art: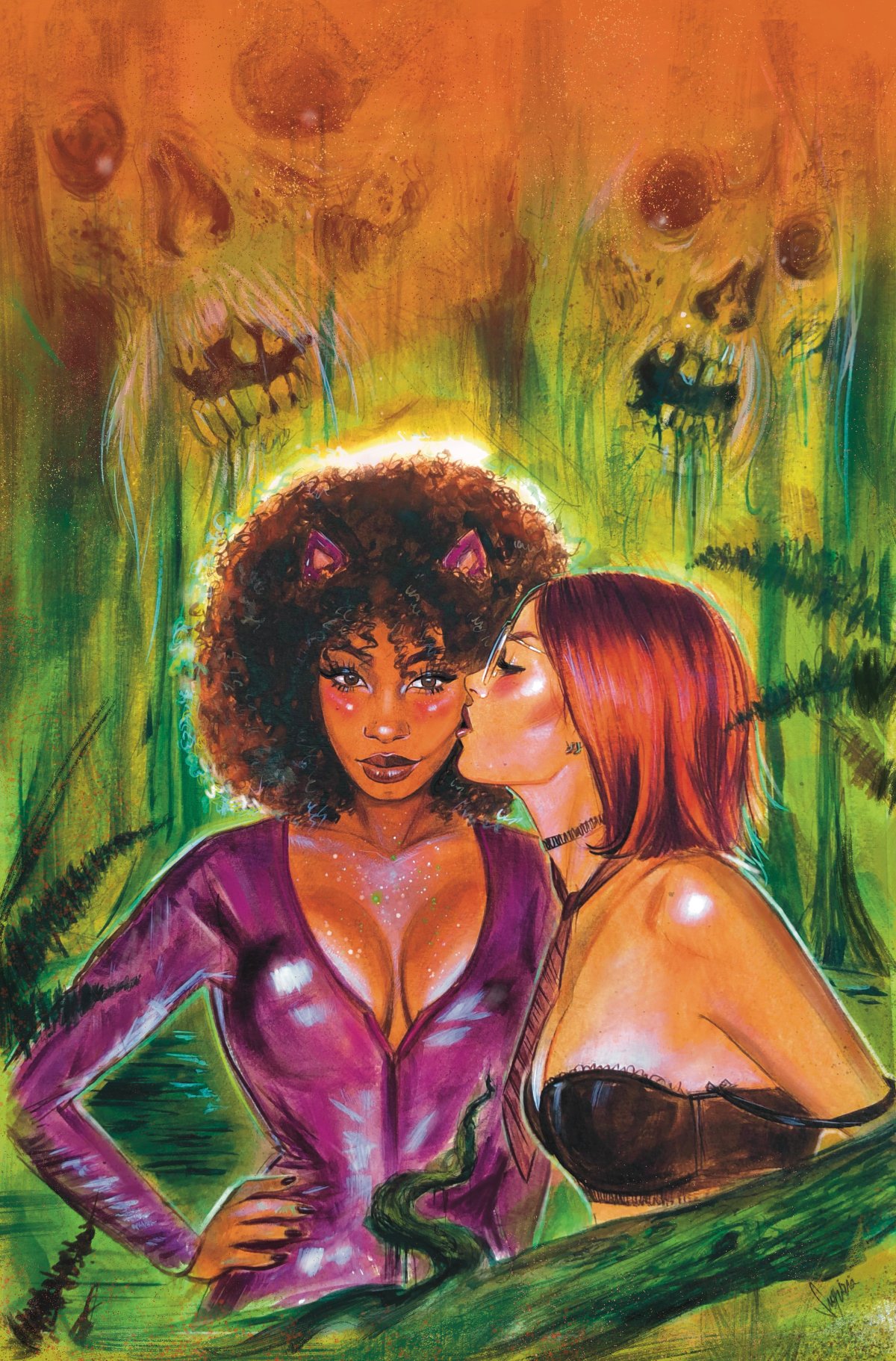 Direct cover by Robert Sammelin: