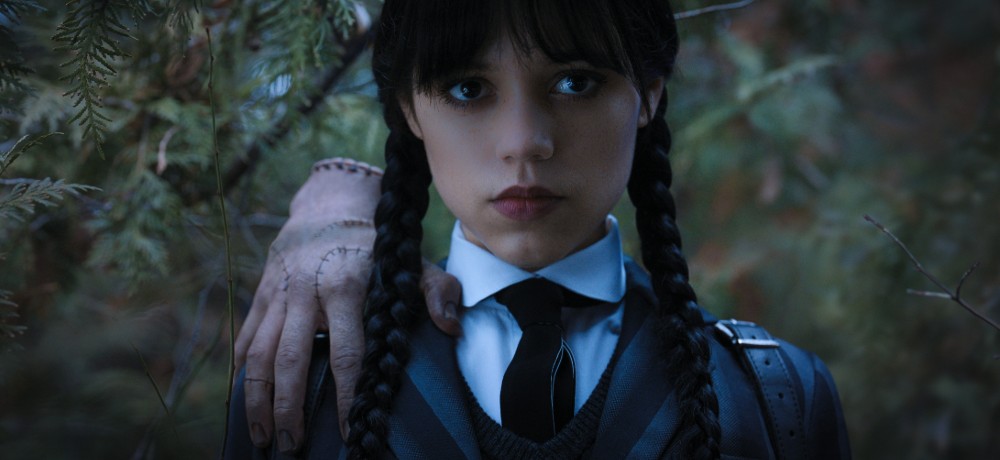 From the original comic strip by Charles Addams to the iconic animated '60s series to the live-action '90s films, the Addams Family has been beloved by multiple generations over the years, and now Netflix is introducing the creepy and kooky family to a whole new generation with their series Wednesday.
Executive produced by Tim Burton (who also directed several episodes) and starring Jenna Ortega, Catherine Zeta-Jones, Luis Guzmán, Gwendoline Christie, Fred Armisen, and Christina Ricci, Wednesday premieres November 23rd on Netflix.
While at New York Comic-Con, Daily Dead had the chance to join other journalists in roundtable interviews with Wednesday co-stars Ortega, Guzmán, and Christie, as well as executive producers/showrunners/co-writers Miles Millar and Alfred Gough, who provided key insights into the new series, including the importance of casting a Latina actor to play Wednesday Addams, the enduring timelessness of the altogether ooky family, collaborating with Tim Burton, and more!
You're going to be representing not only Wednesday Addams to a whole new generation, but [a] Latina version [that was explicitly Latina]. Can you just talk to me about the significance of that, and if there were any aspects you were really just excited to explore and represent for the community?
Jenna Ortega: I think it's a really beautiful thing. I personally cannot think of a [Latina character] that exists today that has the platform or reach that someone like Wednesday Addams does. So I think it's really wonderful because Netflix made it a priority to cast a Latina, and I think it's really great. And if you could take that route, and give a voice, and give visibility to young people out there who see themselves pursuing careers in this industry, or are complete freaks, we should do that. Every freak's voice should be heard. And they come in all different kinds of colors.
You've had incredible roles in X, Scream, and now Wednesday. What has drawn you towards all these genre projects?
Jenna Ortega: I think people just like to throw blood on my face [laughs]. But also, [genre roles] are really a good time. Everyone who's there wants to be there, for example, special effects makeup. They do special effects makeup because they watched horror films growing up and became obsessed.
It's like a passion project. A lot of them are indies. They're always passion projects and because you're trying to give the audience adrenaline, and you, going through the motions [while making the movie] kind of have that same feeling. It's an insane job and it's really hard for me to turn down horror because I love it when things are a bit off.
The new trailer teases scenes between you and Christina Ricci (who has a guest starring role playing a new character). Can you talk about working with her on set and being able to have that experience?
Jenna Ortega: She's wonderful. I've been a big fan of her work for a really long time, and I feel like even after meeting her, my respect continues to grow and flourish. Wednesday's impact would be nothing without Christina. She revolutionized the character and created something that stuck with people, and the opportunity to meet her, but then also work with her and share a screen with her and learn from her firsthand was an experience that I'm immensely grateful for and would love to do again.

You're introducing this family and this legacy to a new generation. Can you talk a little bit about what that means to you and what you hope to give them from the show or your characters?
Luis Guzmán: I grew up watching The Addams Family and I love the Addams Family! I used to run home from school just to watch The Addams Family. It was something that was just so brilliant, that was so kooky and spooky at the same time. And it's like "this family can't be true!"
This is what dreams are made of and this show that I grew up on and now I am a part of it and giving it a breath of new, fresh air, a new life, a continuation. Just to be, again a part of it with an incredible cast of people, incredible writers, Tim Burton, Colleen Atwood… This is an incredible effort by an incredible team of hundreds of people. They had the confidence in us to put us in front of the camera to be that family, be those characters... and, man, we just really gelled together. We made it fun and I'm just happy to be here. I pinch myself every day. This is what dreams are made out of and I'm happy to be part of it.
Gwendoline Christie: It was a genuinely extraordinary project to be a part of, and also hugely collaborative. When you work with a brilliant auteur like Tim Burton, you don't necessarily expect to have such an incredibly collaborative experience about how you see your character, how you see the performance, how you see interaction [but that is absolutely what happened]. There was just so much good feeling on the set, too. It was very much entering into the spirit of things as a group of newcomers, but I was always a huge fan of The Addams Family. It's more relevant than ever because I think that we're all more open about the way that we feel and we often feel that's a truer representation of our families than something perhaps more conventional.
It's very clear throughout all interpretations of Gomez that there's really a love there for his family. How have you brought that to this version of the character? Can you speak to that love within the Addams Family?
Luis Guzmán: To me, that's the definition of Gomez, he's a lover. He's a passionate man, loves his wife, loves his family. So they have that history and now their daughter is the next generation of the Addams family that is going to that school. I also can't forget about Pugsley, my son, and trying to help him build up self-confidence along the way. It's a continuation of an incredible love story and playing opposite of Catherine Zeta-Jones, and just the look that we would give each [other], sometimes it was all just about the look.
Can you talk about your experience on set and tease what fans can expect from the series?
Gwendoline Christie: The sets are really sumptuous. They are hugely detailed. What I loved was that we filmed in Romania, so you have landscapes that had not been seen before. It's almost like looking at things with quite a fresh pair of eyes on an epic scale and much of what you see is real. They built a town and used locations and there's an awful lot of authenticity to bring that very specific culture to life. Coupled with Colleen Atwood, who designed the costumes, she was frankly a genius and generated such character, such information, and story in what we are wearing. I always felt respected, celebrated. It was collaborative and she amplified my biggest hopes for how I hoped the character should be. It was a genuine privilege to work with her and, I have to say, a dream come true.
With this story being so focused on Wednesday Addams, can you talk about working with Jenna Ortega on set?
Luis Guzmán: Jenna Ortega is a powerhouse. She is dedicated, she's committed, and she doesn't settle for good. She doesn't even settle for great… She goes beyond that. Me being Gomez, her father, it was a joy to work with this young woman because, again, she wasn't just settling for good. I think she was 19 years old at the time we were shooting this, but she's a veteran! She showed up every day, she put in the energy, she did stuff that I didn't expect from a 19-year-old. That's how committed she was to the greatness of what is the Addams Family. And she brought it every day, every scene.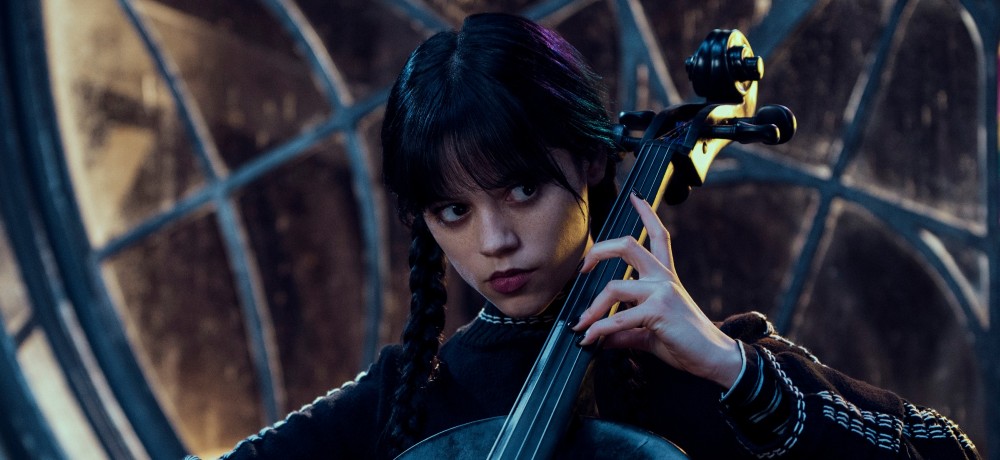 You're bringing this iconic family to a new generation… so what was the thing you really wanted to resonate with audiences? How did you set out to take this in a direction that we haven't seen before?
Alfred Gough: For us, it was showing Wednesday as a teenager. Showing her in boarding school, away from her family, but a boarding school that still had that "Addams" vibe. She's a young woman who likes who she is, knows who she is, and says what she wants. She's very much a truth-teller and I think that's something that's important to put out there today. I think it's something between us, we have four teenage daughters, so it's just something that's a good role model to see on television.
Miles Millar: Which is ironic considering [that may not be what you first think when] it's Wednesday Addams, but she's someone who is very comfortable with herself and I think in the show she does evolve, but a lot of shows [start with a character that is] meek and then they blossom into a butterfly. Or it's about [a] boy romance and Wednesday is not that. She's unapologetically smart and fearless and says what she thinks, [and] is also weird. So I think she's a really strong female role model. And we're really happy to put that into the world.
Alfred Gough: Well, I think in terms of setting her apart, it was making her older. Because you've really only seen her as a 10-year-old and she has the zingers at the end of each scene, which are great. And we really wanted to distinguish [ourselves from] that and tell a part of her life that hasn't been told before. This is the time when teenagers move away from their parents, but then they find family in friends and schoolmates and things like that.
We were talking (before this interview) about how excited we are that Wednesday and the Addams family here are canonically Latino. And I just want to say, "Thank you!" because that's such a big step. What brought behind making the decision and making that explicitly part of the text and not just an interpretation?
Miles Millar: Yeah, it was very important to us. Really, the inspiration came from Gomez and it was important to do that and to do it authentically. So we only looked for Latina actresses and finding Jenna [Ortega] was an incredible discovery for us. When Tim [Burton] first had read the script, we all agreed this will live and die on one thing… finding the right Wednesday. If we don't find the right Wednesday, this show's over and luckily we found the right Wednesday.
How did working with Tim Burton change or enhance what you may have originally envisioned when you started creating this new story?
Miles Millar: It was one of those things that was sort of fully formed. I think four scripts were written when Tim read the first script. But obviously when you have someone like Tim come on, he adds a whole new level. His tone and his mastery of filmmaking was something that we'd never experienced and really elevated everything. It also elevates the actors you can get to play the roles. The talent he attracts... Colleen Atwood, who's won four Oscars, was his collaborator on the wardrobe. And you see all these details and everyone steps up in a huge way, like the production designer. Everyone is so on their game to make sure that Tim gets the best. And you see that on screen with the actors, too… Everyone's so excited to work with Tim, [and] for good reason, because he is one of the most iconic directors around.
---------
"The series is a sleuthing, supernaturally infused mystery charting Wednesday Addams' years as a student at Nevermore Academy. Wednesday's attempts to master her emerging psychic ability, thwart a monstrous killing spree that has terrorized the local town, and solve the supernatural mystery that embroiled her parents 25 years ago — all while navigating her new and very tangled relationships at Nevermore."

Release Date: November 23, 2022
Showrunners / Executive Producers / Writers: Miles Millar and Al Gough
Director / Executive Producer: Tim Burton
Series Regulars: Jenna Ortega (Wednesday Addams), Gwendoline Christie (Principal Larissa Weems), Jamie McShane (Sheriff Galpin), Percy Hynes White (Xavier Thorpe), Hunter Doohan (Tyler Galpin), Emma Myers (Enid Sinclair), Joy Sunday (Bianca Barclay), Naomi J Ogawa (Yoko Tanaka), Moosa Mostafa (Eugene Ottinger), Georgie Farmer (Ajax Petropolus), Riki Lindhome (Dr. Valerie Kinbott), with Christina Ricci (Marilyn Thornhill)
Guest Stars: Catherine Zeta-Jones (Morticia Addams) and Luis Guzmán (Gomez Addams), Fred Armisen (Uncle Fester), Isaac Ordonez (Pugsley Addams), Iman Marson (Lucas Walker), Lucius Hoyos (Young Gomez)
Additional Cast: Victor Teodor Dorobantu (Thing), Calum Ross (Rowan Laslow), Luyanda Unati Lewis-Nyawo (Deputy Rita Santiago)