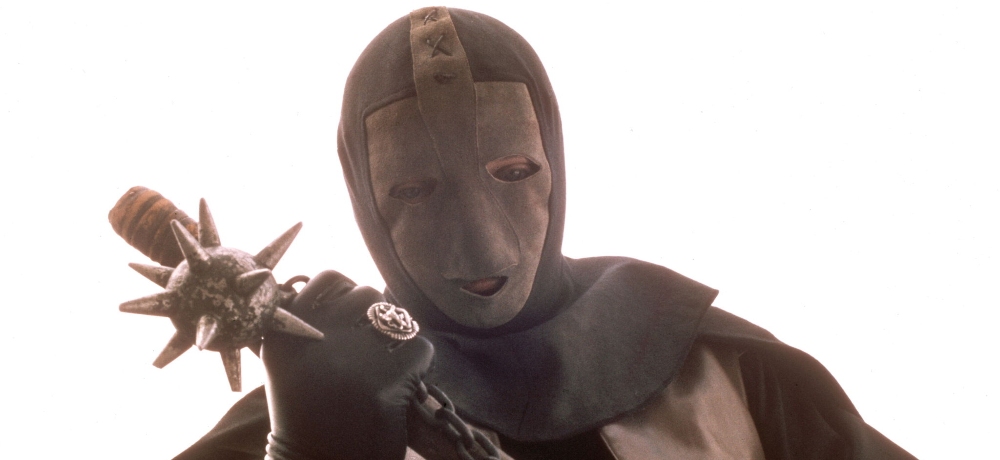 Hello, everyone! It's been a while since I've had a chance to do an installment of my Phantom Thread series, but I'm finally back on the beat and this newest entry is quite an oddball in the realm of Phantom of the Opera-related adaptations. Directed by Gene Levitt and starring the likes of Peter Lawford, Jack Cassidy, Broderick Crawford, and Jackie Coogan (who most genre fans know from his role as Uncle Fester in the Addams Family TV series), this made-for-TV movie first aired on CBS in February 1974 and features a mysterious masked entity who is stalking the backlot of Worldwide Films as the studio prepares to sell the property off to the highest bidder.
And while there's a lot of unevenness to The Phantom of Hollywood that makes its plotting feel choppy at times, as someone who adores the history of Old Hollywood, I couldn't help but be charmed by Levitt's love letter to a bygone era in filmmaking that's often overlooked now (and apparently was back then as well).
For The Phantom of Hollywood, we're introduced to the aforementioned Worldwide Films via a news team that is choppering overhead, with a news anchor providing viewers with some context via his narration. As the business of making movies and the scope of filmmaking have both gotten bigger over time, Worldwide and its backlot have become something of a relic in this new wave of cinematic storytelling, and in turn, the land has been left in ruins, with the studio anxious to sell the backlot property to interested parties as a means of getting back on their feet financially.
But before Worldwide can finally rid themselves of their famed backlots, studio head Roger Cross (Lawford) must contend with the spectre-esque masked madman running amok who wants the backlot all for himself as a means of preserving the history of its stages and shooting locales.
And for as much as The Phantom of Hollywood is very much a loose adaptation of Gaston Leroux's The Phantom of the Opera story (which is the reason I'm writing about it for this series), what's more interesting to me is that with this film, Levitt captures this heartbreaking moment in movie history, with Worldwide standing in for the real MGM Studios, as they were in the process of selling off their backlot properties at the time. Another fun aspect of how The Phantom of Hollywood blurs the lines of fiction and reality is with the casting of Skye Aubrey as the studio head's daughter Randy, as Aubrey was the daughter of the MGM President during that era, James T. Aubrey (in my research, I came across the news that Skye sadly passed away in November 2020). I'm a big fan when real life seeps into any sort of visual storytelling, and that alone makes The Phantom of Hollywood worth a watch for those who are fans of Hollywood's history.
I won't reveal the exact identity of The Phantom in this adaptation (the film plays it up as a mystery, so for those who might be curious about The Phantom of Hollywood, I wouldn't want to rob of you that experience if you choose to check it out yourself), but admittedly, I did enjoy the fact that it is tied to the legacy of Worldwide and it involves someone who cares deeply about preserving those good old days of moviemaking, so that was another positive for me as a viewer.
Beyond all that, though, that's when things get a little weird with The Phantom of Hollywood. As far as the pacing and the execution of the story written by George Schenck and Robert Thom goes, Levitt stumbles a lot, as the mystery elements fall flat, there's very little suspense to be found, and most of it feels painfully episodic at times, even by TV movie standards. The cast are all doing their best here (Coogan is a total delight as Worldwide's editor), but there's not a lot that they're given to work with, which is a real shame.
As far as the "look" of The Phantom goes, his black-and-brown suede executioner-style garb is a bit ho-hum, but I think makeup artist William Tuttle does a solid job in The Phantom of Hollywood with some of the makeups we see, especially considering this was before the days of silicone appliances. Also, I thought the production design of The Phantom's lair was pretty fun, too, and hearkened back to how Leroux described the hideout of his Phantom in the original novel.
While I definitely would say I still found myself entertained by The Phantom of Hollywood, I recognize that my patience often runs a bit deeper than most genre fans, so your mileage might vary with this one. But as far as taking Leroux's classic story and finding a way to put a modernized and unique spin on it, Levitt does his damnedest with The Phantom of Hollywood. And if nothing else, I can't help but admire the respect and admiration this TV movie shows to a classic era in Tinsel Town, as it feels like a real love letter that was made by someone who gave a damn about preserving the history of Hollywood, which is something that is near and dear to my heart.
---------
Go here to catch up on previous installments of Phantom Thread!