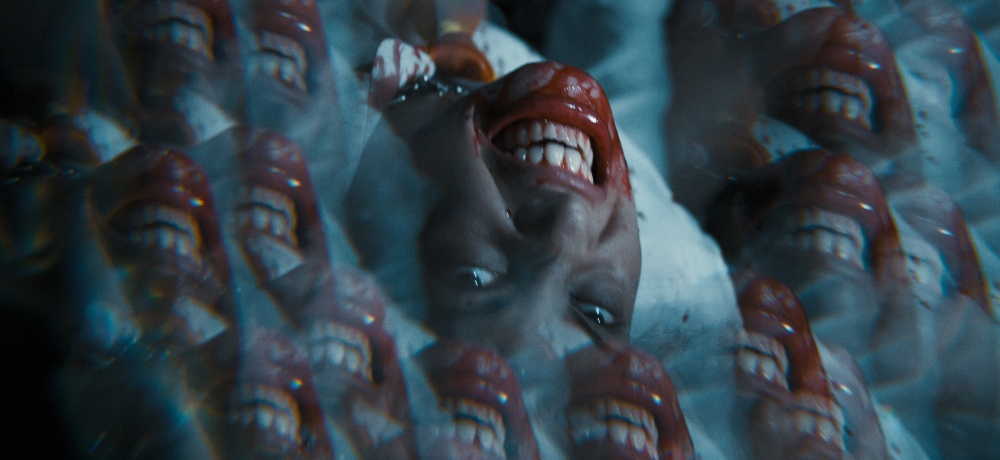 Lately, when Jonny Baptiste (Kiah McKirnan) looks in the mirror, she doesn't even recognize herself… because her face is morphing into someone else. But, as Jonny's enigmatic Aunt Hildie (Alicia Silverstone) reminds her, this is just one of the side effects of Jonny celebrating her recent 18th birthday and receiving the unconventional gift of Forevering, a family spell that gives Jonny the unique ability of extreme empathy that allows her to tap into the emotions of those around her—a power that's also wielded by both Aunt Hildie and Jonny's mother, who disappeared out of Jonny's life long ago. As Jonny gets used to her new high school run by the misogynistic Principal Burke (Christopher Lowell), she learns that being bestowed with Forevering is both a blessing and a curse, but it just might be the only thing that can stop a masked killer who has been targeting and abducting young women in town.
This is the intriguing plot for Perpetrator, the new film from Jennifer Reeder (Knives and Skin, Night's End) that recently had its Southeast US premiere at the Popcorn Frights Film Festival. Back in 2019, Reeder explored the all-too-real horrors young women face (often from their own peers and parents) in her haunting neo-noir Knives and Skin, and she once again shines a vital light on these injustices in Perpetrator, in which Jonny and her friends are reprimanded and punished by authority figures simply for wanting to exist as their true selves.
Principal Burke puts the young women of his high school through self-defense training not to empower them, but to instill fear in them, something that he takes to even higher extremes when he "fake kills" them during school shooting drills. Similar to Knives and Skin, Reeder sets Perpetrator in a heightened reality reminiscent of a David Lynch dreamscape, but a lot of the societal issues that she's exploring are all too real and could be pulled straight out of today's headlines without hyperbole. It's a great payoff, then, to see Jonny plunge headfirst into this patriarchal world of Principal Burke and use her empathetic abilities to embolden her new friends and take a bite out of the system that's fed on them for far too long. Perpetrator isn't a coming-of-age movie…it's a coming-of-rage film with teeth. Reeder pulls no punches in this bloody dissection of the patriarchy, taking a cinematic sledgehammer to toxic masculinity and shoving the broken shards straight into the leering eye of the male gaze.
As more of Jonny's female classmates disappear, Perpetrator becomes a potent blend of murder mystery and superhero origin story as Jonny grapples with her powers while teaming up with her classmate Elektra (Ireon Roach) to track down the town's masked murderer, including a masterfully choreographed scene where Jonny taps into the emotions of multiple partygoers while making her way in slow-motion through a house party. Feeling like it has a bit of Brick, a dash of Chilling Adventures of Sabrina, and even some hints of X-Men: First Class in its cinematic recipe, Perpetrator is a mash-up of genres to be sure, but Reeder brings it all together with a fluid, eccentric style that's all her own. As was established in Knives and Skin, anything goes in a Jennifer Reeder movie, but nothing is out of place, and that includes the film's spot-on casting.
Ever-resourceful and dauntless (even before she taps into her psychological powers) as Jonny, Kiah McKirnan is outstanding in the lead role, bringing a believability and likeability to Jonny that makes even the movie's most heightened moments feel undeniably grounded. McKirnan is especially great in her scenes with Alicia Silverstone, who plays Aunt Hildie in a magical performance reminiscent of Aunt Zelda from Chilling Adventures of Sabrina. If, like me, you grew up watching Silverstone in her totally iconic turn as Cher in Clueless, you'll get to see the talented actor bring a radically different role to life this time around, and I'm so glad that Reeder gave Silverstone the opportunity to play a character as deliciously dark as Aunt Hildie's Forevering cake. I wish there were more scenes of Jonny and Aunt Hildie spending time together in their haunting brick-and-mortar home that feels like its own version of 1313 Mockingbird Lane, but the time we do get to spend in Hildie's house is brimming with engrossing conversations and unexpected scares that really flesh out Jonny's backstory and tease a larger world of other characters with her abilities. And while Jonny's home life harbors some unsettling moments, none of them are as creepy as the chilling performance by Christopher Lowell, who switches from restrained rage to deranged tantrums with an eerie ease as Principal Burke. When Lowell shows up on camera, you never quite know what's going to happen next, but you know that you're going to hate his character even more after it's over, and that's a testament to Lowell's disturbing portrayal of an authority figure who uses his power to exploit others.
Reeder expertly showcases these powerful performances throughout Perpetrator, leading up to a crimson-soaked third act that puts Jonny's powers to the test like never before. It's a bold and bloody finale to an empowering story of empathy, defiance, and ultimately embracing who you are. Reeder does such a great job of expanding this cinematic world that it almost feels like things are just getting started even as the end credits are about to roll, so I do hope that we get to see a sequel one day, but either way, this is still a film that stands tall and sturdy on its own two bloody feet. Just as I felt after watching Knives and Skin for the first time, I can't wait to see Reeder challenge societal injustices and genre conventions in whatever she does next.
Movie Score: 4/5
---------
Perpetrator is now playing in Chicago ahead of its theatrical release in New York on September 1st, the same day it will make its streaming debut on Shudder. You can watch the film's trailer below, and go here to catch up on our previous coverage of the 2023 Popcorn Frights Film Festival!