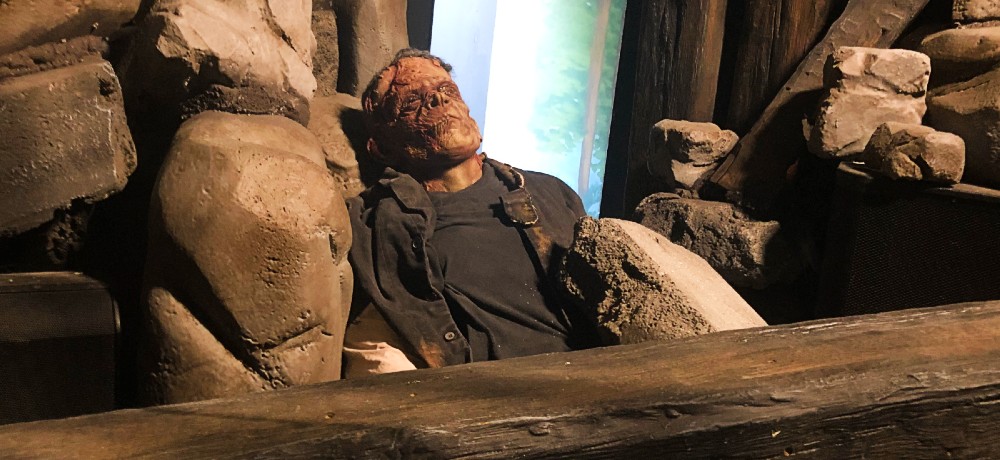 Hard to believe that the Halloween season is nearly upon us, but after taking 2020 off due to the ongoing pandemic, Universal Studios Hollywood's Horror Nights is set to kick off in less than two weeks when it opens on Thursday, September 9th (for more information on HHN, visit their site HERE). Daily Dead recently had the opportunity to tour two of the 2021 HHN mazes along with a group of our fellow haunt enthusiasts, and we brought back some insights to get you fright fiends ready for what you can expect from both The Haunting of Hill House and The Bride of Frankenstein Lives mazes that will be part of Universal Hollywood's Horror Nights this year.
For The Haunting of Hill House maze, it was up to John Murdy, Chris Williams, and their team to recreate the titular locale that was front and center in Mike Flanagan's Netflix series. When you go through the maze, every room will be a location that was featured inside of Hill House, immersing you in an endless array of scares. According to Murdy, one of their biggest challenges was of course making sure that everything inside the Hill House maze duplicated all the details from the series, right down to the wallpaper and even the statues which were specially carved for the maze.
"There were several tricks with this maze," explained Murdy. "Hill House felt like it was more than just a ghost story. Of course, there's the family drama and everything, but the whole aesthetic is the kind of horror series that we haven't seen in a long time. The star of the show is the house, so our job was to replicate the house as close as possible. The creator, Mike Flanagan, was just here the other day and he said that it felt like he was back on set, which is always something we like to hear."
The Hill House maze will feature all sorts of paranormal effects, and fans of the series will be excited to see that some very specific details have been added to the haunt as well, including the ripped wallpaper messages and the Red Door. And of course, HHN's Hill House maze will also feature a handful of ghosts from the series, including The Tall Man, The Basement Ghost, and the Bent-Neck Lady, which ended up being the biggest challenge for Murdy and his team to recreate for this year's event.
"The Bent-Neck Lady proved to be quite a challenge because what it comes down to is ergonomics. Keeping your head bent to the side and performing for seven or eight hours a night is not good, and after a while, you'd be in excruciating pain. So we had to figure out how to do this. We worked with our makeup artist Pat McGee, who created this fake head that has the extreme broken neck look, and then the performer is wearing a ninja hoodie that is the exact same material that is behind them. This allows the performer to disappear into the space, and it turned out really well, I think," Murdy said.
Oh, and much like Flanagan's The Haunting of Hill House, attendees should also keep an eye out for some hidden ghosts throughout the maze as they make their way through the haunt.
Over the last few years of Halloween Horror Nights here in Hollywood, fans have flocked to a variety of the Universal Monsters mazes, making them extremely popular with haunt enthusiasts. In 2018, Murdy and his team created a general Universal Monsters maze, and then in 2019, they brought Frankenstein Meets the Wolf Man to life for that year's maze. And now, for 2021, Murdy has created something very unique—a new story centered around one of the most iconic characters in Universal Monsters history: the Bride of Frankenstein. But even though she's become one of Universal's most legendary characters, creating an entire maze around her story wasn't necessarily an easy feat.
"When we were talking about what to do next, the topic of the Bride of Frankenstein came up," Murdy discussed. "As we dug into everything, we started to realize a few things about that character. Even though the movie is called The Bride of Frankenstein, she doesn't really show up until like the last five to seven minutes of the movie. She's brought to life, The Monster tries to reach out to her, she recoils, and The Monster responds, 'We belong dead,' and burns down the castle, presumably killing them both. And that was it—you never see her again. So how do we create a maze with her at the center?"
So, with that in mind, Murdy set out to create an unofficial sequel to The Bride of Frankenstein with HHN's The Bride of Frankenstein Lives maze. This totally unique story picks up right where the movie leaves off, and follows The Bride as she does her best to try and bring The Monster back to life. Their journey ends up a perilous one, as they cross paths with three Brides of Dracula who The Bride must contend with before she can get Frankie fully healed and they can go on and live out the rest of their days together.
The maze itself is really impressive, and so many of the locales in the maze feel like they are plucked straight out of a classic Universal horror movie set. What's even cooler is that as attendees leave The Bride of Frankenstein Lives maze, they'll end up right in the middle of a Scare Zone that celebrates The Bride as well as several other female monsters from Universal's classic catalog, including Dracula's Daughter, the She-Wolf of London, and Ank-su-namun from The Mummy (1932).
Also returning to contribute for this year's The Bride of Frankenstein Lives maze is legendary musician Slash, who created the music that will be featured throughout this maze. Murdy discussed working with Slash once again, saying, "This is the fourth time that Slash has collaborated with us for Horror Nights. He originally did a maze called Clowns 3D in 2014, and he's done all the iterations of all the Universal Monster mazes. He created five or six original pieces of music, including a piece for the Scare Zone. It's really fun to get to continue to collaborate with him."
Universal Studios Hollywood's Halloween Horror Nights will open on Thursday, September 9th, and will run for select nights through Sunday, October 31st. For more information, be sure to check out the HHN site at https://hollywood.halloweenhorrornights.com/.