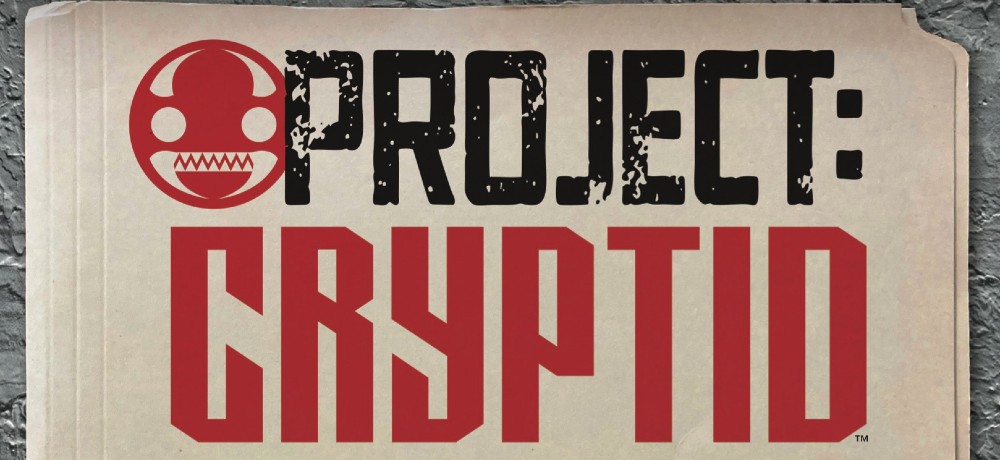 The first issue of AHOY Comics' monthly anthology, PROJECT: CRYPTID, is now available! Dedicated to the legendary and illusive creatures that have captured the attention of the world for generations, this anthology features a great mix of established creators and new voices, including writer Hanna Bahedry! In our latest Q&A, Hanna talks about getting involved in this anthology, working with artist Lane Lloyd, and what we can expcect from their collaboration on Cryptids Anonymous:
How did you first get involved with Project: Cryptid and why was this an anthology you wanted to take part in?
Hanna Bahedry: Thank you so much for having me, first of all! I've been working with the folks at AHOY since 2019 in my role as publicity coordinator for Superfan Promotions, and they've been wonderful and incredibly supportive of my second life as a writer; I started writing a monthly newsletter for them back in 2020 and then wrote a couple of short stories for their backmatter (I Hadn't Prepared Any Remarks and The Voice of AHOY). So when editor Sarah Litt reached out to me to see if I'd be interested in contributing to their new cryptid-themed anthology, it seemed like the perfect chance to get out of my comfort zone and try my hand at comic writing. It was an incredibly fun opportunity for a writer like myself who's used to the conventions of prose—it's been such a wild education working in comics for the past 4 years, so I was excited to see if everything I'd absorbed about this kind of storytelling might translate onto the page. I love the way you can take risks in an anthology format you might not be able to in writing a longer-form project; it definitely gave me the confidence to swing for the fences and hope that, if worse came to worst and my story was absolutely terrible, the other creators in the collection could simply carry my dead weight! 
What can you tell us about your story for Ahoy Comics' latest anthology?
Hanna Bahedry: My story is called "Cryptids Anonymous" and the concept is, basically, that all the cryptids big and small around the world gather on a monthly basis in some remote place to discuss important cryptid news. You can imagine it like a town hall meeting from Gilmore Girls except the Devouring Gourd's got the gavel, the Mothman and the Snallygaster are the mean old muppets in the corner, and the Yeti and Bigfoot hate each other's guts. It's tough being a cryptid in an unforgiving world, especially as nosy tourists and advancing technology encroach upon all the places once deemed mysterious, and so the disparate gang of creatures must try to put aside their squabbles to protect the cryptid way of life. Spoiler: they're not that great at it.
When it comes to cryptids, do you consider yourself a 100% believer in a specific cryptid (or cryptids) or are you more of a skeptic? 
Hanna Bahedry: Didn't they say a truly wise man knows how little he knows? I am that wise man. I know so little about what is real or unreal in this world, I can barely finish writing this sentence.
Have you had any personal encounters with a cryptid? Did that inform your story in any way?
Hanna Bahedry: Well, I learned in my research that kangaroos, giant squids, komodo dragons, and platypuses were all once considered cryptids, so you could say I met one in my 11th grade science class when we dissected mollusks. 
Did any cryptid movies, TV shows, or true stories inspire or inform your story in any way?
Hanna Bahedry: I did a ton of research before diving into the writing to try to find the angle that was most interesting to me. I was partly inspired by a book called Bigfoot: The Life and Times of a Legend which essentially posited that Bigfoot was "real" in the sense that he was an important reflection of the American cultural landscape, especially to do with our ideas about masculinity, wildness vs. domesticity, that sort of thing. They talked about the way Bigfoot has changed in the American imaginary over the years and how commercialization turned him from a wild boogeyman to a sort of neutered environmental figurehead. I decided to explore all that by using Bigfoot and the Yeti as two different kinds of "men" who butt heads about the future of masculinity and get into a hairy humanoid dick-measuring contest as they try to decide who's the rightful leader of the cryptid club. (Metaphorically, to be clear. There are no cryptid dicks in my story—sorry to disappoint.)
Your story in Project: Cryptid will be your first published comic book. Can you talk about your partnership with your artist on this story?
Hanna Bahedry: The fantastic Lane Lloyd is the artist for my story. I'd seen some of their art before so when Sarah Litt suggested him to me I was all for it. It was pretty hands off—I wrote the script and then Sarah handed it to Lane so they could do their thing. I've only seen sneak peeks of the art so far, but it was incredibly cool to see my words realized as art for the first time. I'd written a note asking if the artist could do something fun to distinguish the Yeti's vibe from Bigfoot's, haircut or piercings or something, and when I saw the Yeti's little nose ring I was so very pleased. I honestly can't wait to see the whole thing and see how Lane interpreted everything!
Do you have any other projects in the works that you can talk about? If unable to go into details, can you talk about the types of stories you'd like to tell in the future?
Hanna Bahedry: Right now I'm working on a novel-in-stories that follows a group of college friends before and after graduation. It's kinda funny, kinda dark, kinda existential, and hopefully always entertaining. A few of the stories (Facewine Culture and Key Change) have been published in literary journals, which you can find the links to on my site hannabahedry.me. In other exciting news I'm contributing to the prose serial that's running through all of AHOY's backmatter this fall, originated by Grant Morrison and entitled THE ALL-STAR ANNUALLY CONVENING COZY DETECTIVES CLUB in PARTIALLY NAKED CAME THE CORPSE! I wrote part 11 of the 13-part epic and tore my hair out for about 9 days straight trying to figure out how not to fumble the bag on this one… it's incredibly ridiculous and bizarre and entertaining and I can't wait to read the whole thing! And I really hope I'm able to write more comics in the future as well—I had such a ball writing this one and am excited about continuing to explore all the creative possibilities inherent in the medium. 
---
"For the last five years, AHOY Comics has asked its readers to believe in the weird and sublime — whether it's a friendship between Jesus and a superhero, a grandmother who fights eldritch horrors, or a space squadron run entirely by cats. This fall, AHOY Comics' latest jam-packed anthology, PROJECT: CRYPTID, will feature unbelievably hilarious and hilariously unbelievable tales about cryptids from around the world. Featuring comics and short stories from well-established creators as well as new voices, PROJECT: CRYPTID will transport readers from the depths of Loch Ness to the wilds of the Yeti's Himalayan Mountains to the Ohio backroads where the Loveland Frogman lurks, asking the important questions like are any of these mysterious, unthinkable creatures actually real? And more importantly, are they funny?

The anthology will feature comics and stories from writers Mark Russell, Paul Cornell, Alisa Kwitney, Alex Segura, Bryce Ingman, Paul Constant, Liana Kangas, Henry Barajas, AA Rubin, Joe Illidge, Melissa F. Olson, Zander Cannon, Gene Ha, Hanna Bahedry, Matt Ligeti, Stuart Moore and more, as well as art by Jordi Perez, Madeline Seeley, PJ Holden, Mike Spicer, Mauricet, Steven Bryant, Peter Krause, Richard Pace, Jamal Igle, Ted and Ro, Lew Stringer, Lane Lloyd, and more."
PROJECT: CRYPTID will be published monthly by AHOY Comics and the first issue is now available! Below, we have a look at the covers from the first two issues, plus an exclusive look at Lane Lloyd's art from Cryptids Anonymous: