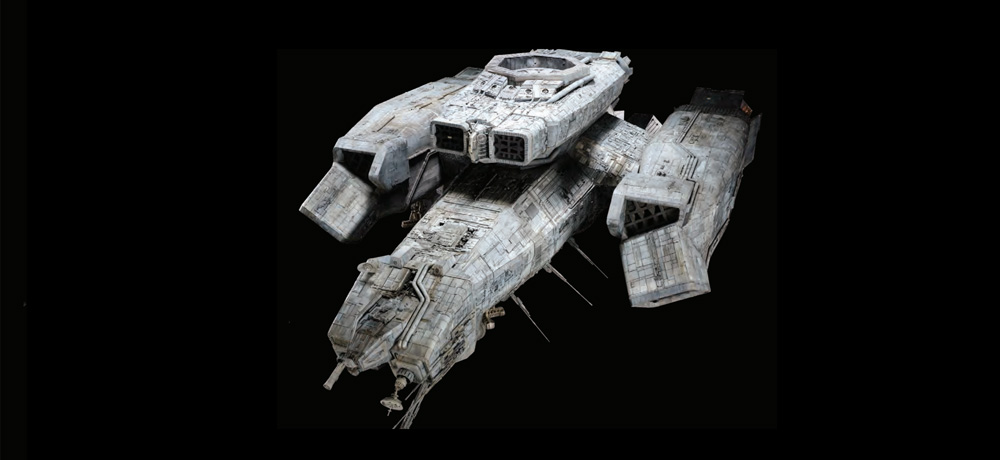 Prop Store's auctions are always a treat for genre fans, because they're able to offer some of the very best props and costumes. Of course, an individual item could set you back hundreds of thousands of dollars, but this August's auction is focused on sci-fi movies and features items from Alien, Men in Black, Event Horizon, Judge Dredd, and many more! Even if you're not planning to bid, it's worth taking a look at their catalogue to see what they're offering. You can find all of the important details below:
"Next month's auction, brings one of the most significant and largest spaceships that we've ever handled to the block: the Nostromo from Ridley Scott's ALIEN (1979). The Nostromo stands among spaceship icons like the Millennium Falcon and the Discovery from 2001, and this is the primary model used throughout filming. It measures a massive 11 feet in length and originally had systems for lighting and CO2 effects. The model was built and filmed in the U.K. and it's amazing that it still survives today.  We're looking forward to offering this piece along with over 850 props, costumes and models at Prop Store's Entertainment Memorabilia Live Auction on 26th August 2020 and 27th August 2020.
The auction will be live–streamed online for fans to track the bidding on auction day. Online bidding and the full auction catalog is now open at www.propstore.com/liveauction. Online proxy bids can now be submitted."
Notable items to be sold at the Prop Store auction (with estimated sale prices) include:
11–Foot Nostromo Principal Filming Model Miniature from ALIEN (1979) Estimate $300k – 500k (£234k – 390k)
Sergeant Apone's (Al Matthews) Colonial Marine Armor Costume from ALIENS (1986) Estimate $40k – 60k (£31k – 46k)
Full–Size Edgar Bug Animatronic Alien from MEN IN BLACK (1997) Estimate $15k – 25k (£11.7k – 19.5k)
Justin's (Jack Noseworthy) Light–Up Spacesuit from EVENT HORIZON (1997) Estimate $10k – 15k (£7.8k – 11.7k)
Judge Joseph Dredd's (Sylvester Stallone) Costume and Stunt Components from JUDGE DREDD (1995) Estimate $12k – 16k (£9.3k – 12.5k)
RoboCain (Tom Noonan) Stop–Motion Puppet Display from ROBOCOP 2 (1990) Estimate $30k – 50k (£23.4k – 39k)
T–800 Endoskeleton Arm from TERMINATOR 2: JUDGMENT DAY (1991) Estimate $10k – 15k (£7.8k – 11.7k)
Grays Sports Almanac Cover with Oh La La Magazine from BACK TO THE FUTURE PART II (1989) Estimate $5k – 7k (£3.9 – 5.4k)
Full–Size "CHAPPIE" Title Character Robot with Replica Head from CHAPPIE (2015) Estimate $10k – 15k (£7.8k – 11.7k)
12th Doctor's (Peter Capaldi) Damaged Sonic Screwdriver from DOCTOR WHO (TV series) Estimate $4k – 6k (£3.1k – 4.6k)
Light–Up Animatronic Weebo (Jodi Benson) Display from FLUBBER (1997) Estimate $8k – 10k (£6.2k – 7.8k)
The Rocketeer's (Billy Campbell) Costume from ROCKETEER, THE (1991) Estimate $20k – 30k (£15.6k – 23.4k)
Hand–Painted Bob Peak Poster Concept Illustration from STAR TREK III: THE SEARCH FOR SPOCK (1984) Estimate $10k – 15k (£7.8k – 11.7k)