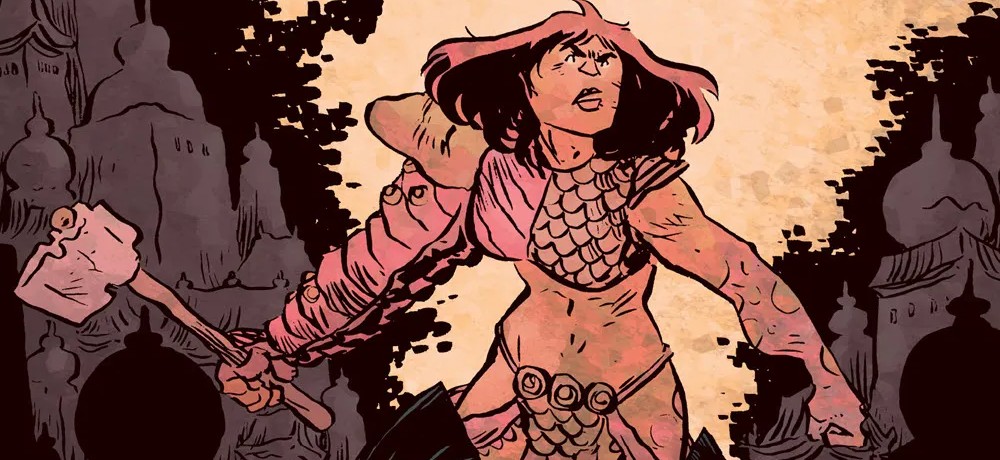 Available in comic book shops on May 17th from Dark Horse Comics, Miss Truesdale and the Fall of Hyperborea is a time-traveling supernatural horror series set in the Hellboy Universe that features art from Jesse Lonergan! In our latest Q&A, Jesse talks about teaming up with Mike Mignola for this story, the creative process, and what to expect from this new series. We also have a 5-page preview you can read right now!
How did you and Mike Mignola first meet and what led to you two teaming up for Miss Truesdale and the Fall of Hyperborea?
It all started with Mike Mignola sending me a Facebook message asking me if I wanted to do anything in the Hellboy Universe. I'm not sure what work of mine he had seen, but he said he had an idea for a story that he thought I'd be a good fit for. We messaged back and forth a bit and met up in New York, and it ended up becoming MISS TRUESDALE.
What has your relationship been with the Hellboy universe prior to working on this story? Do you have a favorite story or character?
I feel like I read a bit of Hellboy in high school, but I didn't realize how good Mignola was. I was probably too distracted by the noise and flash of the early Image stuff. Then some time later it clicked in my head, and I started hunting down all the Mike Mignola stuff I could find. It's hard for me to pick a favorite anything, but Roger the Homunculus is a good character, a type of character that I always find interesting, and ALMOST COLOSSUS is a cool story with him.
You have such a visually distinct style and I loved seeing your take on the Hellboy universe. Can you talk about your creative process and working with Mike Mignola to bring this story and Miss Truesdale to life?
The story was all Mignola, and then we went back and forth on some character designs. His scripts were loose for the most part. Some pages would only be a few sentences of description and I was left to go from there. Other pages were a little tighter with dialogue and panel breakdowns. I'd draw the pages and then send them to him and he'd write the final dialogue and based on that. It felt like it went pretty smoothly.
Having read the first issue, I'm very excited to see where things go next in this "supernatural time-traveling odyssey." Can you give our readers a little tease of what's to come?
There's so much more to come. I feel like the story just keeps getting bigger as it goes along, and some pretty cool stuff happens: giant serpents, vengeful statues, the destruction of a city. It's action-packed, but then it also gets at this idea of who a person really is deep down. And the ending is pretty satisfying, but open for a lot more adventure to come.
---
About MISS TRUESDALE AND THE FALL OF HYPERBOREA: "This spring Dark Horse Comics will publish MISS TRUESDALE AND THE FALL OF HYPERBOREA, a time-traveling supernatural horror series from award-winning writer Mike Mignola (Hellboy, Abe Sapien, B.P.R.D), artist Jesse Lonergan (Hedra, Planet Paradise), and letterer Clem Robins. Mignola, the creator of the Hellboy Universe, and artist Jesse Lonergan are collaborating for the first time to create a supernatural time-traveling odyssey that expands the Hellboy Universe in strange and startling ways and showcases Lonergan's artwork.
In this four issue mini-series, one of the last followers of a failing Heliopic Brotherhood of Ra, the unassuming Miss Truesdale, finds herself on the receiving end of Brotherhood leader Tefnut Trionus's final vision. Connecting her life in Victorian London to a young gladiator in ancient Hyperborea, Truesdale discovers she now has the chance to change the future by altering the bygone past.
Issue #1 of the supernatural horror comic MISS TRUESDALE AND THE FALL OF HYPERBOREA will be published on May 17, 2023 featuring a cover by Lonergan and a variant cover by Mignola."