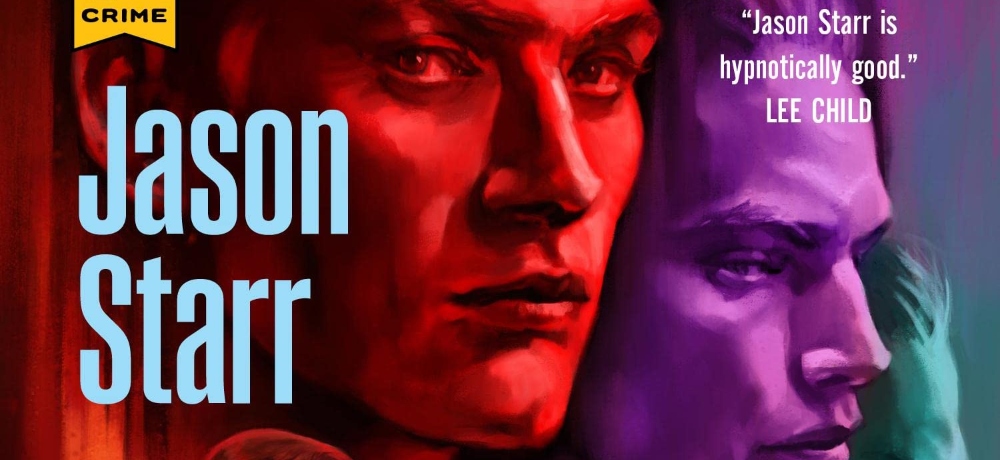 As a longtime fan of the books both old and new published by Hard Case Crime, I'm thrilled that the publisher's latest release is Jason Starr's new science fiction thriller The Next Time I Die (which was recently optioned by executive producer Gilbert Adler). Centered on a man who wakes up in a dangerous alternate reality after being stabbed, The Next Time I Die is now available in paperback and eBook from Hard Case Crime, and we had the great pleasure of catching up with Starr in a new Q&A feature!
Below, you can read our Q&A with Starr, and we've also been provided with the first chapter of The Next Time I Die for Daily Dead readers to enjoy! To learn more about The Next Time I Die, visit Hard Case Crime and Amazon!
Thanks for taking the time to answer questions for us, Jason, and congratulations on your new novel, The Next Time I Die! When did you first come up with the idea for The Next Time I Die?
Jason Starr: Thank you! It's hard to pinpoint the exact moment, but sometime in 2018. I'm always jotting down ideas, or texting them to myself. Most of them are duds but occasionally one comes along that excites me enough to want to expand it into a book.
Approximately how long did it take you to write The Next Time I Die, and how many drafts did you go through before it was sent to the printers?
Jason Starr: More drafts than usual. Although it's similar in length to my previous novels, it has a complex plot, maybe more complex than any of my previous books. It's also the first sci-fi novel I've ever written so I had to do quite a bit of world building. I've written sci-fi in some of my comics and in the official Gotham novels I wrote, based on the TV show, but in this case I had to build everything from the ground up.
The Next Time I Die explores the intriguing idea of alternate realities and how different our lives could be based on even the tiniest of decisions, which is a concept that I feel like people are more and more fascinated by these days. What was it about this subject matter in particular that interested you and made you want to set your next novel against this sci-fi/mystery backdrop?
Jason Starr: I love stories about altered time and realities—everything from It's a Wonderful Life to Philip K. Dick novels. For years, I'd been mulling how I'd approach writing a novel with an alternate reality theme. I knew I wanted to put my own spin on the genre, so while The Next Time I Die can be read as a sci-fi novel, it's also a psychological thriller. It really depends on how you want to interpret it and your mindset.
Did the ending of The Next Time I Die change at all while you were writing the book, or did you have it all planned out from the beginning?
Jason Starr: I always need to know how a story might end before I begin writing, like knowing that a maze has an exit. I say might end because the endings always morph into new endings as I'm writing and this happened with The Next Time I Die as well. The original way I imagined this story ending and the actual way it ends are very, very different.
The Next Time I Die is being released by Hard Case Crime, a publisher that has done an amazing job celebrating pulp authors from the past and exciting authors from the present day as well. What has it been like working with Hard Case Crime to bring The Next Time I Die into the world?
Jason Starr: I have a long history with Hard Case Crime and their terrific publisher and editor, Charles Ardai. Hard Case published several novels that I co-wrote with Ken Bruen, as well as my crime novel, Fake I.D. They've rarely done sci-fi and fantasy, aside from books by Ray Bradbury, Stephen King, and Michael Crichton. So it was great to hear how enthusiastic they were about The Next Time I Die.
While writing The Next Time I Die, were you influenced or inspired by any other books, movies, TV shows, comic books, or video games?
Jason Starr: The biggest influence was Philip K. Dick's novels, especially his early ones, such as his brilliant alternate reality novel, Time Out of Joint. Actually, on social media, I posted some of the books and films that weren't necessarily influences, but that have the "vibe" of The Next Time I Die. I included the films Identity, Memento, and Minority Report (also based on a Dick story). I'd also include It's A Wonderful Life, The Wizard Of Oz, and the crime novels by Jim Thompson.
What is your writing routine like? Do you set out to write a certain number of words or hours per day, or do you just write whenever you can?
Jason Starr: Ideally I'll write 1000 words a day. I teach writing comics and fiction in the MFA Program at St. Francis College in Brooklyn, and always tell students that the most important thing is to keep your head in the book every day. So even if I can't hit the word count I'm always at least editing or rewriting.
In addition to working on your own creations, have you been reading or watching anything lately that you would recommend to our readers?
Jason Starr: I've read some excellent mysteries and thrillers lately including The Collective by Alison Gaylin, Secret Identity by Alex Segura, and The Island by Adrian McKinty. On TV I love HBO's The Staircase.
What advice would you give to writers who are just getting started?
Jason Starr: To immerse yourself in reading and writing in your favorite genres. It's a tough career to pursue casually. You have to read everything that excites you and write what you like to write, not what you feel you should write, or that someone else wants you to write. If you get into this mindset the ideas should come to you naturally.
With The Next Time I Die now available, are there any other projects you're currently working on that you can tease for our readers? Also, where can our readers go online to keep up to date on your work?
Jason Starr: I have a few TV projects in the works and I'm also writing a new novel that I'm aiming to finish later this year. Love to hear from readers! Online I'm on Twitter and Instagram @JasonStarrBooks. You can also reach me at www.jasonstarr.com. Thank you!
---------
We have the official press release and first chapter below, and to learn more about The Next Time I Die, visit Hard Case Crime and Amazon!
Press Release: The award-winning publisher Hard Case Crime is renowned for publishing some of the biggest names in the history of mystery and crime fiction, including Megan Abbott, Lawrence Block, James M. Cain, Erle Stanley Gardner, David Goodis, Stephen King, Ed McBain, Mickey Spillane, Donald E. Westlake, and Cornell Woolrich. On rare occasions, the publisher has also released books containing elements of science fiction and fantasy by major writers such as Ray Bradbury, Michael Crichton, and Stephen King. And now, hot off of the release of literary sensation James Kestrel's dazzling novel Five Decembers, Hard Case Crime will release the first ever science fiction thriller from Jason Starr, the two-time Anthony Award-winning crime novelist (Twisted City) and comic book writer (Wolverine MAX).

In Starr's mind-bending novel The Next Time I Die, New York defense attorney Steven Blitz is stabbed trying to break up a crime. He should have died on the spot. Instead, he wakes up the next morning, stuck in a new reality, one that is somewhere between Philip K. Dick and The Twilight Zone. There's a different president in the White House; a loving family when he'd been on the verge of divorce; more money in the bank than he's ever seen. There's a dark side, though: in this world, Steven Blitz is not a good man. And now he's got to get himself out of serious trouble without even knowing what it is he's done wrong.

"The idea for The Next Time I Die has been percolating in me for a long time," said Starr. "While I've ventured into science fiction in my work in comics, especially in my Wolverine, Ant-Man and Batman books, I've always wanted to write a science fiction thriller novel with real world, relatable themes. I'm beyond excited to do this book with the great Hard Case Crime, a publisher that enjoys stretching the boundaries of pulp fiction as much as I do."

"We're always looking for authors that bring something truly new and exciting to our genre, and Jason Starr is one of the best there is at it," said Charles Ardai, Hard Case Crime's award-winning founder and editor. "The Next Time I Die is ingeniously constructed and will challenge and surprise you every step of the way. It's an irresistible read, the sort you'll tear through breathlessly the first time and then immediately want to read again, to unpack all its secrets."

Ahead of publication, the book is already receiving major endorsements:

"So fresh and clever and compelling. I don't know when I last turned pages so quickly."—Ian Rankin

"I really don't know how Jason Starr does it: I start out thinking I'm only going to read a chapter of The Next Time I Die and an hour later I'm on page eighty."—Bret Easton Ellis

"Beautifully and perfectly crafted. Halfway between Christopher Nolan's Memento and a story by Philip K. Dick."—Matteo Strukul

"With The Next Time I Die, Jason Starr has taken a next level leap... It's like Philip K. Dick is still with us and has just written a new, brain-frying work of New York noir."— Brian Greene, Criminal Element

THE NEXT TIME I DIE will draw you into its claustrophobic web of suspense and leave you questioning everything you think you know. Hard Case Crime will publish the novel on June 28, 2022. For more details follow Hard Case Crime on Twitter and Facebook and follow Jason Starr on Twitter and Instagram.

About the author:

Jason Starr is the internationally bestselling author of many crime thrillers, including Tough Luck, Twisted City, and The Follower, and his books have been published in over a dozen languages. He has also co-written several novels with Ken Bruen for Hard Case Crime, and his work in comics for Marvel, DC, Vertigo, Boom! Studios and AWA has featured Wolverine, the Punisher, Batman, Doc Savage, and Justice Inc. His latest graphic novels are Red Border and Casual Fling. Many of his books are in development for film and television. Starr has won the Anthony Award for mystery fiction twice, as well as the Barry Award. He was born in Brooklyn and lives in Manhattan.

About the publisher:

Hard Case Crime is dedicated to reviving the vigor and excitement, the suspense and thrills—the sheer entertainment—of the golden age of paperback crime novels, both by bringing back into print the best work of the pulp era and by introducing readers to new work by some of today's most powerful writers and artists. Determined detectives and dangerous women...fortune hunters and vengeance seekers...ingenious criminals and men on the run...Hard Case Crime novels offer everything you want from a great story, all in handsome and affordable editions.
Click the cover to read the first chapter!