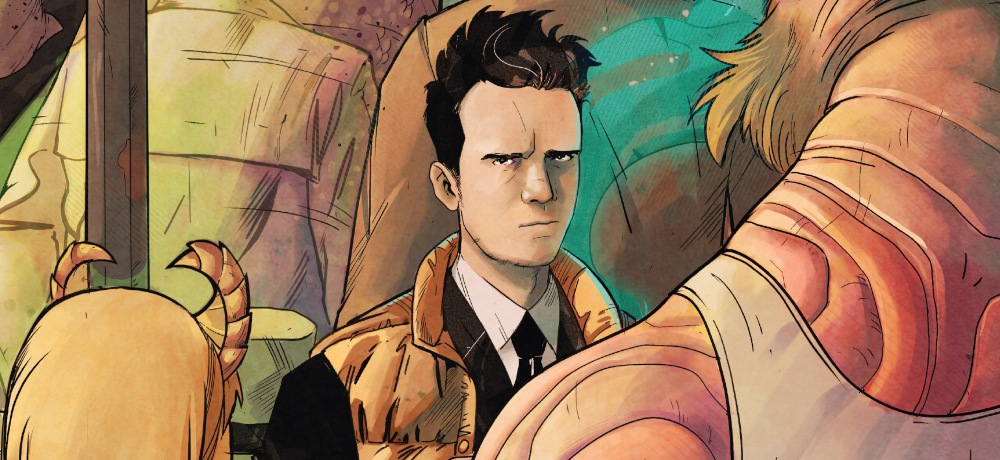 New Yorker Liam Malone thought that counting heads would be an easy (and well-paying) gig, but he gets in over his head with supernatural entities and mythological creatures when he realizes he's unwittingly joined the Otherworld Census Bureau in the new comic book series Census. With the first issue of Census now available to read digitally as a Comixology Original, we caught up with co-writers Marc Bernardin and Adam Freeman to discuss their new comic book series, including setting the story in New York City, working with artist Sebastián Piriz, and finding that perfect blend of horror and comedy in Liam's unpredictable journey as a supernatural census taker.
You can read our full Q&A with Marc and Adam below, and we also have preview pages from the first issue of Census, which also includes lettering by Bernardo Brice and was edited by Sarah Litt!
Thank you so much for taking the time to answer questions for us, Marc and Adam, and congratulations on your new comic book series Census! How and when did you first come up with the idea for this series?
Marc Bernardin: It's been a long time coming. Census is an idea that came to us when at least one of us still lived in the New York metropolitan area—and that's at least 10 years ago. But we're both native New Yorkers, and we've both spent years of our lives stumbling around the New York City streets—passing by thousands of doors in the process. And one day the question rose to the surface: What's behind each of those doors? And what if it was someone's job to find out?
Adam Freeman: I love that New York City simultaneously represents one thing to us en masse, and yet something else, something very personal, to each of us individually. We're all New Yorkers in that "don't f*** with my brother" kind of way, but when you start opening those 8 million+ doors, every culture, every family, every person is experiencing their very own New York City. You can live one geographic mile and one thousand metaphorical miles away from someone at the same time.
Census follows Liam Malone, a young man who gets in over his head when he discovers that his new job at the Otherworld Census Bureau involves counting and registering all manner of mythological monsters and supernatural entities. This is such a great concept that leaves the door open for Liam to encounter countless creatures throughout this series. How did you decide which types of monsters to focus on in these first five issues?
Marc Bernardin: It remains a fascination for both of us: The five boroughs of New York City are among the oldest places in colonized America. So many cultures crammed into so little space. So when it came time to start thinking of the supernatural beings of the book, we leaned on that cultural density. This is an immigrant country—and they all brought something with them from the old world…why not monsters?
Adam Freeman: We found some great maps of NYC broken down by ethnic neighborhoods and country of origin. Simply looking at that 30,000 ft. checkerboard POV of Manhattan—the stories just leap out at you. It's like flipping through the D&D Monster Manual. As writers, it became an embarrassment of riches as we sifted through them and put together the five most diverse stories possible for this first arc.
Census features seriously unsettling moments, but it also has plenty of humor intertwined throughout Liam's journey. How important was it for you to find that effective balance between horror and comedy?
Adam Freeman: If you look at any of your favorite stories in the genre, they all work if you strip the humor out. Go back and look at anything from Ghostbusters to Gremlins to even Beetlejuice. Take the laughs out and you are still left with a pretty bulletproof thriller. Funny just for funny's sake doesn't usually give you the spine you need. So, for us, it was all about locking in the story, the drive, the stakes—then making milk shoot out our noses.
Marc Bernardin: Personally, I'm a bit of a wuss when it comes to horror, but one of my favorite movies ever is Evil Dead 2, mostly because it knows exactly how to use humor as a horror-concentrating agent. It releases the tension, disarms the bomb, you know? Which simply primes you for more horror. But that mixture remains really potent.
As the setting of Census, New York City is a character of its own in this series. What has it been like to look at New York City through a supernatural lens while writing about a different side of this popular metropolis?
Marc Bernardin: As a person perennially homesick for NYC, it's been great to live in that, pardon the pun, New York state of mind. And, hey, anyone's who's ridden the subway at 2:00am will tell you: There's always some freaky shizz lurking just beneath the surface.
Adam Freeman: I like to think of Liam's adventures as taking place while we were still living there. We, like millions of others, were just blissfully unaware. Maybe we passed him on the street, maybe we passed a door with a dragon lurking behind it, who knows? Also, working closely with Buenos Aires native Sebastián Piriz on the vibe and feel of the NYC visuals and geography made me realize how many subatomic details about the city I absorbed through osmosis over the years.
Both of you have worked in television as writers and producers. Have your prior experiences working in TV impacted how you approach storytelling with comic books?
Marc Bernardin: I think working between the two mediums sharpens the work in both. For me, TV definitely exercises the dialogue muscles—because actors will give you all kinds of grief for giving them crappy words to say. And comics teaches economy and speed—you have 20 pages to tell the reader a story. No time to dilly-dally. Get to the point, both plot-wise and emotion-wise.
Adam Freeman: I feel writers (and directors, and editors for that matter) should dip their toes in all forms of storytelling at least once. Scripted, unscripted, comics, novels etc.—if only as an exercise. You always bring new tools and tricks "back home." Comic book writing requires choosing the exact moment, the exact freeze-frame you need to best tell the story. Of course, the artist takes it all to the next level, but when Marc and I write, we are basically writing and storyboarding at the same time. And storytelling is all about moments.
Census is brought to life amazingly with art and colors by Sebastián Piriz. What is it about Sebastián's art style that makes him the perfect fit for your comic book series?
Adam Freeman: Sebastian is an "actor's artist." By that, I mean we continually gave him notes such as, "Can he look more dejected?" "Can she look more hopeful?" And he delivered every time. Yes, he can do big monsters and destruction as well as anyone, but we relied on him to convey more subtly than we have a lot of our previous collaborators.
Marc Bernardin: Sebastian's art is so homespun and personal, which are two qualities I think are incredibly valuable when it comes to both horror and comedy. Every page feels like it could only be in this book, which is a remarkable thing to be able to say.
What has it been like teaming up with Amazon's Comixology Originals to release Census into the world?
Marc Bernardin: Comixology have been fantastic partners so far, both with this and Adora and the Distance, an original graphic novel I did with them last year. They do what one hopes every good publisher will do: offer support and guidance when needed, and step back when it's not.
Adam Freeman: This is my first experience with the Comixology team and it's been great. They gave us the freedom and support to executive our vision. They spoke up when necessary, but really allowed us to do our thing unfettered.
The initial arc of Census is five issues, but do you have plans to expand this series beyond that if given the opportunity?
Marc Bernardin: Well, not to spoil anything, but given how we end these five issues, I hope we get to do more!
Adam Freeman: What he said.
Do you have any plans to adapt Census into a TV series or movie? This story feels like it would translate really well to the screen.
Marc Bernardin: Plans? No. Hopes? Sure. There is absolutely a TV version of Census on the other side of publication.
Adam Freeman: I hope so. I already sent out invites to the season one wrap party.
What advice would you give to aspiring writers who are just getting started?
Marc Bernardin: Reverse-engineer the things you love. If you love a movie or a TV show, dig up the scripts online and see how the writers put that thing on the page. Comic scripts are harder, but they're out there—there are some Neil Gaiman Sandman scripts floating around out there. If you were an architect, you'd not only visit buildings you admire, you'd wanna look at the plans. Same thing applies.
Adam Freeman: And then write. Don't be precious. Don't worry if it is going to suck. It is going to suck. And so will the next one. And then each one will get a little better. Too many aspiring writers don't write because as long as it only lives in their head, it's perfect. Once it's on the page, it's real—and you gotta deal with it.
With the first issue of Census debuting digitally on September 13th as part of Amazon's Comixology Originals, what other upcoming projects are you both excited about, and where can our readers go online to keep up with your work?
Marc Bernardin: Well, we just announced a video game I worked on, a WWII ensemble adventure featuring Black Panther and Captain America from Skydance New Media and Marvel Games, that'll hit players in the not-so-distant future. I'm quite excited about that. And there are a few other projects I'd love to be able to talk about…but can't yet. Check in with me at Twitter or Instagram, @marcbernardin on both, to stay up to date.
Adam Freeman: The scripted side I can't talk about right now, but on the unscripted side—good ol' Mama June returns this spring for season six. On the stand-up front, check me out on Instagram and Twitter (@MrAdamFreeman) and Facebook (@AdamFreemanComedy) for my latest shows. I'll also be at the Laugh Factory: Las Vegas Nov. 7th to the 13th opening for the awesome Mary Lynn Rajskub.
---------
Below, we have a preview of Census #1 and the official press release with additional details, and to learn more, visit Comixology Originals!
Press Release: September 12, 2022—New York, NY—Comixology Originals announces Census, a new 5-issue horror comedy comic book series about accounting for all the supernatural beings living in New York City co-written by Eisner award-nominated writer, TV producer and podcaster Marc Bernardin (Star Trek: Picard, Batman: Caped Crusader, Carnival Row, Castle Rock, Masters of the Universe: Revelations, Alphas, Fatman Beyond, Adora and the Distance, Genius, The Highwaymen) and writer, TV producer and director Adam Freeman (Gene Simmons Family Jewels, The Chelsea Handler Show, X-Men Origins: Nightcrawler, The Authority,  Genius, The Highwaymen) with art and colors by Sebastián Piriz, lettering by Bernardo Brice and edits by Sarah Litt. Census #1 arrives September 13, 2022 from Amazon's Comixology Originals exclusive digital content line.

In his followup to the Eisner award-nominated fantasy original graphic novel Adora and The Distance, Bernardin reunites with frequent collaborator Freeman for a horror comedy series that takes "working for the man" to a new level.

"I was born in New York City, and it always feels like a place that has more doors than people. And behind each of those doors is someone's story," says Bernardin. "Many of those stories are mundane and average, I'm sure, but others might be wild and magical and dangerous. As New Yorkers, Adam and I figured this was the perfect canvas to place a coming-of-age tale about a pathetically apathetic slacker who learns a bit about the real world and his place in it."

Freeman added, "We love turning genres on their heads, so it was a blast to bring our sense of humor to the supernatural and mythological sandbox - all set within the diverse cultures and boroughs of our native New York City."

Liam Malone is a poly-sci major with a minor in communications who's searching for his first real job. While riding the bus in NYC he sees a sign that says "Good pay, flexible hours, no experience necessary" so he heads on over for an interview and gets a job working for the Census Bureau. But he quickly learns this is no ordinary Census Bureau, it's the Otherworld Census Bureau and he's got to count and register all of the demons, djinn, changelings, and other supernatural beings living in New York.

In Census, Liam embarks on a terrifying yet humorous adventure as he goes door to door and learns that to get the job of a lifetime, sometimes you have to sell your soul. This job might just cost him his life.

"I had a great time bringing Marc and Adam's super detailed New York to life and populating it with monsters and creatures from all around the world," says artist Piriz. "Lots of the pages were like a gift from the writers encouraging me to have fun. I can't wait for readers to see it."

"Census brings a hilarious new spin to the monsters, mayhem, and mundanity of office life in New York City," says Bryce Gold, Comixology Originals Lead. "It's such a pleasure to continue to work with Marc and Bernardo on their new series with Comixology Originals, and a pleasure welcoming amazing fresh faces to the creative crew with Adam, Sebastián, and Sarah."

Comixology Originals titles are available at no additional cost for members of Amazon Prime, Kindle Unlimited, and Comixology Unlimited, and for purchase at amazon.com/comixology. Prime Reading offers all Amazon Prime members a rotating selection of over a thousand top Kindle books, magazines, short works, comic books, children's books, and more – all at no additional cost. Kindle Unlimited gives customers access to more than 1 million titles, including thousands of audio books, and current magazines for just $9.99 a month with a free trial period at amazon.com/kindleunlimited. Comixology Unlimited offers over 40,000 comics, graphic novels and manga for just $5.99 a month with a 30-day free trial at amazon.com/comixologyunlimited.

About the Creators:

Marc Bernardin is a WGA Award-winning television writer-producer who has worked on Star Trek: Picard, Batman: Caped Crusader, The Continental, Carnival Row, Treadstone, Castle Rock, Critical Role: The Legend of Vox Machina, Masters of the Universe: Revelations, and Alphas. In an earlier life, he was a journalist for the Los Angeles Times, The Hollywood Reporter, Playboy, and Entertainment Weekly. In comics, he's an Eisner-nominated writer of Adora and the Distance, Peter Parker: The Amazing Shutterbug, Genius, The Highwaymen, and Monster Attack Network. And he co-hosts the Fatman Beyond pop-culture podcast with Kevin Smith.

Adam Freeman is a multi-faceted producer/director/writer with over 25 years of experience in unscripted and scripted television including such projects as Total Request Live, Hatfields & McCoys, Gene Simmons Family Jewels, The Chelsea Handler Show and Wild n' Out with Nick Cannon. As a comic book writer his projects include X-Men Origins: Nightcrawler, Dark X-Men, The Authority, The Highwaymen, Monster Attack Network, Hero Complex, Nightwatchman and the critically acclaimed Genius, among others. An accomplished stand-up comedian, Adam performs regularly at clubs in Los Angeles, including the World Famous Comedy Store, and nationwide at The Laugh Factory franchises and others. 

Sebastián Piriz is an Artist from Buenos Aires with more than 10 years of experience working mostly for indie publishers. His  recent works are Disaster Inc. (Aftershock) Canto and the City of Giants (IDW) and We Ride Titans (Vault).  He co-created Black Beacon with Ryan K. Lindsay for Heavy Metal magazine, and he's done covers for titles like Red Sonja, Stranger Things and Transformers.