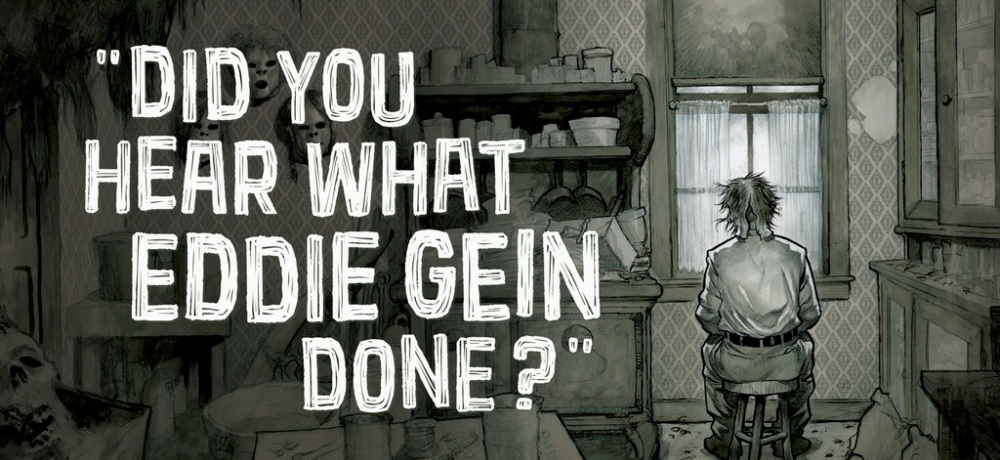 Eric Powell (The Goon, Hillbilly) and Harold Schechter (Deviant, The Serial Killer Files) have combined creative forces to dive into the macabre history of one of America's most notorious serial killers in the new graphic novel Did You Hear What Eddie Gein Done? A Kickstarter campaign for the graphic novel was recently launched, and we caught up with Powell in a new Q&A to discuss the ambitious true crime project.
You can check out our Q&A and preview pages below, and visit the official Kickstarter page for Did You Hear What Eddie Gein Done?, which will be released in comic shops on July 21st and in bookstores on August 3rd.
Thanks for taking the time to answer questions for us, Eric, and congratulations on your new graphic novel, Did You Hear What Eddie Gein Done? When did you come up with the idea for this graphic novel?
I got the idea while driving through a really isolated area of Wisconsin on the Goon 20th Anniversary book tour. I thought the idea of exploring the isolation that contributed to Gein's psychosis could be a really interesting take on telling this story. The book has evolved beyond that simple acorn of an idea into a much more ambitious project, but that's where it started.
Your co-writer on this graphic novel, Harold Schechter, has written multiple true crime novels and has plenty of experience in this field. What has it been like teaming up with Schechter to co-write this graphic novel and then combine that prose with your illustrations? Did you read Schechter's true crime books before collaborating on Did You Hear What Eddie Gein Done?
Yes, I think I've read all of his books. He's actually my favorite true-crime author. That's how all of this came about. As I said, I had a simple idea of exploring Gein's madness and isolation, but being a huge fan of Harold, and being well aware of his work on this case, I felt there was no point in attempting it. He's written what has long been considered the definitive work on Gein. I couldn't do anything that good. But then I thought why not try to contact him and see if he'd have any interest in collaborating on a graphic novel. I was able to contact his agent and was thrilled to find out Harold was a huge comic fan and loved the idea.
It's been pretty amazing to discuss the Gein case with my favorite true-crime author on a daily basis. He's been absolutely awesome to work with.
How long did it take to complete the first draft of this graphic novel, and how many drafts did you go through before it was ready for publication?
We're still tweaking! But I always tighten the screws a little bit all the way until the files are sent off to the printer. First, we got on the phone and discussed the direction we wanted the book to take and the details we wanted to cover. We each wrote a couple of treatments. Then Harold wrote a draft of a loose script. I went through and rewrote the script and broke it down into comic book format. It took quite a bit longer than it usually takes me to write a comic script. This was my first non-fiction work. There was so much researching and fact checking. It's very easy to fall into a rabbit hole of researching. If you're not careful you can spend most of your day trying to find out what time of day someone crossed a street. A detail that doesn't matter whatsoever to your narrative. However, I'm very proud of how diligently we researched. Of coarse Harold already had a ton of material.
Throughout your research for this graphic novel, did anything surprise you about Ed Gein and the correlation between his grisly crimes and the horror genre? Were there any misconceptions that you ran across?
We cover quite a bit how Gein became somewhat of an urban legend. How, in almost a morbid game of telephone, his already gruesome activities became more so through the retelling. I was already aware of that from reading Harold's work, so I wasn't surprised to find many exaggerations and half truths surrounding his crimes. Sometimes even by officials. But, again, there needed to be no exaggeration. The facts of his actions were shocking enough. But the one thing that I was rather surprised by in my research was Gein's somewhat dimwitted attempts to distance himself from his crimes and claim innocence. It's covered in detail in the book, so I don't want to say too much.
Because you were working on a graphic novel that deals with a real killer and real victims, did you approach the subject matter with an additional level of sensitivity or additional parameters when it came to writing and illustrating this story?
Of course. I've never once while working on it forgotten the fact that his victims, the living and the dead, were real people. This book isn't a glorification of a killer. It's an attempt to understand how this pathetic, depraved individual was created and what influence his crimes had on society and popular culture. I've taken particular care with the visuals. I'm going for psychological horror and atmosphere, not gore.
Your company Albatross Funnybooks is launching a Kickstarter for Did You Hear What Eddie Gein Done?, with plenty of goodies for fans to enjoy. What kind of perks can supporters of the Kickstarter look forward to, and what made Kickstarter the perfect fit to help bring this story to life?
Yes, we're Kickstarting a special edition of the book that will be signed by myself and Harold. Some of the incentives include prints, a slipcase and a paperback version of the book featuring a legendary Weird Trips Gein cover by comic and fantasy art icon William Stout. We're a small independent publisher, but we didn't want that to stop us from producing a breathtaking book. I knew I wanted this to be a really nice hardcover from the very beginning. So we're going through Kickstarter to help offset those production costs.
Ultimately, what do you hope readers take away from Did You Hear What Eddie Gein Done?
Hopefully an appreciation for the benefits of making sure people can get mental health treatment. But, seriously, I hope we can bring readers interested in these topics a better understanding of this dark segment of American history. And I hope we're able to appropriately creep them out a bit, too. Because that's why we tell each other scary stories, isn't it?
After this project, do you have your sights set on covering any other serial killers in a graphic novel format?
No, I don't think so. I grew up in the rural south so I felt I could confidently convey the rural life of Wisconsin visually. And Gein is a bit different that other serial killers. His psychosis is more complex and bizarre. His crimes were motivated by an attempt to cure his isolation and replace his mother with corpses and human body parts. Which, as Harold and I have discussed many times, may mean he doesn't really belong in the serial killer category as it's defined. Serial killers are sexual sadist who feel empowered by torture and murder. And that's not something I want to cover. I definitely don't want to draw it. If there was a compelling angle, how it impacts society or something, then maybe. But I have no desire to cover any other serial killer cases right now.
With Did You Hear What Eddie Gein Done? coming out in comic shops on July 14th and in bookstores on July 27th, what other projects do you have coming up that you're excited about, and where can our readers go online to keep up with your work?
I have a humor book that I co-wrote with Lucky Yates (voice of Dr. Krieger on Archer) and Mac Cushing, and illustrated by Eisner Award-winning artist Gideon Kendall called Lester of the Lesser Gods. It's on stands August 25th. We'll have some Goon stuff coming shortly, too.
-----------
Press Release: Eric Powell—the legendary creator of comics like The Goon and Hillbilly—and Harold Schechter—the author of true crime classics including Deviant and The Serial Killer Files—are collaborating on an ambitious new graphic novel about one of the most notoriously deranged murderers in American history, Ed Gein.

Powell and Schechter are co-writing DID YOU HEAR WHAT EDDIE GEIN DONE?, an all new, 200-page, original graphic novel illustrated by Powell that delves into the twisted history of the Gein family and the notorious violence that inspired Psycho, The Texas Chainsaw Massacre, and The Silence of the Lambs. Painstakingly researched and illustrated, Schechter and Powell's true-crime graphic novel presents Gein's infamous story like never before.

"This book takes Gein's gruesome crimes out of the realms of exploitation and delivers a powerful, fact-based dramatization of the tragic, psychotic, and heartbreaking events," said Powell. "Because, in this case, the truth needs no embellishment to be horrifying."

Eric Powell's company Albatross Funnybooks is launching a Kickstarter campaign for DID YOU HEAR WHAT EDDIE GEIN DONE? SIGNED SPECIAL EDITION, featuring a Kickstarter exclusive paperback edition of the book with a cover by acclaimed horror artist William Stout, a hardcover edition with a Kickstarter exclusive dust jacket by Eric Powell, limited edition prints, and more. DID YOU HEAR WHAT EDDIE GEIN DONE? will be published by Albatross Funnybooks in comic shops on July 21, 2021 and in bookstores on August 3rd, 2021. The DID YOU HEAR WHAT EDDIE GEIN DONE? mass market edition, distributed to comic shops and bookstores, will not be available via the Kickstarter campaign.

"Obviously Ed Gein's story has been fictionalized many times in the movies," said Schechter. "In no visual medium, however, have the bizarre inner workings of his mind been explored and portrayed. The graphic novel is the perfect medium to conduct such an exploration. DID YOU HEAR WHAT EDDIE GEIN DONE? will not only bring the factual details of Gein's crimes to vivid, compelling life but draw the reader into the phantasmagoric realm of his uniquely deranged psyche."

"The case of Ed Gein is terrible, tragic and fascinating." said Powell. "This story is not just about Gein and his crimes, but also how a society tried to deal with the shocking facts of these crimes and the idea that the quiet neighbor next door could be a real life bogeyman. The after effect it had on our culture, especially pop-culture, cannot be overstated."

For more updates on Albatross Funnybooks and DID YOU HEAR WHAT EDDIE GEIN DONE?, follow the company on Twitter, Facebook, Instagram.

Here's the link to the Kickstarter: https://www.kickstarter.com/projects/gein-graphic-novel/eric-powell-and-harold-schechters-ed-gein-graphic-novel?ref=9k4lke

Harold Schechter is an American true-crime writer who specializes in serial killers. Twice nominated for the Edgar Award, he is the author of the nonfiction books Fatal, Fiend, Bestial, Deviant, Deranged, Depraved, The Serial Killer Files, The Mad Sculptor, and Man-Eater; the Amazon Charts and Washington Post bestseller Hell's Princess: The Mystery of Belle Gunness, Butcher of Men; the Amazon Original Stories collection Bloodlands; and Ripped from the Headlines. Schechter received his PhD in American literature from the State University of New York in Buffalo. A professor emeritus at Queens College, he is married to the poet Kimiko Hahn. For more information, visit www.haroldschechter.com.

Eric Powell is a comics publisher, writer and artist who has contributed work on such comics titles as Buffy the Vampire Slayer, Angel, Hellboy: Weird Tales, Star Wars: Tales, The Incredible Hulk, Black Panther, The Avengers, The Hood, MAD magazine, Devil Dinosaur, Swamp Thing, She-Hulk, The Simpsons, Arkham Asylum: Living Hell, Action Comics, and Creepy. But he is mostly recognized for his critically acclaimed dark comedy series The Goon.

Awards: International Horror Guild: 2004 Best Illustrated Narrative, Will Eisner Comic Industry Award: 2004 Best Single Issue (The Goon #1), Will Eisner Comic Industry Award: 2005 Best Humor Publication, Will Eisner Comic Industry Award: 2005 Best Continuing Series, Will Eisner Comic Industry Award: 2008 Best Writer/Artist—Humor, Will Eisner Comic Industry Award: 2008 Best Painter or Multimedia Artist.

About Albatross Exploding Funnybooks: Launched in 2002, Albatross Exploding Funnybooks has always been a labor of love for award-winning, Nashville-based cartoonist Eric Powell. The label began as a means to publish Powell's creator-owned series THE GOON, which mainstream publishers had deemed "too different." Although THE GOON later found a home and wider audience with Dark Horse Comics, Powell continued to publish, celebrate, and cultivate creator-owned titles through Albatross Exploding Funnybooks, including his all-ages comic CHIMICHANGA and Rebecca Sugar's PUG DAVIS. In 2016 Powell shifted sole focus to his publishing company and has since published such titles as HILLBILLY, GRUMBLE, BRENDON SMALL'S GALAKTIKON, MEGAGHOST and TANK GIRL.